Nadal in cruise control as Pella dispatched in Paris
Guido Pella had no answer to the class of Rafael Nadal, who set up a third-round tie with Richard Gasquet at the French Open.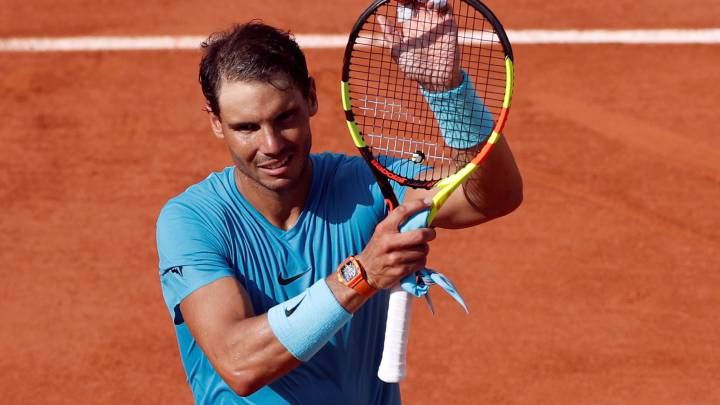 Rafael Nadal seldom had to shift through the gears as he dominated Guido Pella 6-2 6-1 6-1 to reach round three of the French Open. The world number one needed almost an hour to wrap up the first set, but then quickly stamped his authority on the match as Pella wilted in Paris.
Nadal pulls out all the stops in Paris
Nadal, a 10-time victor and the defending champion at Roland Garros, was playing exhibition stuff at times and the Spaniard will be aware that sterner tests lie in wait, starting with a third-round tie against Richard Gasquet. Pella had four opportunities to break in the first game as Nadal made an uncharacteristically sloppy opening.
The Argentine failed to take the chance, though, and, after matching his illustrious opponent early on, was punished in game six - Pella saving two break points before putting a forehand into the net on the third. Nadal was not as fluent as his usual lofty standards in the opening games, but Pella's impressive resolve was broken again when serving to stay in the opener, saving four set points in a 12-minute game before finally yielding.
Killer blow
Momentum was now truly on Nadal's side and so was luck, a fortunate clip of the net seeing him break early in the second set and a break to love followed en route to a swift 5-0 lead. Pella avoided the bagel but was on the back foot again in the third – Nadal earning two break points in game three that he converted with a crunching forehand winner. Now in full flow, the Spaniard played a couple more mesmerising forehands to bring up a double-break 4-1 lead, Pella's misery compounded with a double fault when Nadal was on match point.
STATISTICAL BREAKDOWN
Nadal [1] bt Pella 6-2 6-1 6-1
WINNERS/UNFORCED ERRORS
Nadal – 37/26
Pella – 15/32
ACES/DOUBLE FAULTS
Nadal – 4/3
Pella – 8/4
BREAK POINTS WON
Nadal – 7/20
Pella – 0/4
FIRST SERVE PERCENTAGE
Nadal – 56
Pella – 54
PERCENTAGE OF POINTS WON ON FIRST/SECOND SERVE
Nadal – 85/65
Pella – 66/26
TOTAL POINTS
Nadal – 94
Pella – 58