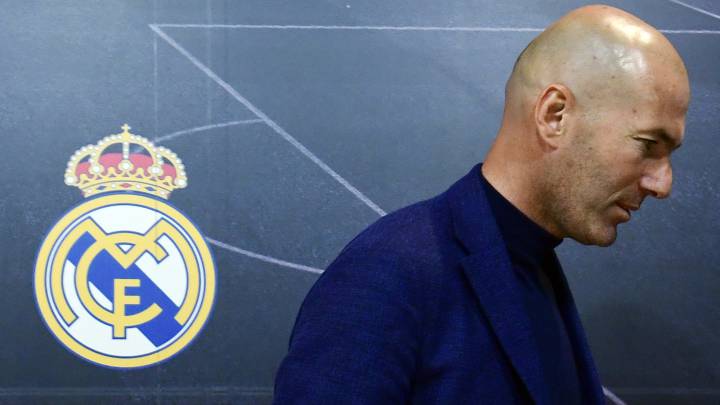 Zinedine Zidane press conference: live online
    And that's it. Thanks for joining us. Now time to process what just happened in the last hour!
    Is it anything to do with Cristiano Ronaldo? "No"
    When? "I'm not going to say. I'm going to keep that to myself."
    When did you say now is the time to leave? "I've tried to work hard, be honest, defend the club's values. I've always had the respect of my players and without that it's impossible to achieve things. My decision is my decision. It has nothing to do with the players but after three years, it's difficult to maintain such high standards. I'm a natural born winner and I love winning. I don't like losing. If I feel like I am not going to win then a change is needed. The decision wasn't that I'm going to change this player or that player. I said I'm going to leave."
    "We've talked about strengthening the squad and signings but that's not why I leaving. If you want to manage, this is part of your job. I think a change is needed," Zidane says.
    Zidane says his favourite memory is winning the league last year and his worst the loss to Leganes in the Copa del Rey.
    "My fondest memory was as a player when I signed for Real Madrid."
    "If I was the manager here next season, it would have been tough for us to win trophies. You saw in the Copa this season and I can't forget out domestic campaign that easily here."
    "There are stages, periods you go through, stages. And you need to know when to stop. I think it's the right decision for the team."
    "I'm not tired of managing. I've been managing for three years but I think for me, the time to leave the club is now."
    Zidane has said he was going to sign a new contract but now he is walking. What has changed, he is asked. "Nothing. The demans can wear you down. Maybe, back then on that day, I thought that. But later, in my head there was a different thing and my mind changed. I've always said that anything can happen at this club and my time has come to an end."
    Zidane said he has spoken to Ramos and he says "I played alongside Sergio Ramos and he respects my decision."
    Asked if it's the end of a cycle. "A change is needed. I'm not going to get involved in these things," he says. "I'm not here to talk about the future of this team."
    More questions being asked but message is the same. Zidane is exhausted and feels that the club need a change.
    I can't get over Perez beside Zidane. He looks like he is still processing everything. This happened so quickly.
    "How can I ask more from the players," he says. He says again that a new message is needed.
    "Big players need a change," he says. He thanks them as they are the ones out there playing and says it is such a demanding club. 
       Zidane thanks everyone again. 
    We've had some tough times. It's been difficult at times. But sometimes, you need that from fans. Sometimes, the players need to see that.
    Zidane thanks the fans again.
    Question from the press the same as plenty of us would. How can you leave now? "Of course, I could return, I'll always be near to this club as it's close to my heart. I think many won't understand but I know it's the right time. Time for a change. And for the players too."
    Perez thanks Zidane for everything that he has brought to the club and defended the club's values. This is not a goodbye but a see you later, says Perez.
    "Nobody can be ready or prepared to get news like this," Perez says. He is in shock!
    Perez says he was in shock when he found out. Says he wanted to convince him but there was no chance of changing his mind! 
    Perez says that "after winning the Champions League, I wasn't expecting this. He knows I loved him more than any other player or manager and I've always wanted him by his side."
    Zidane says he won't be here next season.
    "After three years, a change is needed. Something different, a different message."
    "I know it's a strange moment for everyone involed, but I think it's the right decision"
    He says this team needs to keep winning and they need a change to ensure that.
    Zidane says he has "taken the decision not to continue next year"
    Zidane and Perez are out for the press conference.
    In a world where we are all constantly connected and news and rumours are ride! 24-hour news cycle and Zidane catches everyone off guard. Incredible scenes.
    Zidane not on the stage yet but cameras anticipating his arrival very shortly.
    So that is that! Everyone reporting that Real Madrid are in search of a new manager.
    That escalated very quickly. But it seems after three Champions Leagues, Zinedine Zidane is no longer the manager of Real Madrid.
    Cadena SER say Zidane has resigned as coach of Real Madrid.
    Reports that Zidane is leaving. This is building steam in the last couple of minutes.
    Back in February, Zidane said if he has nothing left to give, he'll go and said it was exhausting being the manager of Real Madrid more so than at any other club in the world.

Reportedly, betting has been suspended on Arsene Wenger replacing Zidane!
    Reports that Zidane had a meeting with Florentino Perez late into the night last night where plenty was discussed. 
    It can't be highlighted enough though that this is all speculation and quite abrupt from Zidane, who is a man who doesn't particularly like press conferences.
Maurizio Sarri is available, but Chelsea appear to be in pole position for the former Napoli schemer... 
Paco Jémez...? Luis Enrique?
Unai Emery has taken the reins at Arsenal, Carlo Ancelotti has been installed as Napoli manager, Mauricio Pochettino has signed a new five-year contract at Tottenham, Jürgen Klopp is unlikely to leave Liverpool at this stage, Thomas Tuchel has gone to PSG...
Reports from Spanish journalist with close links to Real Madrid that Zidane and Florentino Perez are currently meeting with 40 minutes to go before the press conference. 
There have been no indications as to the nature of the unscheduled appearance from the Real Madrid boss but these sorts of snap conferences have produced some shocks in the past. Given the standard employment cycle of a Bernabéu boss there is every possibility that the Frenchman could be on his way, in which case the question is - who will replace him?
Zinedine Zidane is due to speak to the media at the Bernabéu at 13:00 CEST and we'll bring you the press conference live on AS English as it unfolds.
Zidane calls shock press conference at Real Madrid's training ground
Real Madrid manager. Zinedine Zidane has called a press conference for the media at 13:00 on Thursday 31 May 2018. He will give the press conference at Valdebebas. There was no press conference scheduled and neither Real Madrid or Zidane have indicated what will be said at the meeting.
With two problems to resolve, Cristiano Ronaldo and Gareth Bale's futures, there is plenty to speculate on. Others have suggested that after three Champions Leagues in a row, it could be time for the Frenchman to leave on a high although this is simply speculation at this point. Real Madrid did struggle in the league and the Copa del Rey but with the help of Zidane's cool hand, they won the Champions League for the 13th time in their history.
Bale recently said that he needed to resolve his future in the summer by speaking with his agent. Ronaldo also spoke about potentially leaving in the summer too before saying "see you next year" at the celebrations on Sunday with thousands of Real Madrid fans in attendance.



LaLiga Santander
*Update 31 de mayo de 2018