New Real Madrid coach: Klopp beats Pochettino as fans' choice
The Real Madrid supporters who took part in an AS.com poll have given the nod to the Liverpool boss over Mauricio Pochettino, Joachim Löw and Arsene Wenger.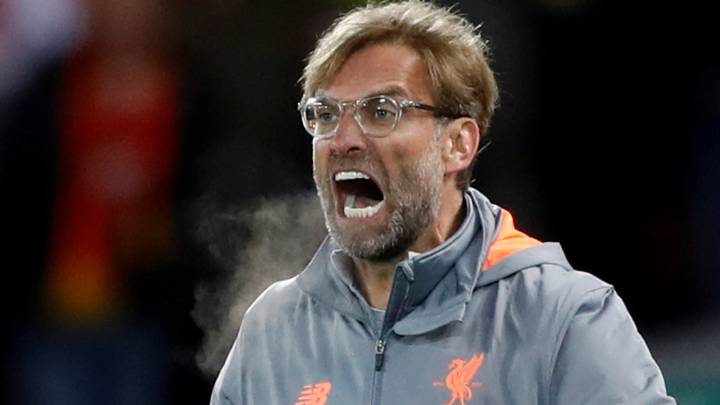 Tottenham Hotspur manager Mauricio Pochettino may be the seeming frontrunner among the coaches tipped to take over from Zinedine Zidane as Real Madrid boss, but Jürgen Klopp appears to be the supporters' choice.
In the wake of Zidane's surprise resignation on Thursday, AS.com ran a poll seeking to gauge the opinion of Real's fans on who they feel would be the right man to take over at the European champions, and they have delivered their verdict: Klopp gets the nod ahead of Pochettino. The Liverpool manager accrued 41% of the 120,000 votes cast in the survey, beating off the competition of the three other contenders put forward by this newspaper: Pochettino (34%), Joachim Löw (15%) and Arsene Wenger (9%).
Not first time Klopp linked with Real Madrid dugout
It isn't the first time that Klopp has been mentioned in connection with the Bernabéu hotseat. In 2013, there was talk of the then-Borussia Dortmund coach taking over from José Mourinho. However, he was emphatic in his response to that speculation ("I don't have time for Real Madrid"), and, although he has made no public statement on the current vacancy at Real, he appears to be a far from straightforward candidate.
Firstly, he is contracted to Liverpool until 2022 - having recently renewed his deal there - and secondly, he is well underway with planning for next season, with Naby Keita (whose purchase was sealed last summer) arriving from RB Leipzig and the signing of Fabinho from AS Monaco completed this week.
There are many things on Klopp's CV that are to the liking of the Real Madrid hierarchy. He is young but, at the same time, has experience of two of Europe's major leagues in the Bundesliga and the Premier League; he knows how to manage squads that have domestic and continental commitments; he has proven his ability to get the most out of star names (just look at Mohamed Salah); and favours attacking football.
At just 40, he left Mainz in 2008 to take the reins at a Borussia Dortmund in danger of bankruptcy and with an ageing squad, and led the side into a period in which they went toe-to-toe with Bayern Munich for domestic supremacy, winning two Bundesligas, one German Cup and two German Super Cups in just four years. He was named Germany's coach of the year twice. Dortmund also came within 90 minutes of Champions League glory, but Arjen Robben's late goal saw them lose out to Bayern at Wembley.
Steered Liverpool back to the Champions Leauge final
A Liverpool that had drifted into the wilderness then came calling, appointing Klopp on a three-year deal in 2015 and going on to practically hand him the keys to Anfield: after just a season in charge, his contract was extended until 2022... This term, he steered the Reds to the Champions League final - which they lost to Real - and to a top-four Premier League finish, which brings with it qualification for Europe's premier club competition.
A firm admirer of Real's departed coach ("Between Zizou and me, I'd take him," he said in Kiev), he offers an exciting brand of football. Including the play-off round, his Liverpool side spearheaded by the forward line of Salah, Sadio Mané, Roberto Firmino scored as many as 46 goals in the 2017/18 Champions League, averaging 3.29 a game. He is also an expert at seeking out his rivals' weakness: just ask Pep Guardiola, whose Manchester City side went out 5-1 on aggregate to Liverpool in this year's quarter-finals, and Mourinho, who was Real coach when Los Blancos went down 4-1 in Dortmund in the 2012/13 semi-finals.



LaLiga Santander
*Update 1 de junio de 2018