England - Nigeria: World Cup 2018 friendly match, live!
Do not miss the live coverage of the England National Team vs Nigeria Super Eagles that visit Wembley Stadium to take on England in a World-Cup warm-up, kick-off at 18:15 CEST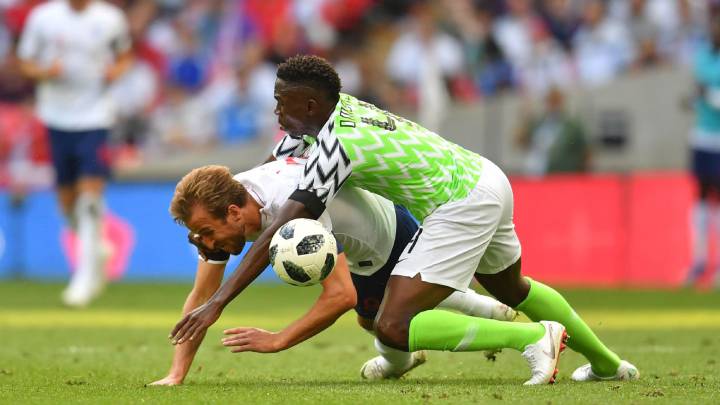 A win is a win, the old adage goes, but there was little to pique the optimism of England fans ahead of the World Cup in Russia as Gareth Southgate's side laboured to a 2-1 victory over Nigeria at Wembley Stadium on Saturday evening.
The home side came out of the blocks quickly enough in front of a sparse crowd in London, capitalizing on the Super Eagles' early defensive disarray through Gary Cahill's bullet header after just seven minutes and it appeared the Three Lions were in for a comfortable evening when Harry Kane doubled their lead just before half-time with a shot that 19-year-old Nigeria keeper Francis Uzoho was unfortunate to see ricochet off his thigh and into the back of the net.
The 19-year-old Deportivo B keeper, who has made only two senior appearances at club level, appears to have sealed his place in Gernot Rohr's World Cup starting XI and staged some vital interventions to keep Nigeria in the game in the opening 45 minutes, displaying expert awareness in coming off his line to thwart danger.
Rohr made four changes at half time and the introduction of Las Palmas midfielder Oghenekaro Etebo and Hapoel's John Ogu injected some much-needed creativity into a side that had looked completely devoid of attacking guile in the opening period, relying on trying to feed the ball into the feet of Odion Ighalo, which England lapped up gratefully.
It took just two minutes for Nigeria's changes to make an impact, although it was two players who had started the game who combined to inflict a first conceded goal on fledgling England number one Jordan Pickford. Etebo picked up the ball in midfield, rode a few half-hearted challenges and fed Ighalo, whose low shot beat Pickford but not the far post. Arsenal striker Alex Iwobi was on hand to hammer home the rebound, with Southgate's defence guilty of ball-watching in the hope it landed out of danger rather than trying to clear it.
Sterling continues to provide Southgate's question mark
From there, Nigeria assumed the upper hand as England ran out of steam and direction. Raheem Sterling attempted to trick the referee with a dive in the area and was rewarded with a caution in another performance laced with driving runs and intelligent movement but lacking in anything tangible in front of goal.
Until the 70th minute Nigeria were the more dangerous side, driving forward at will and causing no end of problems for the England back line. After that point, the usual raft of substitutions broke up the rhythm of the game and the previous hour or so of entertainment took on the appearance of a testimonial, with neither side entirely happy with the result but willing enough to settle for it with other games to come.
For Southgate, question marks still loom ahead of Russia in attack and defence. The game itself may have provided little for the England manager to set in stone before his World Cup campaign begins.
For Rohr, who switched to a back three to good effect at half time, this was a much more encouraging performance than a few days earlier in a 1-1 draw against DR Congo and the travelling support, who were in fine voice during a second half filled with pace, directness and more importantly a genuine goal threat, will have taken heart after the Nigeria coach showed he possesses some genuine game-changing attacking talent on his bench and has a coherent plan in how to use them in Russia.
England vs Nigeria live: as it happened
90'+4' And that's it! Very much a game of two halves. As Sven Goran Eriksson used to say: "First half good, second half not so good." Turn that around for Nigeria and that about covers it. Thanks for joining!
90'+2'   Welbeck breaks down the England right, runs out of options when he reaches the box and pulls it back. It reaches Rose on the far side but he's called offside. England's evening summed up there. Nigeria are far from secure at the back, Uzoho aside, but England have failed to exploit space behind the back four for most of the game.
90'+1' Cahill to the rescue again as Nigeria sling one into the mixer.
89'   Delph tries to wriggle through the Nigeria midfield to no effect. Four minutes added...
88'   We think Gary Cahill was just announced as man of the match, which tells you about all you need to know if you're just joining us. Stirring stuff indeed for England fans.
87'   Nigeria come again and both Cahill and Pickford are forced into a couple of clearances. Is there a late equaliser in this for Rohr's side?
85'   Chance! Delph finds Rashford with a glorious delivery and the Manchester United striker rises high but not quite enough to guide his header on target and it plops onto the roof of the net instead. Welbeck was on hand and night have been a better option but the youngster had every right to have a go from that position.
84'   Welbeck goes down on the edge of the area more in hope than expectation and gets precisely nothing.
83'   The game has slowed to a crawl now as the clock ticks down, the substitutions have seen to that. England probing but finding few gaps in the Nigeria defence, while the Super Eagles are looking for a chance to break.
82'   Walker rides a few challenges on the right but is eventually clattered to the floor. England craft nothing from the free kick though.
81' Fabian Delph coming on for his first cap since 2015, Dele Alli off.
80'   Rashford spies a chance and takes a pop with his right foot but he drags it well wide.
78'   Aimed at Cahill again, with Dier coming in behind. Cleared by the visitors without too much bother. England very one-dimensional at set pieces. Just because it worked once doesn't mean it'll work every time, particularly as Nigeria are now fully aware of where every corner is being aimed. 
77'   Welbeck manages to get into the area but Ekong is across to make a splendid challenge. England corner...
76'   All these changes have taken a bit of bite out of the game, which may be what Southgate was going for. He'll only have three in Russia of course. England have been pretty poor in the second half.
75' Another sub for the Super Eagles, Ighalo off and Leicester's Iheanacho on.
74'   They're both up quickly enough though and ok to continue.
73'   Another clash of heads as Etebo and Omeruo go for the same ball....
72' Welbeck and Rashford coming on for England now, Kane and Sterling off. 
67'   An awful hack from Dier almost lets Nigeria in but England get it clear. It's been called back for a free kick anyway.
66' Southgate to shake things up now. Loftus-Cheek on for Lingard while Young makes way for Danny Rose.
65'   England are running low an attacking ideas now, lofting one forward towards Sterling with three of those marvellous green shirts in attendance and the imposing figure of Uzoho there to greet him. Sterling's reaction says it all.
63'   Odd from the ref. Nigeria break down the left as Musa gets immediately involved, but the official pulls play back for a foul in midfield by Walker. Advantage surely should have been played there. Obi Mikel understandably not amused by the decision.
62' Another change for Nigeria, Moses off, Ahmed Musa on.
62'   Corner for England... it's swung in and Dier meets it but glances his header wide. He was pretty much free there and probably should at least have hit the target.
61'   Nigeria try to release Moses down the left but even the pacy Chelsea wing-back won't be getting to that. Right idea though.
60'   England struggling to get out of their own half now as Nigeria press.
58'   Nigeria win another corner through Ebuehi, who has been a livewire since coming on. England clear though, not entirely convincingly.
57'   Kane tries to feed Sterling but again Uzoho reads it like a book and makes the covering challenge.
55'   Some lovely one-touch stuff from Nigeria opens up a chance for Moses but he belts it high. Southgate out of his seat and pacing his technical area. Tunisia, Panama and Belgium will all be watching this blitz from the visitors with interest.
54'   Dier forced into a flying block and then a back pass puts Pickford in all sorts of trouble metres out fro his goal near the corner flag. England rattled here. Can the Super Eagles take advantage?
53'   Nigeria growing in confidence now as Mikel goes on a driving run but his final ball is straight to a white shirt.
51'   England attempting to get their foot on the ball now with Nigeria's tails up. Sterling is through on goal and Uzoho is out smartly, the winger goes down.... but it's a yellow for a dive rather than a finger pointed to the spot. Sterling was going for that, leaning a knee into the keeper and going down before any contact had been made. Excellent call ffrom the ref.
50'   Another Nigeria corner and more panic in the England back line as Alli clears. That must have been some team talk from Rohr at the break. Nigeria a different side all of a sudden!
49'   Nigeria threaten again from a corner and it falls to Kane to stop it on the goal line.
47'   And there goes Pickford's unbeaten record as England keeper. Not much he could do about it though, it was well hit by Iwobi and Pickford was still picking himself up from attempting to stop Ighalo's effort.
47'   That's brought the Super Eagles' fans to life!
47' Goooooooooal! Ighalo hammers a shot against the post and Iwobi jumps on the rebound and guides a shot past Pickford with England's back four caught napping. 2-1 now at Wembley!
Nigeria switching to a back three for the second 45. A fresh challenge for Southgate to ponder.
46' Four changes for the Super Eagles...! Omeruo, Ebuehi, Ogu and Etebo on for Balogun, Shehu, Joel Obi and Onazi.
The teams are coming back out now for the second half.
45'+1' And that's the half. England go into the break with a deserved 2-0 lead. Nigeria have yet to really click and have not given PIckford too much to do, although there is certainly profit to be made if some of England's defending is anything to go by. Nigeria just have to find a way to work the ball into Ighalo more often after the break.
45'   Moses tests Pickford from the left with a low shot that the keeper did well to hold at the first attempt. He's still yet to concede a goal as England number one, the Everton stopper. That was as close as Nigeria have come to altering that stat in the opening 45. 
44'   Moses goes on a driving run in from the left but is thwarted by Stones. England threaten to counter but Onazi halts his run in midfield. 
42'   England still trying their luck on the Nigeria right and a period of throw-ins and balls going out ensues before the Super Eagles successfully get off the ropes and spread it to the far side.
40'   England in complete control as we tick down towards the half, moving the ball about confidently and accurately. Nigeria chasing shadows at the moment.
38' Goooooooooal! Kane, with what feels like his first touch of the game, plays a one-two with Sterling and lets loose from the edge of the area. Uzoho appears to have it covered but it clips his thigh and squirms into the net. The Nigeria keeper probably saw that one late through a sea of shirts and was rather unfortunate but England lead 2-0.
36'   England happy to take a little of Nigeria's momentum out with a period of stroking it about. Eventually Lingard breaks but the excellent Uzoho is there to thwart him.
34'   A bit of a mix-up between Ighalo and Bryan Idowu denies Nigeria a clear opening but Pickford gets his gloves warmed for the first time as Moses gets on the end of a ball down the left. At the other end Sterling hits one just over the bar.  
33'   Nigeria get into a bit of a pickle at the back as Alli and Sterling look for an opening, the ball eventually falls to Lingard and his shot is deflected out for another corner. Uzoho, who is playing like two keepers this evening, is there to wallop it away from the onrushing white shirts.
32'   Young sends Sterling scurrying down the left again and he squares into the box, but Uzoho is alert to the danger and down swiftly to divert the ball from the danger area.
30'   Good movement from Lingard, who tries to cut it back for Kane, who has scarcely had a sniff so far, but Nigeria clear.
29'   Something of a pattern developing as Cahill is the target again. England throw in a cross from the rebound but it's not going to trouble Nigeria at that height.
28'   Tripper tears down the right and puts in a lovely ball for Lingard. Uzoho is down quickly to the danger and puts it round the post for a corner.
26'   NIgeria throw on the right, Ighalo gets his first real sight of goal but his shot is straight into Cahill. Moses almost profits fro the drop but the hosts hack it clear, with a little hint of panic.
24'   Nigeria try a cheeky free kick from midfield, straight along the floor to the waiting Ighalo from Iwobi, but it's just a tad overcooked for the striker and England cut it out.
23'   Another free for the hosts as Mikel floors Sterling. Nigeria are laying down a marker in midfield but have yet to threaten Pickford between the England sticks.
21'   There's a pause while the ref gets his mike fixed. England get proceedings back underway from the back.
20' Free kick on the right for England, Young over it... it's cleared as far as Alli but his shot is bread and butter for Uzoho.
18'   Sterling and Young combine expertly on the England right again, a neat interchange of passes teeing the Manchester United full back up for a chance but Nigeria close ranks and deny him. Good stuff from the right-sided pair, who will be giving Southgate a bit to think about as he looks to finalise his starting XI for Russia.
16' Obi clatters into Lingard in midfield and England have another free kick. They work the ball to Sterling, who finds Young, but Nigeria hold firm. England are certainly peppering that Super Eagles right side in the early exchanges.
14'   Nigeria build from the back and eventually pull the trigger on a pass to Ighalo but Stones and Cahill channel their mid-90s Arsenal, step up, and have the former Watford man caught in the offside trap.
12'   Sterling does beuatifully to turn his man and gets on the end of Alli's through-ball but can't quite guide his shot on target with only Uzoho to beat. Slick play from England there.
10' England win another corner through Alli. Ashely Young takes and it's hit towards Cahill again. Nigeria clear, it falls to Sterling, who wriggles and shoots but it's straight into a defender. Stones get a sniff from the resulting corner but Uzoho smothers. The Super Eagles are suffering from set pieces at the moment, food for thought for Rohr. 
9'   Nigeria threaten through the middle, looking for Ighalo, but Stones belts it clear with little fuss or finesse.
8'   A mistake in midfield sets Sterling off on the chase but the last defender is equal to the fleet-footed England wide man and knocks it safely back to his keeper.
7'   Goooooooal! England take the lead! Cahill rises above the Nigeria defence and buries a rocket of a header beyond Uzoho. 1-0 to the hosts!
6'   England have a free kick in the meantime, awarded in the aftermach of that. It's head well and Uzuho deals with it well. 
4'   England win a throw on the right and there's a bit of  a clash of heads in the box there Osi goes clattering into his teammate Leon Balogun and the ref calls play to a halt. The Brighton defender looks a little dazed but should be ok to continue.
3'   Lingard finds a bit of space on the left but his cross into the box is poor and easily cut out.
2'   England enjoying all of the ball in the early exchanges but Nigeria evetually get their boot on the pig skin and look to get forward but it's all the way back to Pickford from England as they take a safety first approach.
1'   And we're off! England get things underway.
Kick-off up next...
And England's belts out across the stadium, which is far from full, it has to be said.
Plenty of support in the stands for the Super Eagles at Wembley.
Here we go with the anthems. Nigeria first up.
The teams are in the tunnel, and Nigeria are rocking a pre-game training top as eye-catching as their famous shirts, with have been flying off the shelves across the world in the run-up to the World Cup.
The Super Eagles were runners-up to hosts Morocco at this year's African Nations Championship but they have failed to qualify for the past two editions of the Africa Cup of Nations. They did reach the last 16 at the World Cup in Brazil, where they lost to France. England, of course, failed to get out of the group stage, finishing bottom in Group D behind Costa Rica, Uruguay and Italy.
There isn't much expectation surrounding England going into the World Cup - hardly surprising after their recent performances at major tournaments - but Nigeria captain John Obi Mikel suggested recently that the Super Eagles could be a surprise package in Russia as it is the first tournament they are going into without any external issues such as bonuses etc hanging over the squad. It will be interesting to see what Rohr's side can put together in Wembley this afternoon. 
Hello and welcome to our live coverage as England face Nigeria at Wembley.