French Open final 2018: Nadal wins 11th Roland Garros title
Seventh seed Dominic Thiem put up a decent scrap on Philippe Chatrier but was powerless to prevent the King of Clay from being crowned in Paris again.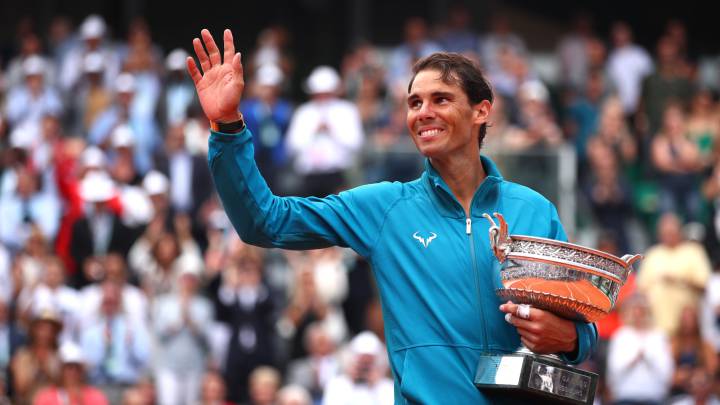 Only men's eight players in the history of tennis have won 10 Grand Slams or more. On Sunday in Paris, world number one and defending champion Rafa Nadal landed his 11th French Open title to take his tally of majors to 17 overall, the second-highest haul in the history of the sport behind Roger Federer.
Nadal also became only the second player to win the same Grand Slam 11 times and the first in the Open Era after Margaret Court claimed 11 Australian Open victories between 1960 and 1973.
Nadal had never lost a set in the French Open final and although Dominic Thiem briefly threatened to become the first player to achieve the feat, it was largely plain sailing for the Spaniard, who eventually prevailed 6-4, 6-3, 6-2.
The defending champion broke to love in the opening game and consolidated that on his serve but the seventh seed fought back to 2-2 and then both players engaged in some blistering rallies as the final took on the appearance of a battle on equal terms.
Thiem errors cost the seventh seed against Nadal
A 13-minute duel in game six of the opening set suggested a long afternoon on Philippe Chatrier but although Thiem held off Nadal's sustained barrage, the world number one struck again in the ninth to break for 5-4. It was that point that the key difference between the two protagonists became apparent as Thiem reeled off a string of errors to send Nadal back to his chair a set up.
Nadal broke again in the second game of the second set despite furious resistance from the world number eight and from there the outcome rarely looked in doubt. Flashes of Thiem's clay court brilliance were interwoven with a string of unforced errors, particularly off the Austrian's graceful backhand side, and Nadal duly turned the screw with a series of stinging forehands and increasing forays into the net, where he won 16 of 18 points.
Thiem's unforced error count reached 42 by the end of the match and the result could have been even more convincing in Nadal's favour but for some extraordinary resilience from his opponent, who saved 12 break point opportunities over the course of the match.
Nadal injury scare
But as Nadal wound up the second and broke Thiem in the third game of the third set, the inevitable drew closer with every error from the seventh seed as the defending champion ruthlessly exploited his advantage. There was a brief scare for the Spaniard and his team as the ATP physio made an appearance with Nadal serving at 2-1 and 30-0 up but what appeared to be a possible recurrence of his wrist injury was cramp in a finger and he returned to the baseline to serve out for 3-1, although rather tentatively as he tested his left hand.
Another break took Nadal to 5-2 and although Thiem threw up a desperate attempt to prolong the match, saving three match points from 40-0 down and another as Nadal struggled to serve out the game, it was only fitting that a Thiem shot landing just beyond the baseline rather than a rasping Nadal winner handed the Spaniard victory in two hours and 42 minutes.
The Austrian was obliged to go for his shots - there is no other way around Nadal on clay – but accuracy was an issue all afternoon for a player in his first Grand Slam final facing one in his 24th.
Rafa Nadal vs Dominic Thiem: as it happened
Set 3  And that's it! Dom misses the chalk at the back of the court by an inch and Rafa stands, arms aloft in glee as he is crowned French Open champion for a remarkable 11th time.
Set 3 Match point five as Dom clips a forehand into the trams...
Set 3 And Dom saves again as Rafa goes for a backhand down the line but misses! 40s...
Set 3 A glorious rally ends with Dom overcooking a forehand and Rafa has a fourth match point...
Set 3  And we're at deuce as Rafa pings a backhand out. Remarkable recovery from Dom. Three match points denied.
Set 3 Dom saves the second with a delightful touch at the net as Rafa tries a drop shot but misjudges it.
Set 3 The first goes begging as Rafa wound up for a backhand down the line that wasn't really open.
Set 3  Rafa's serve has definietly slowed after that brief bit of taping up but it scarcely matters when Dom returns like that, a loose backhand well wide of the mark. Same again, and he looks beaten here, does the Austrian. A 40th unforced error, off the backhand again, and it's 30-0. A huge serve and Dom has nothing left, clipping it harmlessly out. Four championship points...
Set 3  So here we go... Rafa four points away. Can Dom halt the slide?
Set 3 What a shot! Rafa rasps a backhand at an impossible angle, forcing Dom out of the court and around the net post. He can't land it though - few do from there - and Rafa breaks. 5-2 and the champion is a service game away from his 11th French Open title.
Set 3 And Rafa continues that run with a deft drop shot that Dom can't lift over the tape. Two break points...
Set 3 Dom picks a bad time to rack up his fifth double fault and then sends a backhand long to hand Rafa a very useful looking opening. The Austrian has won just two points on his second serve in the third set. He's got another one here...
Set 3 Rafa moves to 30-0 and Dom gamely charges around returning everything Rafa throws at him, kitchen sink included, but it's 40-0 up the Austrian nets. And game Rafa with another net winner. 4-2.
Set 3 Rafa did have the docs back out during the break but he springs from his seat with freshly wrapped fingers and it doesn't look like he's in too much trouble as he takes a long rally with a forehand winner. He'll want to get this match wrapped up in double quick time though. 
Set 3 Rafa gets on the board with a forehand but Dom holds with ease to make it 3-2. Let's see what occurs during the change of ends.
Set 3 Dom moves to 30-0 and Rafa clubs a forehand long to bring up 40-0. We won't be surprised to see a medical time out at the change-over.
Set 3 Rafa up to 15-40 as he rushes the net after that double fault. And he holds as Dom goes long but the champions is a little tentative all of a sudden. 3-1.
Set 3 And delivers a very, very tame serve before wincing in the direction of his box...
Or it may be his finger... he grimaced with pain after that last serve. But he's strolling back to the line.
Set 3 Nervous moments for Camp Rafa as he confers with the ATP doctor.
Hello, Rafa's called a pause and has the trainer out to examine his troublesome wrist.... it couldn't possibly be, could it?
Set 3 Dom adds another unforced error to his tally and then cracks a return long as Rafa eases to 30-0.
Set 3 And Rafa breaks! He sends Dom around the houses and the seventh seed can only clip a backhand towards the tram line, missing by an inch. The number one assumes a 2-1 lead and will serve to consolidate next.
Set 3 But as he so often does Rafa has found another gear now and runs around to his forehand side, unleashing a winner across the court. Dom flaps a forehand into the net and it's break point again...
Set 3 Nadal is his purest state! Dom throws everything over the net but the champion somehow digs a forehand winner out to take it back to deuce. Another ace from Dom - that's six to none now - and he's back within a point of 1-2.
Set 3  A beuatifully worked point from Dom, who finds more angles than a spirit level there to save. And another clever rally has Rafa on the back foot and gamne point is earned.
Set 3 Rafa goes into the net with a forehand and then drops an inviting volley over the tape. Dom rsvps with a blistering backhand to bring up 30-0 but then dumps a forehand into the net to let Rafa back in. The Spaniard whips a forehand return over and Dom can only clip it into the net for 30s. Another opening for Rafa as a whopping forehand brings up break point...
Set 3 A double fault from Rafa, his second, and it's 15-all. The number one sends a serve out wide, pulls Dom into a cross court forehand and is there to punch it away at the net. Dom makes a few fruit observations in his native language as Rafa moves to 40 and a booming serve hands the champion the game. 1-1.
Set 3 A topsy-turvey game and Dom pulls up advantage after saving two break points with an incredible rally. There's plenty of fight left in the seventh seed and he holds with a whopping forehand that Rafa can only push into the net. 0-1 in the third.
Set 2 Another and Dom hands Rafa the set as his backhand starts to malfunction again. The defending champion takes a 2-0 lead. And you suspect he won't be losing this final now.
Set 2 Big serve, big forehand, line and 15-0. Big serve and quickly improvised return long. 30-0. Dom clips the line with a cracking forehand and Rafa can only punch it long. 30-15. A wild, wild forehand in the west of the French capital somewhere and Rafa has sets points...
Set 2 Rafa misses a backhand by a whisker for 40-15 but Dom repays the favour and it's back to 40-30. A huge serve forces Rafa to dump a return into the net and Dom holds. Rafa will have to serve this one out.
Set 2 There's a bit of sun on Philippe Chatrier now, which should give the ball a bit more zip through the air. Dom lands that first-serve, cross-court forehand combo and it's 30-15.
Set 2 It's drop-shot season now as Rafa plows the same furrow and forces Dom into the net. A backhand in extremis forces Dom into a wild return and it's game Rafa for 5-2. The seventh seeed will serve to stay in the set.
Set 2 Rafa responds in kind, dinking one over the net. Dom does well to reach it but is powerless to stop Rafa punching a volley back over to see off the threat. 40s...
Set 2 Break point Thiem! A juicy rally ends with a cheeky dropper from the Austrian and he's got a sniff here...
Set 2 Another forehand winner. It's as though Dom was recalibrated during the change-over. All of a sudden he can't miss. A wonderful rally ensues at 0-15 with both players swinging freely but Rafa finds the line with top-spin heavy forehand. Another brutal exchange ends with Rafa clubbing a forehand winner and Dom looks to his box again. Our German is a bit rusty but we think he was saying "was?" That's the eternal question on clay against Rafa. Although we've just noticed Kristina Mladenovic is one of his support team up there, so our sympathy is somewhat limited. 
Set 2 That was probably the quickest service game of the match so far. The Austrian will still have to break at some point to stay in the set though.
Set 2 30-0 up in a flash as Dom's backhand, which is normally so reliable, finds its mark. Twice. 40-0. An incredible forehand and Dom holds to love. 4-2. 
Set 2 Dom leaps on a short second serve and rattles a forehand winner past Nadal's backhand side. And, with Andi McDowell watching on somewhere, he then thumps a forehand into the trams. Advantage Rafa, a backhand punched long and the number one moves to 4-1. 
Set 2 Nadal builds a point just the way he likes to, and pounds a backhand winner down the line. Not much you can do when the Spaniard takes control of a point from the off but wait for the strike and watch it sail past. That's what Rafa does as Dom thrashes a forehand long. The same shot, the same distance, the same result and Rafa's pulled it back 40-30.
Set 2 Rafa under a bit of pressure now as he pumps a forehand a full foot beyond the baseline for 0-30.
Set 2 Another thunderbolt of a serve and Dom's on the board at 3-1.
Set 2 He moves to 30-0 in a jiffy though and then pulls out an ace for 40-0.
It was widely held that Thiem's only chance of beating the 10-times champion was to go for every point and try to hit as many winners as possible without getting bogged down in the kind of rallies the Spaniard enjoys, but the flip-side of that strategy is missing so many straightforward balls. The Austrian may try to play the percentages a little more now because this looks like it's slipping away from him.
Set 2 Rafa moves to 30-15 as Dom hits an 11th unforced error off his backhand. That's followed by another off the other wing and Rafa consolidates the break as he pounds a backhand cross-court. 3-0.
Set 2 And breaks! Another missed forehand from Dom and Rafa assumes a 2-0 lead in the second.
Set 2 Rafa gets the better of a cagey rally and brings up his fifth break point opportunity.... 
Set 2 Rafa forces a snapped backhand from Dom and it's into the tape for another break point. Another huge serve and a drive volley and were back on deuce.
Set 2 Rafa punches a forehand long though and it looks like we could be on for another marathon... Dom lands an ace to move to advantage. Then double faults again, his fourth of the match. 
Set 2 A forehand into the net and Rafa has another crack...
Set 2 And he finds it, opening up the court and punching a volley away to bring the game to deuce.
Set 2 Dom saves the first by pushing Rafa out wide with a blistering forehand. He could use a big serve here....
Set 2 Dom pulls one back with a smash but Rafa shows some excellent footwork to line himself up for a backhand volley in behind the Austrian. Break point...
Set 2 Thiem long again on the forehand side. We erred earlier in the error count. It's up to 20 now. You really can't give Rafa that sort of leg up on this court. Into the net again and the champion is at 0-30.
Set 2 But another forehand misses the line and Rafa holds comfortably enough. 1-0.
Set 2 Rafa wrong-foots Dom with a backhand down the line and then pushes the Austrian so far back he's practically in the front row before landing a cheeky drop shot for 40-15. Into the net from the Spaniard though to give Dom a glimmer...
Set 1 Another unforced error from Dom as he nets a smash. That's 13 now... lucky for Rafa. The number one isn't having his greatest day and pumps a backhand wide. 15-15.
Set 2 Rafa to get the second set underway...
Set 1 And it's long from Dom again. Four unforced errors at 5-4 down. What a way to end a cracking opening set. But it's Rafa who pulls through it and takes a 1-0 lead.
Set 1 Another unforced error... what a horrible moment for it. Dom whips one into the net and Rafa has three set points...
Set 1 A dreadful error from Dom as he pops a volley into the net with the court begging, then another off the forehand wing as he finds the trams with Rafa on the other side of Paris. The Spaniard can smell the set now...
Set 1 Long from Dom and Rafa will be happy enough to take free points like that. He has to work a lot harder for the next but buries a forehand winner for game point, wrong-footing the Austrian. Loing again from the seventh seed and it's 5-4. A good time for Rafa to turn it on. Pressure back on the other side of the net now. 
Set 1 Boom! What a forehand from Rafa, he really wrapped his wrist around that. Unreturnable. But followed by a double fault, his first of the match.
Set 1 And that's a much more solid hold from Dom, who fires a forehand winner to wrap up the game. 4-4.
Set 1 Dom moves to 30-0 with some excellent shot making, finding the baseline with a wide open backhand. A second ace for the Austrian moves him to 40 but a double fault halts his brief momentum.
Set 1 Both players are finding their range now and Rafa moves to 30-15 after moving his opponent about like a pawn on a chess board. Rafa finds a splendid floating backhand that has Dom scurrying and although he pulls off a tweener it's into the net. Another forehand from Rafa and the defending champions holds with a little more ease than the Austrian in the previous game. 4-3.
Set 1 Finally, Dom holds as Rafa punches a backhand beyond the baseline! 3-3. What a game.
Set 1 Advantage Dom as he pulls Rafa into the net and then sends a volley whizzing past the Spaniard into open court.
Set 1 Another chance for Rafa as Dom punches long... first serve whumps the net. And Rafa glowers as one of his trademark banana shots is called out. It was wide though, and we're back to deuce...
Set 1 Dom saves! A wonderful rally ends with Rafa firing a hefty forehand wide.
Set 1 Dom whacks another forehand that Rafa can barely get his strings to for advantage, but then hits a bizarre backhand that Rafa blasts over with a drive volley for 40s afresh. Advantage Nadal as Dom goes for an outright winner and just misses the line. Break point.
Set 1  Rafa's turn for a slice of luck as a backhand clips the net cord and flies out. Back to 40s...
Set 1 The hawkeye replay shows that it was a smidge out. Unfortunate for Dom, but he's back on advantage as Rafa hoofs one wide.
Set 1 Who are you, and what have you done with Rafa? Another unforced error, into the net off the backhand side. But he makes amends by winding up that forehand and forcing his opponent into a backhand wide of the mark. Dom respnds with a huge forehand across the court for 30-15. Rafa pulls a backhand out of his locker that Dom has no answer to to bring up 30-30. The Austrian carves himself a chance despite some brilliant Rafa defence and hammers a forehand winner. Another piledriver forces Rafa into a backhand that is initially called out but then overruled! Deuce.
Set 1 A booming Rafa serve and Dom is forced long on the return. Rafa misses with his forehand again for a fourth unforced error off that wing and it's 40-30. The seventh seed can't get to grips with another first serve to his backhand though and it's into the net. Rafa holds, but not without some problems. 3-2.
Set 1 Rafa into the net with a regulation forehand for a fifth unforced error. A 176km/h serve gets him out of dodge and then he comes out on top of a wonderful rally, instictively dinking a volley back over Dom's head and it lands plum on the line for 30-15.
Set 1 Rafa looks a little bemused as he sends a backhand into the trams to give Dom advantage again... the number one then frames a forehand wide on the same side and the Austrian is back in the set at 2-2.
Set 1 Dom lands a whacking great serve into the body and Rafa can only send that back into the hoardings. Back on deuce. Advantage Dom with another huge serve but Rafa drags it back to deuce with a booming backhand.
Set 1 Into the net from Rafa and another double fault from Dom, who howls at his box. Deuce, another first serve missed, a tame second and an attempted rop shot into the net and suddenly Rafa has break.back point...
Set 1 Rafa's not having it. He's not having it all as he sends a punched volley down the T back with a stinging drive. He nets a forehand next though for 30-30.
Set 1 Can Dom consolidate to bring himself level? With a first serve like that he can! Rafa can only tap that one back and the Austrian gobbles up the open court with a ferocious forehand. He follows that with a double fault though...
Set 1 Rafa saves the first break point as Dom frames a forehand into orbit. But he can't prevent the second as he drops a backhand into the mid-court and Dom thrashes a winner to break! 2-1.
Set 1 15-30 Thiem and the first sniff of an opening for the Austrian... and he takes it with a glorious cross-court forehand.
Set 1 And it's into the net from the seventh seed and Rafa breaks! 2-0. Five unforced erroros from Dom in two games. Not great figures...
Set 1 Dom on the oche now. A wild backhand flies long to hand Rafa 0-15. The world number one bangs a couple of forehands and then plays a deft drop shot to move to 0-30. Dom off the mark as Rafa sends a backhand out after a punishing rally. Dom works a beautiful point to open up the backhand court but lands his shot beyond the baseline. 15-40...
Dom punches a backhand wide to end the opening rally and then goes long on a huge Rafa serve for 30-0. A couple of thunderous cross-courters brings up game point, which Rafa takes slamming a volley into the open court after working Dom from side to side. Hold to love. 1-0.
Set 1 Here we go then... Rafa to get us underway.
The warm-up in underway. Thiem has spent a little under two hours less on court than Nadal, which will be a little helping hand for the Austrian.
Huge cheers for both finalists from a packed Philippe Chatrier.
The players are preparing to come out now. Let's hope the weather holds...
Here's a statistical breakdown of Rafa's dominance on clay. A win-loss record of 408-36 is a little bit silly.
The Austrian will need to land as many first serves as possible this afternoon, with Nadal leading the way in return points won on second serve over the last 12 months at 58.2 percent. The world number one also converts 43.8 percent of his break point opportunities.
Nadal and Thiem have met nine times during their careers, all of them on clay and outdoors. The world number one has won six of those matches, with Thiem victorious three times, in Madrid this year, Rome in 2017 and Buenos Aires in 2016.
Thiem is the only player to have beaten Nadal on clay over the past 12 months, and twice at that, so if anyone can do it it is the seventh seed. But things did not go well last year when the same players met in the semi-finals.
Can Dominic Thiem achieve what no player has ever done and prevent Rafa Nadal from winning an incredible 11th French Open title at Roland Garros on Sunday? Join us from 15:00 CEST to find out.