Brazil favourites, Japan have better chance than England - Opta Predictor
Opta's World Cup Predictor rates Brazil as the favourites for the tournament and says Japan are more likely to win it than England.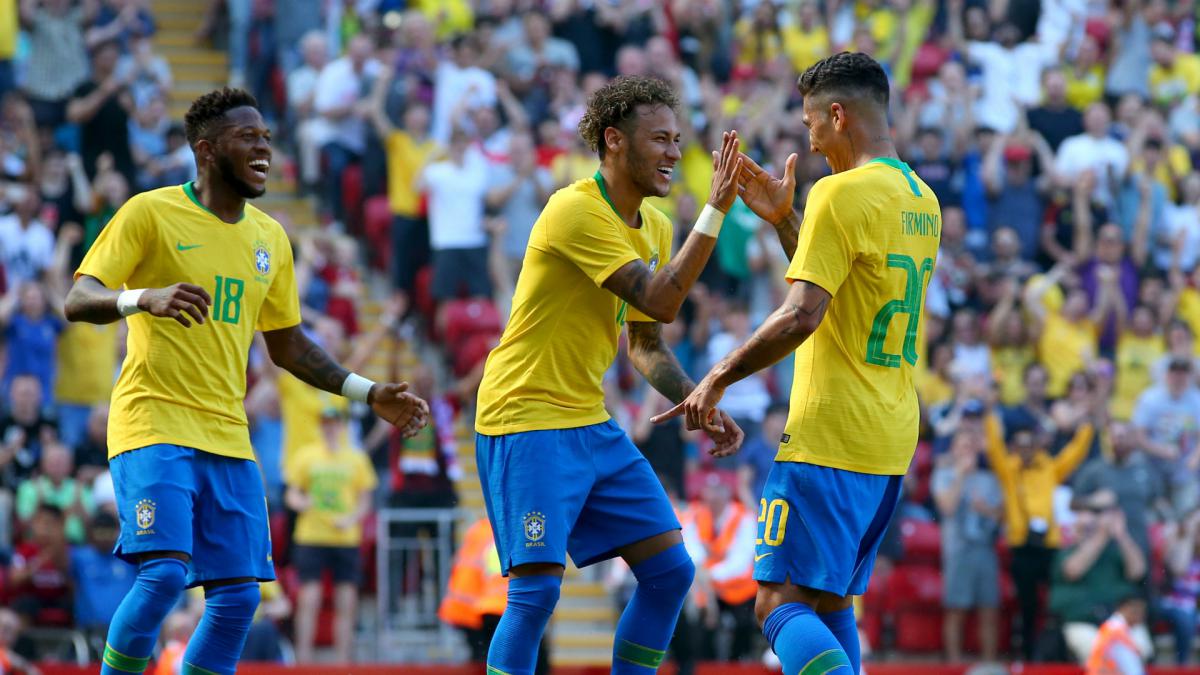 Five-time winners Brazil go into the World Cup as the team most likely to emerge victorious and add to their record-breaking title collection, according to Opta's World Cup Predictor.
With just a day to go until the big kick-off in Moscow between hosts Russia and Saudi Arabia, Tite's Selecao look in good shape and will be the favourites of many, with Opta giving them a 13.2 per cent chance of winning the tournament.
Reigning champions Germany are rated as the next most likely to take the title on 10.7 per cent, with Argentina (10.1) the only other side said to have in excess of a 10 per cent chance.
At the other end of the scale, Morocco – who have been drawn into the tricky Group B alongside Spain, Portugal and Iran – are rated as having the smallest chance of winning the tournament at 0.58 per cent.
13.2% - Based on our World Cup predictor, Opta give Brazil the highest chance of winning the 2018 World Cup (13.2%), followed by Germany (10.7%) & Argentina (10.1%). Probability.

For more info on the how the Opta Predictor is calculated, click here: https://t.co/O5yVz0Y0Zl pic.twitter.com/MOjnESld6Z

— OptaJoe (@OptaJoe) June 12, 2018
The calculations suggest Gareth Southgate's England (2.08 per cent) are even less likely to lift the famous trophy than Japan (2.22 per cent) and Colombia (3.22 per cent), who are considered to be the two most likely sides to progress from Group H, which also includes Poland and Senegal.
World Cup debutants Panama – who will face England, Belgium and Tunisia – have been given a 39.1 percent chance of progressing to the knockout phase and 16.39 per cent chance of topping Group G.
And Iceland, who will also be featuring for the first time, have just a 14.71 chance of topping Group D ahead of Argentina, Croatia and Nigeria.
Gernot Rohr's Nigeria (1.50 per cent) are rated as Africa's best hope for the continent's first World Cup triumph, but they are expected to finish third in their group.
How it works
Opta's World Cup Predictor has been built using Opta's extensive database of past international and World Cup matches.
Each team has an attacking and defensive strength calculated based on past performances. Using these attacking and defensive strengths, along with several other World Cup specific variables, a likelihood is assigned to each potential result.
The attacking and defensive strengths are based on results from all official international matches in the four years before the World Cup. Additionally, the strengths take into account results at the 2010 and 2014 World Cups.
Several other factors are also considered as World Cup specific variables. Two "home advantages" are considered for both the home nation and teams from the host confederations. Teams having won a World Cup since 1970 also have an advantage included on the grounds of tournament pedigree.