Lopetegui sacked as Spain manager: as it happened
The Spain coach has been removed from his position after agreeing to take over at the Bernabéu with Real Madrid. Fernando Hierro takes over for the World Cup. Cruz Azul vs America: Liga MX, live online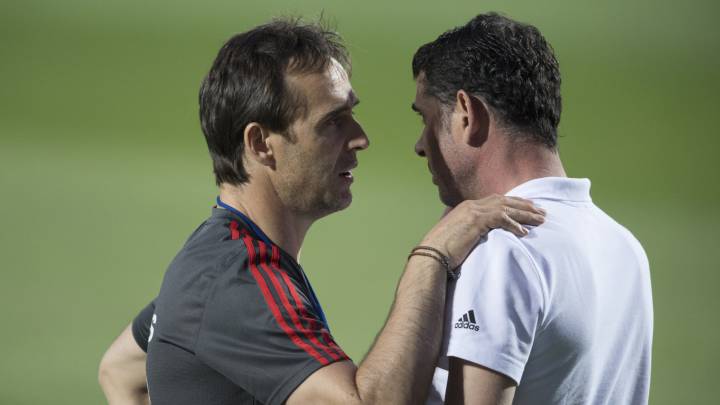 Julen Lopetegui sacking and reaction: as it happened
  Well, that about wraps it up. So a short summary: Julen Lopetegui has been sacked as Spain coach two days before their first World Cup game against Portugal, with Spanish Football Federation sporting director Fernando Hierro stepping into the breach for the duration of the tournament.
Good news for the Real Madrid bean counters... they've saved two million euros with Lopetegui getting fired, as he's now a free agent and Madrid won't have to pay his buy-out clause. 
And here's the full story on Hierro's appointment in place of Lopetegui.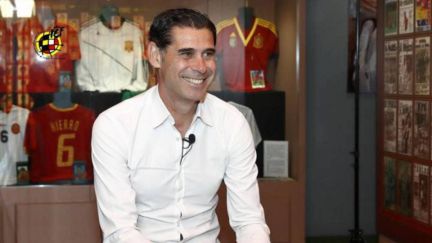 One thing that Hierro will bring to the dressing room is immediate respect... the Real Madrid legend did it all as a player at club level and won't have too much trouble steadying the ship. How he fares tactically will be an issue though. Fortunately Spain have a largely experienced and settled squad who can probably pull off a bit of in-game management themselves if needed. Sergio Ramos and Andrés Iniesta will need to grab the team by the scruff of the neck if it all starts to go south on the pitch.
He does know the RFEF inside out though. He was sporting director between 2007 and 2011 and was reappointed last November.
The new Spain boss' only senior managerial role was at Real Oviedo in Segunda División in the 2016-17 season. The Blues missed out on the playoffs on the final day of the season and Hierro left by mutual consent.
Hierro was assistant to Carlo Ancelotti at Real Madrid for the 2014-15 season and previously served as Málaga's director of football for the 2011-12 season, when the Anchovies finished fourth in LaLiga and qualified for the Champions League.
If you're a Spain fan and you want a little light relief, here are some of the memes reacting to the sacking of Lopetegui... including some that you could probably have predicted: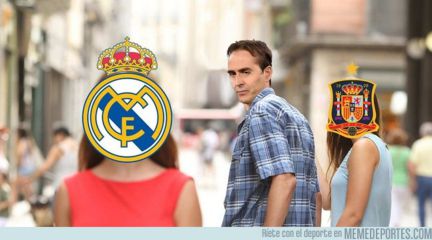 Spain's run looks a little like this, with some room for unforeseen circumstances. La Roja will finish either first or second in Group B in all likelihood, depending on the result against Portugal. If they finish second they will probably get Uruguay in the last 16, if they finish top the chances are they will face Egypt and Mo Salah. Get through to the quarters and they will more than likely face one of Argentina and France. Celades' last competitive game was a 3-1 home victory over Estonia in an under-21 Euro 2019 qualifier in March.
Celades' managerial stats with the under-21s are fairly decent: played 23, won 14, drawn 6, lost 3. 52 scored, 19 conceded and a win percentage of 60.87. It's a big old step up to the national team though, on the eve of the World Cup, with Portugal and Cristiano Ronaldo up first.
He also represented Barcelona and Real Madrid at club level, which we suppose can only be considered a bonus.
Albert Celades has apparently been installed as interim coach for the tournament in Russia. That does make sense, as someone who knows the players, the system and Lopetegui's style and methods.
It seems that Albert Celades, the under-21 coach, is moving to the front of the queue to take charge of Spain against Portugal. What happens after that we'll see. More than just a little pressure on his shoulders then.
That's confirmed now, Lopetegui has postponed any chat with the press until he returns to Spain... when of course he'll be at liberty to be unveiled as Real Madrid's new manager.
Lopetegui was apparently going to speak to the press in the wake of his sacking, but it now appears that is not going to happen.
Reportedly the players were not behind the decision to sack Lopetegui, quite the opposite in fact. They wanted him to stay for the World Cup but Rubiales put his foot down.
Presumably Spain will bring in a caretaker coach for the World Cup, and then line up their next permanent manager. Here are the current odds for the new Spain coach: Luis Enrique 7/4, Albert Celades 5/2, Rafa Benitez 5/1, Arsene Wenger 7/1, Zinedine Zidane 14/1, Guti 16/1. Zidane? That would be, er, quite something. He's said he doesn't know what he'll do next... 
Apparently the candidates to replace Lopetegui include under-21 coach Albert Celades, Fernando Hierro, the current director of the FEF, Luis Enrique, Míchel and Betis boss Quique Setién...
It will be interesting to see how the bookies respond to this bombshell. Spain are currently third favourites with most of the betting houses behind Brazil and Germany. That is likely to change significantly during the day.
Real Madrid really will not have made many friends over their handling of this situation. Surely the announcement could have waited until Spain's interest in the World Cup had ended.
And that, folks, is that. Quick summary: the World Cup starts tomorrow. Spain play Portugal in a game that will likely decide who will top Group B on Friday. And they have sacked their manager Julen Lopetegui.
Rubiales saying now that this has obviously come as a huge blow but "as of this afternoon, with the new coach and his staff, we'll move forward." So they obviously have someone in place.
He dodges that one, fairly enough, but explains that while Spain would have liked to have finished their association with Lopetegui on a high they really had not choice but to do sack him due to the timing of the announcement.
Rubiales being asked now if Spain look like a laughing stock in the eyes of the football world.
  Rubiales saying now that "obviously there was some sort of problem with communication but we can't be expected to find out about something like this five minutes [before the announcement by Real Madrid] and not take the necessary decisions." 
Still no clues as to the identity of the new coach: "I don't want to get into names but we'll make an announcement shortly," Rubiales said. Arise, Marquis of Del Bosque! Your country needs you!
"I don't want to get into how Real Madrid should go about things. The Spanish team is the team of all Spain. If it had been up to Julen it wouldn't have happened in this way and I wouldn't have found out five minutes beforehand."
Rubiales: "I feel very close to the players and to Julen. I have spoken to them and I can assure you that the players and the the new coaching staff will do everything possible to lead the team as far as possible [in Russia], but it's a complicated situation."
Although we'd quite like to see Sergio Ramos handed the player-manager job.
Rubiales has not announced who will be taking over from Lopetegui, simply stating that "we will not tamper too much with anything." That could mean Albert Celades, the under-21 coach, or Lopetegui's assistant, Pablo Sanz.
Rubiales has also had a little pop at Real Madrid: "It was a legitimate negotiation but we had not idea about it. There are ways to go about things."
Rubiales has confirmed that the timing of the announcement that Lopetegui would be joining Real Madrid after the World Cup left him with no choice. "There are decision that have to be made."
Pending official confirmatoin from the FFF, although Rubiales is as good as the same thing, Spain have sacked their manager the day before the World Cup!
Wow! The bomba, as they in Spain.... Lopetegui has been sacked!
  Here we go, Rubiales, the FEF boss, is out, no sign of Lopetegui though....
Still we wait... must be a decent pot of tea the two are sharing. And a big one.
There's some sort of a delay in Krasnodar. No sign of Lopetegui and Rubiales yet but a bloke was out a minute ago to check the seats. They seem to be ok so we should be good to go any minute now...
Coaches who have taken charge of both Spain and Real Madrid have had wildly different fortunes. Which way will Lopetegui go?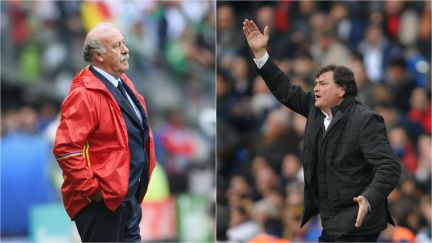 Worth remembering at this point that Lopetegui only renewed his contract with La Roja a couple of weeks ago...
We're just a few moments away now from Lopetegui's media appearance...
AS editor Alfredo Relaño has had his say on the way Real Madrid have gone about their business, and to say he isn't impressed is an understatement.
Of course, we must all pause and spare a thought for the genuine loser in all of this. Poor old Andre Villas-Boas. The Portuguese was briefly linked with adding Real Madrid to his CV - the last entry of which reads Shanghai SIPG - and we can only assume he could not believe his luck.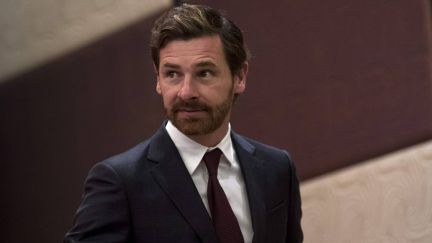 Not exactly related, but Spain's new PM Pedro Sánchez has been in the eye of David de Gea's ire after the Spain keeper reportedly demanded a public apology from Sánchez for comments he made about De Gea's alleged involvement in a sex scandal - which was later proven to be complete fabrication. Sánchez visited the team last week after being sworn in as PM after Mariano Rajoy was ousted in a vote of no confidence motion in the Spanish parliament. De Gea also talks a bit about the World Cup, by the way.
In the meantime, Spain can feel somewhat aggrieved at the timing of Real Madrid's announcement, coming two days before the World Cup. Lopetegui presumably didn't want anything said before the tournament but apparently Madrid met the buy-out clause in his contract. Perhaps there was the possibility of a leak, which Madrid decided to pre-empt. In any case, non-Real Madrid supporting Spain fans won't be feeling particularly benevolent towards the Bernabéu this morning. 
Gareth Bale's situation is quite different, but another one that Lopetegui will have to sort out as quickly as possible. The Welshman has said that he is happy at Madrid but wants to be playing every week, something that wasn't always the case under Zidane. Will Lopetegui offer those assurances?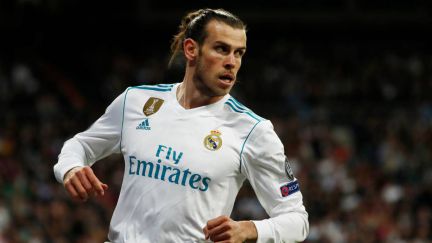 There'll be plenty for Lopetegui to sift through when he gets to his office at the Bernabeu, not least the now-standard annual Cristiano Ronaldo will-he, won't-he (he won't) talk of upping sticks and having it away on his toes. Apparently 25 million big ones and a few add-ons have been proffered to smooth the Portuguese's ruffled feathers. 
Footage has emerged of an apparently heated debate between Julen Lopetegui and Spain Sporting Director Fernando Hierro last night in the wake of Real Madrid's announcement that they'd be nabbing the Spain coach after the World Cup. Apparently Hierro, along with pretty much everybody else, had absolutely no clue beforehand of the bombshell news and was less than impressed.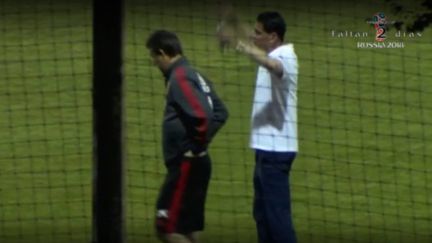 Hang on a moment, news just filtering in that the press conference has been delayed by an hour. So proceedings should be kicking off at 11:30 CEST. We'll keep you entertained in the meantime. Or at least we'll try to.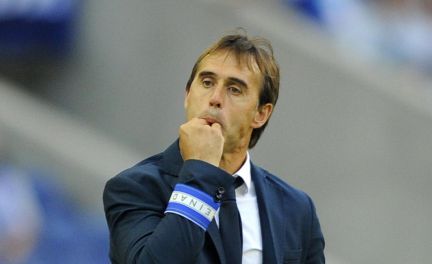 One person who doesn't see Lopetegu's decision as affecting the Spanish team's chances in Russia is a chap who knows a thing or two about coaching teams in international tournaments, Vicente del Bosque, who of course won the World Cup in 2010 with Spain and the European Championships in 2012. Del Bosque said he thinks the shock news won't affect Spain AND that the coach is ready to take over at Real Madrid.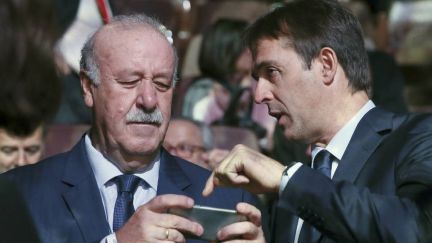 Obviously the main concern for Spain is the potentially huge destablising effect the news could have on the team, with the World Cup starting tomorrow, and Spain's opening game, against none other than Portugal, on Friday night. Lopetegui will presumably be attempting to calm things down and explain that his decision won't affect in any way Spain's campaign to reclaim the trophy they won in 2010. 
Hello and a very warm welcome to our live coverage of Julen Lopetegui's press conference, starting at 10:30am CEST, where the Spain coach is going to talk about yesterday's shock announcement that he'll take over at Real Madrid after the World Cup is over. 
Lopetegui to join Real Madrid
Current Spain coach Julen Lopetegui will take over as the new Real Madrid manager after the World Cup in Russia. That was yesterday's shock news that took the football world by surprise yesterday afternoon, when it was announced on the Real Madrid website.
A press conference has been called for today, Wednesday 13 June, originally at 10:30 CEST but then delayed until at least 11:30, for Lopetegui to talk about his decision to leave the Spanish set-up and take over at the Bernabéu, and we'll have live coverage here on AS English. He'll be joined at the conference by Luis Rubiales, the president of the Spanish FA
Lopetegui to sign three-year deal with Real Madrid
Lopetegui will sign a three-year deal at the Bernabéu, running to 2021, the Spanish giants confirmed in their statement. The coach has been with the Spain set-up since 2016, when he took over from Del Bosque, after the European Championships.
The announcement was a complete surprise and many have criticised Real Madrid, and in particular their president Florentino Pérez, for snapping up Lopetegui and potentially destabilising the Spanish World Cup campaign.