ATHLETICS
Asbel Kiprop gives up fight against doping charges
The former 1500m Olympic champion says he is abandoning his attempts to prove that his drug test sample might have been contaminated.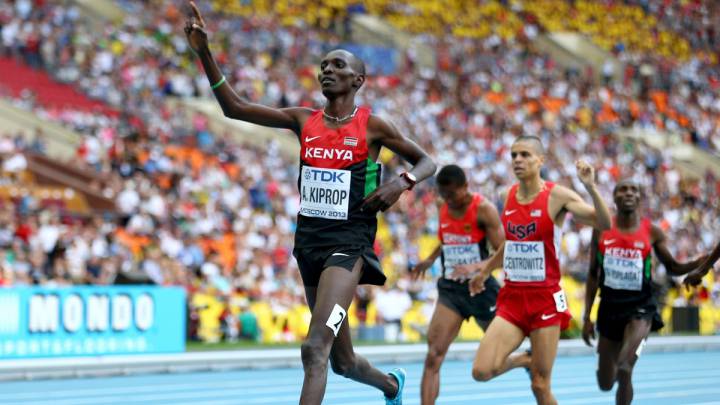 Kenyan middle-distance runner Asbel Kiprop announced on Thursday that he has resigned himself to his fate and is giving up his defence against doping charges against him.
Kiprop, the 1500m Olympic champion in 2008, was found to have traces of Erythropoietin (EPO) after a test in November 2017.
He is currently facing a four-year suspension for anti-doping rule violations by the International Association of Athletics Federations (IAAF).
The Kenyan vehemently denied any wrongdoing, suggesting the out-of-competition sample he gave could have been contaminated.
Kiprop gives up fight to prove innocence
In a Facebook post on Wednesday, the 28-year-old runner sustained his innocence, but added he did not have the financial resources to continue the fight against the IAAF's suspension.
"I have let the struggle to prove my innocence go," he wrote. "Not because I doped, but I take the sacrifice because I support the anti-doping campaign.
"I do not have money to meet legal fees and find qualified physicians who can give their opinion on my sample and discredit any possible unjust reason to why the sample resulted in an EPO finding." he added.
Deserted. Forsaken. Despised. Avoided: Asbel Kiprop describes his days after being implicated in doping. "This is a status I would wish neither my worst enemy nor my best friend" "It is painful. Disgraceful" He spoke to KassFM during a weekend sports wrap. @EmooFm @kebutjunior pic.twitter.com/MtnTGXBfv5

— Eldoret Bulletin (@EldoBulletin) 9 June 2018
Contaminated sample
Kiprop alleged the testers asked him for an unspecified sum of money. He argues that the sample came out 'positive' because he did not give them enough money.
The Athletics Integrity Unit (AIU) rejected this claim.
"I'm financially weak to challenge my accuser, the IAAF, whom I have always worked hard for. However, I'm rich in truth and sincerity - this seem to mean nothing.
"I will remain loyal to authorities as my religion commands and I will INSPIRE," the Kenyan concluded.
Kenya has been fighting intense criticism of its anti-doping efforts, since over the past five years more than 40 of its athletes have tested positive.