Late Gimenez header sees Uruguay pass Egypt test: World Cup 2018, Group A
A late header from Atlético Madrid defender Jose Gimenez gave the South Americans all three points in their opening fixture. Mohamed Salah watched from the bench.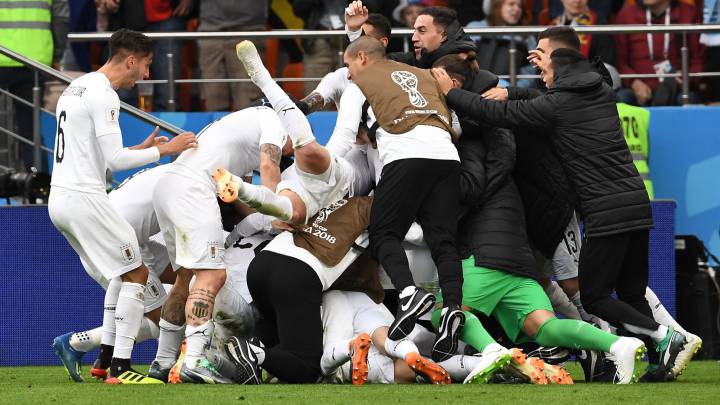 Egypt vs Uruguay: World Cup 2018, Group A - match report
This was billed as the excitement of Mohamed Salah for the underdogs against the potent strikeforce of Luis Suárez and Edison Cavani. In the end, the Liverpool player watched the full game from the bench, and the Barça-PSG attack had to thank Atlético Madrid defender Jose Gimenez for a late, late winner.
The first half was not one that'll make any impact on the summary reels of the group stage but there was enough interest in seeing how the two sides set up. Egypt offered more in terms of the flow of the game, and Uruguay struggled to break them down time and time again. There was little in terms of goal mouth activity and the best chance of the half fell to Suárez who couldn't guide a loose ball from a corner into the net. More was hoped for in the second period.
After the managers had had their say, the game seemed to take on more intensity. Spaces opened up, play moved from one end to the other, and some half chances presented themselves for both teams. Suárez missed two great chances - with some of the credit for this going to the impressive El Shenawi in the Egyptian goal - while efforts for Elneny and delivery into dangerous areas from El Said looked like they may open things up. As the game was drawing to a close, with a point for either side appearing fair, a free kick beside the corner flag allowed the Atleti pair Godin (who didn't put a foot wrong all game) and Gimenez to step forward. The latter rose and headed home firmly.
Egypt vs Uruguay: World Cup 2018, Group A - how it happened
Thanks for joining us today and we look forward to seeing you again soon as our extensive World Cup 2018 coverage continues...
90'+6' Peeeep, peeep, peeeeeeeeep! It's all over. Uruguay win a tight game and join Russia on three points. Our match report will be up soon...
90'+5'   Three, four, five crosses fired into the Uruguay box in quick succession but they are all dealt with simply enough. Time running out...
90'+4'   Back underway and Egypt are in hurry.
90'+2'   Uruguay holding onto the ball and we have two players down, one for each side. Morsy deemed (wrongly IMO) to have fouled Bentancur and they both seem to be struggling from cramp.
90'+1'   Cavani in the area just steps over the ball a few times. He knows they just need to see these last few minutes out now and do nothing risky.
90'   There will be five minutes of injury time.
89'   Gooooaaaaaalll!! That building pressure has paid off. Gimenez rises highest in the area and thuds home a header amidst the crowd. Cruel on Egypt so late in the game.
87'   POST! What a hit from Cavani. From the left side he strikes the free kick cleanly, El Shenawi is beaten, but it comes back off the inside of the post.
Before taking it Vecino is replaced by Lucas Torreira
85' Uruguay have stepped up the pace and are pushing the red wall further back. Cavani goes down under a challenge and there's a chance to get a crucial goal late on...
83'   Ooooohh!! Cavani hits a volley off a cushioned Suárez header which is flying into the Egyptian net. "Oh no it isn't," says the impressive El Shenawi who throws oiut a hand to push it clear.
82' Warda off, Ramadan Sobhi on
81'   More pressure on the Uruguayan backline. The break by Elneny is slow and there are enough covering players to stop the danger. As the ball breaks back to the Arsenal man he tries a difficult lob from wide which goes well over.
79'   A break down the left for Kahraba who strides into the green space ahead of him. His delivery across the area is well intercepted by Caceres and Uruguay can head in the other direction.
77'   Top work there from Godin who steps into the middle of the park to rob the Hamed. He strides on and plays a one-two with Sanchez but the return is way too long for the Atleti man to reach. Again some poor execution.
76'   Salah still sits on the bench. He looks happy enough...is he thinking of coming on and shining?
74'   Glorious chance! Suárez again fails to finish off after being played in by Cavani. To be fair the goalkeeper did brilliantly to take the ball off his toe but a top striker should do better.
72'   Thwack!!! A powerful drive from distance from Fathi which is held well by Muslera. Now Uruguay break...
70'   A corner almost creates a great chance. Cavani controls the low delivery from the right beautifully, and as he's surrounded by players gets a shot off but it's blocked.
68'   Each side is having some of the ball but creating nothing of note.
66'  66'    After that higher pace to start the second half, this game has a feel of 'don't lose first', certainly from Uruguay, the team expected to take the game by the scruff of the neck. Slow, safe play at the back, with the direct pass into the front men is the current approach. 
64'   The pace has dropped over the last five minutes. The Egyptian fans are calling out for their King to make an appearance.
62' Another change as the managers aim to make an impression: Mohsen replaced by Kahraba
59'   Arsenal's Elneny is trying to get more into this game and has a promising break along with Warda. The latter fails to make a simple pass and the move breaks down.
58' A couple of changes: Nahitan Nandez off for Carlos Sanchez and De Arrascaeta is replaced by Cristian Rodriguez
57'   Caceres leads the charge for Uruguay down the left. The play develops to the edge of the area but Suárez is too slow to deliver a cross. Poor from the Barça man.
55'   Trezeguet has a go. With nothing to lose he hits the ball as it bounces up in front of him but pulls it well wide. Trezeguet by name...
53'   To say this has become end-to-end stuff would be overstating it a little, but the game is certainly more open. Both sides will be thinking of the importance of three points after Russia's win
52'   And talking of invention, Egypt break well and put some neat passes together between Abdel-Shafy and Trezeguet. The return link-up is just to much of a stretch.
51'   Two attempts in a row from Uruguay to attack in the simplest of forms: long and high into the opposing area. Neither come to anything. More invention required.
49'   Vecino getting frustrated with his neighbouring player who doesn't read his pass. Not sure which of the two was to blame.
48'   Play is stopped for an injury to Tarek Hamed after De Arrascaeta obstructs his run. he's gone off for some brief treatment, maybe winded.
47'   Seeing that chance again, the Barça striker will be disappointed not to have slid the ball passed the onrushing keeper. Will it be third time lucky for him?
46'   The white shirts immediately get the ball back, and after giving it away, win it back and Cavani feeds Suárez for a wonderful chance. His point blank shot is blocked off the knee of El Shenawi
Egypt get us underway...
Right, the players are back out and there don't appear to be any changes to the teams. Let's see what we get...
Hector Cuper, on the other hand, will be pleased with what his side have produced. And he must be getting tempted to send on a certain substitution...
We expected more from the South Americans today. Cavani has had some nice touches; likewise Vecino has looked to find gaps. Suárez has offered little and when his chance did come, he fluffed it. Oscar Tabarez knows his squad, will want Bentaancur to take more control, and will have to consider changes to personnel if no breakthrough comes soon...
This pressure led to Uruguay shooting from distance - again there weren't many instances of this - or delivering balls into the area, from deep and wide, that were usually dealt with easily...
Egypt are doing exactly what we thought, and doing it better than some would have expected. Pressing onto their opponents in dangerous areas, and in places where they feel they can gain back possession. Sometimes the red shirts pushed right onto the Uruguayan defenders to make their lives uncomfortable; on other occasions they waited until in their final third to close the door...
It's not been a classic but there has been enough to interest the less critical of observer. Goals no, and just the one clear attempt at goal for Luis Suarez on the 24th minute. Uruguay have given a sense of being in control, however, haven't been able to consistently break down a hard-working Egyptian side...
45'   Half-time | The whistle blows on a goal-less first half. Thoughts on that 45 coming up...
44'   Uruguay look to get something before the break but again the Egyptian players read the play well and block out the move. Looks like we're going for oranges without any goals.
43'   From the last Uruguay attempt to make something happen, the turnover of possession results in an Egyptian counter. They pile forward and space opens up for Fathi to deliver into the area. El Said ends up going for the spectacular but mistimes his overhead attempt.
42'   Uruguay are teasing for openings but everytimg it looks as though they've picked Egypt apart, there is another red shirt steaming in to cover. Tabarez has some thinking to do.
40'   Slight stoppage in play for some treatment
39'   Godin's had enough. He glides out of defence with the ball, through the middle of the park, looking for options. His pass feeds De Arrascaeta in the left channel but just as the opportunity presents itself, his first touch lets the ball run on and out of play.
37'   The South Americans work it out to the right hand said via neat play from Vecino but the floaty cross from Varela is like picking apples for El Shenawi (yes, that's something he finds easy to do!) 
34'   Plenty of energy being used out there on this carpet of green but other than that Suárez chance half way through this half, the goals have not been under much threat of being breached.
32'   Suárez has a dead ball to hit and decides to go for goal from 30ish yards. The wall does its job and Trezeguet is injured in the process. As the ball fell back to the Barça man he looked to lift it over for the runners but Warda gets the ball away for a potential counter.
30'   Vecino decides to have a whack from distance. Way out on the right he lets fly and El Shenawi is happy to watch it slip by the left post. Good hit but little real danger.
28'   Fernando Muslera shows his dominance in the area there. High cross from Warda on the right and there was only one winner.
26'   Mohsen manages to squeeze off a shot from the edge of the Uruguay box but it was dealt with like a slightly firm passback. This game feels like it's coming more and more to life - although by no means has it been dull thus far.
24'   What a chance! Suárez is all alone at the back post as the corner ends up at his feet. He doesn't catch it well and it goes into the side netting. Hands onto the faces of teammates who thought it had sneaked inside the post.
22'   Very nice there from Cavani. Control, lift over defender and volleyed shot towards the far side of the goal. Blocked bravely by Ali Gabr's head.
21'   Egypt making it difficult for their more illustrious opponents to create anything, then Cavani drops deeper to collect the ball and almost clips it into Suárez' path. 
20'   El Said gets another ball into the area but it's well gathered by Muslera. 
18'   Warda's having a good game so far, working hard to close down the Uruguay build ups and looking to create when he gets on the ball. Fairly even game
15'   Free-kick to Egypt just over 30 yards from goal and central after Bentancur fouled Amr Warda. The ball is lifted into the area by El Said at the back post but is dealt with by Leti's Jose Gimenez. In defending that ball there were some other gaps opening up that could have caused some problems.
13'   After some decent build up down the right, Suárez sweeps a Varela cross goal-wards but it's well wide. A bit more controlled there. 
11'   Shot! Egypt balance up the attempts as Trezeguet eventually gets the ball under control in the opposition area and hits it. He doesn't make a clean contact and it was never going to cause Muslera any real problems.
10'   Not much time or space being given to any player, and Egypt work it back when the pressure gets too much.
8'   Shot! First attempt of the game and it's Cavani who finds space on the edge of the area and swings his right boot. Comfortable save from El Shenawi down to his right.
6'   El Shenawi comes out and collects a direct play from Uruguay. Good pressing from Egypt. The front line not waiting till they enter their own area but trying to win back possession as high up the field as possible.
5'   A littel posssession building for the Africans but they don't get a chance to find any space for danger creating.
3'   Foul on Cavani by Hamed and PSG man looks more hurt than the challenge suggested. Back up on his feet anyway.
2'   First chance almost created from Uruguay as they build as far as the Egyptian area but are snuffed out rather easily.
1' The sun could cause some problems today as it covers half of the park
  We are off! Kuipers blows his whistle and the whites of Uruguay get some early touches in their own half
Marwan will hope to get plenty of support from Trezeguet, El Said and Warda behind him as they look to trouble that Uruguayan backline. We're about to see just how much...
Now it's up to Uruguay to match them. The players looking serious but get into the anthem singing and the fans in the crowd belt it out too. Shaky hands time and then the whistle will blow. Everyone suitably excited? We are...
Time for the Egyptian national anthem. There are a number of Pharoahs in the crowd singing along...and Salah doing likewise standing at the bench.
Almost time | The teams are being led out onto the field by the officials. That grass looks delicious!!
We have a better idea of today's tactics from both mamagers once the action gets underway in a few minutes but, with this expected to be Egypt's toughest of the group, I can't see anything other than a defensive start for Cuper. If he can keep Uruguay quiet for the opening half or longer, he may be able to introduce his special weapon with something to target.
...their Barça forward may have turned up for the wrong game going by this photo. You can't use your hands Luis. Ahem!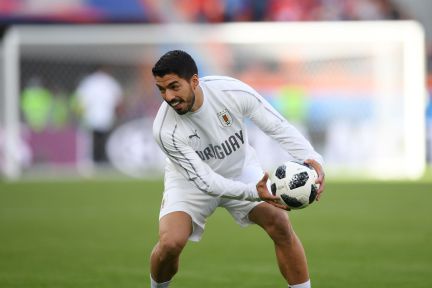 The teams are out on the field warming up and the Uruguayan's are looking nice and relaxed...but very focused.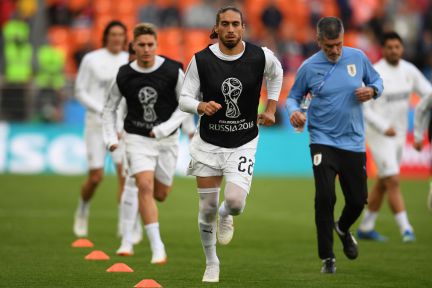 Egypt are looking for their first ever World Cup win. In Italia '90 they drew two and lost one in the group games. Their only other appearance was in the 1934 edition (also in Italy) where they played just a single game, and lost.
  Uruguay and Egypt have faced up three times at a World Cup before with the South Americans winning one and the others being drawn.
Hello and welcome to Day 2 of the 2018 World Cup in Russia. The first of three live games that we'll be bringing you today is Egypt against Uruguay which kicks off at 14:00 CEST. Stay with us as we build up to the first whistle and then enjoy the full match with us...
Egypt vs Uruguay: World Cup 2018, Group A - match preview
African side Egypt come in to this world cup led by manager Hector Cuper but with many of the hopes hanging on their star player, Mohamed Salah. Uruguay make the trip from South America with a greater prospect of success and with long-term coach Oscar Taberez pulling the strings, and a relatively kind group to ease the players in, optimism back home is high that the sky blue shirts will be seen in the latter stages of the competition.
Egypt
Salah has been making the headlines all season in the build-up to Fifa's showpiece tournament. Premier League top scorer, individual awards, runner-up in the Champions League (a final where his injury may have been decisive) and then the clock ticking to his return from that knock. All eyes have been on the man who has put Egyptian football on the map over the last 12 months. There are, of course, several others in the squad capable of making a name for themselves, and they'll all have to play their part if the African side is to make it out of this group.
Uruguay
With a front line of Barcelona's Luis Suárez and PSG's Edison Cavani, goals are not expected to be in short supply for this Uruguay side. But it is in other areas of the pitch that Tabarez has been building across his 12 years in charge (since returning for another spell). If he can get the supporting cast to function effectively then Uruguay could be a contender out of the second or third level of teams at this year's tournament to surprise a few. Keep an eye out for Juventus' Rodrigo Bentancur in the middle of the park.