Official: Real Madrid confirm Rodrygo capture
Both Santos and Real Madrid have announced that teenage forward Rodrygo Goes will join the Spanish club in the summer of 2019.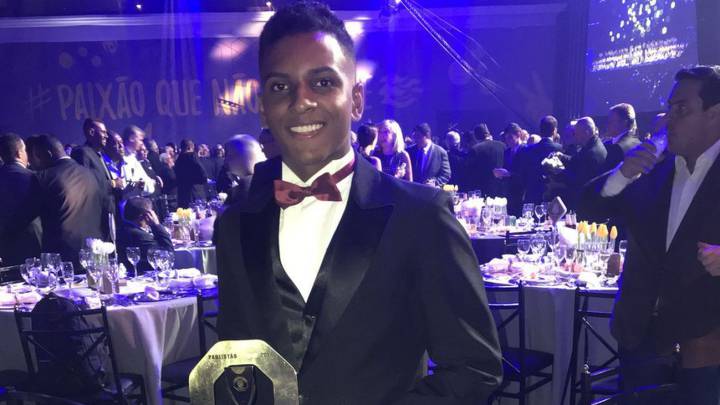 Rodrygo Goes is officially, now a Real Madrid player. Santos announced on their Twitter feed that they have reached an agreement for the talented 17-year-old, who will physically join the Spanish side next summer. Madrid confirmed the transfer shortly after 14:30 this afternoon.
Madrid have acquired one of the most promising players in Brazilian football; Rodrygo will join up with compatriot Vinicius Junior, who will be joining Julen Lopetegui's squad this summer, after sealing his transfer last year.
AS has reported how the operation to land Rodrygo has developed since reaveling Madrid's initial interest in him. Rodrygo's agent, Nick Arcuri, confirmed to Esporte Interativo that Santos had accepted Real Madrid's offer - Los Blancos will pay 40 million euros for 80% of the player's rights, the remaining 20% stays with the player who has also contributed part of fee. According to sources consulted by AS, between Madrid's payment and Rodrygo's own contribution, the operation could cost 45 million in total. "We received offers from Liverpool, PSG, Barcelona, but of them were close to what Santos were looking for. 15 days ago, Madrid came along, met with the president and put forward their proposal, in line with what Santos had in mind. Lasrt week, the player underwent a medical revision with a Spanish doctor before Santos gave the go-ahead for the deal to go through".
Just as Arcurri had envisaged, Rodrygo will remain for another year in Vila Belmiro. Santos president Jose Carlos Peres, confirmed the agreement with Madrid in declarations to SporTV a few days ago. Rodrygo will earn a salary of close to 4 million euros.



LaLiga Santander
*Update 15 de junio de 2018