Portugal 3-3 Spain: World Cup 2018 Group B goals, match report
A hat-trick from Ronaldo, a brace from Diego Costa and a cracker from Nacho saw Spain and Portugal play out a world class game at the World Cup in Russia. Cruz Azul vs America: Liga MX, live online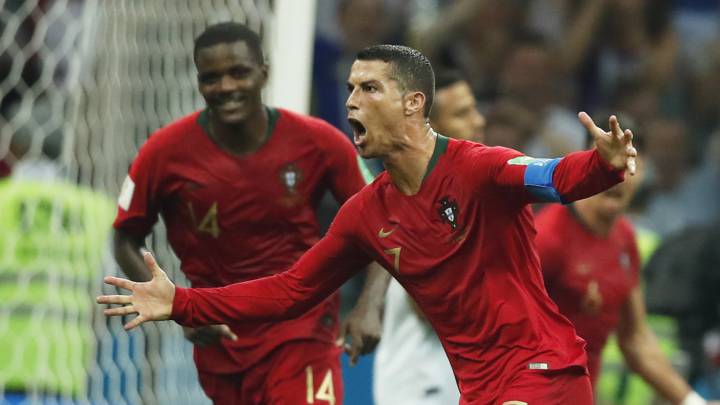 Portugal v Spain: match report
If the World Cup was a powderkeg, Spain and Portugal were the spark it needed to help it explode to life as they played out a thrilling draw in Sochi on Friday night. A sprinkle of Ronaldo magic, a brace from battling Diego Costa and a moment of magic was all it took to really help get this tournament off the ground.
After everything that happened in Spain's camp in the previous week, they could not have gotten off to a worse start as Ronaldo was clipped by Nacho in the box and the Real Madrid attacker converted the penalty, sending David de Gea the wrong way. That was after four minutes as Spain must have felt overcome by negative sensations.
Instead, they knuckled down and started to express themselves the way they had under their former manager, the departed Julen Lopetegui. Diego Costa caught Pepe with an arm across the face before jiving his way into the box and striking low and out of Rui Patricio's reach.
After that, it was all Spain but for one moment when Ronaldo got a clean look at goal. He struck the ball with pace but David de Gea looked like he would deal with it as it rolled to his waiting arms. He couldn't though as it trickled by the Manchester United keeper and Portugal were back in front just before the break.
A spell of three minutes saw Spain retake the lead after some fairly unpersuasive passing around the middle in search of an opening. The first came when Iniesta was fouled and the ball was clipped to the back post. Busquets headed onto Costa, who was waiting in the middle to poke the ball home and poke Spain back into the game.
Just 180 seconds later and Nacho, who was deputising for the injured Dani Carvajal, sent a laser beam onto the inside of Rui Patricio's post and into the back of the net. Nacho could stay in Fisht Stadium for another 90 days trying to better it and he wouldn't come close, it was such a fine goal.
Spain, having battled their way back into the game, had the momentum even if Portugal were always going to give it one last push. They most certainly did but Spain repelled them at every turn. That was until Ronaldo was fouled with two minutes to go.
It was now or never, and you never want to put Ronaldo in a situation like that because he sent the ball over the wall and crashing to the back of the net to steal a point for his country.
This was two heavyweights of international football exchanging blows with both feeling like they could down their opponent at any moment. The footballing world was waiting for this game and they got more than they bargained for in the end. A draw, after such excellent fighting back from both sides, is a just result as they look forward now to games against Morocco and Iran in Group B.
Portugal v Spain: live
90'+5' That's it. Game over! ronaldo is delighted with that one. They're treating it like a win.
90'+5'   Ref adding on more time for the goal and a couple of stoppages. Into the second minute of added time.
90'+4'   It's all over in sochi. What an incredible game. Spain attack and Isco sees his cross blocked. 
90'+3'   Ronaldo down now and looks uncomfortable but he's okay to continue.
90'+3'   Cross comes in and Ronaldo pushes in the back.
90'+2'   What an absolutely incredible sliding tackle. Quaresma runs in on his left and strikes what was sure to be a goal. Koke blocks it.
90'   Four minutes of added time. Now Portugal have the momentum.
89'   Can spain respond now. What a game this has been to be fair.
88' What a goal! Free-kick. Ronaldo with a hat-trick. Absolutely incredible scenes.
87'   Ramos with a free after Pique hauls him down. Dangerous position too. Let's see how De Gea responds.
85' Vazquez coming on for David Silva.
85'   Aspas with some nice passing before mishitting a pass and it's out for a goalkick.
84'   Ronaldo and Alba having words with each other after the former throws the ball at the latter. 
83'   Iniesta feeds Aspas and he shoots with his left. It kind of bobbles off his foot and Rui Patricio grabs it.
82'   Spain have just under 10 to see this one out.
79'   Pique picks himself back up and carries on. Or else, he is ready to come back on.
78'   De Gea rushes out and Ronaldo is caught. Pique and De Gea clash with Ronaldo and the ball is cleared. Hand ball then from Quaresma. 
78'   Joao Mario with a foul now.
77' Costa off for Aspas.
76'   Aspas coming on now as Hierro gives him instructions.
75'   Quaresma on the ball a lot. He wins a throw and curls one with the outside of his right over the bar. Nowhere close really.
75'   15 minutes to go. What can Portugal do?
75'   Quaresma pushed in the back by Alba on the counter.
73'   Nacho gets himself out of trouble. spain attack again and Silva and Costa get their wires crossed before Portugal recover.
72'   Quaresma wins a corner. Portugal take. Moutinho sends the ball into the back post and it's head back across goal. Costa drives it a kick back up the field!
70'   Spain getting a little too confident Ramos saves the day and Spain counter. After some playing around, Alba cuts it back to Costa and that is nearly a fourth!
69' Iniesta is coming off for Thiago.
69' Quaresma for Bernardo Silva.
69'   Portugal committing more men forward. They have to be careful of Spain on the break. Spain win it back and then there's a foul as Spain win a free.
67' Joao Mario coming on for Bruno Fernandes
66'   Portugal have asserted some control but no way through yet. 
65'   Joao Mario coming on for Portugal.
65'   Nacho takes down a lovely pass from Ramos. Nacho crosses and Rui Patricio nearly fumbles it with Costa sniffing around.
65'   Iniesta to Isco and back again. Brilliant from the little midfielder as he skips by a challenge. 
64'   De Gea with the ball now. Portugal getting very frustrated. 
63'   Isco with some fancy footwork...He wins a free..
62'   Ronaldo doing some mouthing at Pique. Buesuqtes involved too. 
61'   Throw as Ramos drives out from the back.
61'   Portugal now looking for their way back into the game.
60'   Ronaldo tripped by Nacho. Free sent in and that's blocked away.
59'   That was the goal of the tournament! 
58'   Nacho GOAL!
56'   Ramos wins the ball on Guedes. 
55' COSTA! Costa, Costa, Costa. Clipped in Busquets heads it down into his path. Costa goal as he pokes it home.
53'   Free for Spain in a dangerous position.
53'   Isco looks for a ball inside but he loses out. Bernando Silva fouls Iniesta.
53'   Iniesta squeezed out.
52'   Silva looks for Costa but he can't find him. Portugal clear.
51'   Portugal force them back but Ramos to Pique and they break free again. No way through so far.
51'   Spain trying to soften up Portugal now. Loads of passing out on the right. Nacho, Isco and Koke along with Silva involved.
49'   Iniesta gives the ball away after Ramos did well to win it back. Shot from Fernandes and that's well wide.
47'   Isco wins a throw for Spain. He's so important to this team. Ball in Silva and he's offside in any case.
46'   No changes for either team at the break.
46'   We are back underway in Sochi. 
46'   Rodrigo, Thiago, Saul and Marco Asensio all warming up now for Spain.
    Can Spain get themselves back in the game for the second time?
    Portugal back on the field. As are Spain. Camera focused on De Gea.
  Guedes is going to play a massive role in this second half. His speed will continue to be a nightmare for Spain as they push for a second.
    Spain really need to stop getting caught on the break. It's hard to know what else they change, if they change anything, because they had completely taken over the game in the end! 
45'+1'   Half-time. What a hectic half! De Gea with a good 15 minutes to stew on that one now.
45'   De Gea disgusted with himself. And rightly so, that was an easy shot.
44' De Gea lets the ball slip through his hands. Ronaldo GOAL!
44'   Counter as Ronaldo drives forward. Spain have more men back now though.
42'   Corner comes in and Rui Patricio grabs it.
42'   Spain continue to pile pressure on. Cross comes in and it's put behind for a corner.
41'   He gets behind it and saves.
41'   Iniesta breaks free and Silva feeds him. He turns on his left and drills one down Rui Patricio's throat.
39'   Buseuqtes competes for the corner and he heads wide. Pepe having a word with the referee for some pulling and dragging.
38'   Alba applies even more pressure and wins a corner.
38'   The questions is whether Portugal can keep this up for another 50 minutes. They'll be exhausted. 
37'   Portugal running out of ideas. Guerreiro launches a cross that is nowhere near where it needs to go. De Gea sees it off.
35'   Iniesta goes close now. So well done down that left-hand side. It is cut back to Iniesta and he strikes, Koke clips it ever so slightly and it dribbles wide.
34'   Nacho on the right and he links with Koke. They lose it and win it back again!
33'   Bernardo Silva foul on Alva, it looks like. Or else the ball was out, not very clear.
32'   Busquets fouled by Pepe as he ran around him.
30'   Spain are taking back over here! What a game though.
29'   Rui Patricio absolutely roaring his wall to move. It hits the wall in the end.
29'   Silva with the free kick. 
28' Free for Spain now as Nacho is taken down outside the area. Yellow card for Bruno Fernandes.
27'   Isco with a shot and my word did he rattle the crossbar. It looked like it went in but VAR says no, which was obviously the right decision.
26'   What a finish. There was definitely more than a hint of a foul in the build-up to that.
24' Costa scores!  He twists and turns and scores. Lovely finish. 
23'   Spain could be in serious trouble if they continue to commit men forward like that.
22'   Ronaldo and Guedes break. Lord that was close. Portugal with men streaming forward and Spain just about get men back. 
22'   Iniesta breaks free now and they are having luck down that left hand side. Plays it to Silva and it's deflected out for a corner.
21'   Spain win it back and Costa feeds Isco. No room at the back as Portugal get men behind the ball.
19'   Costa loses the ball and that's a goalkick.
18'   Ronaldo to take from outside the box now and to the right. It hits the wall. Foul as it was taken it looks like. Not sure why Spain won that free but there was pushing being done in the wall.
18' Busquets with a booking after taking Guedes down. He lunged in.
17'   Guedes breaks free and he has a one-on-one with Ramos with support but Pique gets back.
16'   Isco with some lovely footwork and breaks free. He crosses but it's way too deep and Nacho's cross back in is blocked.
15'   Koke slides in and wins it back for Spain. Spain with loads of the ball but no chances on goal yet.
14'   Alba with a cross that is too close to Rui Patricio. Poor cross but decent from Spain. Portugal looking dangerous on the counter.
14'   Ronaldo on the counter. Portugal in trouble on the ball when the have to build out from the back. Long ball is out for a throw.
13'   Corner as Isco wins it. They take it quick. Iniesta gets it and then forgets it as Portugal recover.
12'   Portugal with an attack and Spain win it back. they've taken control of this.
12'   Alba hits the deck under a fairly hefty challenge and there's no free.
11'   Ball into Costa but that's too hard and into Rui Patricio.
10'   Isco with a lovely ball into the box. Costa takes it down and it falls to Silva. He drives it over the bar. Really good chance and he should have done better.
9'   Kind of growing into it now a bit but Portugal very well organised.
9'   Aside from the penalty, Spain haven't started all that well! 
8'   It was put out by a Portuguese defender actually and the throw is taken and it's out for a goalkick. Spain haven't started well at all.
6'   Long, diagonal ball down the right hand side but that's out and offside anyway.
6'   Ronaldo takes a blow to the eye off Busquets. Nothing in it really.
5'   Spain take back over now. That is a massive blow.
4' Ronaldo slots it home. De Gea had a chat to him beforehand but he sent the Manchester United keeper the wrong way.
2'   Referee doesn't even as much as hesitate.
2'   Penalty for Portugal. Nacho takes him down and that's a penalty. 
2'   No real pressure up high from Spain. Koke the only one pressing but even he is very controlled.
2'   Portugal take over now as Spain sit back. Silva and Koke take off after them. Portugal in but shot is blocked.
1'   Pepe wins one back and launches it forward. 
1'   Ronaldo up top. 
1'   Diego Costa gets us underway! 
    Ronaldo and Ramos up for the toss! Very exciting here.
    The two teams emerge onto the field! Let's do this.
    This lad starting up front?

    Portugal's warm-up in full swing. Ronaldo going hell for leather and sprints into the tunnel with his teammates.
    This is FIFA's 4th ranked side versus FIFA's 8th ranked side. Portugal are fourth.
    The Portuguese there too and getting slightly ahead of themselves. 

    The Spaniards taking over Sochi.

We noticed there was a lot of Vuvuzuela-like noise in the last game! Keep an eye out and report anyone with one to the local authorities. The football world needs rid of them. 

    Just to stick with the Ronaldo news. Apparently the PSG CEO Nasser Al-Khelaifi is in Sochi to keep an eye on Ronaldo regarding a move as he steps up interest in the Portuguese star.

Not ideal timing for Ronaldo given how he was given a two-year sentence and slapped with an €18.8 million fine for tax evasion today. He tends to be able to block out the noise though and I don't think it will have any effect.

Cristiano Ronaldo becomes first Portuguese player to play in four World Cups
    Ramos spoke yesterday after everything that happened in the last few days. He said "it feels like a funeral and the World Cup starts tomorrow" and said he wanted a more upbeat atmosphere!

    Guedes and Silva playing either side of Ronaldo up front. That's Piqué and Ramos versus Ronaldo. Costa versus Pepe up the other end too.
    Portugal XI: Patricio, Soares, Pepe, Fonte, Guerreiro, Moutinho, Carvalho, Guedes, Fernandes, Silva, Ronaldo.
    Spain XI: De Gea, Nacho, Pique, Ramos, Alba, Busquets, Koke, Silva, Isco, Iniesta, Costa.
Hello and welcome to our live coverage of Spain versus Portugal from Sochi. Kick-off is at 20:00 CEST and this is by far the best game so far and possibly the best game of the entire group stages! Let's hope it lives up to the billing.
Portugal v Spain: Teams
Spain starting XI
De Gea, Nacho, Pique, Ramos, Alba, Busquets, Koke, Silva, Isco, Iniesta, Costa
Portgual starting XI
Rui Patricio, Pepe, Raphael, Fonte, Cédric, Moutinho, Bernardo, William, Fernandes. Ronaldo, Guedes
Portugal v Spain World Cup 2018 Group B: Preview
Spain and Portugal play each other in what is surely the best group game in the World Cup in Russia this summer. They kick-off at 20:00 CEST at Fisht Stadium, Sochi, after plenty of disruption for Spain ahead of the game.
Spain
Spain incredibly sacked their manager, Julen Lopetegui just a couple of days ago and Fernando Hierro took over. Sergio Ramos appeared at a press conference with the new manager and tried his best to put it behind him and the team as he finished almost every sentence with some form of "the sooner we can put this behind us, the better." In terms of teams news, it all depends on what Lopetegui had planned and how much Hierro feels he needs to change. Dani Carvajal has been cleared but won't make the first game and will avoid a juicy match-up against his Real Madrid teammate in Cristiano Ronaldo. Adrian Odriozola will likely take his place and then it's really just a matter of who starts up front with Diego Costa, Iago Aspas and Rodrigo Moreno vying for that starting spot.
Portugal
Portugal have had to deal with their own share of turmoil as Sporting Club de Portugal continue their descent into the completely absurd. Six of their players have now rescinded their contracts and could move for free this summer, which means as much as €200 million worth of talent could leave the club for nothing in the coming months including Das Bost, Rui Patricio, Daniel Podence, William Carvalho, Bruno Fernandes and Gelson Martins. It has rocked Portuguese football but Fernando Santos will be hoping he can and has blocked out the noise in his training camp. Ronaldo was most recently handd a two-year sentence and an €18.8 million fine for tax evasion too, which didn't come at a great time.
However, nothing will take the place of Lopetegui's sacking when it comes to talking points before this one. A win in this and the team that gets it could very well have one foot in the last 16.