World Cup 2018
Croatia 2-0 Nigeria World Cup 2018, Group D: match report
Goals in either half from Etebo (OG) and Luka Modric from the penalty spot were enough to see Croatia off the a winning start at the World Cup in Russia. Cruz Azul vs America: Liga MX, live online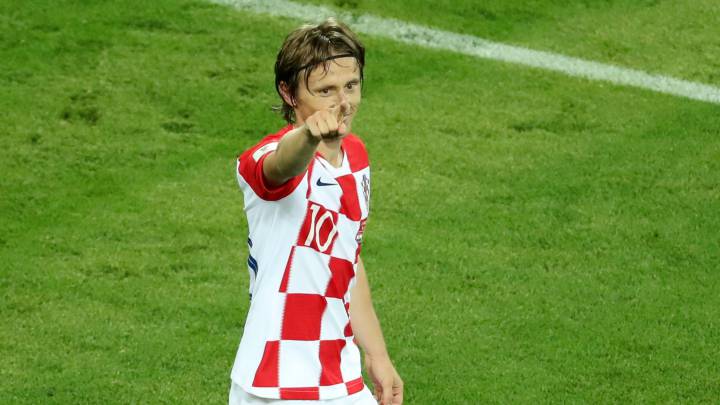 Croatia 2-0 Nigeria: match report
Nigeria have plenty of questions to answer after Saturday night's game against Croatia, which saw the latter waltz to a 2-0 victory despite rarely impressing themselves. The problem wasn't that Nigeria were rejected by Croatia, it was the fact that they couldn't get any chances away to begin with.
An own-goal in the first half from a corner didn't help matters. Mario Mandzukic flicked the header toward the back post and Oghenekaro Etebo turned it into his own net. That was after somewhat of a decent start by the Super Eagles.
After that, it was like walking through treacle for the Nigerians as they tried to get forward with no luck. The trouble it was taking them to get the ball anywhere near the box wasn't worth it and they ended up with two shots on target.
By the time Luka Modric converted a penalty after Mario Mandzukic was manhandled in the penalty area, the game was up for Nigeria and they had nary a chance of getting the double they needed to salvage a point.
They play a wounded and cornered Argentina side on Tuesday with both sides needing a win or facing extinction from the competition after two games. Croatia play a defensive Iceland side next, who could cause them problems, if they can't fix their own lethargy problems.
Croatia vs Nigeria: as it happened
90'+4' GAME OVER! Croatia take over the lead at the top of their group. They win it 2-0.
90'+1'   One last chance for Croatia. Kovacic takes it but Francis is equal to it.
90'   A couple of last chances possible for Nigeria.
88'   Moses shoots! That's blocked out and still no luck for the Nigerians.
86'   Rather disappointing this one in the end.
82'   Balo gun with a header but he's reaching for that and Subasic is comfortable.
79'   Foul on Rakitic. Jon Obi Mikel with the misdemeanour.
79' Kovacic is on. He replaces Rebic.
78'   Nigeria on the ball now as they look to conserve their energy.
75'   Vrsaljko and Moses doing battle and the former concedes the goalkick. He can't do anything with it.
74'   Croatia trying to really kill this game off.
73'   That should wrap things up. Nigeria have no chance of scoring two.
71' He slots it home, sendign Francis the wrong way in the process!
70'   No doubt about that one really.
70' Mandzukic grabbed around the neck by Ekong, who is booked.
69'   Croatia penalty... chance of VAR? 
68'   Perisic pushed shehu in the back but ref grants the corner. 
68'   Croatia attack. A second goal and this would be done with!
68'   No, Nigeria, could be here until the next World Cup and they won't score.
67'   Obi Mikel with a pass out of Etebo's reach.
65'   Moses goes down under a challenge from Strinic but again it's just strong defending from the left-back. Nothing to it.
65'   Sorry, one shot on target so far!
65'   Nigeria looking for that goal. Still no shots on goal though!
63'   Etebo caught by Brozovic as he breaks forward. He was going nowhere and there's no card.
63' Musa on for Iwobi.
63'   Corner. Headed just over by Mandzukic. 
63'   Free comes in from deep and Nigeria put it out for a corner. Ekong rouses his troops now! 
61'   Lovren with a lovely pass into the danger zone. Croatia keep it and recycle. Brozovic to Vida and he drives forward.
60' Kramaric off for Brozovic.
58'   Nice ball into the box and Ighalo heads that one into Subasic.
56'   Moses falls and there was no free. Referee made the right decisaion. Strinic used his body well to shield the ball. Goalkick. 
56'   Perisic with a beaut of a cross into Rebic's feet and he misses. That was lovely. Would have been a nice goal! 
54'   Ball sent into the back post. Croatia just knocking these corners out for sport.
54'   Ndidi with a throw and Perisic puts it out for another corner.
52'   Nigeria continue to threaten. It feels like they're getting closer. Iwobi shoots and it takes a strage deflection all the way up into the air. Ighalo fouls as it bounces with a push in the back.
50'   Rakitic now with a shot from distance. Well over. He offers an apology to a teammate to his left but he fancied that one! And it went wrong.
50'   Another Moses effort. He gets a shot away this time. He wants a corner too but he has to be told quite gently that he hit it that wide!
49'   Moses seeing loads of the ball early on. Mostly corners but still. 
48'   Perisic this time at the front post.
48'   Mandzukic, the corner repeller, as he puts it out for another one!
47'   Moses with the corner. Balogun heads and it hits Mandzukic's back. Another corner!
46'   We are back underwway for the second half. 
The Telstar 18 has held up in the game this evening, unlike it's bursting performance in the France - Australia game earlier on...
Desperately unlucky for Etebo with the own-goal, he didn't know anything about it and the ball cannoned off the back of his leg and past the despairing, outstretched arm of keeper Uzoho (who currently plies his trade with Depor in Spain)

    Croatia looking really dangerous and Rebic in particular along with Kramaric have been their two most dangerous players.
Nigeria looked decent for spells but they need antother avenue of attack. Moses has looked good down the right and Obi Mikel is doing enough to stifle Modric's attacking threat. Ighalo up front isn't working. Iheanacho could really livent this thing up for the Super Eagles! 
45'+2'   Half-time. The referee blows up 10 seconds early. 
45'+2'   Moses shot. Right-footed effort but it's well over in the end.
45'+1'   Blocked and Croatia survive. 
45'+1'   Ball bounces up to Iwobi and he hits that really well. 
45'   Moses will take after winning it. He wasn't happy with that foul. Feels like he's being fouled every time he touches the ball.
44'   Now Nigeria have a free on the right. Rebic with a trip on Moses. 
44'   Throw for Nigeria. Still no luck anywhere close to goal though.
43'   Nigeria on the ball with Etebo. 
42'   Vrsaljko with a shot after a nice touch down for Perisic and a pass on from Mandzukic. That's a mile wide.
41'   Croatia take control of this one again. Nigeria have no response.
41'   Croatia player down injured. Rebic looks uncomfortable. 
40'   Rebic looking good out on the left. He plays it to Rakitic and Kramaric heads it over. Nice move and that was very close.
39'   Vrsaljko moves forward and wins a throw. 
36'   No, that long ball down towards Ighalo just isn't working.
35'   Moses caught napping on the ball and Croatia attack. But they lose it. 
34'   Croatia had looked dangerous in front of goal even if Nigeria were improving. 
31'   Actually Mandzukic might get credit for that. Hard to tell but it was him who headed it on towards the back post.
31' GOAL! Rebic, I think, got the last touch. Kramaric headed it down low from the delivery and Rebic tried to turn it home. Poor defending in the box from Nigerians. Wait, no, it was Etebo. It looks like it might have been going in anyway. 
31'   Nice move from Kramaric. Really good cross too. Mandzukic chests down to Rebic and it's deflected out for a corner.
30'   That's a yellow for Rakitic. He lunges in on Moses. Looked sore actually and deserved card.
29'   Croatia win it back. Modric with a ball into Mandzukic but he loses out.
29'   Nigeria keeping the ball away from Croatia now.
28'   Modric to Rakitic. He plays a nice ball into Rebic and his cross is cut out and cleared.
27'   Rebic with a foul as the ball was in the air. A push in the back for Idowu.
26'   Jon Obi Mikel covers so much ground for Nigeria in midfielder and beyond. Linking up well down that left-hand side.
26'   Idowu links with Iwobi but he loses it.
25'  Long ball/clearance down to Ighalo but he's not getting to that one.
24'   Etebo fouled by Rakitic. Croatia can't get to grips with this game here. Nigeria much better than many expected them to be.
22'   He's back up but that looked really sore. Could have easily lost a tooth or three.
22'   The danger isn't cleared and Etebo has a volley in the end. Nigeria looking more dangerous. Balogun caught with an elbow straight in the mouth by Vida.
21'   Ighalo gets te ball and he's onside. Linesman almost puts his flag up but doesn't. He wins a corner in the end.
20'   Nigeria win it back.
20'   Nigeria back in possession. Obi Mikel goes backwards. Moses drives forward and hits the ground but that was a fair tackle says the referee. 
18'   Croatia win a throw now. 
18'   Modric takes. Cleared again at the front post. 
17'   Kramaric pops one inside to Perisic. Corner for Croatia.
16'   Lovren to Rakitic. Kramaric with an effort that starts on target but bends badly wide. Forced a dive from Francis bt he didn't have to make a save.
15'   Free for Croatia now. 
14'   Really well worked andPerisic strikes over the bar! that was close. Ball sent across by Rebic and laid off by Mandzukic. Perisic caught that one almost right! 
14'   Modric wins it back and starts an attack.
13'   Iwobi with a very ambitious effort but it's blocked. And then Etebo breaks through and Lovren does well to clear. 
12'   Free for Nigeria. Subasic gathers a cross from Jon Obi Mikel. Modric had his pocket picked. Nigeria improving.
10'   Nigeria on the ball now. Not as fluid as Croatia on it but they're trying to hold it before letting it long to Moses. But that's too long and out for a goalkick. Rohr roars on his side.
10'   Modric takes the corner short and Rebic gives it back to him. Cross comes in and it's cleared before Moses is fouled by Rakitic.
10'   Corner now for Croatia.
8'   Nigeria on the ball and Iwobi fouled. Surely? No, the referee plays on. Looked like he was caught late.
7'   Cagey start here. Croatia on top and they win it back again.
7'   Free for Depor goalkeeper Francis. Croatia win it back.
6'   Strinic into Kramaric. Croatia looking for a way through. Moses fouled in the end by Rebic.
5'   Mikel and Rakitic have a battle in the middle. The Barcelona midfielder is on the ground as the Nigeria captain tries to win it. He gets a throw in the end.
4'   Vrsaljko gives away the throw but he doesn't think that was the case. He quite loudly shouts 'No!'
3'   Victor Moses pass forward to Obi Mikel but he's muscled out of it. Croatia win it back.
2'   Croatia settling into this one. Offside on Kramaric.
1'   Lovren goes in over the top of Ighalo. He concedes a free and Moses gets set to take it!
1'   We are underway at Kaliningrad Stadium!
    Modric up with Obi Mikel for the toss. 
    Here we go with Croatia's national anthem.
    The two teams emerge onto the field. Those Nigeria tracksuits are amazing.
    It's Odion Ighalo's birthday and he's making his World Cup debut too. Can he cap it off with a goal in his 29th year?
    They drew with Congo, lost to England and then lost to Czech Republic in their final warm-up friendly though so it's hard to be optimistic.
    Gonna be a masterclass from this guy tonight, isn't it?

    Nigerian fans have been banned from bringing live chickens into the Kaliningrad stadium for The Super Eagles' opening World Cup game against Croatia in Group D on Sunday. And I think they might need some luck tonight.

    Here's an explainer behind Croatia's crest and coat of arms. "It's also informally known in Croatian as šahovnica ("chessboard", from šah, "chess"). The five smaller shields represent five different historical regions within Croatia."

This was a really nice touch too as they named Carl Ikeme as 24th player after leukaemia diagnosis.

    Nigeria are one of the coolest teams in the world. Even this doodle on Google for legendary player Stephen Keshi is really cool.

Croatian fans will be looking to two players in particular to help them progress in this tournament, both who reached the pinnacle of European football in the past season. Luka Modric and Dejan Lovren played in the Champions League final for Real Madrid and Liverpool respectively, both getting plaudits for their performances.
This is the first time these two nations have played against each other but they have both had decent runs in international tournaments in the past. Croatia impressed most by taking third place in the 1998 World Cup in France - inspired by the talented Davor Šuker. Nigeria have three times progressed from the group stage.
This match up between the Europeans and the Africans is a tempting one. Have a scroll down and read our short preview for a little more background to what could lie ahead.
Good evening, afternoon or morning and welcome to our live coverage of the Group D match from the 2018 World Cup between Croatia and Nigeria wherever you are in the world.
Croatia vs Nigeria: live stream online | match preview
On paper at least this game promises to be a cracker. Both sides should come out positively looking for the opening goal, and then aiming to build on that rather than sitting back on holding. This would have been the case had they played before the other Group D match, but it is even more likely to be true given that Argentina and Iceland finished all square earlier in the day. Whether it turns out that way on the grass we will have to wait and see...but let's hope so!
With a mix of experience and youthful exuberance in the squad, confidence is high for Croatia going into the tournament, despite having to come through arguably the toughest group. Manager Zlatko Dalic spoke ahead of their match against the Africans and said that they expect to do well:
"We have a very good set of players who are the driving forces of big clubs and young players, it's a good mixture," he expained. "It is right that expectations are high and we expect from ourselves more than anybody else.
"I hope we will prove all those flattering epithets right and that this generation will get a result with some luck along the way. We are full of self-belief and ready to show some good football."
He also went on to talk about their attacking flair, confirming that today's opponents would not change their attitude:
"We have our own style, we play a football of possession, we are offensive and we won't give that up to adapt to Nigeria," Dalic said.
"I believe in our players and I don't want to limit their creativity. It is our biggest advantage."
The Super Eagles captain John Obi Mikel was in high spirits ahead of their first challenge in this 2018 Fifa tournament and said the squad had been preparing well with Croatia in mind.
"There have not been any issues in the camp. It's been a quiet camp, very disciplined and there is a real unity in the team," Obi Mikel said at the pre-match news conference.
"It's been that way since day one. We feel ready, we have prepared really well and it's a game we want to win to start the tournament well."
This is the sixth time that Nigeria have made it to the finals and manager Gernot Rohr made it clear that they have to put behind them disappointing results in their warm-up friendlies over the last weeks, losing to both England and the Czech Republic and drawing at home with the Democratic Republic of Congo.
"We were trying out different formations but we are going to switch back to the way we played over the last year coming to this World Cup. If we do exactly what we know we can do, to control the game and be aggressive, we can do well," said Rohr.
"Our players have a lot to prove and this is a very good stage for them but it's also important to keep their emotions in check," he added.