Germany 0-1 Mexico, Group F World Cup 2018
Mexico beat reigning world champions Germany in their opening match of the World Cup in Russia, thanks to a 35th minute Lozano goal at the Luzhniki Stadium on Sunday 17 June.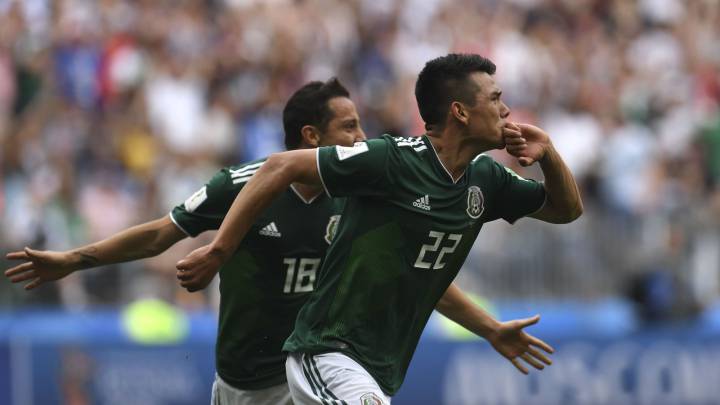 They say when Lozano's 35th minute goal went in the reaction from the fans in Mexico City caused an earthquake. And when the game finished, with Mexico holding on to their 1-0 lead to record a famous victory, the German players looked like they wanted the ground to open up and swallow them.
Löw's team started the defence of their 2014 title in shoddy fashion, disjointed and chaotic. Their midfield kept driftng too high, leaving the defence woefully exposed, and time and again Mexico poured through on the counter. And the one thing this Mexican side have is pace, Vela and Chicharito ripping through and creating a host of dangerous chances.
But it fell to 22 year old Hirving 'Chucky' Lozano to convert the chance that would give Mexico victory. Another break and Chicharito fed the PSV youngster in the box. He cut inside and beat Neuer brilliantly at his near post, before wheeling away, aware of just how big a goal it was.
Germany reorganised and were better in the second half, but they were unable to penetrate Mexico's solid defensive wall at the back, well marshalled by keeper Ochoa, one of the stars of 2014. Löw's men finished with their keeper Neuer up for a corner... but nothing could prevent the Mexicans holding on for a famous win. Expect more earthquakes in Mexico City tonight.
Germany 0-1 Mexico: how it happened

90'+3'   Germany were poor for the first half and so susceptible on the break. They improved in the second half but it was much of the same for the majority of it.
90'+3' GAME OVER! Mexico with a historic win in the World Cup.
90'+3'   Neuer stays up the field. Comes in again from Germany and choa grabs it.
90'+3'   Neuer is up and everything. Headed out by Rafa Marquez.
90'+3'   Salcedo and Mueller having a bit of a row.
90'+2'   One minute.
90'+2'   Mueller with the pass through and Ochoa's smothers it. Like an 88-year-old with arthritis in both of his hips, he was that slow getting up from that one.
90'+2'   Germany with some passive passing now. they need to lob it into the box or something.
90'+1'   Three minutes of added time.
90'   Then Boateng shoots and that's straight down Ochoa's gullet.
90'   Brandt with a cross. Almost.
90' Yellow for Herrero.
90'   Brandt's shot hit the outside of the post.
89'   They move forward. Julian Brandt ends up with a shot that goes just wide.
89'   Germany probably given up on hoping for a win now. A draw would do at this stage!
88'   Ball in from the right. Gomez heads wide. 
86' Werner hurt himself too. he is replaced by Brandt.
86'   Ball out to Werner and there was a German player beside him. They get their wires crossed and Werner can't chase that down.
85'   Free. Herrera fouls Draxler.
85' Hummels booked for a late slide on Edson Alvarez.
84'   Kroos with a shot and Ochoa parries before saves it.
84'   Gomez with a pass into the path of Werner. He was through but the ball was too far out wide. 
83' Really silly foul from Mueller. He takes down Herrera after he had lost control of it. Booked too.
82'   Layun with another shot. Quite ambitious really as he slams that one wide.
80'   Germany lucky in defence. There was a three on two but Hummels gets a heel to the pass through.
79'   Gomez on for Plattenhardt
79'   Germany put it out for a throw.
79'   Danger from Germany.
78'   Layun breaks free and shoots over.
77'   Draxler with another shot. It's deflected out for a corner. Taken quick and Mueller is inside. He tries to cut it back but it's another corner.
76'   He is 39.
76'   Rafa Marquez becomes the third player to play in 5 World Cups. 
76'   Kroos with a curler. Kimmich played it to him. Just wide. 
75'   Kroos out to Kimmich.
74' Rafa Marquez comes on for Mexico in their last change. Guardado off.
71'   Reus sent the ball across goal and it back Gallardo straight on the head. He's down now and getting treatment.
71'  Shot comes in from Reus. Over.
70'   Chicharito through on goal. He waits for contact and gets bundled over. Hummels goes through the back of him but there was nothing the German could do. He is kind of leaning on the ball on the ground now. Free to Germany. What a chance that was. Germany remain wide open when Mexico can manage to get the ball forward.
67'   Corner is short and it eventually coming in. Hummels glances on to Werner and he hits it over. He was offside anyway.
67'   Corner. Ball is crossed in from the right again. It falls to Draxler and he curls it over with the help of a deflection.
66'   Raul Jimenez coming on for Mexico. Hirving Lozano going odd. He had some impact, the lad. He ran himself into the ground.
64'   Ozil chases down a pass into the corner. Germany cross with Boateng. Kimmich with a little chilena. That was a right-footed Gareth Bale style effort. Loops over Ochoa's goals.
63'   Mexico through again. Neuer quells the danger.
62'   Frustration setting in here for Germany. They don't know what to do!
62'   Kroos sees the ball role out for a goal-kick to Mexico.
61'   Boateng back to Neuer. He clears.
61' Khedira comes off for Reus.
60'   Reus coming on as Germany win a corner.
58'   Vela comes off for Alvarez.
58'   Up the other end and Mueller takes the ball down and shoots. he was offside anyway.
57'   That was some chance!
57'   Chicharito and Vela are through. Just Boateng to beat and the striker overhits the pass! Vela does get it but fires it over in the end. 
56'   Guardado headers up into the air and Ochoa saves it from going out for a corner. 
55'   Still not unbearable but Germany improving and attacking more centrally.
55'   Draxler with a shot that Salcedo blocks. Corner. Mexico under a little but more pressure now. 
54'   Draxler with a ball to Werner but he falls over and there's no free. Chance comes to nothing.
54'   Hummels back to Neuer. They build from the back. 
53'   Mexico goalkick.
53'   Kimmich inside after a move involving Draxler and Mueller. Fires that shot over.
52'   All the action happening down the wings for Germany. No balls into the box in the second half.
51'   Lozano picks it up on the left-hand side.
51'   Another foul by Boateng.
50'   Not many changes for Germany in the second half here. No added intensity or anything. 
50'   Attack by Mexico. Throw as Salcedo takes. Mexico win it back now. 
49'   Layun with a throw and that's a really bad throw. Chicharito lets him know about it too.
49'   Mueller with a cross that goes all the way across goal and out.
48'   Kimmich with a cross but Mexico will head those away all day. Lands to Plattenhard and he strikes. Ochoa would save that in his sleep.
47'   Kimmich to Boateng. Mueller with a pass inside that is easily picked off by Mexico. 
46'   Mexico attack but it breaks down as Germany win a throw and start an assault themselves.
46'   Back underway! Zero changes.
    Gundogan in the middle to solidify that centre even if that's not necessarily where the problems are starting.
    Reus for Draxler might work? A change at right-back either maybe?
There were 17 shots on goal in that first half. Quite the roller-coaster.
    If you happen to be perusing Twitter, there does seem to be genuine concern for Germany here.
    Boateng hasn't been great and you'd have to wonder if his recent issues with Bayern Munich have anything to do with it. They said he can go if he wants and he was very surprised with those comments.
45'   What a half of football. Germany need to change something. Kimmich been exposed on the right.
45'   HALF-TIME! 
45'   Mexico with a counter and Carlos Vela is flying! He shoots and it's just wide.
45'   Kroos out to Kimmich. Lozano wants a hand ball on the right back but no whistle. Germany have it on the left. Mueller and Kimmich get in each other's way. Kimmich wants a penalty. No luck.
44'   They've calmed things down again. Mexico pass it back and then launch it up the field when Germany get a little close for comfort.
43'   Germany attack and then lose it. Mexico passing it around as Gallardo clears. Germany take over again.
43'   Another dangerous counter. Vela breaks free and it ends up over at Lozano's feet. A few misplaced passes later and Germany have everyone back. Out for a restart.
42'   Even if Germany do have five shots on target and Mexico have four.
42'   Germany with 59% possession so far but it's been all Mexico. 
41'   Boateng with a cross into Mueller and he misses it. He wants a corner as two Mexican defenders jumped with him. Ref says no touch and that's a goal-kick.
41'   Germany very patient in their build-up. 
39'   Mexico need to get to half-time here.
38'   Hits the crossbar and back to Germany. Mexico defending deep. Mueller sends the ball across the box and Mexico clear. Boateng foul on a Mexico counter. 
37'   Kroos gets a kick to the leg and gets turned upside down. Free for Germany. That was after an effort from Draxler that was blocked. Germany improved since the goal even if it hasn't been very long. Chance now to test Ochoa.
35' Chuck Lozano with the goal. What a finish. Chicharito feeds Lozano and he cuts inside, strikes and finishes!
34'   Germany lose it again. Vela with a perfect pass into the path of Layun but he didn't reach for it. He could have, surely? He claps Vela but Vela is as shocked as the rest of us as to why the Sevilla man didn't try to play it.
33'   Gallardo down the left. He sends a low cross into the box and it skids to a German defender and clear. 
32'   Germany try to wrestle control back of this one. Ozil bundled over on the sideline. Throw Mexico and Ozil isn't happy but he took a bit of a tumble there and was expecting a whistle that never came.
31'   Collision between Boateng and Chicharito. How is that a free to Germany? Looked like Boateng went through the back of the striker.
29'   Mexico play it out from the back and start a new attack. Layun gets a shot away. Not bad but they won't beat Neuer from there.
28'   Vela down the left now. Another really good attack but Germany defend it well.
26'   Shot comes in from Layun as Lozano breaks free and plays it to him. Mexico looking very sharp on the counter. Lozano playing a very fluid role moving from centre to left.
24'   Free as Khedira lands on his back. Lozano pushed him and they fell in a heap together.
23'   Mexico cut through Germany again. Chicharito shoots and that's blocked. Mexico win a free as Kimmich gets on the wrong side of the referee.
23'   Kroos with a shot now that Ochoa saves. Left-footed effort from the German. Loads of shots so far.
23'   Kimmich and Ozil have a chat as the Arsenal midfielder isn't happy with the pass Kimmich sent to him. He did get him in some trouble but Mexico pressing really aggressively too.
22'   Germany have also looked dangerous. Werner their most lively attacker.
21'   Mexico back on the ball. They're winning plenty of admirers with this performance. No sitting back and they haven't taken a step backwards in the first 21 minutes. Fair play to them!
20'   Timo Werner gets the ball on his left. He pivots and shoots but that's low and into Ochoa's gloves.
19'   Germany try to counter after a good cross is sent in by Guardado. Salcedo handles the ball and Germany have a free.
18'   We might never know. But he didn't and Mexico see another chance go to the wayside. They're cutting through Germany from that left-hand side though.
18'   Chicharito gets it in a perfect position. He hesitates and turns and the chance is gone. Why didn't he hit it?! 
17'   Germany try to slow things down now and bring it back up the field.
17'   Goal kick. Kroos shoots but it hit a German teammate.
16'   Ochoa with a save. Corner came in and it bounced out for the shot. Hardly troubled Ochoa.
16'   Kimmich with a really dangerous ball into the box. Salcedo knocks it out for a corner but that was really dangerous. A proper scare for Mexico.
14'   Another shot. Cross comes in and Hector Moreno heads it down into the ground as it bounces up to Neuer. Javier Hernandez was pushed there, it looked like, before it came to Moreno.
14'   Kroos not happy, neither is the ref. Mexico are.
14'   The referee pushes Kroos back after he thinks he was fouled but ended up handling the ball. 
13'   Mexico with more possession now as they put pressure on Germany's back line. Mexico very confident.
11'   Kimmich arrives from the right and he gets a shot / cross towards Ochoa. Rolls to the keeper.
10'   Lozano in Herrera and he forces a good save from Neuer. 
8'   Nah, that free from Layun goes well over the bar.
8'   Germany move breaks down and Mexico attack. Vela pulled down by Hummels outside the box. Nice spot for a free.
7'   Bounces around for a bit before landing to Hummels. He strikes with his left after Salcedo's deflected clearance. That's Ochoa's first save.
7'   Mueller wins a corner. Dangerous ball into the box but the Bayern player was at an awkward angle. Made the most of a difficult situation.
6'   Ball into the box and it's headed out by Mexico. Werner picks it up outside the box, nearly, as he gets turned upside down. No free and Mexico clear. High intensity to start this game. 
5'   Germany are forced backwards and start again.
5'   Boatend moves forward. Kimmich plays it on to Werner, who is causing problems when he drifts out to the right.
4'   Germany play so high up the field. Mexico sitting back and Germany dominating possession so far.
3'   Timo Werner up in attack now and he moves forward. Lovely run in behind and he strikes across goal. Wide but that was a really good run but the effort didn't match it.
2'   Corner comes in and Germany are unconvincing at the back. Neuer grabs it after some ping pong in the box.
2'   Lozano with a great chance. He cuts in from the left. Vela fed him and he shot but it's blocked by Boateng. Great start by Mexico.
1'   Mexico and Germany is underway! The second game at the Luzhniki in this World Cup.
    No Ter Stegen in goals after what has been his best year as keeper of Barcelona. What incredible competition for that position!
    Anyway, more about that later. We are ready for action as Neuer and Guardado, along with the referees, pose for a picture.
...OK I'll tell you: the Mejica people were told to find a place to call their capital with a bird eating a snake sitting on a cactus. 
The South American flag has an eagle eating a snake. Impress us with your knowledge by telling us why...
Now it's the turn of the Mexicans. Proud singing there...
    The German national anthem as both sides stand in anticipation.
Sombreros everywhere.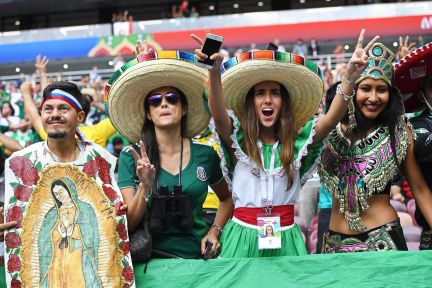 Javier Hernandez didn't have the most productive seasons with West Ham but he still scored 8 times and nobody doubts his importance to Osario's team. He's always a nightmare to defend against with Mexico and he has 49 goals in 102 games with his country.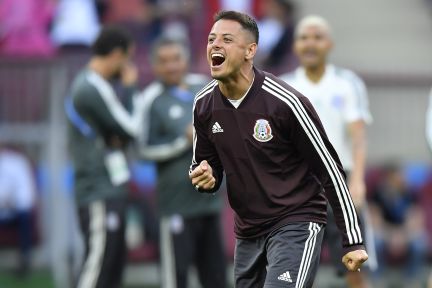 Andres Guardado had an excellent year with Real Betis under Quique Setien but the Guardian cite Mexico's lack of a man behind the attacking midfield to mind the house. They say: "Osorio has not yet found his ideal No 6, with Héctor Herrera often leaving too much space between defence and midfield, which the oppostion can exploit." Maybe, they will have enough firepower to keep Germany occupied anyway.
Timo Werner another player ready to explode onto the scene. He is a quick, dynamic striker, who is strong enough to create space for himself and fast enough to run the channels and get involved in general play. 
    They call him 'Chucky' and here's why: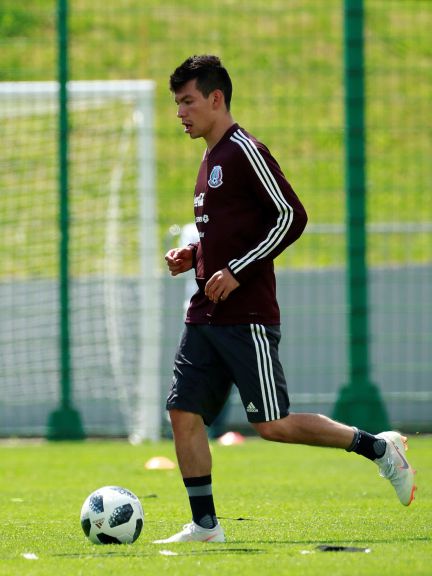 Hirving Lozano moved to PSV last summer and there was meant to be quite a bit of interest in him. It turned out to be the right move for his development because at 22, he scored 17 goals in 29 league games last season for the Dutch side.
Mexico XI: Ochoa, Ayala, Salcedo, Layun, Vela, Chicharito, Moreno, Herrera, Guardado, Lozano, Gallardo.
  Germany XI: Neuer; Kimmich, Hummels, Boateng, Plattenhardt; Khedira, Kroos; Müller, Özil, Draxler; Werner. 
Hello and welcome to our live coerage of Germany vs Mexico from Luzhniki Stadium in Moscow as Group F's two heavyweights face each other.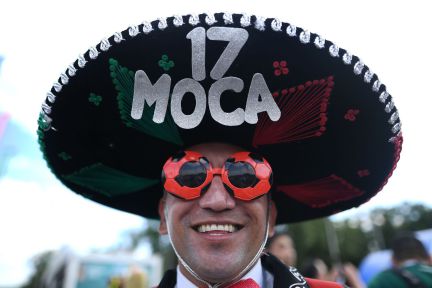 Germany vs Mexico live: preview
The reigning World Cup champions play a very lively Mexico side in Group F on Sunday afternoon in Luzhniki Stadium in Moscow with kick-off at 17:00 CEST. These two teams played each other most recently in the Confederations Cup in 2017 when Germany won 4-1 thanks to an excellent display from Leon Goretzka, which included a brace to give the Germans a 2-0 lead. Mexico will want revenge and Germany might think they can do the same again to ease themselves into a tournament they want to win.
---
Find out how are where to watch the Germany vs Mexico game in World Cup 2018 Group F
---
Mesut Ozil says he dreams of beating England at the World Cup but Germany will have to navigate their way out of a triphy group that also includes South Korea and Sweden. They are favourites, of course, an while Spain took the cake with pre-tournament controversy, Germany had their own little bit of turmoil. Ozil and Ilkay Gundogan posed for a picture with the president of Turkey and former German striker Stefan Effenberg wanted them thrown out of the team. Gundogan also said "it's hard to live with jeers of your own fans." They can be buoyed by the fact that their manager, Jogi Löw is fully behind the project having rejected Real Madrid, however, as he tries to make it back to back World Cups. World Cup winning goalscorer, Mario Goetze, was left out of the squad along with Leroy Sane but Maneul Neuer is back and the manager says he will not be on the bench. They are in good shape and have enough quality, technical ability, creativity and a blend of youth and experience to stay in this tournament until the latter stages. They won't be happy unless they win it though.
Mexico were caught up in their own controversy involving a late night party and escorts but it's hard to know how serious the allegations were given the source. Mexico made it to the last 16 in 2014 and their best two showings were in 1986 and 1970 when they made it to the quarter-finals. They hosted it on those two occasions so it's interesting to see just how good they are so far away from home. Carlos Vela recently left Real Sociedad for Los Angeles and has taken to the move very well and he will be important for Juan Carlos Osario's side. Hirving 'Chucky' Lozano is highly-rated and will be a big influence in this tournament for El Tri. Meanwhile, Chicharito, who recently ruled out a move to MLS and said he would rather earn less by playing in Spain will also be knocking around the penalty area in search of loose balls to knock home.