Isco: Real Madrid's Lopetegui appointment good news for me
Spain and Real Madrid midfielder Isco spoke to the media today ahead of La Roja's second World Cup Group B game against Iran on Wednesday.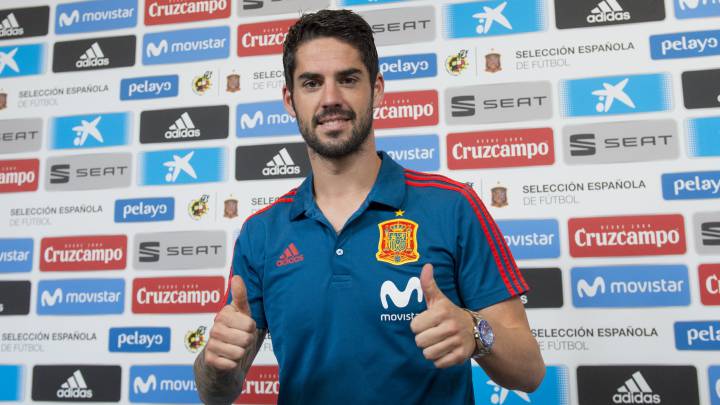 Isco spoke to the media at Spain's World Cup base in Krasnodar today, as La Roja prepare for their second Group B game against Iran on Wednesday.
Isco's press conference:
Portugal game:
"In the end, a penalty and a free-kick made the difference. We put in a good display, particularly in the second half, when we really came flying out of the traps."
It's five days since Julen Lopetegui was sacked, and looking at the team you'd think nothing had happened:
"Something did happen; there's no getting away from that. But the squad has the kind of desire that can overcome anything."
Did you think Spain's World Cup campaign was going to be left in tatters?
"You have to move on from these kinds of things; it happened, but feeling sorry for yourself is of no use at all."
Have the events of last week brought the group closer together?
"Possibly, yes. This team has so much heart, pride and desire to do well. When the tough gets going, we rise to the challenge. We were dealt a setback, and the team got on with it. Even when we conceded a goal in the third minute [against Portugal], we refused to go under. This team never gives up."
What does it mean to have Gerard Piqué, who is set to win his 100th cap against Iran, in your team? How does it feel knowing you have him and Sergio Ramos at the back?
"Reaching 100 caps for Spain isn't easy - that shows how well he's performed for us. He's one of the cornerstones of Spain's recent success. When you're on the attack, it's such a relief knowing that we have the likes of Ramos, Piqué, [Jordi] Alba and Nacho behind us..."
"Positively. He's fine. Nobody likes to make mistakes, but De Gea is one of the best goalkeepers in the world and we're looking to encouraging him".
For you personally, is Real Madrid's appointment of Lopetegui good news?
"Yes, he's a coach who I've known for many years; we worked together right the way up the Spain set-up. He's given me confidence when I haven't been enjoying a central role at my club, and he's a great coach."