Belgium 3-0 Panama, World Cup 2018, Group G: Easy win for Belgium
Romelu Lukaku grabbed a double after a superb Dries Mertens volley to give Belgium a comfortable victory over Panama at the Fisht Stadium in Group G.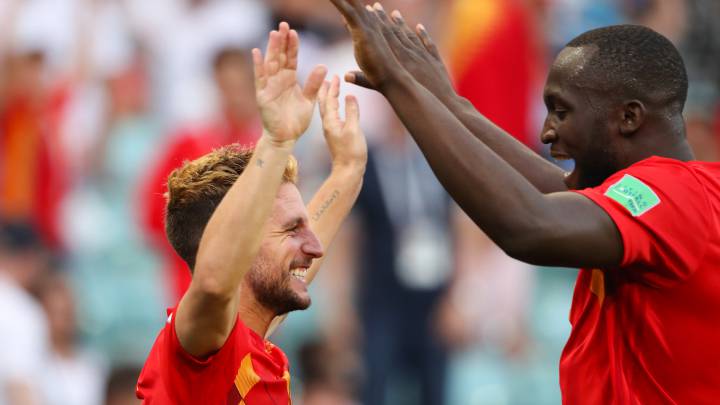 Belgium went off dejected at half-time in their opening game of Group G, against Panama, making their World Cup debut. The Belgians had made enough chances in the opening 45, helped by some occasionally madcap defending from Panama, but profligacy and some inspired work from Panama keeper Jaime Penedo ensured the scoreboard operator in Sochi had nothing to do.
Things changed right at the start of the second half though, when a superb Dries Mertens volley sparked Belgium into life. His effort was then followed up by a solid header from Romelu Lukaku, taking full advantage of a superb De Bruyne ball, and a second for the Manchester United man in the 75th minute when he raced through and skilfully chipped Penedo to make it 3-0.
Belgium will be delighted to get this win under their belt, having looked somewhat disjointed at times. Panama have a lot of work to do if they are to avoid finishing bottom of Group G.
Belgium 3-0 Panama: how it happened
90'+4' GAME OVER! Panama fall to Belgium as they win their first game of the World Cup. Pressure on England now to match it.
90'+3'   A really ambitious effort now as the ref blows up for an injury and a cheeky Panamanian way out the field strikes. He nearly catches Courtois out but the play had stopped anyway.
90'+3'   Cramp for one of the Panama players.
90'+2'   Time running out now on Panama. It's petering out this game. They've been decent for about 50 minutes. 
90'   Free for Panama with time nearly expiring. Driven straight down Courtois' throat and he saves.
86'   Replays show he was actually not offside.
86'   Panama through on goal but Courtois rushes out and saves. Really good save but he was offside. 
84' Mertens, the man who opened the scoring, replaced by Thorgan Hazard.
83'   Hazard with the free and that hits a defender.
82'   Their first World Cup though so even being plucky enough to be referred to as plucky is worth merit.
82'   Another free for Belgium.
78'   Belgium comfortable now.
75' Hazard breaks free and has Lukaku with him in support. He feeds the striker and Lukaku slots home. That's a really nice finish.
74'   Dembele coming on for Belgium. He replaces Carrasco.
72'   Witsel with a foul and Panama have a chance now for an attack. An increasingly rare one.
70'   Belgium had to work for this but they're well and truly in control now.
68' GOAL! De Bruyne with an outside of the right pass onto Lukaku's head. He finishes to make it 2-0. Murillo was keeping him onside.
68'   There's the second. It was coming.
68'   Ball sent in that forces Penedo out of his goal and to punch to punch it away. Lukaku wanted some of that. 
66'   Panama starting to struggle now. They've been soaking up so much pressure.
65'   De Bruyne with a free. That hits the wall and Panama resist again. 
63'   Double sub! Panama not messing around with 27 minutes to go. Can they find that elusive goal?!
63' Diaz and G. Torres replacing Barcenas and Jose Luis Rodriguez.
63'   Vertonghen heads it down and into the keeper.
62'   Alderweireld with a tame cross into the box. Sent out to Mertens and he pokes one towards the centre. Cut out for a corner as it loops over Penedo.
61'   11 fouls by Belgium and 14 bu Panama so far in this game. 
60'   Game is quite scrappy now. Belgium not having it all their own way.
60' Vertonghen fouls Cooper and he gets booked.
58'   Shot away by Barcenas but that's wide. He made Courtois have a think about it but it was well wide in the end.
57' Godoy having a proper go at the referee and gets a yellow card. Was waiting for the card to come out as he was shouting at the ref!
57'   Lukaku wins another free off Escobar. He has his hands all over the striker.
55'   Panama won't get too many of those chances and they just missed a really good one.
55'   Roman Torres heads the corner wide.
55'   Golden chance for Panama. Murillo gets his shot saved by Courtois. Corner for Panama.
54'   Hernan Gomez, Panama's manager, is really unhappy with something the ref has done.
54'   Panama with another break and this time they win a free. 
53'   De Bruyne with a free now! Close but not cigar.
52'   A few Belgians standing over this. Looks like De Bruyne though as the rest of them disperse. Mertens close too.
51'   Murillo with a kick on Carrasco. Has to be a yellow now for him. He has fouled a few times. Yes, he does get one. 
50'   Lukaku fouled by Escobar.
50'   Murillo drives forward and Blas Perez flicks it back to him. Another chance gone.
50'   Panama on the counter. They lose that really tamely. Cooper should have just sent it towards goal! He loses it in the end without doing anyway with it.
50'   Free sent in and Roman Torres heads away.
49'   Belgium with the bit between their teeth now. 
49' Cooper booked now for a foul on Hazard.
48'   Decent? It was a beaut of a strike. Didn't mean to take away from it but Panama didn't expect it.
48' Quite unlucky for Panama. But a decent stike from Dries Mertens. Ball sent in and cleared but Mertens swings a boot at it and finds the back of the net.
47'   Delivered but cleared by Panama.
46'   Davis on a yellow and needs to be careful.
46'   Mertens fouled by Davis with a kick on the back of the heel. 
46' Back underway at Fisht Stadium. 
No changes for Belgium, it looks like.
In the tunnel for the start of the second half. Both teams make their way out to the field..
Battling display from Panama but they have attacked too! Belgium not at the races.
45'+2'   Half-time as Belgium send one into the box and it's cleared.
45'+2' That's a yellow. Barcenas pulls down Carrasco as he mounts an attack. Just 30 seconds left on the clock and while it was very cynical, it was probably smart from the wide midfielder.
45'+1'   Two minutes of added time.
45'   Long ball to Blas Perez. Vertonghen launches it clear.
44'   Hazard fouls Murillo. 
44'   Barcenas picked off and Belgium counter. Really dangerous again but it comes to nothing. They have too many options in attack when they do.
43'   Panama win the ball back just as Belgium are looking to build an attack. Belgium frustrated.
42'   Not bad at all from Panama. Strike from Cooper after some neat short passing to create the chance. He shoots over but the chance creation was good.
42'   Godoy with a free now in the middle. Panama trying to make it to half-time as they slow it all the way down. 
41'   Really nice ball into Mertens and he volleys that wide. 
40'   De Bruyne to take.
40'   Murillo drives a shoulder into Hazard's back with the ball in the air. Free and still no yellow for the right-back.
40'   Lukaku through on goals and he sees his shot saved by Penedo.
39'   Panama with a corner. Roman Torres gets a shot away but it's an awyward one and Courtois saves it. It took a deflection too so he saved a potential corner. This Belgium display leaving a lot to be desired. 
38'   Hazard with a shot. Penedo saves and it's another corner.
36'   Hazard in from the left but Panama defend well and get men back. Meunier crosses and Lukaku is whistled for a foul on Torres.
34'   Panama do attack. They get turned around and win a corner in the end. Alderweireld saves their bacon and he shouts at Vertonghen for not doing his job.
33'   Hernan Gomez, Panama's manager, with a big thumbs up after his player gets his instructions.
32'   Belgium win the ball back after a brief foray with attacking from Panama. They can't find a way through yet though and while they have had a couple of chances, it's been nothing too excessive.
31'   Cleared by Panama. They're pushing back further and further.
31'   Belgium camped out now and almost all of their players, bar Courtois, in the Panamanian half.
30'   Corner sent in after being taken short. 
29'   Looks like he is okay. 
28'   De Bruyne free is taken and catches a Panamanian defender on the head. Out for a corner and the defender is down. It was Armando Cooper, who took the ball to the back of the head.
27'  27'   No yellow for Murillo but it was a close call.
27'   Panama picked off again and Hazard is fouled by Murillo. They have to be careful with those passes. 
26'   Cooper picked off and De Bruyne backheels to Hazard. He moves into dangerous territory and strikes wide.
24'   Gomez down now and looks uncomfortable before jumping back to his feet. De Bruyne to take the corner. 
24'   Panama looked like they could have been in trouble there. Slide comes in from Escobar and it's another Belgium corner.
24'   Panama counter and cross comes in. Belgium deal with it at the second time of asking.
23'   134 passes for Belgium to 67 for Panama.
23'   Panama attack with a ball across to Rodriguez but he can't do anything with that.
22'   De Bruyne with a shot that goes just over the bar.
21'   Mertens with a ball inside and Panama win it back before De Bruyne wins it. He crosses to Lukaku but Roman Torres slides in and clears for a corner.
19'   Courtois long ball and Panama recover. If they can just keep the ball, they're fine. They problem is when they have to defend.
18'   Mertens effort from the corner at the near post. Side netting.
18' Yellow now for Davis for a foul on Mertens earlier on in that play. He slid in and took him out of it almost.
18'   Meunier crosses and it's blocked out for a corner.
16'   They move the ball into Belgium's half now. They move the ball into the box and Vertonghen takes it off Barcenas.
16'   Belgium enjoying 59% of possession so far.
15'   Panama with another free. They've had a couple of frees now to break up the momentum Belgium had been building.
13' Meunier with another foul. Rodriguez the man who was fouled. Yellow for the Belgian.
13'   Meunier with another foul. That's a couple now.
12'   Roman Torres with a pass back to his goalkeeper and Hazard jumps it. That was nearly decisive. Dreadful pass from the captain of the team.
10'   Panam continue to struggle to get the ball up the field and hold onto it.
10'   Belgium slow things down again. Panama win it back.
9'   This could be a bit of a hiding here. Panama don't know how to defend very well. Although no score yet, that looks like it could change every time Belgium attack.
7'   Mertens hits the ground. No penalty. It could have been though, maybe. Perez with a push on the striker.
7'   Penedo with another save. It was Mertens in the end with the strike. Belgium moving forward with ease now. Corner.
6'   Shot from Belgium. Ball comes across to Carrasco and his right-footed shot is saved by Penedo. Tame effort in the end.
5'   Carrasco very patient, he comes back down the field and it is crossed to Meunier. Throw as he slips off the field.
5'   Hazard on the left. He plays it inside and De Bruyne plays it to Carrasco. Panama are being very physical at the moment. Nudging Belgium players every time they pass the ball. 
4'   Crossed in, headed out and shot from Barcenas. That's sliced high and Panama foul. Belgium back in possession.
3'   Panama win it back and move forward down the right wing. Armando Cooper fouled by Boyata.
3'   Belgium take over and play it out from the back. Vertonghen on the left, Boyata in the center and Alderweireld on the right.
2'   Chance for Belgium. Panama concede the corner, it looked like, but the ref says goal-kick. Lukaku swears he didn't touch it last but ref doesn't care.
1'   Panama kick-off in their first ever World Cup.
1'   We are underway at Fisht Stadium.
    Sochi the venue. Belgium and Panama the participants and we are nearly ready for action!
    Panama fans blaring the national anthem too. Their first World Cup, just in case you hadn't heard.
    Ooooohh... Panama players singing loud and proud! They are not holding back. A beautiful sight.
    Belgian national anthem being played now. A few players singing but not particularly enthusiastically. More muttering than anything else.
    Panama players wide-eyes and look excited to make their way on the field.
    Players in the tunnel and Belgium looking particularly serious!
Carrasco left Atlético Madrid to boost his World Cup hopes and it seems to have worked because he starts today. Three at the back from Bob Martinez with Boyata, Alderweireld and Vertonghen at the back. Hazard ready to explode to life according to reports. 
    A fascinating read in the Guardian regarding Panama's path to the World Cup.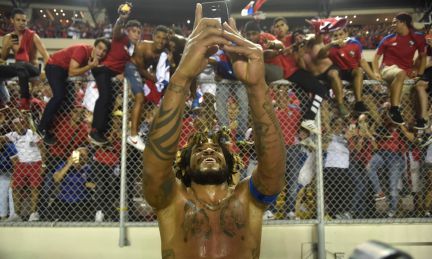 Kompany doesn't make the starting XI in Martinez' first Belgium side at the World Cup. He is replaced by Dedryck Boyata, the Celtic defender.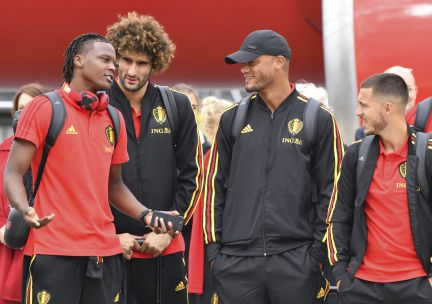 Panama XI: Penedo, Murillo, Escobar, R. Torres, Davis, Gomez, Cooper, Godoy, J. Rodriguez, Perez, G. Torres.
Belgium XI: Courtois, Alderweireld, Vertonghen, Meunier, Boyata, Witsel, De Bruyne, Carrasco, Lukaku, Hazard, Mertens.
Pretty nice shin pads from the Panama team: "Family where live starts and the love never stops," they say.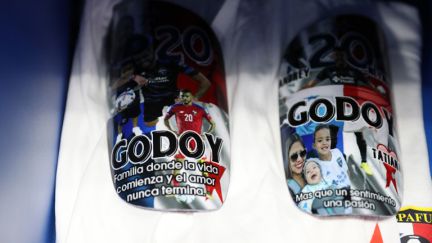 Hello and welcome to our live online coverage of Belgium and Panama. It's the second last group to kick off and we have England and Tunisia later but for now, we'll be seeing how Roberto Martinez' side fare against World Cup first-timers Panama.
Belgium - Panama live stream online: preview
The Fisht Stadium in Sochi, Russia, is the venue for the Group G opener between Belgium and Panama and Roberto Martinez' side have slowly crept into contention after underperforming favourites' recent games. Kick-off from Russia is at 17:00 CEST.
The biggest omission and talking point from Martinez' side was Radja Nainggolan of AS Roma and he subsequently retired from international football. The Belgium manager spoke to Guillem Balague recently, however, and in a round-about way explained why he didn't select the midfielder. He said that players who are used to playing with their clubs find it hard to adapt when they make it to a tournament and don't start. In any case, he has plenty of attacking talent in his squad with Eden Hazard, who is reportedly in the freshest form of his life, along with Kevin de Bruyne, Dries Mertens and Romalu Lukaku. The only issue for Belgium might be figure out an algorithm to squeeze all of their talented players into the squad. Martinez says "we are 100% ready for the World Cup" and that statement will be put to the test on Monday night.
Panama are playing at their first World Cup ever and will likely shut down, or at least try to, all routes to goal for the Red Devils. This will be a very defensive and unified performance from Panama and will have to be. They will be relying on Luis Tejada of Sporting Boys Callao up front to maybe nick them a goal but this will be more about the collective than any one player tonight at the Fisht Stadium.