WORLD CUP
Tunisia 1-2 England World Cup Russia 2018: match report
A brace from Harry Kane saw England grabd all three points in their opening game of the World Cup against Tunisia in Volgogograd on Monday night.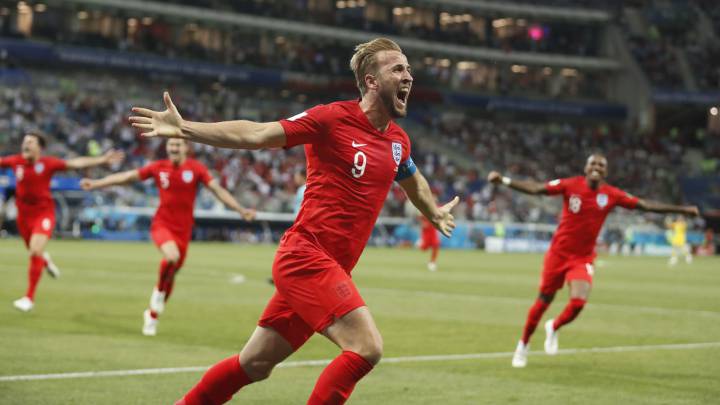 Tunisia 1-2 England: match report
Harry Kane grabbed both of England's goals as they saw off a resolute but ultimately poor Tunisia side in Volgograd on Monday night. They left it late but the three points is all that matter in a tricky opener for Gareth Southgate's side.
England started off with gusto and had the lead through their captain from a corner. After 11 minutes and with an injury to Tunisia's number one, it seemed like it would be a comfortable Enland win.
Kyle Walker caught Fakhreddine with an arm to the face in the penalty area, however, and Tunisia were awarded a penalty. Ferjani Sassi slotted it home despite Pickford's fingertips threatening to keep it out.
Tunisia backed off in the second half and didn't really deserve anything from the game. They played delicate, brave and intricate passing in the middle but had no out ball and Wahbu Khezri up front was famished for ball up top. England pressed and pressed and nearly pushed Tunisia's defence back behind the goalline but couldn't find the elusive.
That was until Kane headed home a Harry Maguire flick-on from a corner to see England win all three points in a testy and tiring affair on Monday night. They play Panama next while Belgium face Tunisia in what could be a decisive game in the group.
Tunisia vs England: live updates
90'+4'   GAME OVER! England win their first game of the World Cup. They left it late but deserved it.
90'+4'   Goal kick and that's the end of that as England take their time. Thoroughly deserved to their credit. Tunisia have been very poor for the entire second half.
90'+3' Lingard jogs off to be replaced by Dier.
90'+1' Kane GOAL! Corner comes in and it's headed on by Maguire. Kane at the back post and he headers it home.
90'+1'   We have four minutes of added time!
90'   Lingard cuts inside and loses possession. Corner for England.
90'   Khalifa races through with Walker for company. He loses out and England go back up the field! Can they find it? Do they have one last chance in them?
89'   Loftus-Cheek runs down the right and he runs it out over the endline. He gets a kick at it but it was out anyway. Keeper saves in any case.
89'   Khalifa gets it as Tunisia try to relieve the pressure. He slips and they lose out. England back on the attack.
88'   Loftus-Cheek with a perfect pass to Rashford. He obviously got a call from Lingard, who fails to pull the trigger. Change goes to waste.
87'   Offside as Tunisia play it out from midfield and find Khalifa. Really silly to be caught offside there.
87'   Tunisia with some desperation fouls.
87'   Deja Vu here.
87'   Trippier inside and that's headed out. 
86'   Rashford pulled to the ground now and England ready to send one towards goal.
85'   No need to have a striker when you don't use him, I guess.
85' Khazri taken off for Khalifa. 
83'   Young takes and the keeper punches it away. Collision now between Stones and the keeper and that's a late tackle from Stones.
83'   Rashford with a really dangerous run into the box. He wins a corner. It took two defenders there to close him down. 
83'   Bronn gets it as they mount some kind of an attack and then lose it.
81'   Tunisia win the throw and calm things down. They really have had no chances in this half! They're retreating all the way back.
81'   Young to take the free again but this time he's much further out. Sent to the back post and to Maguire but that's cleared.
81'   Another foul by Tunisia. 
81'   Into the last 10 minutes.
80'   Dele Alli replaced by Loftus-Cheek.
79'   All the bodies lined up. This is crazy. But Young can'r get it on target.
77'   Young and Trippier having a chat now. Could be either of these. 
77'   Free for a foul on Dele Alli outside the box.Lingard fouled after that too but the free was blown earlier. Might have been a penalty if the Lingard foul penalised.
77'   england camped out in Tunisia's half.
77'   Ball to the back post and Kane keeps it in. But it's cleared by Tunisia.
77'   Walker with a cross now and that's cleared.
75'   15 minutes to get a winner.
74'   Ball in behind and it rolls wide. 
74'   England on the attack now. Surely, they get a goal here. They have to!
73' Another change. This time for Tunisia as Sliti is replace by Ben Amor.
72'   There's a shot from Sliti but it's well wide. A rare attack for Tunisia. 
71'   Ever so close! Alli in and tries to poke it by the keeper. He was offside anyway but it was saved. Replay shows that it wasn't offside.
70'   Kane tackled now as he moves forward. Bronn with the tackle and it pops up just lovely for the keeper.
69'   Trippier shoots. Just wide. Well, it was a yard or so wide, but close enough.
67' Rashford for Sterling.
67'   Meriah with a foul on Hendrson.
67'   Surely, England need to make a change soon.
66'   Trippier to Henderson and he whips it in first time. Maguire with a foul at the back post on Fakhreddine.
64'   Kane pops one forward to Sterling. Young gets it and fouls Fakhreddine.
64'   Game has hit a slump.
62'   Vardy warming up now for England and looks set to come on.
62'   They clear through Fakhreddine but moment of danger there.
62'   Tunisia still not convincing when defending corners. 
62'   England continue to knock on the door.
61'   Trippier wins a corner. 
59'   Now Sterling is picked off inside the box as Tunisia squeeze them out.
59'   Kane dispossessd in the box. 
57'   Ball comes in from the left but Lingard can't reach it. Tunisia recover. Tunisia have been good in the middle but as soon as they send it forward, they've struggled.
56'   Bronn looks for Khazri with a pass but he hit it too soon and England recover. They start a new attack. Dele Alli pushes Bronn in the back as the ball rolls out for a goalkick.
55'   Still no way through for England as Kane loses out. Ball in from Maguire and Sterling just a yard short of it. Tunisia recover.
53'   England improving now. Ball comes in and it's cleared by Tunisia.
52'   Corner comes flying in and Kane is caught around the head. He is grabbing the guys arm though. Header and Farouk Ben Mustapha saves.
50'   Henderson pulls down Sliti and the ref plays advantage. England win it back though. Speedy Sterling breaks free and after a strange and difficult ball into Farouk Ben Mustapha by Meriah again, there's a corner.
49'   Tunisia's Meriah with a poor clearance straight out for a throw.
48'   Sassi slide on Henderson and England win a feee. Clipped the back of his ankle.
46'   Tunisia with some nice possession to start this half.
46'   We are back underway! 
    No changes for either side at the break.
45'+2'   HALF-TIME! That's if for the opening 45. Lively.
45'+2'   Maaloul hits the ground after getting hit with the ball. He's winded. A bit overstates, I'd say. He's back up now and grand.
45'+2'   Tunisia all the way back to the keeper.
45'+1'   Tunisia finally get the ball out for a second. They had been struggling massively and needed to ease the pressure.
44'   England all over Tunisia now.
44'  Lingard goes so, so, so close. He pokes it by the keeper and it hits the post before rolling out. 
44'   Trippier with a cross and Farouk Ben Mustapha gathers.
44'   Tunisia can't defend corners so this doesn't bode well for them.
43'   Young was going to take but it's Trippier in the end. He'll whip this in. He does and it's at the back post again. Headed into Lingard's path and he drives over with the help of a deflection. England corner.
42'   Fakhreddine clashes with Young in the air. Free for England.
42'   Tunisia playing with fire at the back. They win a throw in the end.
41'   Lingard fouled now as Sassi gets a talking to by the referee.
39'   Alli just asked for a sub.
39'   England have a chance. A proper goalmouth scramble. Headed up by Alli and then a couple of English players try to strike and can't get shots away.
39'   Delph is coming on according to reports.
37'   Sliti with the pass to Khazri as Tunisia break. He leaves him short and the striker slips.
37'   England's powerful start pulverised into dust.
35' Bronn steps up. Pickford reaches but can't make it. GOAL! That was very, very close.
33' Walker with an elbow across Fakhreddine's face and he gets booked. Ridiculous.
33'   Penalty!
31'   Khazri on to Bronn. And all the way back. Tunisia playing more patiently now but they are quite direct.
31'   Dele Alli cross is blocked and almost rolls to an English attacker. Tunisia clear the danger. Tunisia counter.
31'   Ball into the back post and Maguire heads it towards goal. Keeper saves. That ball to the back post is troubling Tunisia.
29'   Trippier or Young to take.
29'   England try to get control of this one back. Bronn wins it back but he handled the ball on the counter. England win the free. Some upset Tunisia players and fans right now. 
28'   Really good cross comes in but Fakhreddine can't bend his head around the ball and get it on target. Tunisia are alive and kicking now.
27'   Chance for Tunisia. Khazri looks for a teammate just outside the box. Walker loses it and Khazri fights again. Shot comes in from Skhiri. Corner as it took a deflection.
26'   Ball in behind got Khazri and Pickford is off his line to save!
25'   England really dynamic in attack. Tunisia can't deal with them. 
24'   Ashley Young with a lovely ball into the box. Lingard hits it down into the ground and over the bar.
23'   Chance for Sliti but that's mishit and a mile over the bar and wide. 
22'   Bronn tears down the right and wins a corner. Signs of life from Tunisia.
22'   Tunisia with a rare spell on the ball.
22'   Sterling tripped up and dispossessed. Tunisia on the break and lose it. Really disappointing from Tunisia so far. England have been impressive though.
21'   Those mosquitos are everywhere.
20'   Another foul. Walker fouled now by Khazri.
19'   Then lose it very tamely. 
19'   Lingard has his foot stood on and he is limping. He looks to be okay though, maybe. No free in any case a Tunisia win the ball back.
18'   Walker to Trippier behind the back line. What a pass. Half-cleared and Henderson shoots. First action for Farouk Ben Mustapha
17'   England back on the front foot.
15' Hassen is finished. He goes off in tears and is replaced by Farouk Ben Mustapha. 
13'   Hassen down now and his shoulder is gone! He is in agony on the ground.
11'   Tunisia have started this game terrible. 
11' GOAL! Kane turns home Stones' saved header. 
11'   Kane shot. That's deflected out wide. Keeper tries to keep it in and almost gifts it to an England attacker. Corner and Young takes.
10'   Walker and Stones link up and England move forward.... then back again.
9'   Throw for England.
9'   He's back up. Looked like, or being treated like, an accident.
9'   Nasty elbow to the face of Fakhreddine from Ashley Young. 
7'   Another Tunisia injury. They're dropping like flies.
7'   England dominating the ball to start this one. Tunisia running around after shadows. They are pressing quite high but to no avail.
6'   He's back up again and okay. Not an ideal start for Tunisia.
5'   Hassen is down and injured. He fell awkwardly but didn't look like there was anything in that. They're rolling his shoulder around.
4'   Alli through again and he feeds Lingard and then Sterling can't turn the shot towards goal. They cut through Tunisia really easily there.
3'   Tunisia all over the place.
3'   And then the corner is headed towards goal. Hassen saves. Maguire the man who headed it.
2'   Dangerous ball into the box by Dele Alli. He hesitates before sending it across goal. He jumps on the rebound and England nearly have their opener! What a mistake that would have been.
2'  England start off on the ball. Tunisia making it awkward for them and press high, force it long and win it back.
1'   We are underway in Volgograd.
    The VAR room are in place, which means we are ready for action.
    England's God Save The Queen.
    Tunisia's national anthem first. It's a jaunty number.
    Players out warming up now! Volgograd is a very balmy 24 degrees tonight so they don't want to overdo it.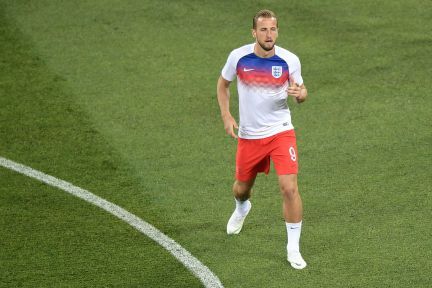 A really good feeling in the England camp...something seems amiss.
Tunisia XI: Hassen, S. Ben Youssef, Meriah, F. Ben Youssef, Badri, Khazri, Bronn, Maaloul, Sassi, Skhiri, Sliti.
    England XI: Pickford, Walker, Stones, Maguire, Lingard, Henderson, Kane, Sterling, Trippier, Young, Dele Alli.
Follow all the action as England and Tunisia do battle in Volgograd to kickstart their World Cup campaigns at 20:00 CEST.
Tunisia vs England: preview
Tunisia and England kick their World Cup off in Volgograd on Monday night with Southgate's first game for England in a tournament since he was a player. Kick-off from Volgograd is at 20:00 CEST.
England manager Gareth Southgate has done his utmost to lower the expectations on his young team at the World Cup but they enter their opening Group G game against Tunisia in a mood of quiet confidence. After the humiliation of a second round exit at the hands of Iceland in Euro 2016 and their failure to get out of the group stage in Brazil four years ago, England would like a deeper run in the World Cup in Russia. They have a balanced, pacey side and could go close to toppling Belgium as Group favourites. They will rely on Spurs' duo Dele Alli and Harry Kane as their source of inspiration and Southgate seems to have them in the perfect frame of mind heading into the tournament.
Spain struggled against Tunisia and they are seen as a really capable side who can cause England problems. Wahbi Khazri had a good season at Rennes and their most creative player, Youssef Msakni, is out injured but they have the ability to push England all the way in their Group G opener.