Colombia 1-2 Japan, Group H, World Cup 2018 Russia: report
Colombia had Carlos Sánchez sent off in the fourth minute, and went 1-0 down from the resulting penalty. A Quintero free-kick gave them hope, but Japan made their extra man count in the end in the opening game of Group H of the World Cup 2018.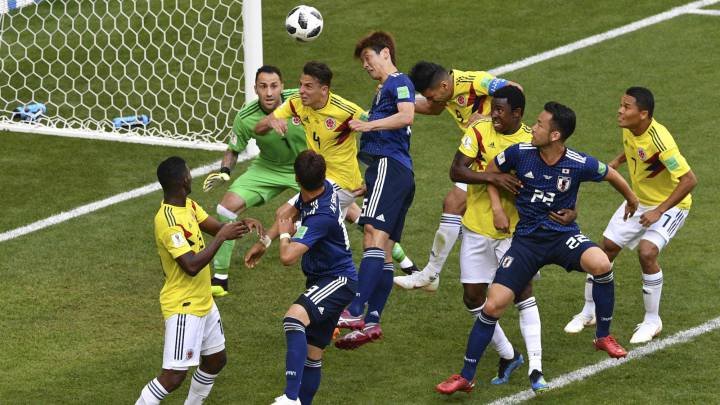 Colombia 1-2 Japan: match report
On paper, and with most commentators on the World Cup, this was a game for James, Falcao, Cuadrado and co. to get their campaign off to a positive start. But what was to happen in the first few minutes was to affect the whole game. Japan took the three points, and will now be more than hopeful of making it out of the Group H.
The big news before kick-off was that Colombia's talisman James Rodríguez was deemed not fit enough to start. The huge news shortly after the referee blew his whistle was that Carlos Sánchez was heading down the tunnel after seeing red for a shot-blocking arm. As the Espanyol player walked away he heard the eruption of cheers from the animated Asian fans who saw Shinji Kagawa slot home the spot kick of his creation.
A goal up; a man up. Japan had a choice to make and whether driven from recently installed manager Akira Nishino, or a decision on the pitch, Japan's foot was taken off the gas before it really had a chance to accelerate into whatever the original game-plan was. Colombia looked determined and had enough of the key plays in the majority of the first half to deserve an equaliser, which arrived just five minutes before the break. Quintero took control of the situation, fired the ball low and under the less-than-great wall of Japan, and there was enough power for it to squeeze in at the post ahead of a scrambling Kawashima.
Half-time killed the Colombian flow
The break came and there was a feeling that it was 10-man Colombia now had the momentum - as well as a certain James on the bench - who could take the game by the scruff of the neck. It did not turn out that way.
Japan came out positive, on the front foot, and clearly with an intent of getting as much out of the game as they could given the circumstances handed to them so early. Colombia offered little, and manager José Pékerman brought James on to make the required difference. For a few minutes there was a sense it had worked, but that didn't last. In the end, Japan caused the most problems . in a much less enterprising spell from both sides, it should be noted - and got their reward in the 73rd minute when Osaka rose highest to nod home a corner.
Colombia 1-2 Japan: how it happened
Thank you for joining our coverage today and we hope you enjoyed the ride. More thoughts to follow on what happened in our match report...
90'+5' Peeeeeeeep!! It's all over. Another upset in this summer's World Cup and Japan put themselves in a great position in the group.
90'+4'   A chance to put in a dangerous cross for Bacca and...well, that's just terrible. Truly schoolboy level stuff from the Villarreal man.
90'+3'   Into added time (there'll be five minutes) and Colombia are threatening to cause problems but are unable to find that final pass. Whether tiredness is the reason or not, they've not been a force in this second half. 
90'   A throw for Colombia deep in the Japanese half produces two half chances, the first of which was a Cristiano-in-Turin-like overhead kick opportunity which he chooses to leave. The second ends with the assistant's flag for Falcao offside.
88'   Most of the play is taking place in the middle third of the pitch as possession switches from one team to the other but the congestion stops anything from progressing. Oh, Colombia find an opening down the left and it almost comes to something.
86' Nasty challenge there from James and he's correctly shown a card. Colombia look void of ideas, with that initial James buzz not lasting long. (Expect him to score a forty-yarder soon!!)
85' Osako has a knock and goes off for Shinji Okazaki
83'   Japan rightly taking a conservative approach here. Knocking the ball about safely where possible and hoping to play down the clock.
81'   Osako has another headed opportunity from a cross swung in from the right but there was no purchase on it and the ball runs away tamely.
80' Ouchie! Shibasaki gets his ankle stood on (accidentally, I think) and goes off injured. Hotaru Yamaguchi comes on for the final ten minutes.
78'   Three chances in quick succession follow the corner: first James whose drive is deflected well over the bar. Second corner sees Bacca at the backa post but he delays the strike and is closed down. Colombia have stepped it up...
76'   A break for the yellow shirts and it's James who thinks of playing in Falcao but goes alone and only gets a corner. 
74'   Fair to say that Japan are well worth that lead based on their positive outlook since the break. Colombia defenders and keeper will be hanging heads though at that goal.
73' Goooooaaaaaalllll! The resulting corner is met in the crowd by the head of Osako and he guides it to the far post. Ospina chose to stay on his line and had no chance to stop it from there.
72'   Oooohhh! Japan almost take the lead as Sakai strikes from inside the area. Ospina beaten but a deflection takes it just wide. Hands on head, fall to ground time from the player.
I failed to mention that Bacca came on for Izquierdo a minute or two ago. Apologies!
70'   Nice play from Barrios who steps out of defence and pushes a strong pass up the line to Carlos Bacca. Good closing from the Japanese defender.
70' Kagawa replaced by Keisuke Honda
68'   Colombia almost shoot themselves in the foot there as they play 'should we/ shouldn't we' with the decision on to clear in front of their goal. The finally opt for the 'we should'.
65'   Japan continue to find little pockets of freedom between the lines but Colombia snuff out the latest attack on the edge of their area and Jefferson Lerma strides up to halfway with purpose. He's then tamely dispossessed
63'   James is coming looking for the ball deep. He has a hunger that Colombia desperately need right now to change the flow.
61'   Colombia immediately look to have shifted their whole unit a few metres forward. But it's Japan that head for the right channel and Sakai pulls the trigger from a tight angle. Ospina didn't need to get involved as it went out for a goal kick, well wide.
60'   The free-kick is played into the Colombian area and cleared away. From that, we get a break forward from the South Americans and danger almost created.
59' James is on for goalscorer Quintero
58'   Free-kick here for Japan with a chance to put it into the area. Not before Colombia's second change. Guess who?
57'   Japan create again - Colombia haven't started in this half - and the curling effort from LaLiga star Inui forces Ospina to punch with both hands.
55'   Ospina soars out to the edge of his six-yard area to catch the corner high. A thing of beauty in football.
54'   Chance! Save! Great play from Osako to turn Davinson Sanchez but the striker's hit is blocked well by Ospina. Corner.
52'   Another chance almost presents itself for the Asian side. A simple chip forward to Osako but the equally simple knock down wasn't executed well. 50 pence piece, comes to the mind of some of our followers, I'm sure.
50'   Corner from Shibasaki is controlled neatly by Yoshida in the danger zone but then he lets the covering defenders rob him. Certainly more intent here from Japan who must smell a great opportunity at causing an upset.
49'   Osako finds some space on the left and chips the ball across the area. It's well met by the head of the backtracking defender and out for a corner.
48'   Player down. Takashi Inui takes a whack from behind and looks to be in a little pain. We get going again anyway, as he runs it off with a grimace.
46'   The yellow shirts, shooting from left to right as we look on, start us off...but Japan gain possession and try to fashion an opportunity down the right wing. It's intercepted and booted away...
We're off for the second 45...
In terms of the contribution from Akira Nishino's side, it's been mixed. They probably didn't expect that start and following that advantage took some time before they looked to threaten again. There were chances, and they weren't troubled too often, but will likely push on further in the second half. Talking of which, here come the teams...
When a big World Cup goal is scored, it's not just for the eleven (or ten!) on the field. 
Imagine how mental Carlos Sanchez was going in the dressing room!
The free-kick was won by Falcao and the focal point for every Colombian attack has worked hard. He's not had much space with which to make something happen, though, and has rarely found himself with just the one dark blue shirt in attendance.
Pekerman made a change in formation and a goal followed. Can the credit be given to the Colombian manager, though. I'd suggest not. The South American team were already holding there own with Cuadrado (the substituted player) on the field. With question marks on the midfielder's fitness, however, the fuller legs of Barrios could prove a sensible move.
45'+1' And that's that. Not an uneventful first 45. 1-1 at the break and Colombia have been playing with 10 men since the fourth minute.
45' A selection of throw-ins for both sides before the assistant shares with us that there'll be one minute of added time. A substitution and two long goal celebrations. Hmm?
44'   Japan should be a little more adventurous now, which could open up space for the more creative Colombian frontline. It's been a cagey few minutes with nothing of note to mention.
42'   Since the goal celebrations there has been some calm. Colombia likely to have their tails up now, but are still a man down...
39' 39'   Gooooaaaaaaalll!!! Colombia equalise from the dead ball strike. The wall jumps and the strike slides under the gap between their feet and the ground. Kawashima almost makes it across his goal to save it but the ref's watch buzzes and it's given. Clearly over the line.
38'   This time he is fouled. Outside the area but within shooting distance if someone fancies it. Quintero does...
37'   Falcao goes down in the penalty area but there was never a chance of the whistle being blown. He claimed it though
36'   Foul on Falcao there (these players are going to be tired later) and the striker goes flying.
34'   Chance! Falcao at maximum stretch - it looked like every fibre in his being was pushing to make contact - as a lovely pass was floated over the defence by Quintero. A nudge from the Monaco man's toes was all that he could manage and the ball dropped safely into Kawashima's arms.
32'   Almost real danger there from Japan as the substitution change was taking effect. Yuya Osako cut inside well on the left but the excitement of doing so seemed to affect his shot. Awful!
31'  It's Cuadrado leaving us and Wilmar Barrios coming on
30'   Nothing of any note happening at the moment. Some toing and froing in the middle of the park
28'   Pekerman is about to make a change. More control is desired and we'll see what he does in terms of personnel and formation.
27'   Mojica then Quintero swing the ball into a crowded Japanese penalty area. They're dealt with pretty comfortably but Cuadrado again finds space to fire a shot at goal. Again blue shirst descend and it's cleared to safety.
25'   Japan's short corner is then played into the mixer by Inui. It looks like it could cause problems but Yoshida is penalised for a foul on Murillo. Fortunate maybe for the South Americans.
23'   A little lull in play as Japan keep the ball in their own defensive area. A delicious threw ball (think R2 + triangle) sends Haraguchi down the right channel. Instead of playing it first time he takes a touch and the chance is lost. Corner.
21'   Loose play there from the Colombian back line. Each pass to a teammate made the next one harder until finally Japan picked it up in the final third. They waste the opportunity.
18'   Colombia with some controlled possession just inside their own half but as they probe to play it into the midfielders, they then turn back as Japan's formation is tight. There are little signs that a burst from the South American side's attacking players could open them up though
16'   Nice build up from Colombia, first from a driving run down the left from Izquierdo who whips in a fabulous cross. Falcao was unable to reach it but as it breaks Cuadrado hits it sweetly from the edge of the area. Blocked well.
15'   Eibar's Inui overlaps on the left for Japan (perfect use of the extra man) but doesn't connect cleanly on his shot. Still, the ball wasn't far wide of the far post but Ospina looked like he had it under control.
13'   There have been a few tasty challenges from the Asian side and I suspect the Colombians will make the most of any trying to get the numbers evened up again
12'   Free-kick played in from deep to the Japan area and Falcao clips it on the volley towards goal. Kawashima will be delighted it was straight at him as he didn't have much time to react.
10'   Wide on the right the cross is flung in to the waiting Falcao but the numerous blue shirts crowd him out and clear. Again Japan make no attempt to take the ball forward as a team. Maybe they're just 'keeping it tight for 10 minutes' as all good ex-pros tell us they should do.
9'   Japan have a short period of control in the midfield. Knocking the ball amongst each other but with no obvious purpose to getting forward. Will that be the plan now?
8'   Pekerman on the sideline is rubbing his chin as Cuadrado heads forward. It's intercepted and then Arias is caught offside as the move restarts.
7'   Colombia need to get their focus back quickly. What a blow to their plans, and so early.
Calmly (it seemed anyway) steps up and rolls it just to the right of centre. Risky but Ospina had thrown himself in the opposite direction. Celebrations ensue.
5'   Lots of delay but Kagawa steps up and...GOOOOOOAAAAAALLLLL!
Japan were threw one-on-one and Ospina made a fine save but the follow up shot was blocked by an arm. Protests aplenty but the ref didn't even think of going to VAR.
3'   DRAMA! Penalty to Japan and a red card for Carlos Sanchez.
2'   Nothing doing and Japan move forward before Ospina has to get involved. An early first touch is always good for the number ones.
Japan get us underway and immediately Colombia get the ball back and work it wide to their right.
We're off!
Falcao in a bit of a discussion with the ref who misunderstood his desire to change ends. All sorted now...
The referee for today's game is Slovenian Damir Skomina. Will he be needing to use the Dutch/German gang in the VAR room over the coming 90 minutes?
Japan's anthem is much more flowing and somber. Emotional nonetheless and they end it with a huge cheer from the stands. Nerves a jangling...
They've lined up for the anthems and it's Colombia with a loud and proud version...'Oh, unwithering glory! Oh, immortal jubilance!...' it begins. James on the bench with eyes closed looks so proud to be finally there.
Right, almost time. The teams are in the tunnel. Some of the players looking a little nervous, others chilled, and some blatently loving this!
Both Colombia and Japan are targeting a third World Cup in which they have progressed from the group stage. Japan have never made it passed the Last 16 but, of course, the South Americans impressed many just four years ago when they reached the quarter finals. James, in particular, shone brightly...and not just because of that yellow shirt!
15 minutes till kick off and the stadium is filling up nicely with plenty of colour and originality from those in the fans.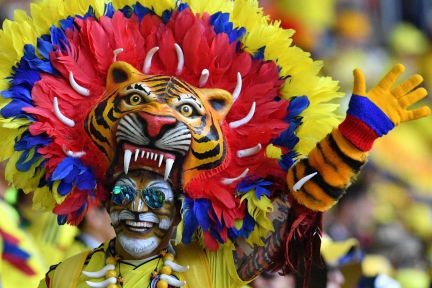 It's positive news on Cuadrado who will start on the right of that back up trio to Falcao for Colombia. Jose Izquierdo starts (appropriately!) on the left and will have Brighton & Hove Albion supporters glued to proceedings.
Japan's substitute options include Honda along with Higashiguchi, Nakamura, Ueda, Endo, Okazaki, Usami, Muto, Yamaguchi, Oshima, Makino, Gotoku Sakai
So, James not fit enough it seems to start the game and joins Vargas, Cuadrado, Zapata, Barrios, Bacca, Aguilar, Mina, Muriel, Uribe, Diaz, and Borja on the bench.
Japan XI: Kawashima, Hiroki Sakai, Yoshida, Shoji, Nagatomo, Haraguchi, Hasebe, Shibasaki, Inui, Kagawa, Osako
Colombia XI: Ospina, Arias, Davinson Sanchez, Murillo, Mojica, Cuadrado, Carlos Sanchez, Lerma, Izquierdo, Quintero, Falcao
This is the first of the two Group H games today, which will complete the first round of fixtures in the group stage of Russia 2018. Our very own Robbie Dunne will be bringing you live commentary of Poland vs Senegal from 17:00 CEST.
Monaco striker Radamel Falcao must be coming into this tournament eyeing the Golden Boot prize. With nine goals at the 2014 edition of the World Cup he was his nation's top scorer and this past season in Ligue 1 he scored 18 in 26 games (24 in 36 across all competitions for his club). His performances even resulted in him being nominated for the Ballon d'Or.
After the games we've seen so far in this competition,
we've almost given up try to predict the outcomes.
For today's game we're going to use the handy tool provided by 
Olympique Marseille's social media team.
Have a go... 
[Our effort produced a thrilling 4-3 victory for Colombia!]
Oh, you like info on stadia?! OK, then fill your boots with these images... Russia World Cup stadia: a visual guide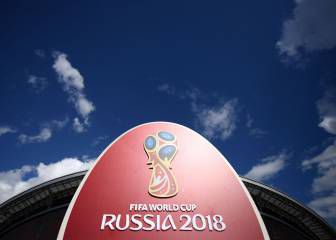 Just an hour till kick-off in the Mordovia Arena in Saransk. Out of interest, for those that care, the stadium cost $300 million to construct and has a capacity of 41,685 for this World Cup (I clarify that because once the global attention shifts away, this stadium will be adapted to hold around 30,000.
Colombia are made favourites by most for this game (with or without talisman James) but we shouldn't overlook completely Japan's qualifying performance to get to Russia. They conceded the second least number of goals (7) through the Asian qualification - only the incredibly miserly Iran under the stewardship of Carlos Quieroz being breached less (2). Add to this the fact that they topped the goal-scoring list along with Saudi Arabia with 17.
There will be some intrigue for fans of LaLiga in today's match - as has often been the case at this year's World Cup. Whether or not Real Madrid's James Rodríguez (yes, yes, he's playing at Bayern) takes to the field is in doubt, but we defintely expect to see espanyol's Sánchez and Sevilla's Muriel for the Colombians. Eibar eyes will also be monitoring Inui's performance.
  The last decade has been a period of much excitement in Japan about the prospect of actually competing with Europe's and South America's best sides, but the hype created by players such as Honda, Kagawa, Hasebe and Nagatomo has never been lived up to. Could they surprise a few in what is very much a changing of the guard in the Land of the Rising Sun? We're only 90 minutes from finding out...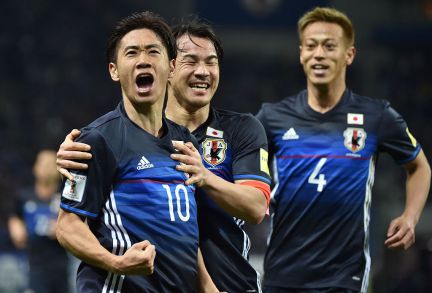 Following the sacking of manager Vahid Halilhodžić just a couple of months ago, more doubts have been thrown into an already muddied picture for the Asian side. Headline players, certainly on a world stage, like Honda and Kagawa were being phased out of the first team under Bosnian coach but with Nishino now in the hot seat, we can expect them to feature...
Did you know? The last game for Japan in a World Cup came in the form of a 4-1 defeat in the Brazil 2014 tournament. Their opponent just happened to be Colombia. The other two meetings between the sides ended in another win for the South Americans and a draw.
Possible Japan line-up: Eiji Kawashima; Hiroki Sakai, Maya Yoshida, Tomoaki Makino, Yuto Nagatomo; Makoto Hasebe, Gaku Shibasaki, Genki Haraguchi, Keisuke Honda, Takashi Inui; Yuya Osako
Note though that James, the leading goal-scorer at the last World Cup, is a major doubt for Colombia today. He's said to have a calf strain and it wouldn't be a surprise to see him start on the bench.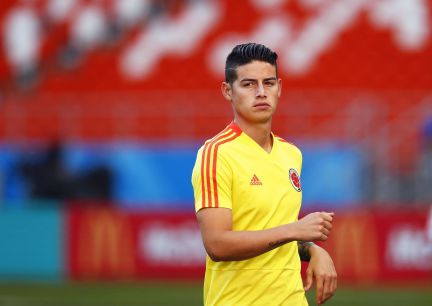 Possible Colombia line-up for today: David Ospina; Santiago Arias, Yerry Mina, Davinson Sanchez, Johan Mojica; Abel Aguilar, Carlos Sanchez, Juan Cuadrado, James Rodriguez; Luis Muriel, Radamel Falcao.
The game's taking place at the Mordovia Arena, and kick-off is at 15:00 local time, 14:00 CEST. You can find out where watch the game here, with our handy How and Where to Watch Guide. 
Hello and welcome to our live coverage of the opening game in Group H of this already fascinating World Cup in Russia, between Pékerman's Colombia and Nishino's Japan. 
Colombia vs Japan: preview
Colombia come into their first World Cup game in Russia with their expectations high. Coach Pékerman has two of the big names of this generation: Falcao and James. And El Tigre (The Tiger), as the Monaco striker is known, comes into the tournament in fine form, having fought for his right to be in Russia for the past four years. James however is a doubt, suffering from a calf muscle strain apparently, although Pékerman is using the situation to his advantage, concealing his potential starting line-up.
Although Colombia were spotty in qualifying, both in terms of results and football, the experience of their players and the solid length of time preparing for the tournament make them firm favourites for this match against Japan. The Asian side's focus is on order, discipline and fast counter-attacks, meaning Colombia will have possession and will need to make it count, relying on their other big names such as Cuadrado (who may be a doubt to start today) and Muriel.
New boy Nishino
Japan coach Nishino hasn't been in the job long. The 63 year old is at his first World Cup, having taken over in April. This though is Japan's sixth time at the biggest event in sport, and they have players of the experience and talent of Nagatomo, Honda and Inui. The last time they met was in Brazil 2014, where Colombia thrashed Japan 4-1 in Cuiabá.