Poland 1-2 Senegal, Group H, World Cup 2018 Russia: report
A Cionek own goal and a superb opportunistic effort from star man Niang saw Cisse's side beat Poland at the Spartak Stadium in Group H of the World Cup 2018. Jamaica vs USA: Gold Cup live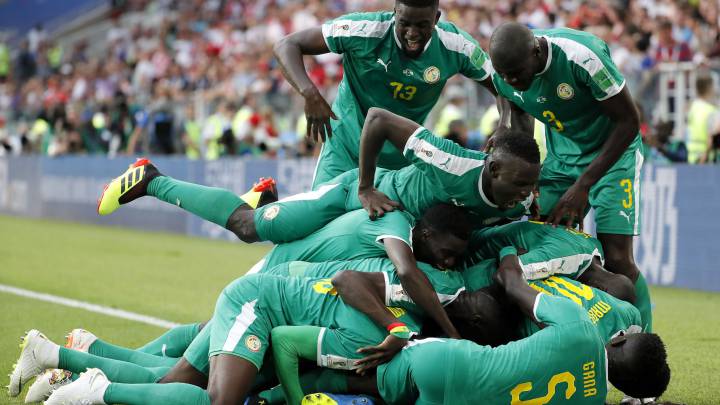 Poland vs Senegal: Group H Match Report
It really was a tale of two halves. Senegal came out all guns blazing in the first half and were far the better side, showing great confidence and dynamism going forward. However they seemed to be lacking the killer instinct to finish off anything they had worked well to create.
That was until the 38th minute, when Niang – who was Senegal's standout player in the game – used his strength to win a 50-50 ball against Piszczek around the center of the pitch. He dribbled forward squaring a ball to Sane, who then squared it to Gueye around 25 yards out. His shot was on target but it took a wicked deflection off Polish defender Cionek, leaving the keeper helpless as the ball drifted past him into the bottom right corner.
Poland a different team in the second half
After being merely spectators in the first half, Poland came out with much more intent in the second and it looked like a goal was imminent. But all their hard work in offence was completely undone after an atrocious error in defense in the 61st minute that lead to Senegal's second goal. From the center of the pitch, Krychowiak launched an unexplainable back pass in the air towards the unsuspecting keeper Szczesny, who was now in a 50-50 chase for the ball with Niang. The Senegalese striker was first to it. He rounded Szczesny easily to tap it in, putting the game further out of the reach of Poland.
But Poland continued to dominate the second half and finally got their just award in the 86th minute, when a great free kick into the box from 40 yards out found the head of Krychowiak on the left, who put a lovely looping header over the keeper and into the right hand corner to make it 2-1.
But that's how it finished, and despite being gifted two goals, Senegal were deserved winners, after having bossed the first half, and – apart from the goal -- dealing with everything Poland could throw at them in the second half. With Japan next, Senegal will fancy themselves now for a first-place finish after having overcome their biggest obstacle in Poland.
Poland vs Senegal: live coverage, World Cup Group H match
And it's all over! What a win for Senegal. They were gifted both goals, but judging on performance, they finish deserved winners. Colombia and Poland sit on the bottom of Group H, Senegal and Japan on top. It's really all to play for now in this group, and we can expect Colombia and Poland to come out all guns blazing when they sqaure off against each other on Sunday.  
93'   ball into the box from Pazdan! Punched away by the Senegal keeper. Was that Poland's last chance??
90'   Corner kick for Senegal results in free out. The Polish goalkeeper Szczesny prepares to hoof it up field. Poland will have four minutes of added to time to try rescue a point here
86' GOAALLLL POLAND!!!! Beatiful free kick is lobbed into the box from around 40 yards out, and Krychowiak gets a clear head to it and it sails past the keeper. 2-1!
84'   Sarr goes down in the Polish box and he's looking for a penalty after a challenge bu Cionak. Cionak is furious as it looked like he dived. The ref comes to cool down the situation. No penalty and no yellow for Sarr for the dive
81'   Another chance for Poland and again it falls to Rybus. Senegalese defence fail to deal with the cross that lands on the chest of Lewandonski. After some scrambling the ball falls to the feet of Rybus just yards out. But he doesn't really connect with his side-foot effort and its in the hands of the keeper.
78'   Chance for Poland. Long ball finds Rybus in the box. His shot is blocked and then picked up by the keeper. Danger averted for Senegal
75' And man of the match Niang is off after he takes a knock. Konaté is on. Niang looks ok though. 
75'   15 minutes left and Poland really need to change something here. 
70' Chance for Poland! They work it around well to find Piszczek on the right at the edge of the box. He puts in a low cross for Milik, whose shot from 8 yards out goes wide. He will be kicking himself for at least not making the keeper work there. 
66'   Poland came to Russia with serious concerns defensively after qualifying. They certainly have not addressed those concerns today. 
61' GOOAAALLLLL SENEGAL!!!!! Completely against the run of play. Absolutley atrocious defending by Poland, the long back pass in the air towards the keeper falls nowhere near him, Niang, poaching, picks it up, rounds the keeper and coolly taps it in. That was beyond woeful from the Polish defence. 
60'   15 minutes in to the second half and Poland have swung the flow of the game into their favor. It's been all about the team in white so far in this second half. 
56'   Chance for Poland. Cross comes in from the left for Piszczek by the six yard box, but the defender's volley is miss timed and it goes wide. 
54'   Poland have come out with much more intent in this second half. Lewandonski has been more involved in the first 8 minutes than he was for the whole of the first half. 
50'   The free kick from Lewandoski is sweetly struck and on target, but well saved by Senegal's keeper. He had to stretch for that, great effort from both players. That was Poland's best and only real chance of the game, and the fact that it has come from a set piece says it all. 
49' Yellow card for Sané after a tackle on Lewandowski. A free kick for Poland now just outside the box. 
48'   Ball played into the box for Rybus of Poland. But he's offside.
47'   But he's back on his feet and we're underway again with Poland in possession
46'   And Bednarek, who has just come on, is down after a clash in his own box. He looks in some discomfort. 
46' One change for Poland: Blaszczykowski makes way for Bednarek
The team's coming back out. Let's see if a good half-time talking to will have any impact on this Polish team. 
This man was expected to be the star of the show. But to say he's had a bit part would be an overstatement!

Poland's own goalscorer Thiago Cionek (4) would have been eligible to play for Brazil, where he was born and raised. He qualified to play for Poland because of his Polish great grandparents, who moved ot South America in 1990. 

The ref blows it up. Poland will be glad to see the back of that half. They really haven't shown up so far. They're going to need a good talking to by coach Adam Nawałka. Senegal coach Cisse can only be delighted with his side so far, they've nearly created something every time they've had the ball. The have perhaps been lacking that killer instinct to finish their chances. But they're doing well to highlight the cracks in this Polish defence that conceded more goals than any other of the European qualifying group winners.
46'   Poland will be anxious for the final whistle now
42'   A Senegal corner finds Sané completely free by the six yard box. His heads it downwards and the ball bounces in front of the goal and over. He should have done better with so much space. But Poland's coach will be asking how he was given so much space.
40'   With the way things were going it was only a matter of time before Senegal got on the scoreboard. A lucky goal, but the pressure they have put on Poland has finally paid off. 
38' Goalllll!!! Niang does brilliantly to win the ball back around the center of the pitch. He squares it for Mané, who sqaures it for Gueye around 25 yards out. His shot takes a lucky deflection and finds its way into the back of the net. 
33'   After a quiet few minutes, Senegal have managed to work two great attacks, both of which were crosses in from the right, but neither can find a Senegal striker. But the African side look dangerous and full of confidence going forward. They're really bossing this so far.  
32'   A string of passes from Poland ends in a throw in for Senegal. 
28'   At the moment Senegal looked like the side in eighth in the FIFA rankings, Poland really haven't had a chance to get anything going. It's been almost-all Senegal
26'   Niang plays a nice ball into the box for Diouf. But he's beaten to it by the Polish defender. Niang has been a handful for Poland so far. 
23'   Poland enjoying a bit more of the ball now. Lewandowski gets his first crack with a volley just outside the box, but it's not a great effort. 
18'   Nice move from Senegal! A long pass from Poland intercepted by Sabaly who bursts forward and plays a lovely through ball for Niang, but his shot is weak and wide. Should have done better after Sabaly's hard work.
16'   Sarr takes on the 3 of the polish defence and is taken down just outside the box, but the ref says play on. Danger averted again for Poland. Looking at the replay, Poland were lucky to get away with that.
15'   15 minutes in and Senegal have been the better side, they look very much in control. But that could all change quickly
13'   Ambitious strike from Sané from the free kick, goes well wide. 
12' Yellow card for Krychowiak for prostesting a free kic which Senegal prepare to take around 40 yards out
11'   Mané plays a nice through ball for Niang by the six yard box, but Szczesny gets down to pick it up before he can get a foot to it
9'   Niang does well to win the ball from the Polish defender, puts a great ball into the box but nobody is on the end of it. Senegal have been the slightly more dangerous side so far, but neither team has got a shot off yet.
7'   It's a poor corner and easily dealth with by the Polish defence
6'   First attack for Senegal results in a corner
5'   First bit of danger in the Senegal box, some nice tiki taka from Poland but they can't get a shot off and it's cleared away. 
4' Poland back in possession, patiently working it around the back, Senegal are pressing high. They're well up for this.
Two attacks broken down by Senegal and they're on the ball and moving it around well.
And we're away! Poland in possession and working it forward
A few last minute prayers from the Senegalese players as they prepare to kick off. 
Senegal players have already lost the sing-off. come on boys, sing loud and proud.
Polish anthem rings through the stadium, and the whole team is belting it ourt...some angelic voices amongst the Polish squad. 
Mané is a little late to the party, he's finally arrived and ready to lead his team out.
The teams have emerged rom the dressing rooms, and it's all hug, smiles and high-fives in the tunnel. Great to see!
Future World Cup stars here? 

Lukasz Teodorczyk of Poland getting physical with Senegal's Kara Mbodji before a ball has even been kicked. Did VAR spot that??

Two of Europe's hottest strikers line out today: Sane: 44 games, 20 goals, 9 assists; Lewandoski: 48 games, 41 goals, 5 assists

Senegal XI: KH NDiaye, Koulibaly, Sabaly, Wague, Gana, Sane, A. Ndiaye, Diouf, Mane, Ismaila, Niang  
Poland XI: Szczesny, Piszczek, Pazdan, Cionek, Rybus, Krychowiak, Zielinski, Blaszczykowski, Milik, Grosicki, Lewandowski
Some of the Polish players are out on the pitch. They get a big hand from the fans in the stands:

It looks like Japan will be going to the top of Group H. They're now leading 2-1 over 10-man Colombia. 

And here's how Senegal might set out their stall: Khadim Ndiaye; Lamine Gassama, Kara Mbodji, Kalidou Koulibaly, Youssouf Sabaly; Pape Alioune Ndiaye, Cheikhou Kouyate, Gana Idrissa Gueye; Keita Balde, M'Baye Niang, Sadio Mané
Possible Poland line-up (if we have enough consonants): Wojciech Szczesny; Maciej Rybus, Michal Pazdan, Jan Bednarek, Lukasz Piszczek; Kamil Grosicki, Jacek Goralski, Grzegorz Krychowiak, Jakub Blaszczykowski, Piotr Zielinski; Robert Lewandowski​
One piece of sad news for Senegal, their defender Saliou Ciss has been ruled out of the whole World Cup, with an ankle injury. 

Obviously we'd love to have your company here for this match, but if you're keen to watch it on the telly, here's our guide to where to tune in.
In the other game today in Group H, Colombia and Japan are in action RIGHT NOW, with the Cafeteros down to 10 men, and the score at 1-1. You can follow that live, with Cal in charge of the chat. 
Good afternoon and welcome to our coverage of Poland v Senegal, live from the Spartak Stadium. The game kicks off at 17:00 CEST, but we'll have plenty of stats and info before then as we build up to the second game in Group H.
Poland vs Senegal: preview
Poland and Senegal make their debuts in the World Cup with an aroma of expected goals around the Spartak Stadium in Moscow; both sides had great qualifying campaigns and now in the final tournament are expecting great things from their hitmen Lewandowski and Mané, both playing in their first World Cup. And both teams will fancy their chances of finishing top of Group H, which also includes Japan and Colombia, who played earlier today.
Goal machine Poland
Ranked eighth in the world, Poland travel to Russia after an impressive qualifying campaign in which they won 8 of their 10 fixtures, scoring an average of 2.8 goals per game. Between them Kamil Grosicki and Robert Lewandonski have scored 50% of the goals under coach Adam Nawalka. They will be Poland's biggest threat, along with Lewandonski's strike partner, 24-year-old Arkadiusz Milik, who returned strongly for Napoli in January after recovering from a second cruciate ligament injury.
Poland did however concede a lot of goals in qualifying and had the worst defensive record of all the European qualifying group winners. They will have to fill those defensive cracks if they are to keep out Senegal's most potent weapon, Sadio Mané, who scored 20 goals and made 8 assists for Liverpool last season. The Polish defence will also have to keep an eye on another man who plies his trade on Merseyside, Everton's Idrissa Gana Gueye in midfield. These two alone have the potential to cause an upset for Poland, but Nawalka's men will be expecting to take all three points in their opening fixture.