Portugal hang on for slim win over courageous Morocco
Cristiano's fourth minute header was all that separated Portugal and Morocco on the final whistle in Moscow. Portugal top Group B on four points.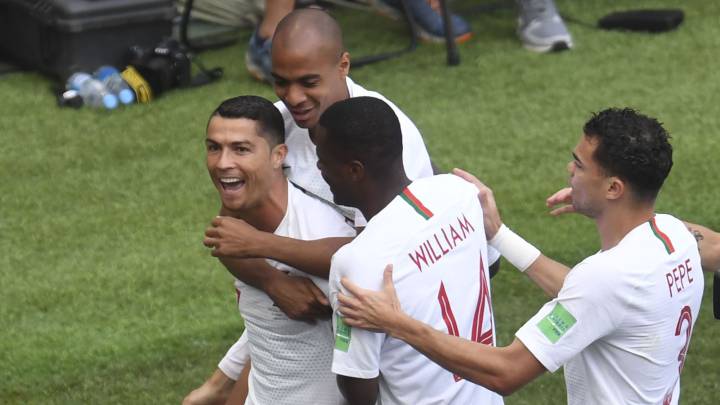 Portugal vs Morocco | World Cup 2018 Match Report
Morocco will be bitterly disappointed after their 1-0 defeat at the hands of Portugal, which puts the North Africans out of the running for a place in the second round, following two successive defeats.
Before the game, Moroccan coach Hervé Renard has said that his team would do all they could to make Ronaldo look "less exceptional". And for the majority of the game, they did just that. But Ronaldo doesn't need many chances to do something exceptional, and with just four minutes on the clock, the Real Madrid striker scored with a wonderful diving header to put his team ahead -- and himself ahead in the race for the Golden Boot. It was his fourth in the competition, and his 85th for his country, making him now the player with the second most international goals in history, behind Iran's Ali Daei.
Morocco bow out, but can hold heads high
But it was Morocco who were overall the better side in the game. Renard's men had a plethora of chances but just could not find a way past Rui Patricio in goal, who made a number of great saves in the second half to keep Morocco off the scoreboard.
It was a heroic display from the Atlas Lions, who kept their fans on the edge of their seats right until the final whistle. They will be disappointed but can leave the Luzhniki stadium with their heads held high. Spain may be a dead rubber fixture for them now, but they will be eager to leave Russia with a win, and judging on today's performance, they certainly have an outside chance of doing so.
95' And it's all over. Absolute relief for Portugal. Absolute heartbreak for Morocco, who are now out of WC. Morocco really gave it their all until the last second but they just could not find the back of the net to keep their WC alive. 
92' Yellow for Adrien Silva, who has just come on. Morrocco have 2 minutes to save their World Cup!
90'   Great chance for Ziyech who takes it on the edge of the box, cuts inside and launches it. Corner!  But the corner ends ups with a free out for Portugal. Another chance gone amiss for Morocco. 
89' last change for Portugal: Adrien Silva on for Moutinho
85'   Ronaldo again hits the wall with the free kick! Danger averted. Ronaldo picked up the rebounded ball in the box, and then takes a terrible dive in a bid to win a corner. He really should have seen a card for his dramatics. 
84'   Foul on Ronaldo literally inches outside the penalty area. Serious danger again now for Morocco. 
82'   Finally chance for Portugal: Bruno Fernandes around 25 yards out, his shot is low and hard but drifts around 5 yards wide of the left hand post. Ronaldo has bearly touched the ball in this second half. 
81'   Dirar with an incredibly ambitious long ranged from the cleared corner. But it sails well over the bar. Morocco have been piling on the pressure. 
80'   Another corner for Morocco!
76'   Free kick whipped in again from Ziyech. Again it finds a Moroccan head, but it's a weak effort. 
74'   15 minutes to go, and Portugal will be more focused on keeping it at 1-0 then pushing for a second goal.
70' Another change for Portugal: João Mário on, Bruno Fernandes off
68'   Ziyech with a great effort from the free kick! But it's just over the bar. Rui Patricio looked like he would have had it covered.
67'   Free kick for Morocco just outside the box.
66'   25 minutes to go! Can Morocco find a goal to keep their WC alive? Their fans are urging them on!
61'   Another Moroccan chance again from a free kick played into the box. Benatia finds himself on the end of it by the penalty area. He hits it well but it's over the bar.
59' First change of the game for Portugal: Gelson on for Bernardo Silva
57'   So close for Morocco!! Ziyichi whips in a cross from the free kick. It's a great headed effort from Belhanda, and well saved from Rui Patricio. That's the closest Morocco has come to a goal.
56'   Until now! Good effort from Belhanda! It's on target, but easily dealt with by Rui Patricio in goal.
55'   10 minutes in and Morocco have not been able to take control and threaten as they did in the first half. 
50'   Portugal take a quick free kick which finds João Mário in the box who passes back to Gonçalo Guedes. His shot almost ends up going backwards falling to the feet of Ronaldo all alone just inside the box. But the Real Madrid man has compeletely scuffed that, very uncharacteristically. 
48'   Another short corner played to Guerreiro who puts it into the box. José Fonte gets a head to it but's off target. Danger averted. But after having conceded after a short pass from a corner in the first half, Morocco will have to be more aware for those. 
47'   First bit of pressure from Portugal results in a corner. 
46'   And we're away, no changes for either side. 
And the teams are coming back out for the second half. 
  Story of the first half: Morocco have had more of the ball, and have looked threatening but they just lack the quality to convert their chances into goals. Portugal meanwhile have managed to make one of their few chances count. And Ronaldo has been involved in every real chance they've had. Firstly the goal from the corner, then a free kick 3 yards outside the box (which hit the wall), and the third was his beautiful through ball for Gonçalo Guedes, who should really have made it 2 after Ronaldo's perfectly weigthed volley-pass left him one on one with the keeper. Morocco can be happy with their performance though and will come out for the second half with their chins up. They look confident and dynamic going forward. If they can keep the pressure on and do more of the same, something may eventually come of it. 
47' And that's half time!! Portugal have managed to hold on their early lead depsite much pressure from Morocco.
46'   The resultant cross from the free kick reaches the head of Belhanda. But his effort is well wide. 
46'   Foul on Amrabat by the corner, he's been Morocco's most dangerous player so far. 
44'   Morocco again are playing dynamic attacking football, they manage to work it into the box twice, but there is nobody in there. They need to get more men in the penalty area when they get forward. Where are the strikers?
39'   What a chance for Portugal!! Ronaldo with the chest down around 30 yards out. He puts a lovely ball through for Gonçalo Guedes, who is one on one with the keeper. But he fails to find the net. He should have done better from that position. 
37'   The intensity has died down a bit here. And it's back and forth but no real opportunities for either side in the last few minutes.
34'   Portugal enjoying some significant possession for the first time in the game
32'   Ronaldo's strike hits the wall and away. Moroccan hearts can return to their chests!
30'   It's free kick for a challenge on João Mário a yard outside the Moroccan box! Danger now as Ronaldo lines up to take it
28' No foul either, we play on.
27'   Replays shows he was taken down outside the box, but maybe a foul will be given
26'   Amrabat taken down just inside the box and appeals for a penalty. VAR time!! 
23'   Morocco again! This time Ziyech gets off a low and hard strike 25 yards out. It's on target, but Rui Costa deals with it. Morocco had no problem creating chances against Iran, and now it's the same here against Portugal. But can they covert a chance into a goal? Something they failed to do against Iran
20'   Corner ends in the hands of Rui Costa. But Morocco, like Spain against Portugal, have so far seen a lot more of the ball and created several more chances. Portugal again score thanks to a moment of brilliance from Ronaldo. But apart from the goal, they have really not threatened.  
20'   Morocco work another corner after some great link up play down the right.
18'   Morocco do well to win the wall back and work it in to the box with Boutaïb who passes back to Ziyech, who takes a shot but it's blocked. Great stuff again from Morocco. 
17'   Foul on Guerreiro. Portugal havce a free kick in the center of the park.
12'   Rui Patricio in goal does well to get down to stop the on-target headed strike from the corner. Morocco are playing well here and have threatened on several occasions
11'   Arambat beats Guerreiro down the flank, gets in a cross but it's blocked and it's a corner
9' Ronaldo in again! He puts in a shot low and hard from the corner of the box, it drifts wide of the left-hand post. It could have been 2!
Morocco's coach Hervé Renard will be furious Ronaldo was left in so much space for that goal! If there was one man to make sure you mark, it's him.
5'   Silva takes a short corner to Moutinho, who whips it into the box. Ronaldo forces a powerful headed strike past the keeper. That puts CR7 on top for Golden Boot 
GOALLLLL RONALDO!!!!!
4'   Portugal have first chance with a corner, which is headed away. But it's now another corner
2'   First chance for Morocco: Boussoufa cross into the box for Boutaib, who gets a head to it, Good effort! Just wide!
Amrabat with an early cross into the box for Morocco but nobody is in there. 
1'   And we're off! Morcocco get us underway
Moroccan team in a huddle as the captain Benatia gives some last inspiring words. And they are now ready for kick off
Ronaldo wins the toss and has asked for the team to swap sides. Wondering why?
A fitting lion's roar from the crowd following the Moroccan anthem. They seem charged up for this. We're almost ready to go!
And the teams are out and lining up for the anthems
Not sure how this works...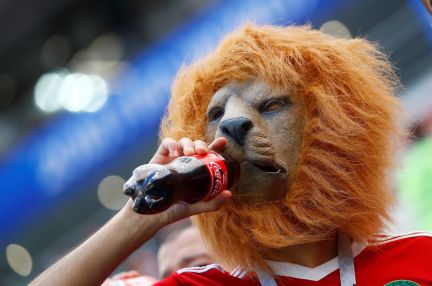 The only player to score a goal against Morocco in a competitive game since the start of WC qualifying is Moroccan player, Aziz Bouhaddouz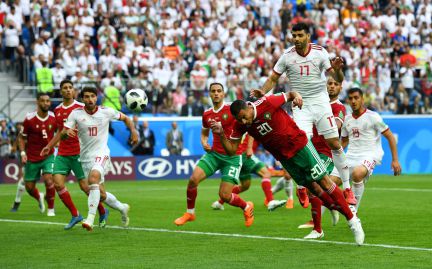 Interesting stat: Morocco did not concede a single goal in qualifying! 
How much fruit does a team need to eat to stop Ronaldo?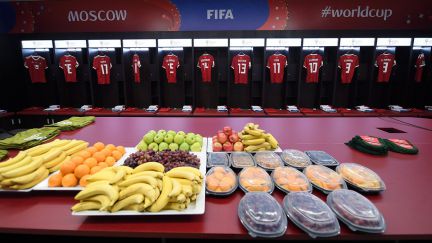 Here's combined POR-MOR XI. How far would this team go?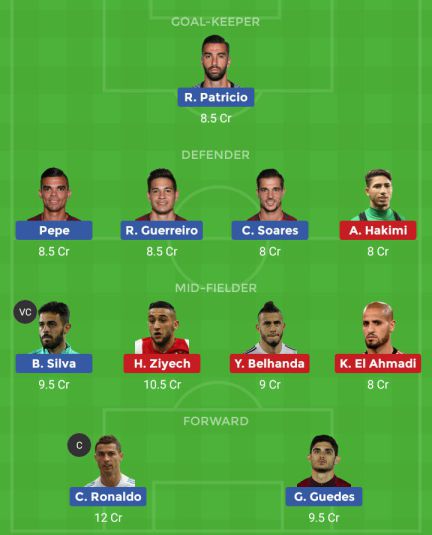 One of followers on Twitter, SteRogers, says of Ronaldo: "He looks like a synthetic robot..."
Morocco Starting XI: El Kajoui, Hakimi, Da Costa, Benatia (c), Dirar, Ziyach, El Ahmadi, Belhanda, Boussoufa, Amrabat, Boutaib
Portugal Starting XI: Rui Patricio, Pepe, Raphael, Fonte, Cedric, Moutimho, Mario, William, Ronaldo (c), Guedes
And the teams are in: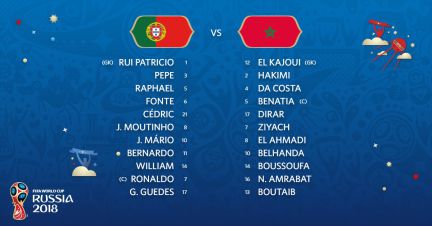 Morocco have one Real Madrid man in their team, 19-year-old defender Achraf Hakimi, who was not even born the last time Morocco qualified for the World Cup in 1998.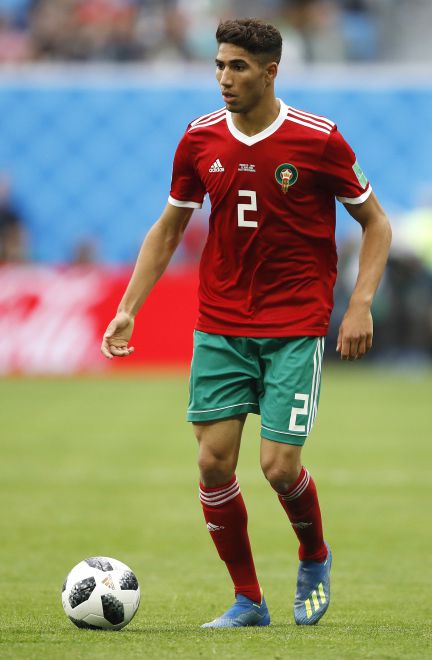 Morocco' starman is Ajax playmaker Hakim Ziyech. The 25-year-old joined Ajax in 2017 for 11 million euros from FC Twente. Last season he made 39 appearences, scoring 9 goals with an impressive 18 assists.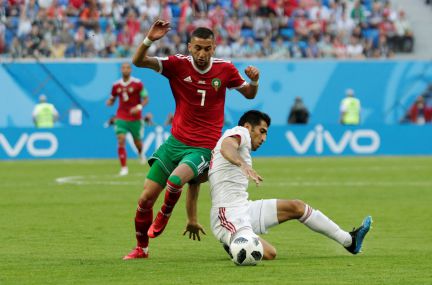 Portugal Probable XI: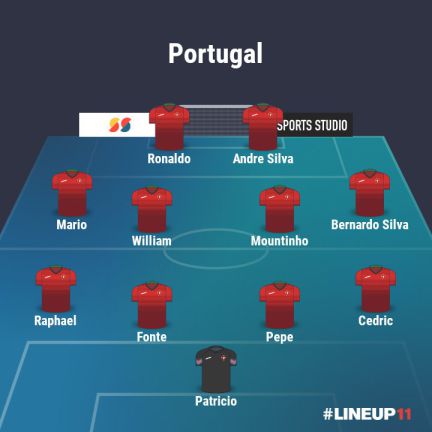 Here are the probable lineups: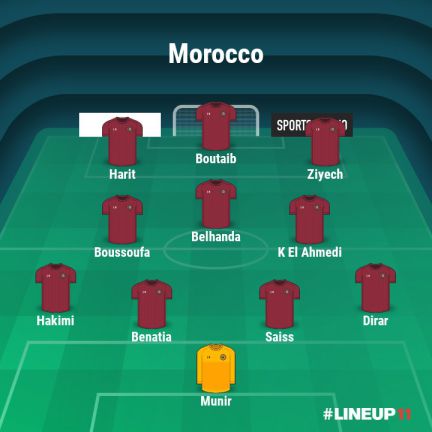 The Moroccan manager, Herve Renard, is not one to ignore the obvious threats to his side. His plan is simple enough though: make Cristiano Ronaldo "less exceptional". We look forward to seeing the plan in action...
  Portugal played out possibly the most exciting and entertaining game of the first round of fixtures in the group stage, culminating in a wonderful Cristiano Ronaldo free-kick to share the six goals with a more dominant Spanish outfit. Morocco had been tipped by some as a dark horse to progress from Group B (most likely at Portugal's expense) but a late, late own goal gave Iran a surprise victory.
Hello and welcome to our live coverage of Portugal vs Morocco as Group B gets back to business. Kick off is at 15:00 local time (14:00 CEST) and we'll be building up to the action bringing you all the latest news, views and interesting tidbits...
Portugal vs Morocco | World Cup 2018 live online: preview
Morocco face Portugal today in Group B, and Moroccan coach Herve Renard has said that his team will do everything in their power "to make Ronaldo less exceptional".
It's an unenviable task considering that not even a powerhouse like Spain could stop the Portuguese talisman scoring a hat trick in their 3-3 opening game on Friday.
Morocco will need a win or a draw to keep their World Cup hopes alive, after having been beaten 1-0 by Iran, but stopping Ronaldo and Co. could prove impossible for a team 37 places behind Portugal (4th) in the Fifa World Rankings.
Portugal meanwhile will be hoping to score as many goals as possible, knowing that it will now likely come down to goal difference between them and Spain for the top spot, after the two sides drew in the opening encounter.