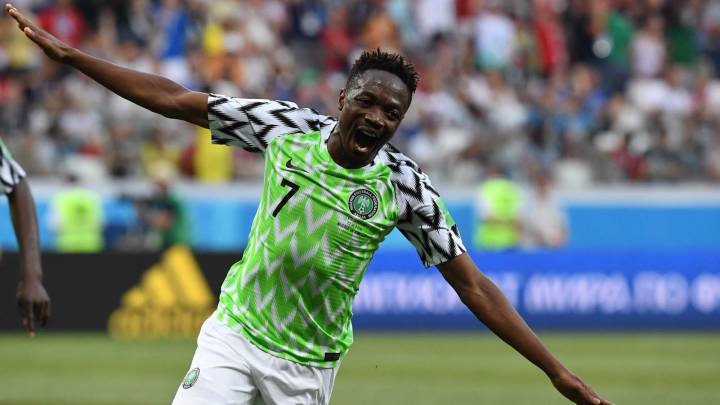 Nigeria 2-0 Iceland: match report
Nigeria exploded to life in the second half of their game against Iceland in Group D to put their hopes of qualification to the last 16 in their own hands. Two goals from Ahmed Musa in the second half was enough to do the trick against a subdued Iceland side.
It was headed towards infamy. The first World Cup 2018 to finish as a goalles draw in what was a drab first half. That opening 45 was back-and-forth but with few chances. In fact, Nigeria were the first team to fail to land a shot on target in the first half of the tournament.
It took them just four minutes of the second period before they got one though and it was a corker. Victor Moses sent a cross into the box and Musa took it down with some lovely control. He caught it cleanly on the half-volley and Hannes ThorHalldorsson had no chance.
Iceland upped their effort but they were leaving spaces in behind and Nigeria looked more like getting a second than Hallgrimsson's men looked like levelling matters.
That was the case after 79 minutes when the man of the match, Musa, ran into the box, rounded the keeper and waited for the perfect moment to strike to the back of the net.
Iceland were given the mirage that was a lifeline when VAR awarded them a penalty. The referee initially missed Ebuehi's foul on Finnbogasson but the video technology saved his blushes. It couldn't save Gylfi Sigurdsson's though, as he drove the spot kick over the bar.
As the ball sailed over the bar, Iceland's chances went with it. They can still qualify for the last 16 but it's out of their hands now with Croatia, who will rotate their side, to come. Nigeria play a battered and bruised Argentina in their last game with a win ensuring their passage amongst the tournament's elite.
Nigeria vs Iceland live: as it happened
90'+6' It's all over. Nigeria convincing in that second half! They get their win and it's in their own hands now to qualify.
90'+6'   Ighalo to Iwobi as Nigeria catch Iceland on the break. 
90'+6'  90'+6' Iceland with one last chance but they get rejected.
90'+5'   Jon Obi Mikel holding his arm and seems to have hurt himself. He doesn't look comfortable at all as Francis throws the ball out.
90'+4'   Iceland on the counter now. Nigeria get men back but Iceland in and the ball across by Saevarsson is cleared.
90'+3'   Magnusson picked off again. Mikel plays it forward.
90'+3'   Iceland chasing shadows now when they should be chasing goals. They've been thoroughly outplayed in the second half here.
90'+1'   Six minutes of added time.
90' Iwobi on. He replaces Etebo.
87'   Finnbogason drives it at Francis and he's equal to it.
87'   Another Iceland chance.
84'   Iheanacho looks for the goal now. He shoots with his left and it curls wide.
82'   Sigurdsson drives it over the bar. 
81'   Sigurdsson steps up. Depor's keeper, Francis, ready!
81'   VAR RULES! It was a penalty.
79'   Finnbogason's calf was caught by Ebuehi. The referee goes to VAR.
79'   That's a penalty. Referee doesn't give it but it is.
77'   Bjarnason tries desperately to get the ball but he fouls the Nigerian defender.
75'   Musa been incredible this half!
74' MUSA! Goal. What a finish from Musa as he rushes into the box, goes around the keeper and waits, waits and waits before striking to the back of the net. Game over, you'd have to think now.
74'   Shot from Musa. He bends it over Halldorsson and it nearly goes in. It strikes the crossbar! So close and Halldorsson was nowhere.
74'   Victor Moses down the right again. He is faced with a sea of blue shirts and turns back. Nigeria dominating the ball now as Iceland try to get it back.
74'   Can Nigeria hold on?
72'   Balogun with a header. That's just over. Really close to being 2-0.
72'   Victor Moses with a cross into the middle and it's headed out for a corner. A little bit of panic at the back from Iceland.
70'   Chance from the other side as the cross comes in and Troost-Ekong heads low and wide.
70'   Corner for Nigeria now and it's headed out by Iceland.
68'   Shot from Etebo but it's blocked out for a throw. 
68'  314 to 166 passes so far. Nigeria nearly have double the amount of the Icelanders.
68'   Over from Gislason. He cuts onto his right and drives the shot well over. Both sides improving now. Iceland because they have to and Nigeria because of the added space at the back.
66'   Nigeria improving in front of goal. Victor Moses now with an effort. He drives it over the bar.
63' Ingason replaces Ragnar Sigurdsson.
63'   Ragnar Sigurdsson can't continue. Might be tactical but he took that nasty knock to the head too.
63'   Really disappointing from Gylfi Sigurdsson. Francis grabs that. He wouldn't get an easier one in training.
62'   Decent chance now for Sigurddson.
62'   That's a foul by Ndidi on Gislason. He thinks it was a yellow card offense but ref says no. There were too many bodies in front of him.
62'   Nigeria looking more dangerous now.
60'   Ball in and it bounces dangerously in the box but Nigeria react quickest and clear.
59'   Iceland with another cross and Moses knocks it out for a corner.
56'   Iceland with a little bit more urgency. 
53'   We have quite a long delay here as he gets his head wrapped up and a new jersey. Iceland have a massive task now on their hands as they warm up some subs.
50'   Injury for Iceland. Sigurdsson, the defender, takes a knee to the head from Musa as he wheels away in delight. Blood everywhere.
50'   That is lovely control and an emphatic finish from Musa.
49'   GOAL! GOAL! GOAL! Musa takes down a cross and absolutely buries it to the back of the net. They didn't have a shot in the first half but have score a cracker within two minues of the start of the second half.
49'   Ebuehi with his first involvement as he clears a long ball for a throw.
46'   We are back underway. Nigeria the first side without a single shot in the first half at the World Cup. Can they improve?
Ebuehi on for Nigeria. He replaces Idowu.
We might have out first 0-0 here but Iceland look more like scoring.
45'+2'   Ball into the back post and Boedvarsson heads it back towards goal. Wide! He headed it to nobody.
45'+2'   Another corner. Iceland delivering some dangerous balls into the box but they can't score. 
45'+1'   Two minutes of added time.
45'   Into the danger zone. Perfect delivery and there's a number of blue jerseys lurking for that one. Finnbogasson gets a hip on the ball but not enough to turn it home.
45'   Iceland ready to send it in. 
44' Foul on Boedvarsson. He flicks the ball beyond Omeruo and the defender catches him. He gets booked too.
43'   Musa pushes Halldorsson in the back as they race for the ball. Free for Iceland.
42'   Nigeria fans' hearts in their mouths and some of the players too. They survive the scare.
40'   Chance! Bjarnason with a low cross with plenty of speed. Waiting for someone to just knock it home but nobody there! Golden chance for them if they had a striker barging in.
40'   Nigeria back in possession. Omeruo on the left and back into the middle. They overcomplicate it and lose out. Iceland counter and lose it themselves. Then Nigeria get whistled for being offside. Musa the one not expecting the ball to come back up the field as fast.
38'   Iheanacho sends it in and Saevarsson heads it out at the front post. Corner for Nigeria.
37'   Moses hits the ground and Nigeria win a free. Not sure there was much in that one.
36'   Lovely ball into the back post. Finnbogason and Bjarnason there waiting but neither can knock it home.
34'   We just might have our first 0-0 in the World Cup here! It has it written all over it. Very poor from both sides in attack.
32'   Musa pushes Sigurdsson in the back and Iceland with a free.
32'   Free sent in but that's way off target.
31'   Iheanacho caught by Sigurdsson
30'   Magnusson heads clear.
27'   Another cross but Francis completely comfortable with that one.
27'   Iceland win a throw. A few Iceland fans fighting over the ball there that went into the stands.
23'   Iceland try to settle things down and asset some control on this one.
21'   Nigeria break after a decent spell from Ireland. Musa fouled.
19'   Francis with another strong hand from the corner. 
18'   Cross comes in from the right and it's palmed out by Frances. Bjarnason strikes and it's out for a corner.
17'   Victor Moses with a move inside and he passes to Musa but that's behind the attacker and Iceland recover.
17'   Ndidi with a cross that Iceland clear now.
17'   Nigeria throw.
16'   Iheanacho cross and Nigeria on the attack. A bit of a scramble with Musa sliding in and trying a shot. Iceland survive but Nigeria look much more dangerous than they did against Croatia in the first game. 
14'   Throw from Iceland is headed out by Balogun. Another throw.
14'   Iceland Thunder Clap.
12'   The Iceland captain is back up and at them!
12'   Gunnarsson on the ground now and grabbing his ribs. Iheanacho caught him with an elbow but it wasn't intentional.
10'   Aside from the Sugurdsson efforts.
10'   No real threat in front of goal from either side yet. That is evident with the Mexican wave in the stands.
9'   Nigeria win a throw. Iceland had started well but Nigeria coming back into it. You can't be confident of Nigeria's defending though.
8'   He sends it towards goal and Omeruo heads ir rowards Halldorsson.
8'  Crossed in and headed out. Musa looked to have touched it out of play but it's a throw for Nigeria.
7'   Iheanacho to take. 
7'   Nigeria with an attack and a corner. 
6'   Another Sugurdsson shot. Frances gets down to save.
5'   Gislason drives forward but he gets pushed off the ball by Balogun. He overestimated his speed.
5'   Victor Moses pass inside but Iceland pick that one off. Iceland counter.
4'   Francis gathers.
4'   Sigurdsson set to take the corner. The referee has a word with a few players in the penalty area before it can be kicked though.
3'   Corner for Iceland.
3'   Not bad at all. Sigurdsson forces a save from Depor keeper, Francis. 
3'   Maybe a little too far out!
2'   Free for Iceland. Sigurdsson lines it up. Not a bad spot for a free.
1'   We are underway! Electric atmosphere in the stadium. Let's see if the game can match it.
    Ready for action. A quick photo with Nigeria's team before the captains meet for the first time in the middle. 
    And now Iceland's anthem.
    Some singing, some not if you're keeping count. Plenty of Nigerian fans in the stadium too.
    And it's the Nigerian national anthem that blasts around the Volgogrand stadium.
    Two teams out on the field. 
First chance to see Nigeria's very smart jersey today! The one that sold out on the Nike store in three minutes.

    The Nigeria fans in buoyant form before the game.

    And Iceland being put through their paces too.

    Nigeria out warming up before the game.

    After a collapse by Argentina last night, Iceland and Nigeria might be feeling good about their chances today! A win for Iceland and they just need a point against Croatia, who have already said they would rest some of their first choice players. A win for Nigeria and they go into the game against Argentina with confidence and with Argentina teetering on the brink.
Nigeria vs Iceland live: preview
Nigeria face Iceland today (17:00 CEST) in a meeting of the two nations who - at least on paper - came into Group D as its underdogs.
However, with Argentina drawing with the Icelanders last weekend and falling to a 3-0 defeat to Croatia yesterday, the two sides now have a chance to put themselves in pole position to join the already-through Croats in the last 16.
Nigeria
Nigeria were disappointing in their 2-0 opening-game defeat to Croatia in Kaliningrad - so much so that John Obi Mikel admitted post-match that the Super Eagles needed to "get back to the drawing board" ahead of their clash with Iceland.
And head coach Gernot Rohr is expected to make changes to his side, with midfielder Ogenyi Onazi in line for a recall after being dropped last Saturday.
"I've a lot of respect for Iceland, they did so well against Argentina - we know it'll be very difficult to beat them," said Rohr before today's clash, adding that he sees similarities between his side and their opponents in Volgograd: "They have great players playing like a team. Like them we don't have the big stars, so we'll be like two collectives."
Iceland
Iceland were undoubtedly one of the stories of the World Cup's opening round of group-stage fixtures, putting in a highly assured display to hold Argentina as goalkeeper Hannes Halldórsson took the headlines with a crucial penalty save from Lionel Messi.
Now, Heimir Hallgrimsson's men have the chance to put one foot in the last 16 at the Argentinians' expense by earning a victory that would put them three points ahead of Jorge Sampaoli's side - and with a significantly superior goal difference.
After suffering a muscle injury in the draw with Argentina, midfielder Johann Berg Gudmundsson is a doubt for what will be only the second ever meeting between Iceland and Nigeria.