Belgium vs Tunisia live: World Cup 2018 Russia Group G
Follow all the action live online from the Spartak Stadium as Belgium take on Tunisia in the sides' second match of Group G today.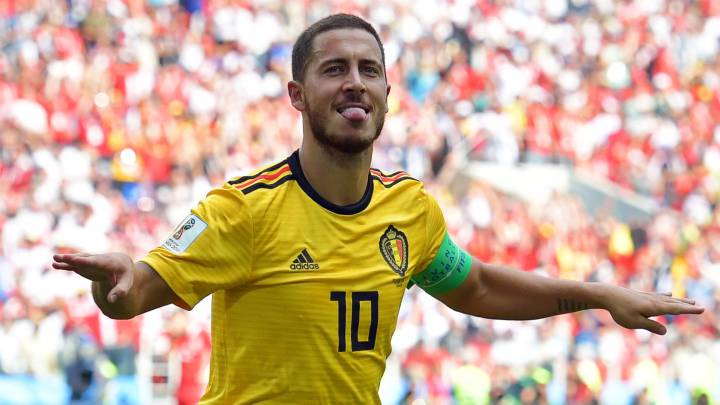 Belgium 5-2 Tunisia: match report
Two goals each for Romelu Lukaku and Eden Hazard and one for Michy Batshuayi swept Belgium to a 5-2 victory over Tunisia on Saturday that put them in command of World Cup Group G and underlined their status as one of the tournament favourites.
After racking up two wins and a goal difference of plus-six Belgium are virtually assured of advancing but it is not yet guaranteed - and they will be aware that they will need to tighten up at the back to handle the threat of the big guns deeper into the tournament.
Should they lose their final game against England, currently on three, and pointless Panama somehow beat England and Tunisia, all three would have six points and the top two would be decided on goal difference.
Belgium vs Tunisia live: as it happened
90'+2' GAME OVER! Belgium cruise to a win and six points from a potential six.
90'+2' Wild finish. Khazri finishes with a mishit shot with his right foot. 
90'+1'   Batshuayi with another chances. He cuts in on his left. 
89' HE DOES IT! Batshuayi slots it home. Lovely delivery from Tielemans and he slides in to slot it home. 
89'   Tielemans with a corner now.
87'   Batshuayi through again and has the ball robbed off him and he is offside anyway!
86' Tielemans on for Belgium now as Roberto Martinez gives him his last instructions before unleashing him. He replaces Mertens.
85'   Khaoui wraps his arms arounf Fellaini and won't let go. Free for Belgium but how is that not a yellow card.
83'   De Bruyne can't control a ball down the left-hand side and Tunisia recover. They know their goose is cooked here.
81'   Batshuayi finds himself free after a lovely chipped pass by De Bruyne. He strikes and it's saved. A hat-trick of misse chances.
79'   It falls to Batshuayi but he rattles the crossbar.
79'   De Bruyne hits the ground and the referee plays advantage. He lays it off to Carrasco and his shot is parried. 
77'  Khaoui down on the ground and he can't continue, it looks like. He calls the keeper over to stretch out his calf.
77'   Batshuayi looking dangerous since he came on. He rounds the keeper and strikes but it's cleared off the line.
75'   Mustapha bursts out to deny Batshuayi. He slides on the ground and it hits his chest.
72'   Cross sent in by Nagguez. Vertonghen down now and he took a fairly heavy blow to the head earlier in the play.
71'   Mertens pops one into the path of Batshuayi. He's offside.
70'   He sends it in and Fellaini heads away. Khaoui drives the rebound over.
69'   Sliti fouled as Khazri lines it up.
69'   Free for Tunisia. 
68'   Ball into the path of Mertens and Mustapha is off his line to slide in and collect.
66'   There's that change. Hazard comes off for Batshuayi.
66'   . Lashing rain now in Moscow.
66'   Shot from Badri is not blocked as Courtois gets down to save it.
65'   A couple of shots blocked now as Belgium close up shop. Another one blocked by Alderweireld.
65'   Corner for Tunisia.
64'   Carrasco with a foul and Tunisia attack.
64'   Surprised Martínez hasn't taken off more players for rest. 
64'   Hazard with an effort that goes just wide now too. 
61'   Don't think we've seen the last goal in this game.
61'   Boyata recovers and Belgium attack. Carrasco with an effort off his right foot. He curls that one just wide. 
61'   Tunisia with a chance. 
59' Lukaku given a rest. He is replaced by Fellaini.
58'   Decent ball but a few Eblgians caught flat-footed.
58'   And then he sends another one in but it's wide! 
57'   Carrasco cuts it back for a teammate on the left hand side but it's out for a throw. 
55'   Belgium walking away with this one now and Tunisia seems to understand that. They know they further they push up, the more dangerous Belgium look.
53'   De Bruyne with the pass there and it was lovely!
51' FOUR! Hazard flicks it by Mustapha and slams it home. Lovely ball into his chest and he kind of fakes a shot before rounding the keeper. Nice goal.
51'   Courtois down and saves.
51'   Another effort. Badri strikes. 
50'   Ball sent in and Khazri throws his right foot at it. He's offside anyway as the ball scutters out to the right.
48'   Ball sent across the box by De Bruyne and Alderweireld catches it with his right foot. He sends it over. Belgium looking dangerous. It seems every time De Bruyne touches the ball.
46'   Tunisia send a dangerous cross in straight off the bat. Boyata heads away.
46' Back underway!
No changes for either side. Tunisia have just one left so they're saving it.
Tunisia emerge back onto the field. One thing we can be almost sure of is that they are going to go down swinging in the second half! We saw glimpses in the first half but they have nothing to lose now. 
45'+4'   HALF-TIME! After getting themselves back into it, Tunisia collapse right at the end of the half.
45'+4' That is a sensational finish from Lukaku. GOAL! He chips it over Mustapha as he rushed out to close him down. Meunier with the through ball. 
45'+3'   Another attack from Belgium. Lukaku just can't reach it after De Bruyne plays it to him. Just a mistimed pass and the striker can't get his feet organised in time.
45'+1'   We will have four minutes of added time.
44'   Another injury possibly. Vertonghen knocked to the ground by Skhiri. He is back up though and looks to be okay.
42'   Shot by Khaoui. It's blocked for a corner. Khazri jogs over to take.
42'   Two changes now for Tunisia in the first half.
40'    Ben Youssef is the man down, the central defencer. Benalouane is going to having to come on for the injured defender.
40'   Another Tunisia players down and he doesn't look comfortable. He's getting a talking to by his goalkeeper though, it looks like.
38'    Ben Youssef with an effort on the volley that was going wide all along but he hit it lovely! Courtois barely flinched.
37'   Khazri, Tunisia's captain and talisman, is down rolling his ankle around. They will be praying he isn't hurt.
37'   Boyata slides in to break up an attack and It takes a kind Belgium bounce. Belgium ball.
35'   Khazri with a dangerous run forward but he asks too much of himself. His last touch is heavy and it's out for a restart.
34'   Cross from Meunier and Mustapha gathers that at the second time of asking.
33'   Khazri with an effort. Courtois saves it but nearly parries it into the path of an incoming attacker. 
31'   Tunisia looking dangerous. Sassi with the effort this time. It was sent into Khazri and he couldn't get a shot off. It fell to Sassi and he couldn't hit it first time so he took it down and sliced one wide.
30'   A cross that had ideas of becoming a shot. It drifts across Courtois' goal. Khazri the man with the effort.
29'   Witsel with a shot now. Lovely little touch off by Lukaku and he sees that effort blocked out for a corner.
27'   Lukaku's touch takes the ball away from him as Mustapha rushes out. No penalty as the referee tells him to be careful with the dive. Lukaku admits it wasn't a penalty. Nice move though as Belgium open up Tunisia again.
25'   Khazri free in the box and tries a fancy cross. Courtois with an unfancy catch.
23' He is replaced by Nagguez
23'   What a strange few minutes for Bronn. He is off on a stretcher after scoring!
23'   Bronn can't continue. Looked like an ankle injury.
21'  Injury for Bronn, the goalscorer. Play delayed.
21'   Alderweireld up in attack now and he sees a gap in defence. Shoots wide. 
20'   Tunisia back on the ball and they launch it down the field but Khazri is offside.
20'   Effort by Carrasco. It's a scissors kick. Saved and into Merterns path. He squares to Lukaku but it's cleared.
19'   Tunisia throwing caution to the wing here and another ball into the box but Belgium recover. 
18'   GOAL! Bronn with the header from a free. It was way out the field but very nicely sent in by Khazri. Headed home by the defender.
16' Mertens frees Lukaku up. He drives the shot into the bottom corner. That was a sublime finish.
15'   Carrasco shot. Mustapha gathers.
14'   Sassi with a clap for the ref and is lucky he didn't get another yellow.
14'   Khazri and Vertonghen collide but the Tunisia player goes to ground holding his head. Vertonghen didn't catch him on the head at all.
14'   Now Tunisia want a penalty. Sassi booked for protests.
12'   Lukaku cuts it back to Hazard, who arrives at the right time but can't get any pace on his shot. 
12'   Ball hops up to Witsel in the box and he shoots. Blocked and Tunisia counter. Belgium win it back.
12'   Belgium looking really dangerous every time they attack.
12'   We are back in action. Hazard down the left-hand side and he wins another throw. 
10'   Hazard collided with Khaoui and stayed down. Hazard takes a place beside him on the ground after the whistle blows. Fairly heavy hit.
10'   Tunisia clip a ball forward and Courtois is out to gather.
10'   13 penalties so far in the World Cup! We are on course for the record amount. 
7' Keeper falls to his knees. Hazard slots it home. Dreadful effort to stop it. Nicely tucked home by Hazard.
5'   Hazard is going to take.
5'   Will we see VAR?
5'   Belgium win a penalty. Hazard absolutely chopped down by Ben Youssef but it was very, very close to being outside the box.
5'   PENALTY!
4'   Hazard looks to have been fouled but ref points at the ball. Hazard back up and Carrasco's cross is blocked. Throw for the Red Devils.
3'   And now Meunier has a crack. Mustapha down to his left and saves.
3'   Lukaku races through and Mustapha rushes out. The keeper gets a foot to it. Belgium looking dangerous.
1'   We are underway. First foul on Hazard after about 10 seconds. De Bruyne lines up to take.
    We are ready for action! Massive game for Belgium. They haven't lost in 20 games. Henry has Lukaku humming and they could qualify for the last 16 with a win here, knocking Tunisia out in the process!
    Beautiful day in Moscow as the sun shines on Spartak Stadium.
    Two wonderful national anthems and we are ready for action. 
    Players in the tunnel. Some very serious faces....
    Two changes for Tunisia. There is the goalkeeping one that is enforced and Saîf-Eddine Khaoui comes in to replace Naïm Sliti
    Martinez opts to stick with Carrasco despite a poor performance against Panama. He might be tested more today in that wing back position, which he is not really suited to.
    If you haven't read Romelu Lukaku's article in the Player's Tribune, you should take the time out to do so right now. You have 30 minutes.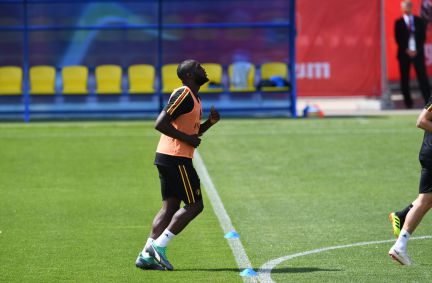 Tunisia lost their first choice goalkeeper after Mouez Hassen went down early against England.
    They struggled against Panama for long spells to break them down. But once they got that first one, there was no turning back. 
Roberto Martínez says he is happy that Belgium are boring. 'We do want to be boring,' he said. 'We're a football team, we're not here to fulfil stories.'
Tunisia Starting XI: Ben Mustapha, Ben Youssef, Meriah, Bronn, Maaloul, Badri, Sassi, Skhiri, Khaoui, Ben Youssef, Khazri
Belgium Starting XI: Courtois, Alderweireld, Vertonghen, Meunier, Boyata, Witsel, De Bruyne, Carrasco, Lukaku, Hzard, Mertens
Tunisia's star man is striker Wahbi Khazri. Last year he spent the season on loan at Rennes from Sunderland, and with Sunderland now relegated to the first division, it is likey Khazri will leave. He has been linked with a Turkish club Besiktas in recent days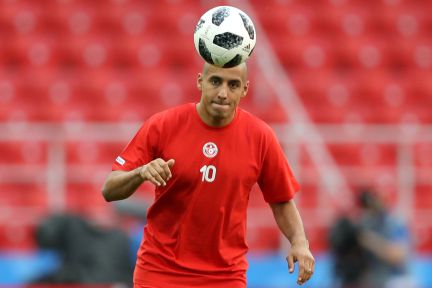 Glorious conditions for today's game. I'm sure the Belgian fans will be keeping cool with some ice cold beers, though they might be missing their favorite belgian tipples away from home.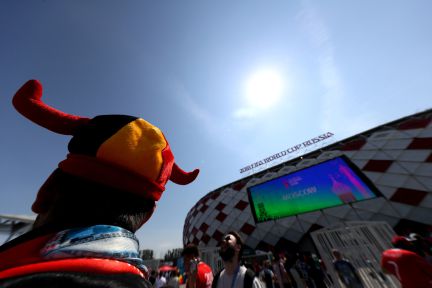 These two sides last met in the World Cup in a group game in 2002, which ended in a 1-1 draw. The scorer for Belgium that day was Marc Wilmots, who of course, went on to coach the national side from 2012 to 2016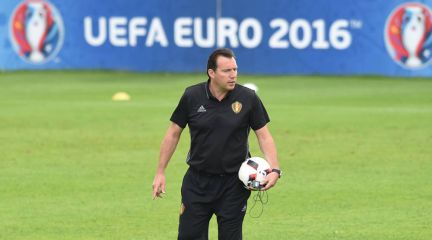 Hello and welcome to AS's live coverage of the build-up to the game between Belgium and Tunisia at Spartak Stadium, Moscow. Stay with us for analysis, stats and images of all the action in and around stadium as the fans and players warm up for this Group G fixture.
Belgium vs Tunisia live: preview
The eternal World Cup hopefuls Belgium will write the second chapter of their 2018 World Cup adventure this afternoon. Whether the story continues peacefully or suddenly turns into a thriller depends on Roberto Martínez's side not having a disaster against what is, in principle, a fairly weak Tunisia side.
One of the most potent sides in the first round of matches, with a 0-3 win over Panama, Belgium today go looking for the win that would see them virtually qualified for the next round. With Lukaku in fine form, Mertens hungry, Courtois secure, and with plenty of pace and class in Hazar and De Bruyne, Belgium shouldn't struggle much against the Tunisians, although nothing would come as a surprise given what we've seen in Russia so far.
Tunisia need something against Belgium
Meanwhile, Tunisia need to get something from the game, like water in the desert. A defeat would leave them little chance, or none if England pick up something in their game against Panama. Maaloul's side showed against England they hadn't come to Russia just for the tourism, but fortune failed to smile on them against England. Only an injury time goal from Kane prevented them joining the club of surprises at this tournament, which includes Switzerland, Mexico, Iceland and Japan. Against the attacking prowess of the Belgians the Tunisians will use the same tactic they used against the English: deep lines and a fast counter-attacks if they get the chance. And make the most of any dead ball situations they get.