South Korea 1-2 Mexico live: World Cup 2018 Russia Group F
Carlos Vela and Javier Hernández goals saw Mexico defeat South Korea, for whom Son Heung-min hit a spectacular late consolation.
South Korea 1-2 Mexico: match report
Mexico maintained their 100% record at the World Cup in Russia with a win over South Korea in Sochi on Saturday afternoon. It wasn't an overly convincing win in the end even if they dominated for large spells of the game against a mediocre South Korean side.
It was Carlos Vela who opened the scoring after a handball inside the penalty are from Jang. He slid in with his hand in the air and the referee didn't need VAR or much thought to make his decision. Vela sent the keeper the wrong way and South Korea had a hill to climb.
They had planned to work on the counter but going a goal down left them with somewhat of a dilemma and it was obvious they are not built to play on the front foot. They barely troubled Mexico for the remainder of the game.
Even when Javier Hernandez put Mexico 2-0 up in the second half after Herrero won the ball back in the middle and fed it to Hirving Lozano to launch an attack. The PSV attacker laid it off Chicharito and he cut inside before poking it home.
South Korea were given a lifeline when their best player, Heung-Min Son, curled one by Ochoa in injury time but it was false hope. They tried to get an equaliser to keep themselves in the tournament but it wasn't to be as Mexico put themselves in a very healthy position to qualify for the last 16 as all of the onus is now on Germany and Sweden to catch the Juan Carlos Osorio's side.
South Korea vs Mexico live updates
90'+5' GAME OVER! South Korea with a little scare for Mexico at the end but they can't do it. Mexico the latest to qualify for the last sixteen.
90'+5'   Mexico holding the ball in the middle now.
90'+5'   Long ball and foul on Mexico defender but ref plays advantage.
90'+5'   They do and then lose it. South Korea with one last launch forward.
90'+5'   Free for Mexico and they are in zero hurry to take it. 
90'+4'   They have two minutes! 
90'+3' WOW! What a hit that was. Heung-Min Son with a curler by Ochoa. Out of nothing and having not created anything in this half, South Korea have a little bit of a lifeline. Can they grab another one?
90'+1'   Five minutes of added time.
90'   Shin Tae-Yong, Korea's manager, on the sideline and he is really upset. Rightly so too. Been a frustrating tournament for his side. 
89'   Shot comes in and that's miles over Ochoa's crossbar.
87'   South Korea running out of chances now and they've got another chance but that through ball is too high and with too much space. Mexico won't mind that kind of delivery for the last few minutes here.
83' South Korea make a change.  It's Hong on for Min-Woo Kim.
83'   Herrera hits the ground. He's down and looking for a breather.
80'   Rather uncalled for really. Then the two get involved in some verbals. The Mexican tells him to shut up.
80'   Yellow card for Wooyoung. He gets the ball and catches Chicharito with an elbow to the throat.
76'   Then Ki slides in on Ochoa and that's a nasty one and there was no need for it either.
76'   Ochoa to Marquez and he left Ochoa very short on the free.
75'   Just as I said that, Mexico get themselves in all sorts of trouble. Messing around with it at the back and South Korea nearly score but Son can't get a shot away.
74'   Mexico hardly been taxed today but they've been convincing. A very balanced side.
68' Rafa Marquez comes on for Guardado.
67'   Talk of a foul in the build-up. Herrera pulled down a South Korean in the middle to win the ball back. Ref said it was fair though.
66' That is a beauty. Mexico win the ball back in the middle. Lozano drives forward and lays it off to Chicharito. He fakes a shot and then pulls back before finishing to the back of the net.
64'   Rafa Marquez getting his instructions before he comes on.
64'   Let's see if that changes anything. 
63' SW Lee on for Joo.
63' Yellow card for Yong Lee. He fouls Lozano with a stamp down on his foot. 
62'   Mexico counter and Vela curls one over the bar.
62'   Shot from South Korea comes in and Salcedo blocks it again.
60'   He is in behind the defence and his control is perfect but the South Korean, Ki, gets back to block the shot. Lozano enjoying that extra bit of space in behind South Korea.
60'   Long ball back to Lozano. 
60'   Lozano set free down the right and in the one-on-one, he has the ball stolen and South Korea break. But they lose it now. Lack of quality in this second half.
59'   Vela to Herrera. Mexico knocking on the door again.
59'   Guardado has a shot and it's blocked back out to him. He takes a shot and it's saves really well by Cho. Took a deflection and everything. Really good save.
59'   Vela hacked down. He's up again and passes inside to Hernandez.
57'   Shot comes in from Ki. Ochoa gathers. It was a shot from out at a wide angle and Ochoa parries it to himself.
56'   South Korea have improved in this half. 
55'   Lozano fouled by Moon.
55'   Another foul by South Korea. Chance for Mexico to send a cross in. 
54'   Mexico back on the ball and controlling this one.
53'   Corner worked short and shot comes in from a silly angle. Saved by Ochoa.
52'   Referee talking to some dissenting South Koreans. Corner, it is!
52'   Credit to the defender as replay shows he had his hand by his side.
52'   Moon has a shot and that looks like hand ball. Salceo blocks it out for a corner.
51'   Lozano with another chance and the first of the half. Vela plays it out wide to the winger and he fires over.
49'   No changes at the half either just an FYI.
48'   Mexico really putting themselves in the driving seat if they can win this one.
48'   Sweden and Germany play later and reports emerging that Ozil, Hummels and Khedira are out. Germany with their backs to the wall! 
46'   We are back underway! 
45'+1'   Free sent in. Mexico's Alvarez misses it with his head. Half-time.
45'+1'   Vela pulled back and that maybe, perhaps, should have been a yellow. Moon fouls.
45'+1'   Mexico on the ball and will slow things down until half time. They're comfortable with the score as it is.
45'+1'   Just one minute of added time.
45'   Heung-Min Son with an effort on his left foot. It's deflected up and out for a corner.
44'   Mexico having to defend again. South Korea getting notions of a goal before the break. They'll have to hurry though.
43'   Lozano cuts inside and finds a yard for himself in the penalty area. He drives the shot over the bar!
42'   Mexico dominating.
42'   That's a poor pass down the line to Yong Lee and Mexico win a throw. 
39'   Counter attack and Heung Min Son chases it down. He shows off some serious pace and gets a shot away but Ochoa saves and puts it out for a corner.
39'   Herrera out to Lozano and the PSV man sends a cross into the box. A little bit of confusion for South Korea but they clear it.
38'   Foul from Vela as Mexico try to build a new attack. 
36'   Long ball by Herrera. It's sent into the box and South Korea recover.
35'   Edson Alvarez heads a dangerous ball into the box away.
33'   Injury for Yong Lee. Referee signals for a stretcher.
30'   Mexico in control now. South Korea will struggle to get back into this one because if they go all out, they will suffer against Mexico's counter-attack.
28'   Cho gathers the cross.
28'   That was almost beautiful. Mexico play around outside the box and then Vela plays it to Layun. He shoots and it's deflected over.
27'   Mexico deserve that. They've been the more proactive team and have been better for the opening half an hour.
26' GOAL! He just passes that home. Sends the keeper the wrong way too.
25'   Carlos Vela to take! 
25'   Guardado sends a cross in and it's hand ball. Jang handles it as his arm was way too high.
24'   Mexico through. Layun sends the ball into Chicharito but he isn't long enough to get on the end of it. Mexico keep it and they are looking dangerous.
22'   Heung-Min Son through and two Mexican defenders race back to get goal side. He shots with his left and it's blocked. Then he shoots again and it's blocked again!
21'   Chicharito fouled now by Ki as he smashes into the back of him. The two exchange words. This one has been fairly spicy so far.
20'   Cross in by Moon and Ochoa misses it as it floats over his head.
19'   Salcedo fouls Heung-Min Son as he absolutely clatters into the back of him with the ball in the air. Chance for South Korea to slow things down.
19'   Hernandez lays the ball off and gets a little kick on his foot. No free but he has a look at the referee and isn't happy.
17'   Corner sent in and it's headed up into the air and grabbed by the keeper, Cho.
16'   Ball out to Gallardo and Lee blocks that out for a corner.
15'   Vela picked off and he pulls Moon's arm down and no free. Mexico recover.
13'   South Korea with an attack. Oh that was a sore one. Ball clipped into the back post from the left. Yong Lee about to strike it and Hirving Lozano comes out of nowhere and gets a touch on it but the Korean player had already committed to striking the ball. He kicks the Mexican and upturns him. 
12'   Sent into the box and Chicharito heads wide. He applauds the effort. 
11'   Vela the latest to be fouled. Ki the man with the foul this time.
10'   Layun delivers to the back post. Headed out for a throw to Mexico. Mexico showing they are comfortable in possession as they were out of it and on the counter in the first game. No chance yet though, which might become a problem.
10'   Lee Yong heads out for another corner.
9'   Guardado fouled now as Kim tackles him late.
9'   Another Korean on the wrong side of the law. Is'ts Hwang this time deep in Mexican territory.
8'   It comes in and Alvarez heads it but away from goal!
8'   Referee having a word before the corner delivered into the box.
7'   Mexico corner.
6'   Hand ball from Son as Korea try to build an attack. Early days but Mexico the better side so far.
5'   Lozano the fouler this time as he takes Jang down. 
5'   Layun to take, it looks like. Good ball but headed out by South Korea. Mexico back in possession.
4'   There's another foul. Lozano taken down by Lee. He accepted the first tackle but he's upset with that one.
3'   Another foul. Chicharito fouled now as he drops deep for the ball.
2'   Lozano has his foot stood on. Free for Mexico.
2'   Korea attack now and Heung-Min Son looks for a pass in behind. Stopped by Mexico.
2'   Long ball send down the field to Chicharito but that's saved by Cho.
1'   Kets see if Mexico can offer up a similar performance from that against Germany. And lets see if South Korea can improve on their loss to Sweden.
1'   We are underway! 
    Two captains meet at the centre of the field. Guardado and Sung-Yueng Ki share a laugh and exchange caps.
    The very operatic South Korean national anthem starts.
    And Korea with their underrated warm-up tops.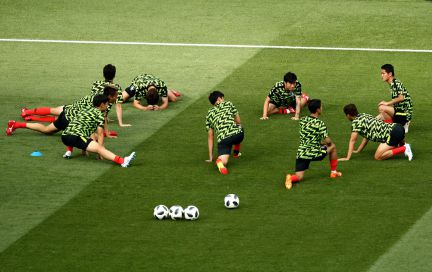 And Mexico looking to reach the last 16 today.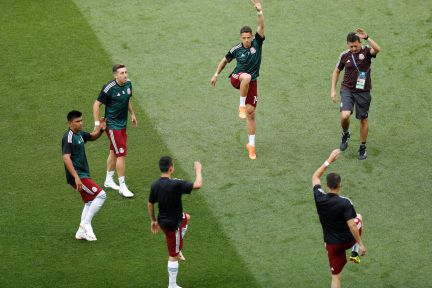 Korea too.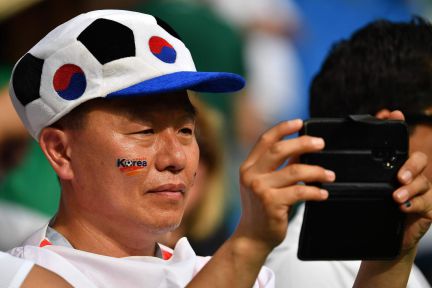 Mexican fans all set!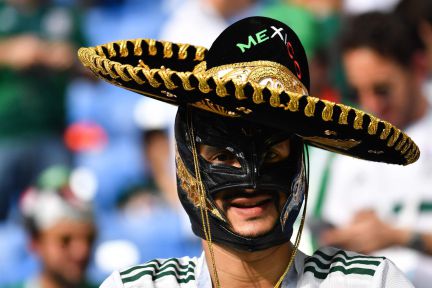 Hirving Lozano was excellent in that game and scored the goal to separate the sides. He has reportedly been in contact with Barcelona over a move on the back of it. He is one of the most exciting talents in world football.
Mexico XI: Ochoa, Salcedo, Moreno, Herrera, Alvarez, Layun, Guardado, Gallardo, Vela, Chicharito, Lozano.
    South Korea XI: Jo, Y Lee, MW Kim, YG Kim, Jang, Ju, Ki, JS Lee, Moon, Son, Hwang.
South Korean hopes rest firmly on the shoulders of Tottenham forward Son Heung-min, who was hailed by South Korea coach Shin Tae-yong as "the best among all Asian players".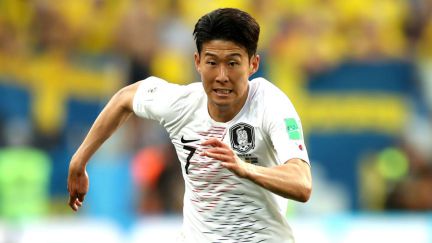 Sit back and relax. Here's all the key information - how, where, when - to ensure you don't miss the game.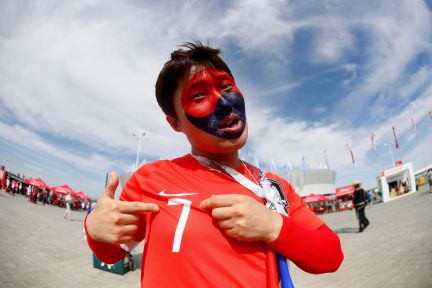 A very warm welcome to AS's live coverage of the build-up to the Group F game between South Korea and Mexico. Stay with us for analysis, stats and images of all the action in and around stadium as the fans and players warm up for their second game of the tournament.
South Korea vs Mexico live: preview
If Mexico are able to keep up the intensity, tactical nous and effectiveness they demonstrated in their famous and shock opening-game victory over reigning champions Germany then they should breeze past South Korea, who in turn narrowly lost to Sweden in their opening game. Moreover, a Mexico win would rubbish the idea they are a one-hit wonder.
The only other World Cup encounter between the two sides came at France '98, with El Tri winning 3-1 in Lyon courtesy of two goals from Luis Hernández and another from Ricardo Peláez. The main difference between twenty years ago and now is that that Mexico side was made up of players from La Liga MX, whereas in Russia they have more European-based foundations and with two, three or even four – the case with long-serving Rafa Márquez – under their belt.
Shin Tae-yong's side, meanwhile, will look to make tactical changes, moving away from a three-pronged attack and towards a line-up with the towering figure of Kim Shin-wook leading the line and two in behind. Juan Carlos Osorio is unlikely to ring too many changes, despite Mexico's track record of shifting things around in the second game of a tournament, with the Colombian keen to avoid rocking the boat and to keep up the momentum that could see them top the group and avoid Brazil in the last 16.