Germany 2-1 Sweden: World Cup 2018 Russia Group F result, goals
Germany midfielder Toni Kroos curled in a 95th-minute winner in Sochi to put the holders firmly back into contention for a place in the last 16. Cruz Azul vs America: Liga MX, live online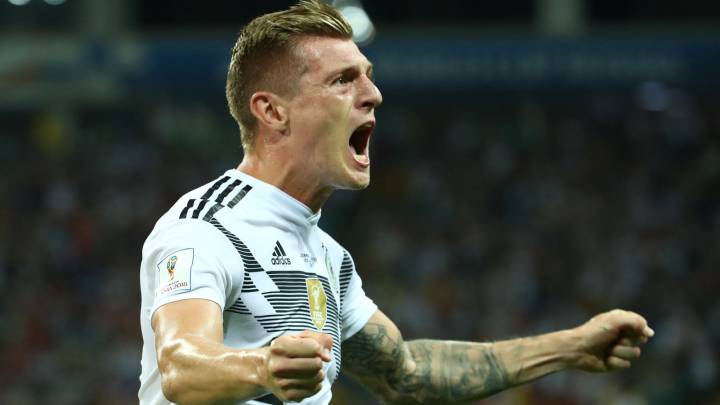 Defending champions Germany snatched an extraordinary victory in Sochi at the expense of Sweden on Saturday night to put themselves firmly in the driving seat for a place in the last 16 of the World Cup in a dramatic stoppage-time finale.
The holders looked to have half a foot out of the tournament with the scores locked at 1-1 and a man down after Jérôme Boateng's red card 10 minutes from time until Toni Kroos popped up in the 95th minute to crack home a shot from a free-kick one-two with Marco Reus that saved Joachim Löw's side from the almost certain fate of crashing out in Russia after Mexico had beaten South Korea earlier in the day.
Reus cancelled out Ola Toivonen's clever first-half strike just after the restart, latching onto a cross from Timo Werner, who had been redeployed on the wing after a barren opening 45 in what proved to a masterstroke from Löw. The Leipzig forward was a constant thorn in Sweden's left side and it was Werner who also won what proved to be the decisive free kick with the clock ticking towards Germany's likely early exit for the first time in 80 years.
Kroos saves Germany from curse of the holders
Kroos' intervention sent the Germany fans inside the Fisht Olympic Stadium into rapture and rescued his country in the nick of time. Had Löw's side failed to secure victory they would have been marooned on a single point in Group F with Sweden on four and Mexico on six and in serious danger of following in the footsteps of France, Italy and Spain, all of whom went out in the group stage as champions in 2002, 2010 and 2014 respectively.
Now, Germany's fate is firmly in their own hands. The holders face South Korea, who are already eliminated, in their final game while Sweden play Mexico. The protagonists in Sochi are locked on points and goal difference and Sweden will have to match Germany's result and overhaul Mexico's two-goal advantage to secure their own passage to the last 16, an outcome that looked likely until deep into stoppage time in Sochi.
The manner of Germany's victory, achieved against a stout defensive display by Janne Andersson's side, will inject fresh belief in the holders' camp after their opening day loss and South Korea will have to offer considerably more than they have to date to prevent Löw's side progressing and knocking Sweden out with the same stroke.
Germany vs Sweden live online: as it happened
90'+7' Game over, and the champions live to fight another day. Extraordinary stuff in Sochi. Germany are back in the World Cup!
90'+7'   And that's it! Germany pull off one of the greatest World Cup comebacks! What a game!
90'+6'   Neuer to hammer it into next week from the free kick...
90'+5'   But there's still time for more... Sweden race to the centre and take a quick kick-off but Seb Larsson is booked for a foul and surely that's it now...
90'+5'   Goooooooooooooal! Amazing scenes! Kroos and Reus pull off a training ground trick and the Real Madrid midfielder finds the far corner with an expertly struck shot. Incredible! Germany win with the last kick of the game! 2-1! The German fans in the stands are going absolutely mental!
90'+4'   Guidetti is through and hits a shot but it's tame and straight into Neuer's gloves. Free kick to Germany on the edge of the area! This could be the final chance. Kroos over it...
90'+3'   Sweden all back behind the ball now. Kroos finds Reus on the right but he errs and belts a cross into the stands.
90'+2'   Brandt! Post! The sub hits a cracking ahot from outside the area and it hammers the foot of Olsen's upright. The rebound falls to Werner, who isn't expecting it, and he can only guide it high over the bar!
90'+1'   Thelin in the thick of it straight away as he clobbers Rudiger. Free kick to Germany, which leads to a corner...
90'+1'   Five minutes added!
89'   Germany's free kick is headed clear by Granqvist, who has been a rock at the heart of the Sweden defence.
88'   Free kick on the left as Brandt is clipped. Sweden make a change, Berg trudging off to be replaced by Thelin.
87'   Olsen! What a save! There'll be a statue of him in Stockholm by the morning. Gómez gets a free header, connects well and the Sweden keeper leaps to flick it over the bar.
86' Julian Brandt on now for Hector as Löw goes all out... Germany have two defenders left on the pitch!
85'   The entire Germany team is in the Sweden half now, leaving the front and back door rather open...
84'   It's kitchen sink time now for Germany... five minutes or so of normal time left plus stoppages. Olsen deals with a cross crisply and takes his time sending the ball back into play. 
82' Neuer! The Germany keeper saves his side again as a Granqvist header takes a wicked bounce off the turf and almost deceives the number one, who manages to get a fist to it and send it out for a corner.
81' Boateng puts in a crunching tackle on Berg and is given his marching orders for a second yellow! Germany will have to seek a decisive goal with 10 men now, 10 minutes or so left...
80'   Werner! Müller sends in a cross and the Leipzig striker hits a first time shot that soars over the bar.
79'   Berg is almost through but his legs have gone now, He has also covered every inch of turf as Sweden's first line of defence. Rudiger is across to cover but the flag was up anyway.
78'   Boateng slings in a cross from the right but Müller is penalised for a foul in the area.
77' Toivonen, who has run himself into the ground for Sweden, makes way for John Guidetti.
76'   Kimmich and Müller attempt a one-two but fail to find the same wavelength and a decent chance goes begging. With 15 minutes left, Germany can't afford to pass up too many more.
74'   Forsberg! A corner is cleared as far as the midfielder, who hits a first time volley that carries plenty of fizz but was straight at Neuer.
73' It was Granqvist there who almost turned it past Olsen. The wonderfully bearded Durmaz comes on for Claesson, who has had an excellent game.
71'   Sweden escape again! Reus feeds Werner with a delicious ball and the cross wreaks havoc in the Sweden area but the ball is cleared, somehow, when it only needed a touch to make it 2-1.
70' Boateng goes in the book for clipping Forsberg as the Leipzig midfielder was galloping away on the break.
69'   Kroos sprays another loose ball across the midfield and Berg picks it up but runs into a blind alley on the left. Sweden running out of ideas in attack now but a draw will probably do them so the onus is on Germany.
68'   Just over 20 minutes left for Germany to find a goal to save their World Cup title defence.
67'   Gómez! The striker hammers just over the bar from Boateng's delivery but the flag was up anyway.
66'   Kroos picks out Reus with a neat ball over the top and he steers it back in but Granqvit, with little delicacy, whacks it clear.
65'   Olsen! The Sweden keeper does well to parry a Kimmich cross to safety. The blue shirts are finding it hard to get out of their own half again at the moment as Germany push for a second.
63'   Gómez gets up twice looking to provide a knock down and finds Kroos, whose shot pings off a defender for a corner. Sweden clear easily but Germany swiftly recover the ball and come again...
61'   Kroos has now dropped deep to lend Rudiger a hand but he gets forward and recieves a pass from Werner on the edge of the area. He's hit a few from there before but his shot is on his weaker left foot and causes no trouble for the Sweden defence.
60'   Close! Kimmich sends in a low cross and Reus tries to flick it but misses. Gómez was lurking with intent there as well but it's out for a goal kick.
59'   Ekdal gets down the right and lifts his head but his cross is too heavy and clears the onrushing Toivonen by some distance.
58'   Germany break through Reus and Gómez gets a run at the Sweden defence but that's not his strong suit and he's bundled off the ball for a throw.
55'   Werner again causes havoc down the left and tees up Hector, who gets a fairly tame shot off that is gathered by Olsen with little fuss. Shifting the Leipzig forward to the flank has re-energised Germany. Hats off to Löw for that call.
54'   Toivonen clips Kroos in midfield and is lucky to escape a caution. Boateng tidies up at the back as Toivonen chases a long ball.
53'   Werner scampers after a ball from Kroos but falls foul of the lino's flag. Sweden on the back foot now.
51' Ekdal goes into the book for a challenge on Werner. Ref played the advantage after Forsberg gifted possession to Germany but is quick to race over to the midfielder brandishing his yellow.
50'   Müller! Kroos' delivery is right on the Bayern forward's head but he steers it just wide of the near post. Germany right back in this now.
49'   Free kick to Germany out on the right in a dangerous position...
48'   Goooooooooooooooal! Marco Reus! Werner pings it in from the left and the ball eludes every blue shirt on its way through to the Dortmund man, who slots it past Olsen. 1-1! The perfect response from Germany's point of view.
47' Germany still persisting with their line - they have little choice now as even a draw might not be enough - which puts a lot of responsibility on Rudiger to break up any Sweden counters.
46' Werner has dropped to the left with Reus on the right, which suggests Müller will move into the middle behind Gómez.
46'   And we're back underway!
Teams coming back out now and indeed Gómez is on for the second half. Draxler off, not very surprisingly.
It may well be time for Löw to unleash Mario Gómez. Werner has struggled to get anything much out of Sweden's back four and Draxler is cutting an extremely frustrated figure in support.
Löw's side have seen 75 percent of the ball but have managed just two shots on goal to Sweden's three.
Sweden have worked their game plan to perfection, frustrating Germany and hitting on the break. They could have had a couple more with a little more end product but Neuer is the Germany hero going into the break after that stoppage time save.
Germany a goal down in Sochi and 45 minutes from going out of the World Cup in the group stage for the first time in 80 years!
45'+2'   Neuer! The Germany keeper saves his side's bacon as he claws a Berg header from his far post. Great delivery from Larsson there and that's the half!
45'+2'   Free kick to Sweden as Rudiger flattens Claesson and they'll have the final say in this half...
45'+1'   Goal kick to Sweden and Olsen will be in no hurry to take this...
44'   Boateng! The defender tries a left-footer from distance that nobody expected and it creeps just wide of Olsen's near post. Two minutes added.
43' Sweden break again and Germany, with some measure of panic, just about manage to get it clear as Claesson loses it under his feet in the area.
42'   Draxler penalised again for a foul in the Sweden area. He'll have to be a bit careful from here. That's three now and you fancy the next will incur some rustling of the ref's top pocket.
40'   Reus hammers in a cross and Werner can't bring in under his spell. Sweden again just belt it to the far end of the pitch. They're determined to go in ahead at the break.
38'   Olsen! What a save! Gundogan hits a low, fizzing shot and the Sweden keeper had to adjust as it took a nick on its way through but dives low to palm it away from goal. Müller sends the rebond back and Olsen is in the way again, the ball trickling just wide of the post off the keeper's midriff. Müller incesnsed, he feels he should have had a foul there, but the ref waves him away.
37'   Löw is certainly cutting a harrowed figure on the touchline. Sweden falling into place like a flat-pack wall every time Germany get the ball forward now. Olsen takes no chances and hammers the ball into next week, giving Germany possession again.
35'   Germany really up against it now. Sweden know how to protect a lead. Kimmich bangs a cross in but it's over the bar and out and Germany look a little rattled here, and dare we say it, a tad nervous as well. Going behind was not part of the plan for this evening, we think it's fair to assume.
33'   Draxler involved in another tussle in the area, this time with Lustig, and a foul is awarded. The Germany midfielder, neck veins popping, remonstrates with the ref again but he was at fault, barrelling into the Celtic man.
31'   Gooooooooooooooal! Sweden score! Kroos is pickpocketed in midfield and Sweden play it Claesson, who loops a ball towards Toivonen, who brings it down on his chest and chips Neuer with an absolute beauty! 1-0 to Sweden and as it stands, Germany are out!
29' The flag is up for offside against Müller and Sweden have a free kick. Gundogan is on for Rudy, who is unable to continue after that crack in the nose.
28'   Timo Wener, of all people, is under it to clear with five blue shirts in close attendance. Rudy still on the touchline with some plugs in his nose. Löw biding his time before deciding what to do.
27'   Sweden's best period of possession ends with a lofted cross towards Toivonen but Hector is there to knock it out for a corner.
26'   Germany temporarily down to 10 as Rudy gets some treatment on the touchline. Sweden finally string a few passes together as they look to exploit their brief numerical advantage.
24'   Rudy is down and in some considerable discomfort after a blow to the face. It was accidental but he's trotting off with blood pouring from his nose. Khedira called from the bench as a precaution.
23' But you have to get up pretty early to catch Sweden out in the air and it's easily cleared. Sweden almost break again but a clumsy touch puts paid to that. Only Rudiger back when Germany are attacking, which is a tad ballsy from Löw.
22'   Kroos pinches the ball in midfield and wins a corner as he sends it forward... Germany's big guns up for this.
20' Pats on the back from his teammates for Ekdal as he guides Müller away from a dangerous ball in the area like a master matadero. Excellent defending from the Hamburg midfielder.
19'   Draxler juts his chin towards the ref as he is penalised for a foul on Olsen but there was little to argue about there, the Germany midfielder clattering into the Copenhagen stopper.
18'   Sebastian Rudy has a crack at the other end but pulls his effort well wide of Olsen's right stick.
17'   Berg! The Sweden striker gets a clear sight of goal and Boateng is required to make a smart block to deny the Al Ain striker.
16'   Boateng attempts a shot but it's blocked. Germany forced back to the halfway line where they start to build another attack. Werner is caught offside though and Sweden can try and get their feet on their ball again.
15'   Claesson sends it into the area but Rudiger is up to head it clear. Germany back in the opposing half now.
14'   Germany need a result here but piling so many players forward is going to open up a few opportunities like that for the Swedes, who now have a throw out on the right.
12'   But one is all that Sweden need! Berg is sent clear with an intercepted ball and Manuel Neuer had to be alert to that one as the big man bundled into the box. A real let-off for Germany there, who can thanks their keeper for sparing their blushes. Boateng also played his part with an off-putting challenge.
10'   122 passes from Germany, six from Sweden so far. That is quite the statistic.
9'   Boateng finds Hector with a cross field ball but the left back can't turn it back into the area. Goal kick to Sweden.
7'   Draxler clips in a cross-shot that creeps just wide of Olsen's far post. The Sweden keeper wasn't well-placed for that. Lindelof then makes a vital block to deny Werner. Germany turning the screw now.
6'   Sweden break through Larsson and he finds Forsberg, who makes a beautiful turn and is almost through on goal before Thomas Müller makes the challenge. That will be Sweden's plan this evening.
4'   The whole Sweden side are packed in their own half now, soaking up this early pressure from Germany. A free kick after a clash of heads between Hector and Lustig hands Sweden a breather. It doesn't last long though as Germany come again and Sweden again hoof it clear. They haven't been over the halfway line yet.
3'   Sweden escape! Kimmich sends in a cross and Granqvist makes a bit of a hash of the block. Germany have a clear sight of goal but it's blocked again and Sweden manage to hack it clear.
2' Germany enjoying the early possession, Sweden sitting deep with just Berg and Toivonen spared defensive duties at the moment.
1' And we're off! Sweden get us underway...
No smiles from Thomas Müller during the handshakes. Feather, knock etc...
And Sweden's... Thou ancient, Thou free, Thou mountainous north! A few mountains in the back four in Sochi as well. Timo Werner is going to have plenty to do this evening.
The German anthem... we have to say we're quite big fans of that one.
Here we go! The teams are coming out! Four changes for Germany, just the one for Sweden, Lindelof coming in for Jansson.
Just 15 minutes to go until kick-off in Sochi now. Who could have predicted that the reigning champions would be on the ropes in just the second round of group games? Sweden are pretty handy at the old bus-parking business, as Italy can attest. Will a draw be enough for Germany to go through?
The warm-ups are underway in Sochi and warm is the word... it's a balmy 23º but with 85 percent humidity this evening.
And that's full time between Mexico and South Korea, with El Tri winning 2-1 after a late cracker from Son. Germany can't afford to lose to Sweden now or they are out of the World Cup!
  Mexico are 2-0 up against South Korea with 10 minutes to go, increasing the pressure on Löw's side ahead of their clash with Sweden.
Sweden haven't beaten Germany in a competitive game since hosting the tournament in 1958 and Germany have not lost back-to-back World Cup games since the same tournament. Omens?
As ever, we've provided a handy guide as to how and where to watch tonight's game. 
Joachim Löw's side were beaten in their Group F opener by Mexico, a result that caused shockwaves (quite literally) given Germany's imposing World Cup record and their tag of one of the favourites for the title in Russia. 
Germany play Sweden in Sochi on Saturday evening with their World Cup hopes on the line. Should Mexico defeat South Korea, the defending champions will have to avoid defeat against Janne Andersson's side if they are not to exit a World Cup in the group stage for the first time in 80 years.