Uruguay vs Russia live: World Cup 2018 Group A
Russia suffered their first defeat at the World Cup as they finish second in Group A thanks to a three-goal beating from Uruguay not helped by an early red card.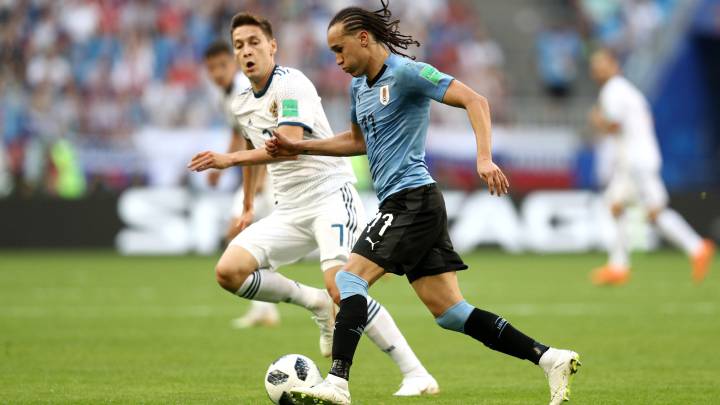 Uruguay 3-0 Russia: match report
Uruguay finished their sojourn in the World Cup group stages with a good win over hosts, Russia on Monday afternoon. They were helped in their attempts to win top spot with an early red card but Russia were so poor in the opening exchanges that you feel they would have struggled regardless.
Luis Suarez gave Uruguay the lead from a free-kick when he sent a lot shot to Igor Akinfeev's left, surprising the keeper in the process. It was about to get worse for Uruguay after 23 minutes when a Diego Laxalt shot from outside the box was deflected into the net by Denis Cheryshev to make it two before a half an hour expired.
Igor Smolnikov had a helping hand in Russia's demise when he was booked after 26 minutes and got his second and subsequent marching orders on 36. It was a nightmare first half for the hosts, who were delighted to hear the half-time whistle.
They had consigned themselves to defeat in the second half, it seemed, and rarely threatened Uruguay's rear-gaurd. Edinson Cavani put the finishing touches on a good display from Oscar Tabarez' side when he knocked home a saved Diego Godin header.
Uruguay finish the group stages without conceding a goal and on top of Group A with Russia trailing in second. They will await the result of Group B's final game on Monday night as Spain and Portufal play Morocco and Iran to see who will finished first and second in their category.
Uruguay vs Russia live online: as it happened
90'+4' Game over! 
90'+4' Free sent in and  Muslera gathers.
90'+2'   Maxi Gomez comes on for his debut at the World Cup. Cavani is replaced.
90'+2'   Four minutes of added time.
90'+1' Corner comes in and Godin rises highest to drive it towards Akinfeev. The rebound falls to Cavani and he slots it home.
90'+1'   Cebolla Rodriguez with a shot now and it's just tipped over by Akinfeev.
90'   Godin fouled by Dyzuba. A push in the back. These two have had quite the battle but Godin coming out on top so far.
89'   Another one of those Russian free kicks from the right. It's sent high and over everyone. Dreadful.
87'   Corner gets whipped in and Akinfeev palms it away. That might have been sneaking in at the back post.
87'   Kudryashov still doesn't seem right after that knock he took earlier. He is stretching his leg before the corner and the ref says if he has an issue then he should go off the field.
86'   Cavani does the same now and buys himself a yard in the penalty area. He cuts onto his left and shoots. That's out for a corner.
86'   Russia fashion a wonderful chance as Smolov twists and turns his way into space in the box. He sends it across goal and that's saved by Muslera.
85'   De Arrascaeta takes the corner. Caceres gets a head on it but it's just a glancer.
84'   He landed quite awkwardly and gets some spray on his knee.
84'   Kudryashov hit the ground in the penalty are as that ball came in. He looked to have fouled Suarez as he ran in and suffered himself.
83'   Rodriguez drives a shot towards Akinfeev and forces the save from the keeper. He parries it and it's out for a corner.
80'   Cavani with a gimme. All he has to do is slide in and hit it! Suarez put it on a plate for him. Russia all over the place. Most of their defenders MIA for that one. 
77'   Lucas Torreira down grabving his calf. Not great news for Uruguay. Didn't look like he took a knock to that specific area in the challenge. He's back up and looks like he will continue. 
74'   Russia win it back after a mistake from Muslera. It falls to Dzyuba and he cuts onto his left and he makes a complete mess of it. Drives it wide.
71' Christian Rodriguez coming on for Uruguay. Nandez the man to make way.
70'   He's back up and he's okay but has his shirt over his head. Sore one, no doubt, and not sure how much Godin knew about it but probably more than he pretended.
70'   Dzyuba and Godin go for it. The Russian striker hits the ground grabbing his nose. 
70'   Russia on the attack now. Can they muster up anything at all? Zobnin sends one into the box that gets deflected into the air.
67'   Laxalt and Dzyuba battle it out for the ball and the striker grabs his arms and quite obviously pulls him back. Free for Uruguay.
65'   Dzyuba headers another one down but no Russia teammates around him. 
65'   Cavani turned upside down in the penalty area. He looked for the penalty off Ignashevich and didn't get it. 
65'   Russia with zero attacking threat in this second half. Uruguay with just a little bit of one. They look more like getting a third than Russia do of getting one. This has been really disappointing though.
64'   Bentacur is being replaced by De Arrascaeta. Expect another couple from Tabarez soon to rest his players for the last 16.
63'   Dyzuba and Godin battle for the ball and the defender is fouled.
62'   Luis Suarez takes a knock to the back of the head and isn't happy. Fairly tame stuff.
61'   Luis Suarez hits the ground under a challenge. No free and it looks like the right decision. 
58'   Bentacur does well to win the ball off Zobnin. H cuts inside and gets a shot off. Blocked out but that was mightily impressive from the Juventus player.
55'   Nandez heading the ball on the ground and he wants a free. But the referee is not having it. He did a Phil Jones on it but got a kick to the head while he was at it.
53'   Suarez heads on to Cavani. He is blown for a free. He got to the ball before the defender illegally.
52'   Free comes in from Samedov and that's a really poor delivery. Sent high and wide.
51'   Ball down to Bentacur in the penalty area. Out for a goal-kick.
50'   Ball headed down by Dzyuba and he is upset that the player running onto it didn't read his intention. Russia need to take advantage of every chance they get. 
48'   Uruguay starting this half the way they finished the first half. They are well and truly in control. 
47'   Here is the free. Cavani takes it, looking to get himself on the scoresheet but it hits the wall.
46'   Suarez takes a tumble as Miranchuk pulls him down.
46'   We are back underway for the second half.
    Uruguay still haven't conceded a goal or had a booking in their first two and a half games.
Saudi Arabia equalised just before the break to make it 1-1 against Egypt. They missed one earlier but sent that one home.
45'+2'   Half-time. 
45'+2'   Wouldn't be surprised to see Uruguay making some changes at the break.
45'+2'   Two minutes of added time and we are well into that second minute.
45'   They just want half-time, and probably wouldn't mind this one just to be over at this stage.
45'   Russia's heads down now. 
43'   A quick look at the Russian fans and they look glum.
41'   A Russia attack is ruled out for offside. Dzyuba a little overzealous.
40'   Uruguay in possession now. They are just in second gear now and will likely remain that way for the rest of the game.
38'   Cheryshev sacrificed and this game will suffer now because of it. Russia really struggling here. Uruguay's best performance of the tournament. 
35' Cheryshev replaced by Marlo Fernandes.
35'   Smolnikov is Russia's back-up right back so all not lost for them in the last 16. 
35' Laxalt hits the deck now and that's another yellow for Smolnikov. Red card. 
34'   Akinfeev gathers and starts a new attack for Russia. They get the ball up the field and Dzyuba fouls Torreira.
33'   Russia looking for a way back into this and that's not going to work.
32'   It's Samedov getting ready to whip it in. He does but that's too high and so bad that it goes out for a throw.
31'   There's a foul by Bentacur on Zobnin. chance for Russia to send one in. Dzyuba will be licking his lips.
30'   Cheryshev down the channel to Dzyuba. He loses out and Coates clears. 
29'   Uruguay drive forward now and nearly have a third. Bentacur was the man with the ball. Cleared very close to being off the line.
28'   Cavan hauled down and we have the second yellow of the game. Smolnikov pulls down the striker.
26'   Offside for Russia. 
24' GOAL! Uruguay take a 2-0 lead and look certain to finish first now in Group A. Laxalt with the strike and it took a brutal deflection beyond Akinfeev.
Meanwhile, Mo Salah has given Egypt the lad against Saudi Arabia.
23'   Corner for Uruguay.
23'   Ball sent in and Cavani throws an acrobatic leg at it but Dzyuba heads out for a throw.
22'   Free for Uruguay out on the right. Chance to swing it in. Nandez fouled by Kudryashov. For the second time in a minute.
21'   There's a stand on the foot of Nandez. Looked like a sore one.
19'   It definitely should have been a corner.
19'   Looked like a corner but referee says no.
19'   Smolnikov into Dzyuba and he lays it off before Uruguay manage to avert the danger. Cheryshev drives forward again down the left and he wins a corner.
17'   Dzyuba with a little push in the back for Torreira and the big striker heads wide. Coates a half a yard behind the Russian and pulled his jersey. Another decent chance for Russia.
17'   Russia win the ball back and counter. Cheryshev the main man in attack for Russia so far. They win another corner.
16'   The scrapiness of this game continues.
15'   Uruguay with a throw now.
14'   Corner comes in and Uruguay clear.
12'   Cheryshev nearly responds. He drives a shot at Muslera and he saves. Dzyuba heads it down perfectly to Cheryshev. Nice hit by the Villarreal player too. Corner for Russia.
10' GOAL! He slots it into the bottom corner. What a free-kick that was. Akinfeev nowhere to be seen. Ignashevich pushed two opponents out of the way and created a massive space beside the wall.
10'   Suarez eyes it up. He will take as he is the only one standing over it. 
9'   Not for long though. Suarez breaks and sends it across to Cavani. It's deflecte out and Bentacur picks it up but he's hauled down dangerously close to the penalty area. Gazinskiy slipped into the tackle. Free for Uruguay just outside the penalty area.
8'   Smolnikov with a ball up into the air. cleared by Uruguay and Russia win it back. 
8'   Cheryshev and Russia counter. Nandez wins it back from the attacker and puts it out for another throw. This time to Russia.
7'   Uruguay with more possession but no chances yet. Suarez sets off down the left and it's out for another throw.
6'   Or out of play.
6'   Quite a scrappy start to this one. The ball is spending a lot of time up in the air.
5'   Long ball down and Dzyuba chases it. Godin sees it off and the striker pushes him to give him a bit of a scare. Goal-kick for Uruguay.
3'   He didn't blow for a foul actually. That's why Cavani was so upset.
3'   Cavani fouled and he is really not happy. The referee tells him to calm down. The tackle didn't look bad at all really. 
3'   Uruguay have started this one with more confidence. Caceres wins a throw down the right hand side.
3'   Cheryshev with a foul as he tries to win the ball. 
2'   Vecino with an ambitious effort from outside the box. He drags it wide but not bad. Gave Akinfeev a bit of a fright.
1'   Long ball down to Muslera. He passes out from the back.
1'   We are underway (in both games and will be keeping you abreast of news between Egypt and Saudi Arabia too)!
    Okay, maybe not. The Russia national anthem starts and the din is impressive. Stirring stuff.
    They're wearing their light blue jersey today as they are considered the home team. Sounds like it too given the noise their fans are making for the anthem.
    Uruguay's national anthem blares around the Samara Arena.
    Muslera plays in his 100th game and Akinfeev in his 109th for Russia. Two very experienced keepers! 
    The Samara Arena looking pretty sharp ahead of this Group A clash.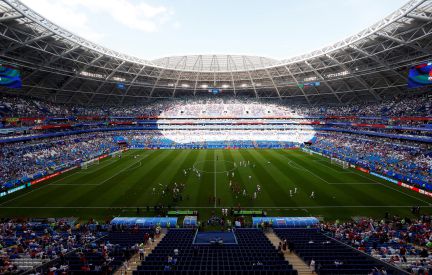 Here is a look at how FIFA rule on tie-breakers before we kick off matchday 3 at the World Cup.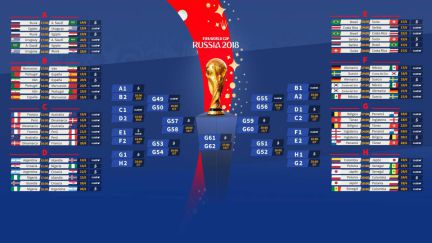 Whoever wins this group will play the team who come second in Group B, which is Spain, Portugal and Iran's group.
    Ror Russia, Igor Smolnikov, Fedor Kudryashov and Aleksey Miranchuk all come in. Golovin, one of the tournament's stand-out performers so far is given a rest.
    Meanwhile, Diego Laxalt, Nahitan Nández and Lucas Torreira all come in to Tabarez' midfield. It's Torreira's first ever start for his country but they have not lost in his five appearances so far!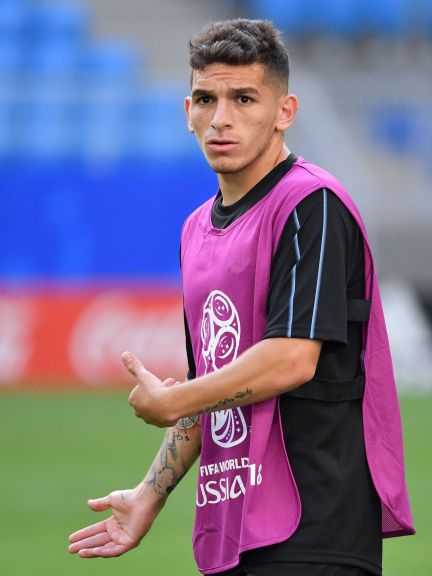 Jose Gimenez signed a new five-year deal with Atlético and misses out today. Sebastian Coates comes in for him.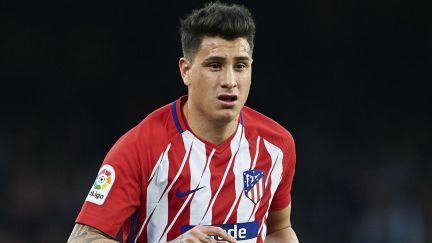 This is the first day of the World Cup where we will have two games on at the same time. Pity the other game, Egypt versus Saudi Arabia, is a dead rubber even if there is some controversy. Mo Salah was listed as not starting and then they reversed the decision and now he starts..
    Denis Cheryshev is a surprise contender for the World Cup's Golden Boot. He didn't start the first game but came on and score a brace, and scored another in the second game! He won't be getting too much against Uruguay today in terms of space or chances but a goal here today and you never know what might happen in the knock-out stages.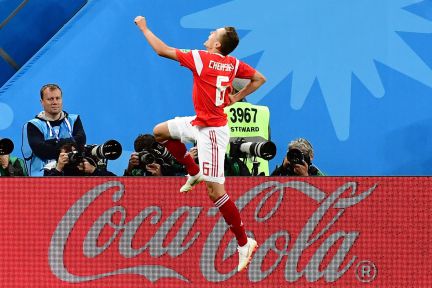 Russia's Denis Cheryshev is best placed this afternoon in the race for the Golden Boot, in joint third place, having popped home three. Uruguay's Cavani is yet to get off the mark and Luis Suárez is on one. Check out the full list here.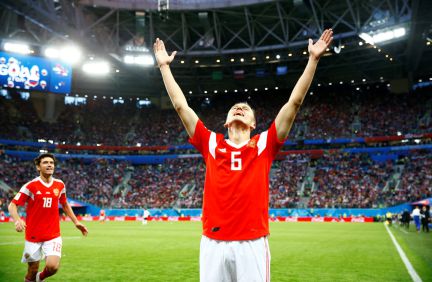 Uruguay are without Atlético defender José María Giménez but have plenty of firepower up top to test a Russia back line that has yet to answer any serious questions. The hosts have been scoring for fun so far, sticking five past Saudi Arabia and three past Egypt so a few goals may be on the cards in Samara. 
Quiz time: who is the only goalkeeper NOT to have made a single save at this World Cup... answer right here.
Hopefully you'll stay here with our live coverage of the game, where yours truly Robbie, will be keeping you updated with every piece of the action, but if you also fancy having the telly on in the background, our useful TV guide is but a click away...
The fans from both sides are already out and about around the Samara Arena...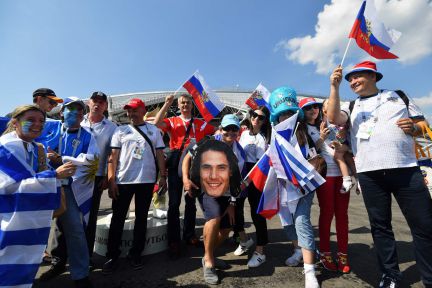 Hello and welcome to our coverage of Russia v Uruguay! It's the start of the real nitty gritty, the final round of group stage games, although Group A has already sorted itself out in terms of who is staying and who is going, with the hosts Russia and their rivals today already having done two wins and securing their spot in the next round. BUT today's clash is pretty important as it will decide who tops the group and who therefore meets either first or second from Group B, probably Spain or Portugal, but in which order?!
Uruguay vs Russia live online: match preview
Russia and Uruguay meet today in the final round of games in Group A, with both teams bidding for a top spot finish.
Hosts Russia will be hoping to make it three wins from three, after having already beaten Saudi Arabia, 5-0, and Egypt, 3-1. It has been an impressive start for the hosts, but Uruguay will prove to be their sternest test yet, particularly now that they will be missing their creative midfielder Alan Dzagoev through injury. Nevertheless, Russia have proved they can score goals, and striker Denis Cheryshev will be looking to net his fourth in the competition to keep himself in the running for the golden boot.
Uruguay are also not without their injury woes: Atlético Madrid defender José María Giménez is ruled out due to an injury he picked up in training. But with the likes of Luis Suárez, Edinson Cavani and Diego Godín at the disposal of coach Óscar Tabárez, Uruguay will be tipped to win this one, setting themselves up for a likely meeting with either Spain or Portugal.