Iran 1 - 1 Portugal: World Cup 2018, Group B result and match report
A dramatic end to the game in the Mordovia Arena saw Iran snatch a 1-1 draw with a late penalty but it's Portugal who progress in second place behind Spain.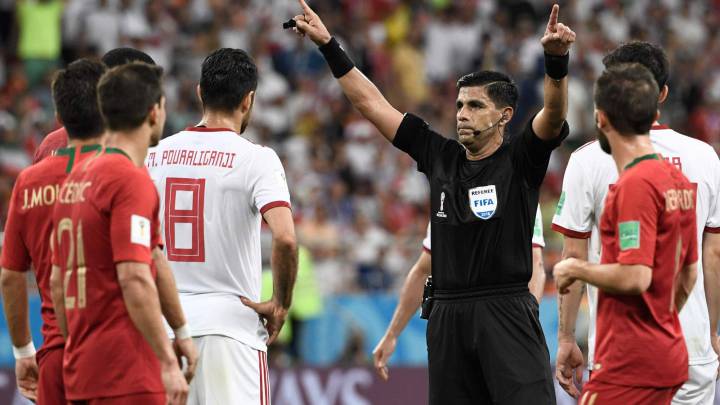 Iran vs Portugal: World Cup 2018 Group B | match report
The outcome of this game is simple: Portugal achieved the draw they required against Iran to go through the the last 16 of the World Cup. The story of the game - of which the action of the Spain-Morocco match cannot be ignored - was far from simple, and pulled emotions of at least three of the four nations all over the place.
Portugal patience
For much of the ninety minutes in Mordovia, Fernando Santos' men were in control. Iran posed the occasional threat but had little prolonged possession, seemingly happy to sit deep, frustrate their opponents, and go long whenever the chance presented itself. It was the Asian side that needed the three points to qualify for the knockout phase, while a draw suited Portugal - because they didn't expect their other rivals for top spot in the group to drop the ball against already-eliminated Morocco.
Quaresma curler
The first half was lively enough and the pattern of play was consistent. The European champions looked a better unit than they had done on the previous two outings and probed for the opening, appearing relaxed that they had what it took to do the job required. Crosses were being thrown in from both sides - wingers Quaresma and Joao Mario encouraged to continue doing so after some less-than convincing handling from Beiranvand. And it was from a good crossing opportunity that the goal came. As the clock ticked into added time in the first half, Quaresma stepped inside the right-hand section of the area and struck it sweetly with the outside of his right foot, allowing a gentle curl to evade the diving, oustretched Iranian stopper, and bringing it nicely inside the far post.
Cristiano's penalty pain
With two goals now required for Iran to qualify, many expected the Queiroz team-talk to be more about giving it their all in an attempt, no matter how in vain that may prove to be. The second period though followed a similar pattern to the first, if anything with Portugal having more control. And a VAR-assisted penalty for Cristiano to slot home would have settled everything on the 51st minute. Beiranvand had other ideas and got down sharply to deny the Real Madrid man.
Late VAR decision for Iran
Although the penalty miss was disappointing for Portugal, who must have been hearing noises about Morocco doing them a favour in another part of Russia, the flow of the game remained much the same. That was until the final minutes. Iran moved their unit a few metres forward and attacks were starting to include more bodies in white shirts in the final third. But just as it looked to be too late, a crossed ball fell onto Cedric Soares' arm and VAR was brought in to help the referee make his decision. The ninety minutes were up. The finger pointed to the spot.
Karim Ansarifard showed class as he fired the dead ball into the top right corner, giving a rarely-troubled Rui Patricio no chance. At exactly the same time, Spain had a disallowed equaliser overturned with VAR's help, and now with both Iberian sides level on points, Spain would top the group having scored a goal more. There was still time for one heart-stopping moment as Taremi burst into the Portugal box and struck the ball into the side netting. Had he scored, Iran would be taking Portugal's place (and topping the group). He didn't so Cristiano and co. have a last 16 match against Group A winners Uruguay.
Iran vs Portugal: World Cup 2018 Group B | as it happened
Following the final whistle Cedric Soares was shown a yellow for complaining about the penalty being given against him.
Match report to follow as soon as I get my breath back. Thanks for joining me and I hope to see you again soon...
Iran 1 - 1 Portugal: the Europeans make it to the Last 16 but due to the crazy end to both games, the finish in second place behind Spain.
90'+7' And that's it!! Phew, what a finish.
90'+7'   Portugal try to hold the ball for the last few seconds. They're stunned.
90'+6'   Crossing chance here for Taremi but it's too deep. Wasted.
90'+5'   There were only six minutes added (not nearly enough for me!) The kitchen sink is truly being thrown at the European champions
90'+5' Portugal make a change: Andre Silva off for Goncalo Guedes
90'+4'   Ooooooohhhh!!! Iran almost win it!! The ball breaks out to Taremi who hits the side net on the left. What a goal that would have been!
What a beautiful strike into the top right corner.
90'+2'   Penalty SCOOOOOREEEED!!!! 1-1
90'+2'   At the same time as that was being decided, Spain thank VAR for over-ruling a disallowed goal.
VAR helps decide a penalty to Iran!!!!!!
89'   Nice, dominant catch from Beiranvand who then gets a direct counter going. It ends with a lopping cross into a crowded area and more screams for VAR to intervene for a penalty to Iran... it could be!!
87'   Iran look to have pushed on a few metres but Portugal keep the ball well and pick up a time-absorbing free-kick and Ansarifard takes down Cristiano.
86'   Both sides trying to get a hold of posssession, and failing to keep the ball for long. Surely Iran are looking out the kitchen sink to throw at their opposition knowing a win would have them qualify at the expense of Spain.
84' Lots of time to be added on at the end of the 90, I'd suggest.  Another change for Portugal as Joao Mario replaces Joao Moutinho.
...No! It's a yellow for the captain though. He's not chuffed.
81'   More VAR action here. The ref is checking whether Cristiano Ronaldo showed too much aggresion towards an opposing player. This could be a red card...
80'   News from the other game: Morroco have taken the lead against Spain!
79'   Screams of pain and a few rolls along the turf there from Amiri as he's challenged in the middle of the park. As soon as he sees nothing is being given he jumps up and gets on with play. Come on lads, enough!
77'   Andre Silva with an almost carbon-copy of his namesake Adrien's effort from distance. Well off target.
75'   Carlos Queiroz in trouble here. He was screaming for VAR to be brought into play (along with the now-customary hand gesture) and the ref gave him a good talking to for such insolence. A replay would have had a chance of seeing a penalty.
74'   Cristiano almost gets in for a strike. As he cut into the area on the left the covering defender did really well to get in front of the Madrid star and nod the ball back to his keeper.
72'   CLOSE!!! Iran go direct once again and the knock down falls to the man who's just come on. Ghoddos turns back onto his right foot and drags it towards the nearer post, but that drag slides away on the outside of the upright.
71'   Adrien Silva tries his luck from 25 yards. Up, up and away over the cross bar. 
70' Jahanbakhsh goes off in the second Iranian change. What can Saman Ghoddos do for Queiroz and the millions of fans watching/following the live feed.
69'   Whether by design or situation, Iran seem to be happy to settle in deep and then hope to hit on the break with a long ball to their willing runners.  The first is easily cleaned up by Soares. The next leads to Rezaeian swinging in a decent cross which is headed away. This could be the Iran plan.
65'   All the play is in Iran's half. Portugal pushing and pressing for a second but space is limited. Cristiano decides to take matters into his own hands, drift past two players on the edge of the area and fires goalwards...well, a few metres wide of the goal-wards.
64' Ironically it's Quaresma that gets his name in the ref's book. A very dodgy challenge on Ezzatollahi who has to leave the field for treatment.
63'   Quaresma gets closed out by two defenders and then falls to the floor holding his face. The replay shows he was caught by a flying hand but not enough for the exaggerated reaction. Up you get, son!
62'   Ping! Guerreiro gets hold of a shot from distance and whether or not the defender wanted to get in its way, he had little option. 
61'   A couple of minutes of Portugal trying to get in down the wide areas and Iran clearing for throw-ins. Finally space is created by switching to the left but then Iran squeeze their opponents back to the halfway line.
58'   The cross in is too long and easily away from the area. Iran appear to have stepped things up here. Do they have the quality to break down Portugal?
58'   Pepe at full stretch to deflect a dangerous ball in from the right from Jahanbakhsh. Corner to Iran
First change for either side. captain Haji Safi off for Milad Mohammadi 
55'   Play has started again after a stop in play for treatment to Adrien Silva. Iran feeling aggrieved and this could be a tasty half hour coming up.
53' Azmoun gets a brightly coloured card for shouting too much at Enrique Caceres
Ehsan Haji Safi booked after the VAR review - lots of complaining at the ref
52'   SAAAVVVEEE!!! Brilliant save by Beiranvand down to his left after Cristiano strikes the penalty. The keeper holds on too.
50'   Scratch that! Ref decides that VAR would be a good idea and...he, rightly, gives the spot kick for a foul on Ronaldo.
49'   Penalty shout for Portugal! Ref waves play on and says no need to go for VAR review
48'   Portugal playing triangles in their own half and, despite having the opportunity to keep it dull, see a gap and go for it. Quaresma loses possession trying to skip past Rezaeian but Carvalho wins it back with strong play in the middle of the park.
47'   A couple of step overs from Cristiano, then an elaborate backheel from Quaresma. Portugal feeling confident. The backheel only finds an Iranian, though!
46'   Iran start us off but Portugal are quickly back in possession of the ball.
We're off again!
And with that thought, here come the teams again. What will Iran change? A draw is unlikely to be enough so two goals are required. But that could leave the door open for their opponents. Here we go...
In the other Group B match, Spain are being held by Morocco at half-time. As it stands, Portugal will top the group and play Russia in the round of 16; Spain would get the task of overcoming Uruguay.
Portugal have a nice balance to their play and are equally happy to feel their way down either flank. That strike from Quaresma goes into the already bulging bag of top-notch goals at this edition of the World Cup. I don't envy the person selecting the winner!
The balance of the play has been with Portugal for sure but until that goal there was always a feeling that Iran had a counter attack or set-piece in them to cause trouble. The goal may see an even more open second half as Carlos Queiroz tells his side to be more adventurous - that could be fun!
Half time | Iran 0 - 1 Portugal - Quaresma finishes the first 45 with a beauty of a strike giving Portugal a deserved and potentially vital lead in their quest to top the group.
45'+3'   Into the third of three minutes of added time and Portugal are holding onto the ball well. Exactly what they'll look to do now with that cushion of a goal.
What a strike from the winger. 'Forget those crosses' he must have thought and drives the outside of his right boot through the ball. It curls perfectly beyond Beiranvand's outstretched arm and into the far post. A golazo, indeed!
45'+1' GOOAAALLL!!! 
45'   Final minute of the half is the theme of much of this game: Portugal looking for a gap. And it's out wide to Quaresma, will he try another cross?
43'   Frustration from Cristiano as he loses out to the defender and is not given a free-kick. That look towards the referee says it all.
41'   Iran again make it as far as Rui Patricio's penalty box but can't actually create a clear path to goal. The counter that follows looks healthy but the white shirts get back quickly to put the pressure on. Quaresma tries a lob from wide on the right which sails well over the bar.
39'   In what's been an exciting enough first half so far, Portugal take the sting out of the play, knocking the ball from one side to the other. It ends with Cristiano suggesting he's less patient and he hits a drive from 35ish yards. Sweet enough but straight into the arms of a grateful Beiranvand
38'   Iran almost create a shooting chance but neither Amiri nor Taremi can get the ball out of the feet and away from the pack of red shirts.
36'   After those earlier slips in concentration from Beiranvand, Portugal are not slow to swing crosses into his box. The latest from Quaresma, however, is well caught by Iran's keeper. That'll help him.
Raphael Guerreiro was booked for that earlier challenge.
33'   Great deliver from the dead ball and Ezzatollahi gets a firm header towards goal. Unfortunately for him it's straight at Rui Patricio. A reminder there for Portugal that one lapse is all it takes.
32'   A dangerous break for Iran ends in an over-stretch from Guerreiro on the sprinting Jahanbakhsh. It's slightly late and a free-kick is awarded. Good chance to swing it into the area.
31'    Both Azmoun and Fonte are down injured and the medical teams sort them out before play continues. 
29'   The patience almost creates a good chance as Quaresma gets around the back of the Iran defence on right. He delays crossing and then tries to chip a ball to the back post but it's blocked well by the returning defender. Plenty supporting players getting forward there.
28'   Another few minutes of the side in red building up play in the middle of the park. Nice and patient from them. They know there is no rush and a draw has them in the Last 16. 
Guerreiro and 25'Joao Mario  look to build something for Portugal down the left. That looks a good option for Santos' side but Iran close that channel down well and Portugal try through the middle instead. Cristiano tries to play a one-two on the edge of the area but Silva is called offside.
Ice to the back of the head for the stopper but he looks to be getting the all-clear from the docs.
22'   Another Iranian break and Rui Patricio gets a knock to his head as his wins the race to collect a through ball into the area. Play is stopped as he recieves some treatment.
20'   Iran get forward - a rare break with Portugal dominating the first twenty minutes - and although they can't fashion a clear chance they win a free-kick within shooting distance after Silva fouls Haji Saf.  Rezaeian has a go but it curls just wide. Rui Patricio had it covered.
18'   Another cross is swung in and this time Beiranvand decides to punch. Much better idea it seems as he gets good distance on it. Spain have equalised - Isco!
17'   The corner is not initially dealt with well by the Iranians and Fonte gets a shot off from Pouraliganji's poor clearance. Blocked and away finally.
16'   The Real Madrid man steps up, makes great connection once again with the ball and...it whacks off the top of the jumping wall and flies out for a corner. 
15'   And here Portugal have a free-kick in almost an identical position to that from which he scored so sensationally against Spain.
14' News just in! Spain are a goal down against Morocco. You can follow that feed here.
13'   What is up with Beiranvand? Another cross, another misjudged catch. This time under no pressure. Lucky to escape.
12' More problems at the back for Iran. A floated cross from the right has Beiranvand flailing a hand, albeit under some pressure from Cristiano. Defender clears up. This looks like a nervous backline right now.
9'   Another chance - this game is open and fun so far - Joao Mario picking up the scraps of a breakdown in communication between goalkeeper and defender but hits it well over from the edge of the area when the goal was gaping.
7'   Iran get their first chance. After winning a very physical 50:50 in the own half , Jahanbakhsh sprints onto a lovely weighted pass down the right wing. As white and red shirts follow in the same direction, he rolls it across the outside of the area and Vahid Amiri steps onto it to strike goalwards. Sclaffs it wide.
6'   Portugal have certainly started on the front foot and knock the ball from left to right searching for an opening. 
4'   Andre Silva gets some close attention there from the Iranian defence. Knocked over but the ball runs away for a goal kick. 
3'   Chance!! Cristiano it is who cuts inside the Iranian box on the left, switches the ball onto his right foot and drills it low and hard. It thuds into a combination of arms and upper body Beiranvand. First opportunity.
2'   It's a nothing cross, low and easily cleared by the first Iranian defender.
1' Portugal knock the ball back and within no time the ref's whistle is back in his mouth. A late challenge on Guerreiro from Iran's Ebrahimi and the European's have a chance to swing the ball into the area from wide on the left.
We're off!!
A quick reminder that Azmoun will lead the line for Iran, but will be hoping for plenty of support from the likes of Mehdi Taremi and Omid Ebrahimi. Cristiano and Andre Silva up top for Portugal.
The Portuguese players belt theirs out and theirs an enthusiastic punch and clap from some of the stars at the end.
The teams are out on the field of play. The anthems ring out. First Iran...
As I mentioned earlier, unless Morocco cause a massive upset in the other game, Iran require a victory to progress. And that would make history in itself for the Asian side as they have never previously beaten a European side, in seven attempts. Their only point from those games came against Scotland in 1978.
Watching the team warming up they all look to be in fine fettle. I'll let you know if the Portugal lads start to yawn midway through the second half, though, with stories reaching us earlier of Iranian fans noising up the streets outside their hotel. 
Portugal XI: Rui Patricio; Cedric, Pepe, Fonte, Guerreiro; W.Carvalho, Adrien Silva, J.Mario; Quaresma, Andre Silva, Cristiano
Iran XI: Beiranvand; Rezaian, Hosseini, Pouraliganji, Hajisafi; Ebrahimi, Ezatolahi; Jahanbaksh, Amiri, Taremi; Azmoun
Finishing first or second in the group matters. Following the Group A games earlier today, it was decided that Russia await the winners and Uruguay the runners-up. Based on the performances we've witnessed, the South Americans would pose a tougher route to the quarter finals.
...a draw is enough for Portugal to progress, so it will be interesting to see if Iran go at them early or play a bit more of a waiting game.
...if we assume (dangerous, I know!) that Spain win, then the winner of this game will join them in the Last 16. If that team is Portugal then the Iberian side who comes out of tonight with the greatest goal difference will top the group. If it's Iran, Spain will ensure first place on points.
So let's start with Spain, who currently top the group: a win or a draw and they're through. A two-goal loss and Iran-Portugal draw and they drop out...
...The other game in Group B, which will be played simultaneously, is Spain vs Morocco. (Robbie Dunne will be waxing lyrical on our other live feed if you fancy a bit of that). The African side have already been eliminated after defeats to Iran and Portugal so are simply playing for pride tonight. It's a three team shootout for the top two places...
There are a number of permutations that we need to consider for tonight's Group B progression all based on Fifa's rules on how teams that finish on the same points are ordered: The Fifa Tiebreaker. Let's talk them through...
 Wherever you are in the world today, there's almost certainly going to be a viewing option for you to complement this live feed. Have a scan at our handy little guide which will hoprefully point you in the right direction.
No matter how important Ronaldo has been in their opening two games, manager of the Portugal national team, and master of the facial expression, Fernando Santos has said that this game is not just about his biggest talent, but instead it's two whole teams against each other. He's right, you know!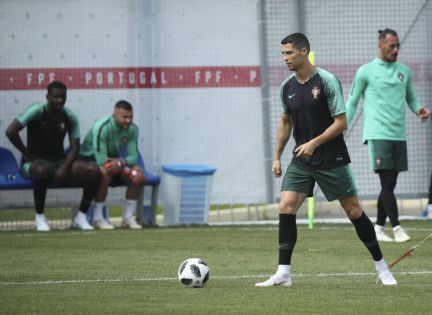 With a hat-trick against Spain and the single-goal winner against Morocco, Real Madrid's number seven is already targeting the World Cup Golden Boot award (if only he had a museum to house all his trophies!). He will see tonight's opposition as yet another opportunity to add to his tally.
A World Cup is often where a team needs their big stars to step up to the plate and deliver. And unlike some other countries (no bitter rival names being mentioned!) Portugal's talisman, Cristiano Ronaldo, has certainly started this tournament with a bang.
Of course, Portugal do have a set of players with their own ambitions to go as far as possible in the tournament. They are, after all, the reigning European champions following their heroics of 2016 in France.
Not a lot was expected from coach Carlos Queiroz's Iran going into this tournament but a last gasp 1-0 win over Morocco in their opening game, and an impressive defensive display against one of the tournament favourites, has some people tipping them to secure a place at Portugal's expense tonight.
Hello and a very warm welcome to the group B match between Iran and Portugal. Both sides still have a chance of making it to the Last 16 and a win for either side will ensure their passage.
Iran vs Portugal: World Cup 2018 Group B | preview
Portugal and Iran face off in Saransk tonight in the final round of matches in World Cup Group B, in what is likely be a straight fight for the right to go through to the last 16 alongside Spain, who play already-out Morocco in Kaliningrad at the same time.
A draw will be good enough for Portugal, who sit second in the group on four points, one ahead of the third-placed Iranians. Meanwhile, the Asians are most likely to need to win to progress, although a stalemate would also send both sides through - were leaders Spain to unexpectedly lose to Morocco by two goals or more.
Iran
For the first time ever - in what is their fifth appearance at a World Cup finals - Iran head into their last group-stage game still in with chance of making the knockout stages.
Led by head coach Carlos Queiroz, who this evening comes up against his native country, Iran were thankful for an injury-time Aziz Bouhaddouz own goal as they began their World Cup campaign by beating Morocco 1-0, but were less fortunate against Spain on Wednesday, pushing La Roja all the way but eventually finding themselves on the wrong end of the same scoreline.
After picking up a thigh injury in the narrow defeat to Spain, Ehsan Hajsafi is doubtful for Iran.
Portugal
So far in Russia, Portugal have been indebted to the astonishing goalscoring prowess of Cristiano Ronaldo, who has hit all four of their goals at the tournament.
He netted a hat-trick in a thrilling 3-3 draw with Spain in their opening Group B game - a treble which included a wonderful late free-kick to level the scores - then grabbed the only goal as the Portuguese edged Morocco 1-0 - despite a less than impressive all-round display.
Midfielder Joao Moutinho is a doubt due to illness, but left-back Raphael Guerreiro has recovered from a leg injury suffered in the victory over Morocco five days ago.