World Cup 2018
South Korea 2-0 Germany World Cup 2018, Group F: match report
Two injury time goals knocked Germany out of the World Cup as South Korea sunk them to the bottom of Group F after a crazy finish in Kazan. Cruz Azul vs America: Liga MX, live online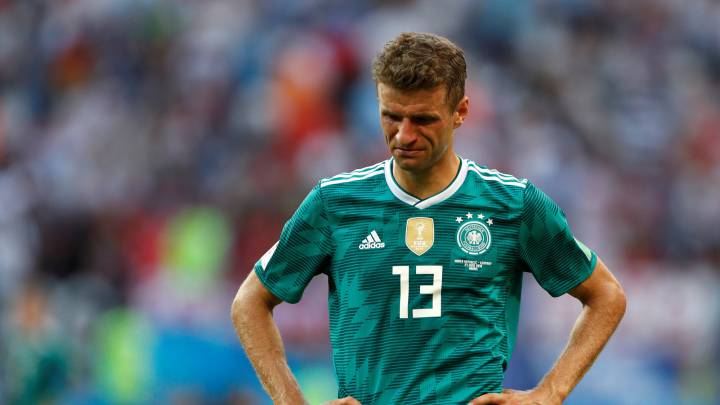 South Korea 0-2 Germany: match report
It meant nothing to South Korea but they celebrated like it meant everything. They had already been knocked out of the tournament after Sweden had dismantled Mexico to eliminate them from contention. But on Wednesday afternoon in Kazan Arena, Germany kissed goodbye to their hopes of retaining the World Cup in stunning fashion.
In a World Cup that just keeps on giving, Germany dominated for long stretches of time but could not break down a South Korean rearguard, in general, and their goalkeeper, Hyun-Woo Cho, in particular. It was all very docile in the end from Joachim Lowe's side, who had control but lacked cutting edge.
As the clock ticked down and word came through that Sweden were through to the last 16, Germany needed a goal. They committed men forward with the game deadlocked. The change of Khedira for Mario Gomez made sense but it destabilised a German side who had been picked off by Mexico in similar fashion in the opening game. Despite the lack of credulity in what we were watching, it was all very predictable based on what we had seen before from this German side.
The more desperate Germany got, the more dangerous South Korea became and they got their reward when Young-Gwon Kim stroked home after a scramble in the penalty area. There was VAR because there's always VAR. And it added to the tension but the hints of offside were put to bed when referee Mark Geiger made a square with his hands and pointed for a kick-off. South Korea were ecstatic, Germany were heading for the exit.
It got worse too, and more embarrassing, as Manuel Neuer became an extra attacker and got caught out way up the field. The long ball down to Heung Min Son was tapped home to make it 2-0 and an impossibly long road back for the reigning world champions looked even longer.
So, it's Mexico and Sweden who go through from Group F and Germany who finish at the bottom of the pile after a truly horrendous campaign in Russia.
South Korea vs Germany live online: as it happened
90'+9' Germany have been knocked out of the World Cup. It's all over.
90'+9'   Hummels shoots and the ball is blocked out for a corner. Hummels gets it again as the ball comes into his path. Heads wide.
90'+6'   Into the 8th minute of added time! Germany move forward and the shot comes in. Cho saves again. 
90'+6' ANOTHER GOAL! Neuer up the field and South Korea launch it forward. Son gets on the end of it and they score
90'+5'   It was Young-Gwon Kim with the goal, just in case you missed that.
90'+5'   Hummels with another chance. Ball into the back post and he heads it onto the roof of the net.
90'+4' He has given the goal! South Korea beating Germany and they are facing elimination here in the group stages.
90'+4'   GOOD LORD!
90'+3'   Kim Young-Gwon with the goal...or not.
90'+2'   It came off the German player.
90'+2'   The referee is telling them to wait. He's going to have a look from VAR.
90'+2'   He's offside.
90'+2'   Kim scores and Germany are out!
90'+1'   He seems to have a dead leg. It's Yong Lee down and he might not be able to continue. South Korea have no subs left either.
90'+1'   We have a delay for some reason? South Korean player down on the ground up the field.
90'   South Korea trying to break the record for the slowest corner in the world ever.
89'   South Korea in attack. Woo-Young Jung with a shot from distance. That's just a waste as Neuer gathers. Now South Korea attack again and Jang sends it into the box. South Korea win a corner.
88'   Germany back up the field and Kroos fires a shot at goal. Cho saves. He gets down to his right and gathers.
88'   South Korea hold onto the ball now. 
87'   Hummels shoulders the ball over the bar. The ball fell nicely to him but he can't header it. What a chance that was! That might have been the chance.
86'   Son with the slowest walk you'll ever see up for that corner. His corner was brutal too. Germany clear. 
86'   Janes races through on the left and he crosses. Sule kicks it out for a corner.
86'   Go battles but he can't win the ball up front and Germany recover before launching their own attack.
86'   That was slightly more dangerous from Germany but still clutching at straws really. 
85'   Shot from Kroos and that's well over the bar.
84'   Foul by Go on Kimmich. Germany eager to get the ball rolling again.
83'   Marco Reus with an effort that dips and drifts wide. Worth a shot and it really wasn't bad but it's not looking good for Germany.
83'   Germany really running out of time here. 
82'   Ozil to Brandt and he plays it out to Kimmich. It's crosses in and Mueller heads it up and out for a goal-kick.
81'   Germany with more possession outside the box. Werner now operating out on the left and he runs the ball out over the endline.
80'   Offside on Reus. South Korea survive again.
80'   South Korea break after a good chance up the other end. Dispossessed.
79' Hee-Chan Hwang replaced by Go.
79'   Son cuts inside and strikes. It's wide but he had Neuer reaching for that one. South Korea looking dangerous on the break.
79'   Ball in by Kroos and that's saved. South Korea on the counter.
78'   Brandt comes on for Germany. He is replaced by Hector.
77'   Kimmich out to Werner. He plays it to Reus and his cross is knocked up into the air.
76'   South Korea steal it from Germany again. But they can only keep it for around three second befoe they have to defend again. Wash, rinse, repeat. Germany are doing nothing worthy of winning this game either. Their attack just stalls as soon as they get near the penalty area.
75'   South Korea are in. Lovely ball over the top but Neuer comes a mile off his line to save the day. That was close but really sharp thinking by Neuer to sniff out the danger.
74'   Cross comes in and Mueller tries to head it over but South Korea head it out for a corner. Kroos and Reus out to take. South Korea have an injury and we have a delay.
72'   Kimmich on the right. He sends it to Ozil and they get picked off. South Korea's counter is poor though and they lose out.
71'   Two exhausted teams at the moment. Cross comes in from Hong and it's grabbed by Neuer.
70'   Kroos trying to be the difference-maker again. He shoots with his left but that's always going over.
69' Moon replaced by Ju.
69'   Kimmich with another lovely cross. Gomez rises highest and heads it into Cho's gloves in goals.
67'   Germany looking increaisngly suspect at the back.
66'   Seon-Min Moon with a perfect chance to shoot. They break Germany down again and he won't shoot.
65' Son booked for a dive?!?! That is so unfortunate. He is bundled over by and gets booked.
64'   Corner comes in and falls to Werner, who finds himself at the back post. He drives it wide.
64'   Germany moving forward now. Werner has been deployed as a right winger now and he wins a corner for the Germans.
63'   Son turns into a shooting position and strikes over the bar.
63' Goretzka is coming off for Muller.
62'   Muller is off the bench and is coming on. 
61'   Chance for Germany. A really good chance too. Werner breaks down the left and looked to have thrown the defender out of his way. Ozil lays it off and the shot comes in. Blocked and out for a corner!
61'   Loew is off his bench and sending out instructions.
60'   Werner with a cross and it's headed out by South Korea for a throw.
59'   The sub, Hee-Chan Hwang, heads the ball out of play. Poor touch as he tried to get a chance away.
59' Khedira replaced by Gomez. Loew makes a move. Let's see what happens now as Germany need a goal or they are going out of the World Cup.
58'   South Korea attack again and Sule steps out to win it back. Ozil looks for Reus and the pair are on completely different pages. Reus fouls as he tries to win it back.
56' Ja-Cheol Koo is off as he can't continue. He is helped off the field and will be replaced by Hee-Chan Hwang
55'   Reus crosses and South Korea deal with that very easily. We have an injury on the field. It's Ja-Cheol Koo down hurt and he is getting the inside of his knee looked at.
54'   South Korea on the move forward now and it's delivered into the box. Cleared by Germany but not before it took a dangerous bounce.
54'   Reus moves into the box and lays it off to Kimmich. He shoots and it's blocked.
53'   Kroos delivers and it's headed back where it came from and South Korea clear.
53'   Sule passes out to Kimmich. Dangerous ball in that Young-Gwon Kim gets to it before Werner and clears. Corner for Germany.
52'   Son moves forward now he handles the ball as he tries to take control of it.
50'   Chance comes in from the left. Werner wallops it with his right foot. He slices it just wide.
Sweden have taken the lead against Mexico. As it stands, Germany are going out. Follow our live coverage of that game here.
49'   Kroos decides to take it on himself. He shoots from miles out. It's a slow and laboured effort and it's a mile wide.
48' Son breaks for South Korea and plays it to Moon. He has a chance to shoot...thinks about it and then says no. Then he fouls Kroos when he loses the ball and gets booked.
47'   Kimmich with a lovely ball into the box. It's like a little chip shot. Goretzka free and he heads it towards goal. Beautiful save by Cho. South Korea remain alive! 
46'   We are back underway in Kazan. No changes for either side. That's a bit of a surprise but Loew obviously thinks if Germany can continue on the same path, they will eventually score.
Niklas Suele with the most touches for Germany so far this half. Followed second by Kroos, who is really looking to cause problems. Germany just have no shape or plan when they do get the ball into the box.
45'+3'   Germany take the goal-kick and the referee blows half-time.
45'+3'   One last chance for South Korea. Son nicks the ball off Sule's head and strikes but it drags wide. 
45'+2'   A couple of chances for Germany. Kimmich sends one across the box that is sent out to Ozil and he strikes and it's blocked. Kimmich picks it up on the right and his touch is poor and out for a goal-kick.
45'+1'   Hector with a throw on the left-hand side. Germany back in control.
45'+1'   Three minutes of added time.
45'   Heung-Min Son is pulled down by Khedira. The two men got their legs wrapped up together and the South Korean hits the ground. No penalty as the referees nod his head.
44'   Korea with an attack Khedira races back to win it off Son, who was arriving to pick it up just outside the box. Korea have looked dangerous on the counte on occasion but it's getting the ball forward where they've struggled.
43'   Foul by Hector at the edge of the penalty area. The ball falls to Wernger and he sends one booming off the upright. It was a free anyway. We are approaching half-time and despite Germany's dominance, they haven't really looked like scoring.
41'   After a brief delay, we are back underway. 
40'   Chance for Germany. Hummels gets it inside the box and turns and shoots but it's straight into Hyun-Woo Cho's chest and he grabs the follow-up.
39'   Ozil to Werner and he has a look at goals. He takes it onto his right and shoots. It's blocked high and wide for a corner.
38'   Goretzka with a run down the right. He kicks the ball 10 yards ahead of him and tries to outpace the defender. No chance. Then he launches himself into a tackle and takes a South Korean out of it from behind. Weird tackle, weird passage from Goretzka.
36'   Germany work it short. Ozil down to Kimmich. They keep the ball and play it around the edge of the box. That's before Khedira loses it and South Korea look to break. They win a throw as Hummels puts it out.
35'   Neuer picks up a pass from Sule and sends it out left to Hector. Germany on the move again. Ozil tripped up by Moon.
34'   Kroos running the show so far for Germany. They win a throw down the right-hand side.
32'   Germany with a chance now. Reus in the centre and he shoots but it's blocked and hops up to Hector. Werner gets the shot away but it was handled by Reus as it bounced out to him previously. Good vision from the ref. That happened very quickly.
32'   Brandt, Draxler, Gundogan and Rudiger all sent out of the dugout to warm up.
Meanwhile, Sweden have had a potential penalty turned down by VAR for a handball by Chicharito.
31'   Germany dominating possession again as South Korea continue to retreat.
29'   Young-Sun Yun is injured but he gets some treatment and the ball is sent in from the corner.
28'   Kroos on the ball now. Goretzka put under pressure and he is almost dispossessed. He recovers and Germany move forward. The same man gets the ball on the right and he pulls it back but there are no German players in the ball's path. They are ahead of it. Germany, again, win it and move forward. Corner for the Germans!
26'   Young Lee lets fly with a pass down the right-hand side. He has two teammates racing towards it but neither of them can get there before Hummels.
25'   Werner moves into the box and he is boxed out by two South Korean defenders. No through road!
24'   South Korea with a rare spell of possession. Long ball over to Yong Lee. He crosses and it falls to Son. He strikes just wide! My word, that was a chance. He would have had to beat a couple of defenders with it but it was possible. Germany shaky at the back.
24'   Ozil sends a ball into the box now and it's out for a goalkick. South Korea in no hurry to take this.
22' Kroos fouled now. And then another foul by Jae-Sung Lee just seconds later and the referee has seen enough to give him a yellow. Goretzka the man he fouled that time.
22'   Hector crosses after a ball out to the left. South Korea survive again but Germany back on the move forward. The ball is cleared but Sule takes control again. Kimmich crosses this time and Goretzka is close. Hyun-Woo Cho gets his gloves to it though and saves.
21'   Another push in the back as South Korea press Germany at the back. 
21'   South Korea have been second best but they have had the best chance. That Neuer mistake might have given them some added confidence. Germany are the ones on the attack again though.
20'   Son takes the corner and the shot comes in from the rebounded header. A mile over the bar and a waste or a rare chance.
19'   Jung to take. He does and tests Neuer. The keeper drops it and Son almost taps it home. What a howler that would have been. Corner for South Korea.
18'   Free for South Korea. Foul by Khedira as he almost catches Jung in the face with a high foot. No less than six South Korean players standing over this one. The majority of them dispurse and just two remain. They mighe be planning something quite elaborate here.
17'   Hyun-Woo Cho restarts the game. Koo is okay to continue.
16'   Kroos takes to Reus and they work it short. Ozil sends it into the box and it bobbles in front of  Hyun-Woo Cho. He grabs it. We have a delay though as Koo clattered into Sule and came out second best. He landed awkwardly on his back and needs treatment.
16'   Reus gets it on the left from Hector and he plays it back to the left-back. He tries a cross from the endline and it's out for another corner.
15'   Jogi Loew off his bench now and throwing out instructions.
14'   Really dangerous from Germany but a wasted chance. Corner comes in and it's headed up into the air. Hyun-Woo Cho grabs it!
14'   Neuer receives the ball way outside his box. He sends it forward but South Korea recover. They cought the ball up very cheaply at the back as Germany press them. Goretzka gets it on the right in a favourable three on two situation but it's blocked for a corner.
13'   South Korea get the ball up the field but Hummels kicks it away from Son and into the path of a teammate. Germany dominating now. 
12'   Sule sees it out for a throw.
12'   Nice position for Kroos, on his right, and Ozil, off his left, to swing this one into the box. Both look as likely to take it as the next. It's Kroos in the end and South Korea clear.
11'   Kroos breaks the line and moves towards the penalty area. It's poked up into the air and South Korea clear. They can't stop Germany coming forward though. Moon fouls Kimmich now.
10'   Germany's defensive line sneaking up the field by the minute. Ozil out to Kimmich and he crosses from the sideline. Decent cross and cleared by South Korea. Germany looking threatening now. 
8' Germany back on the ball with Hector. He wins a throw. Quite a scattered start to this. Jung launches himself into a tackle and gets a booking. It was a high challenge on Hector and he had probably lost control. He argues but to no end.
7'   Hyun-Woo Cho rushes out of his goal as Ozil chances a ball in around the back. Nice idea but too much pace on the pass.
7'   Hummels checks Son as he moves forward. Looks like a foul but the referee doesn't see it that way. Then Germany win a free. Werner fouled as a defender pushed into him.
5'   Werner picks the ball up and moves forward at pace. He finds Reus and South Korea put it out for a throw. 
5'   Kimmich tries to make inroads and he is muscled off the ball. No free. South Korea quite eager in their pressing so far. Germany a little slack at times on the ball.
4'   Ozil fouled and has to put his boot back on. He was clipped on the ankle. Not exaclty happy with that tackle.
3'   Kroos hauled down by Sung Lee as he brings it out from the back. From the early going, it looks like Germnay will have a lot of possessions today.
2'   Meanwhile, in Kazan, Hector put under pressure and South Korea win a throw. It makes it's way into the bot and Son nearly gets a shot away with his left foot. Dangerous from South Korea but Germany copa with the danger.
We also have coverage of the Mexico - Sweden game over here.
1'   We are underway at Kazan Arena. There is a chance that Germany's involvement in the World Cup ends today. 
    We are nearly ready for football but not before some Germany national anthem action!
    South Korea XI: Jo, Lee, Yun, Son, Koo, Hong, Jung, Lee, Moon, Kim, Jang.
    Here's the Germany Sweden game as it happened if you want to relive it before this game. That Kroos free-kick was just spectacular.
    Ozil given a bit of a wake-up call in the last game. You could hardly say it worked but they won the game. Not he has been reinstated in the midfield along with Khedira. Hummels also returns and Jerome Boateng is out due to suspension. 
    South Korea's coach has given his side a one percent chance of beating Germany today.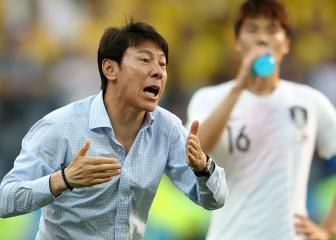 Germany XI: Neuer, Hector, Hummels, Sule, Kimmich, Khedira, Kroos, Ozil, Goretzka, Reus, Werner.
Someone who might be feeling a little worse for wear today is Diego Maradona. He put on quite the show last night...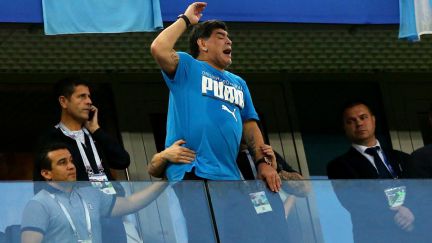 Kick-off is at 16:00, but we'll be here with all the build-up beforehand. We'd also recommend having a read of what happened last night in Group D, where Argentina somehow managed to qualify for the last 16 in a thrilling finish. Here's our match report.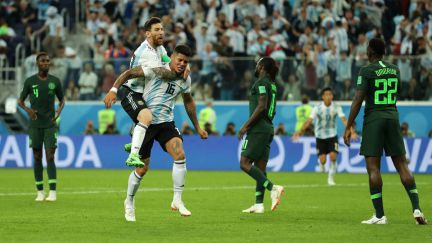 Good afternoon and the very warmest of welcomes to our live coverage of South Korea vs Germany. The World Cup action continues...
South Korea vs Germany: World Cup Group F preview
Having been rescued from all-but-certain World Cup elimination by Toni Kroos' 95th-minute winner against Sweden last time out, defending champions Germany can now seal last-16 qualification against South Korea in Kazan today.
Meanwhile, despite losing both of their games at Russia 2018 so far, the Koreans could still reach the knockout stages - but must defeat the Germans to stand any chance of progressing.
South Korea
South Korea, who last met Germany in a competitive fixture in the semi-finals of the World Cup that they co-hosted in 2002, are without captain Ki Sung-yueng after he picked up a calf injury in the weekend loss to Mexico.
Shin Tae-yong's side remain pointless after losing 1-0 to Sweden in their opening game, before going down 2-1 to the Mexicans; however, they will progress to the last 16 if they beat Germany, the Swedes lose and, in the process, the Asians overhaul both those sides' goal difference.
South Korea's goal difference is currently -2, while Germany and Sweden are on 0.

Germany
With seconds remaining against Sweden on Saturday, Germany were heading for a draw that as good as condemned them to a shock group-stage exit, but Kroos' wonderful free-kick leaves them second in the group and safe in the knowledge that they'll be sure of qualification if they match the third-placed Swedes' result against Mexico.
However, it should be noted that if both Group F games end in draws, Germany would be knocked out were Janne Andersson's side to be involved in the higher-scoring of the two stalemates.
Jerome Boateng is suspended following his sending-off against Sweden, while Sebastian Rudy is unavailable to Joachim Löw after having surgery on a fractured nose suffered against the Scandinavians.