Mexico 0-3 Sweden: World Cup 2018 Group F: match report
Follow all the action from the Central Stadium in Yekaterinburg as Mexico take on Sweden in Group F with kick-off at 16:00 CEST.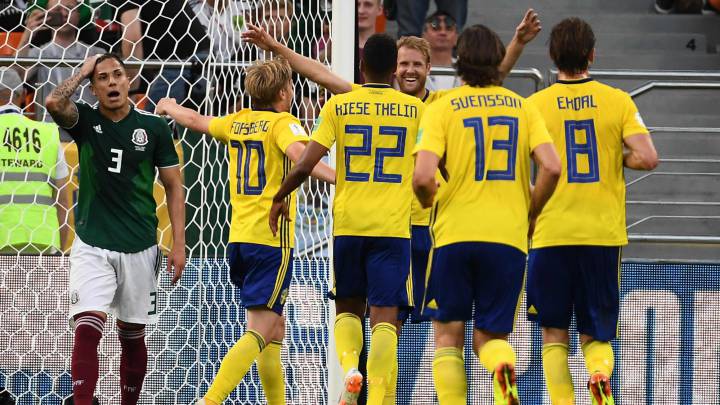 Sweden went through to the last 16 of the 2018 World Cup in style with a convincing 3-0 victory over Mexico, who will join the Scandinavians in the knock-out stages after South Korea stunned defending champions Germany in the Kazan Arena.
On an afternoon of knife-edge drama in Russia, Sweden rarely looked in danger of not deciding their own destiny as they comfortably put away a pale shadow of the Mexico side that beat Germany in their opening game and South Korea in their second to start the day in pole position in Group F. All the early pressure came from the Blue-Yellows, who had several decent chances to open the scoring but a combination of Guillermo Ochoa's gloves and Mikel Forsberg's profligacy kept Mexico in the game until the break.
Janne Andersson, who was incandescent with rage after his side were denied by VAR what appeared to be a clear penalty when Chicharito handled in the area, must have delivered a Churchillian speech at half time: far from allowing missed chances and the vagaries of the video referee to linger, Sweden came out with all guns blazing and took a deserved lead through Werder Bremen full back Ludwig Augustinsson, who latched onto a looping Viktor Claesson mishit to hammer a shot through Ochoa.
Andreas Granqvist, who was unflappable in defence, then stepped up with similarly cool detachment in the 61st minute to slap a penalty past the Mexico keeper after Héctor Moreno brought down Marcus Berg.
Sweden went 3-0 up a little over 10 minutes later when Edson Álvarez conspired to palm the ball past his own keeper under pressure from Ola Toivonen and from there it was simply a case for Andersson's side of making sure they retained their significant advantage.
Mexico scrape through despite dominant Sweden display
Mexico continued to press for a goal, substitute Marco Fabián firing narrowly over and Chicharito failing to guide a rare chance on target but as the clock ticked down in Yekaterinburg attention in the stands turned to phones and radios as Mexico fans nervously awaited tidings from Kazan.
A huge roar sent the message to the players that South Korea had taken an improbable lead against the defending champions and as the whistle went in the Central Stadium Sweden's players set off about their celebrations while Mexico's glanced nervously around. Another South Korea strike sparked pandemonium in the stands and Mexico were finally assured of a place in the last 16, although the manner of that achievement will be a cause of concern for Juan Carlos Osorio.
The Mexico coach had dampened much of the criticism of his side in the national media with two wins from two but El Tri were never at the races against Sweden, who eventually topped the group to hand Mexico a probable knock-out game against Brazil.
Andersson, meanwhile, will have been hugely satisfied by how his side reacted to the pressure of the situation and confident that Sweden can reach the quarterfinals for the first time since 1994 when they face the runners-up in Group E.
Mexico vs Sweden live: as it happened
Sweden players celebrating as Mexico's huddle nervously... but Korea have scored again! 2-0 to South Korea! Germany are out! For the first time in 80 years the defending champions will not make the last 16!
90'+4' And that's it! Mexico lose 3-0 but are still going through as it stands... final seconds in the Kazan Arena...
90'+3'   And the South Korea goal stands! Germany are heading home! Mexico fans transmit the news to their players with a huge roar and Osorio pretends not to notice....
90'+3'   Mexico launch an attack and Olsen makes a decent save from Lozano.
90'+2'   South Korea have the ball in the net in the other game and VAR is being summoned....
90'+1'   It's knocked back to Fabián who thinks about a shot but misses a teammate with a reverse ball instead. Free kick to Sweden, belted up the other end.
90'+1'   Four minutes added, corner for Mexico...
89'   Lozano then hammers a shot high from outside the area. Final minute of the 90...
88'   It's clipped in by Fabián and who else but Granqvist is there to nod it clear.
88' Mexico make a change, Peralta coming on.
87' Lustig goes in the book for scything down Lozano. Free kick to Mexico on the edge of the area...
86'   Claesson takes it to the corner flag and battles to keep it there. He does know Sweden are 3-0 up doesn't he?
85'   Toivonen in no hurry to drag himself back up. Sweden in no hurry to take.
84' Free kick for Sweden as Layún hammers Toivonen in the back. He's in the book for that.
83'   Granqvist, yet again, gets a boot to a dangerous cut-back and clears the danger. He has been a colossus today and gets our vote for man of the match.
82'   More Mexico fans watching their phones than the game in front of them now as it goes down to the wire. It's all on South Korea for El Tri!
It remains 0-0 in the other game between Germany and South Korea.
80'   How did that not go in? Vela only has to nudge that in from a yard out but somehow manages to head wide! Nothing going Mexico's way today.
80'   Vela takes but hits it straight into the yellow wall.
79' Mexico win a free kick on the edge of the area as Granqvist mistimes a tackle. Ekdal strolls off  for Sweden with Oscar Hiljemark coming on.
78'   Sweden camped in their own half now. They're not letting this one slip, although it will require one of the greatest World Cup comebacks in history to turn this around.
77'   Olsen is out to thwart a Mexico attack and El Tri are running out of ideas now. Sweden have been excellent at the back this afternoon and have hardly given them an inch.
75'   A bit of a melee in the area and it's narrowly wide as it ricochets off a green shirt and Olsen makes a great save!
75'   Lozano looks for Layún again, high again, Sweden clear with complete ease again. Try keeping it on the deck, lads...
73' Goooooooooooal! Sweden make it three as Álvarez knocks it past his own keeper! With his hand! Extraordinary stuff! Sweden cruising now and Mexico entirely reliant on South Korea with 15 minutes left...
73'   Augustinsson takes charge and lobs it in high but there's little danger for Mexico there.
72'   Another free for the yellows as Guardado floors Ekdal.
71'   Mexico trying to pick a way through with Sweden coiled for the counter...
69' Chicharito nods just over from a free kick as Mexico desperately seek a way back into this game. Doubtless Osorio has an ear on the other game and his World Cup hopes are very much in the balance.
67'   Salcedo bucks a trend by winning a header in the Sweden area but can't guide it onto the target.
66' Berg limping off now, possibly as a result of that earlier scrape in the area, Isaac Kiese Thelin on in his place.
65'   And he makes an immediate impact, cracking an effort from distance that clips a Swedish bonce on the way through and fizzes just over.
64' Change for Mexico, Fabián on for El Tri.
63'   Vela looks for Layún with a cross but as ever, Sweden are not going to beaten in the air.
Mexico suddenly on the ropes here... if Germany score they are going home despite topping the group an hour ago!
61' Gooooooooooal! Granqvist batters it into the top corner giving Ochoa no chance! Sweden with a firm foot in the last 16 now!
60'   Granqvist steps up to take it...
60' Moreno booked and he'll miss the next game if Mexico go through.
59'   Penalty! Sweden have a penalty! Héctor Moreno brings Berg down and the ref points to the spot!
58'   Berg is down now after clattering into Layún but he's back up and about.
55' Seattle midfielder Gustav Svensson is on for Larsson.
54'   Larsson has gone down off the ball and it looks like the end of his afternoon. Not sure what happened but the stretcher is out and the Sweden vice-captain is off.
53'   Close! Augustinsson fancies a second and shapes for it but curls his effort just wide. That was a first Sweden goal for the Werder Bremen defender and what a time to land it!
52'   Guardado hits a cross-shot that almost catches Olsen on the hop but it flies narrowly high and wide of the bar.
51'   Sweden with another great chance! Mexico all at sea at the back and it's a three on three but Forsberg can't guide his shot on target. Sweden with their tails up now!
50'   And that means that Germany, as things stand, are heading home!
49'   Gooooooooooal! Augustinsson! The full back finally beats Ochoa with a well-struck shot that the Mexico keeper gets a hand to but can't keep out. A slice of luck for Sweden on the assist, which Claesson didn't know much about, but you can't say Sweden don't deserve their lead.
48'   It's taken short and then fired in towards Chicharito, with predictable results as a towering Sweden header denies the forward.
48'   Mexico win a corner as Lindelof cuts out a decent cross.
47'   He's put too much on that though and it's straight out for a goal kick.
47'   Berg goes down under a heavy challenge and Sweden have a free kick, Lindelof lining it up again.
No changes at half time by the looks of things.
46' Here we go with the second half!
45'+2' And that's the half! Good entertainment in the opening 45 and a little VAR controversy. 0-0 it remains though and as it stands in both Group F games it's Germany who will go through.
45'+2'   Berg! Sweden pick Mexico apart with a couple of neat passes and the Al Ain striker is clean through but hammers into the side netting.
45'+1'   Gallardo almost makes a hash of a clearance with Claesson in close attendance but eventually hacks it clear. Vela gets a head of steam on at the other end and nearly finds Chicharito in the area but Sweden clear.
44'   Two minutes added.
44'   Layún dances his way into some space and has a pop from just inside the area but it's no trouble for Olsen, who hasn't much to do in the first half.
42'   Lindelof hits it long and Mexico clear as far as Larsson, whose cross is overhit and out on the far side.
41'   Sweden win another free kick and up come the big guns. It's a way out though, on the edge of the centre circle.
40'   Lozano almost gets on the end of a fizzing cross but takes out Granqvist instead. He protests his innocence but the ref is unmoved.
39'   One-man wall Granqvist stops a Mexico attack and it's a corner, which comes to nothing as Mexico play it short. Not much point in doing anything else really, given the average size of their opposition.
38'   Vela goes it alone again in the area but he doesn't catch that one at all and it screws well wide of the target.
37'   Forsberg makes a fine driving run forward and almost picks out Claesson on the right but his pass is cut out.
36'   Agustinsson drives forward and feeds Toivonen, but the big striker's attempted flick into the area is straight into the gloves of Ochoa, who saw that one coming.
34'   Sweden will feel extremely aggrieved if they go into the break goalless here. They've carved several good chances and probably should have had a penalty as well. 0-0 it remains though.
32'   Great move from Sweden and Claesson finds Forsberg in space with a glorious ball. The Leipzig midfielder goes for the glorious and tries a flying volley but its almost out of the stadium before gravity gets the better of it. 
31'   A corner straight out for a throw on the far side, we do like one of those... Sweden players in the area do not agree.
30'   Ochoa! The Mexico keeper tips Berg's effort over for another corner. Great save!
29'   No! No penalty. Andersson is apoplectic on the touchline and we have to agree. Looked as clear as a bell but all Sweden get is the original corner award.
29'   Chicharito's face suggests he knows what's coming...
28'   Ooooooh, it's gone to VAR!
28'   The free kick is hit long and Sweden win a corner through Forsberg. There were calls for a handball against Chicharito there and not entirely unfounded at first shout.
27'   Toivonen has a right old moan at the ref after being floored but all he gets is a free kick.
25' Another yellow as Larsson clatters Herrera and that means he will be banned if Sweden reach the last 16.
24'   Agustinsson sends a cross over towards the climbing Berg but Ochoa is up to claim it.
23'   Cuadrado holds up his hands in the international sign of "sorry lads, right shank that" as he misses not just the goal but almost the entire byline with a skewed effort off his left peg.
22'   It's taken short and fired in towards Chicharito but he's beaten in the air. Mexico won't be getting much out of Sweden off the deck this afternoon.
21'   Corner to Mexico as Vela wraps his left around another sweetly struck effort and it pings off Granqvist's head and out.
20'   Free kick to Sweden as Álvarez helps himself to a handful of shirt to prevent a break. 
19'   Chicharito is down... bumping into Granqvist will do that to a striker, but hands are shaken and the West Ham forward is fine to go on.
17'   Forsberg! That should have been 1-0. The Leipzig man is unmarked in the area as a deflected cross lands at his feet but he snaps at it and cracks it harmlessly over the bar. Great chance for Sweden.
16'   Vela! And there's Mexico's opening. A Swedish error leaves the midfielder with a clear shot at goal but he curls his effort just wide of the far stick. 
15'   Sweden with three chances so far from 35 percent possession.
14'   Forsberg tries to play Berg in, gets a kind rebound and hammers a shot well over the bar. Sweden with all of the early chances here and looking far more likely to score than Mexico, who haven't managed to get the ball to Chicharito at all yet.
13'   Mexico go loing with a cross-field ball but Lindelof is across to cover. Good run from Gallardo but equally well anticipated by the Manchester United defender.
11'   Berg! The striker meets Granqvist's knock-down and tries an overhead as he's falling and it inches just wide of the post. 
11'   Corner to Sweden... the big guns come lumbering up.
10'   Just been confirmed that was indeed the quickest World Cup yellow card in history. Got his name in two kinds of book there, Gallardo. 
9'   Sweden, knowing a draw might do them, are dropping back in numbers off the ball, only Toivonen spared defensive duties as he keeps a lonely vigil on the halfway line.
8'   Sweden threaten to break with a neat interchange of passes but Berg then clubs it straight out of play and the move collapses.
7'   Sweden harrying their every turn at the moment, Andersson's high press doing its job perfectly. No way through for El Tri.
6'   Mexico looking to get their foot on the ball now after a nervy opening few minutes.
6'   Ochoa! He makes amends for his slip with a terrific save from Forsberg, who had only thing in mind when he belted that one in.
5'   Very dangrous free kick position here for Sweden...
4'   Hello.... Ochoa in a spot of bother for handling the ball outside his area. It was a very close call and the ref gives it but keeps his cards in his pocket. A lucky escape for the Mexico stopper.
3'   Sweden work it out wide and get a cross in but it's bread and butter for Ochoa.
2'   Close! It's clipped to the far post and Mexico hack it clear with some difficulty with Granqvist and Toivonen lurking.
1' Yellow card! That has to be some kind of a record.... Gallardo goes in the book for clattering into Toivonen's back. Early set-piece chance for Sweden...
1' Sweden get the ball rolling and we're off in Yekaterinburg!
Janne Anderson is chewing furiously in his dug-out, a look of grim determination on his face.
Mexico lining up in a 4-2-3-1, Chicharito up top. Sweden in their usual 4-4-2 with Forsbery and Claesson out wide to provide the ammo for the strikers.
And here comes the Swedish anthem... very concentrated look on the player's faces. A few nervous looking ones in the stands as well.
The Mexico anthem gets the fans roaring and Chicharito is belting it out.
There are likely to be few changes to either side, who have no major injury concerns. Héctors Moreno and Herrera are on a yellow card for El Tri, with key Sweden trio Seb Larsson, Albin Ekdal and Viktor Claesson also a caution away from missing a potential last-16 appearance.
Juan Carlos Osorio's side need only a draw to ensure they qualify with second place up for grabs among Sweden, South Korea and Germany. Janne Andersson's essentially need to better Germany's result to progress, although a draw may also do it for the Swedes depending on Germany's result against South Korea.
Mexico will look to complete a perfect group stage sweep when they take on Sweden in Yekaterinburg on Wednesday after winning their matches at the 2018 World Cup so far - and avoid a likely date with Brazil in the last 16.