Thiago advises the press: "If you don't help us, everything's much harder"
Thiago asked the press to give the Spain squad more support: "We're all united and we've come here to try to win. We can't live in fear of making the slightest mistake".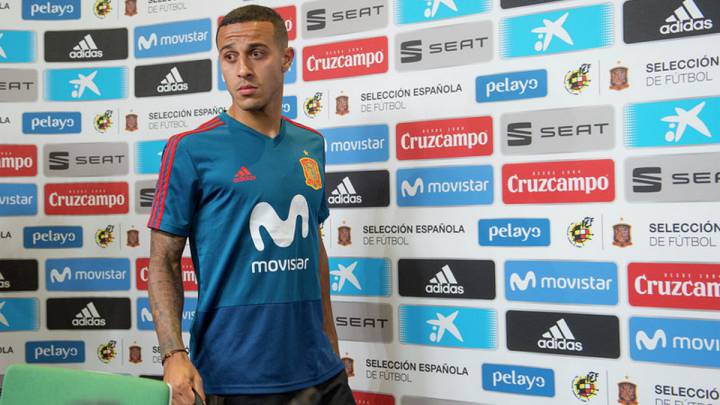 Thiago Alcántara was in the hotseat on Friday and made a plea to the Spanish media to show more support for the national team during the World Cup finals. The midfielder said that Spain, who take on hosts Russia on Sunday, cannot be living on a knife edge, in fear of being shot down in flames for making the slightest mistake.
The World Cup is hard enough as it is - Thiago
Pressure to deliver: "We can't be living in fear of slipping up, we want to play our football, make the team fly, maintain the ball to disarm our opponents. That becomes very difficult when our rivals take the lead then sit back to defend. We have to take more care with our passing so that other teams don't hit us on the break".
Would it be a blow personally being left out of the team? "For me, it would be a blow not to reach the quarter finals. There are 23 of us, all hoping for an opportunity to play, but the only disappointment will be not making it through to the next round".
Costa's on-field and off-field persona
Diego Costa: "His on-field image - aggressive and intense but in a good way, isn't what he's like off the pitch - he's a great guy - warm, charming and funny… He's a very important influence on the group. Strikers are always the special player, and you need to study their characteristics to know whether they prefer to receive the ball at the feet or in space and with Diego, you always know that he's going to fight to win every ball you play to him".
By and large an easy route for Spain: "Sure, and the final against Japan... I'm joking of course. We don't look at the possibilities of how we could meet and when, and we certainly don't talk about easy routes or games. The only important thing is making sure we prepare well for every game; we will be playing against Russia and thousands of home fans. Whenever we play, our opponents always have more fans in the stands than we do and you can really tell, so imagine what it's going to be like against Russia... We're professionals and what counts is what we do out on the pitch".
Negative press not good for team morale
Criticism: "We understand it, as Spaniards we have to be self-critical. We are united as a group and we've come here to try and win. We are a long way from home and in theory, all of us - the team and the Spanish media, want the team to win. Then we have a poor game, there are mistakes… it's true we haven't produced our best football but come on... If you don't give us support, if you don't build us up to ensure the public back home is behind us, everything is much harder for us. You never hear the good things - ok, there have been some bad things but a lot of good things too. Let's forget about the negative things and let's be united, we are all in this together.
"I'm completely realistic about how it's gone for us here. We ended top of the group but we haven't played our best football. I am self-critical, we are in the Last 16 and you never know, we might get this far again. That's why we have to seize this moment, enjoy it, and fight. We are among the last 16 teams left in the competition and we have to go out to win".
Thiago hails brilliant and decisive De Gea
De Gea in the firing line: "The goalkeeping position is perhaps the hardest of all - the risk levels are very high. If you have seen David over the past few seasons, you'll know he is a brilliant keeper. How many times have you reported that David saved us from losing a game? You, the media, also need to be self-critical about what you write. To write a balanced, critical article, you need to have an understanding of the whole thing - not just the games but having seen the squad train, the work we do. We have complete faith not just in David but in our other two goalkeepers as well".
If would be more productive if Spain play happy, joyful football: "Absolutely. Because you never lose a World Cup, Germany haven't lost - World Cups are only won, and that's what we are going to try to do".