France 4-3 Argentina: World Cup 2018 last 16 match report
Kylian Mbappé starred for Les Bleus as Leo Messi failed to engineer victory for Argentina despite a late fightback from Jorge Sampaoli's side in Kazan. USA vs Mexico: FIFA Friendly live online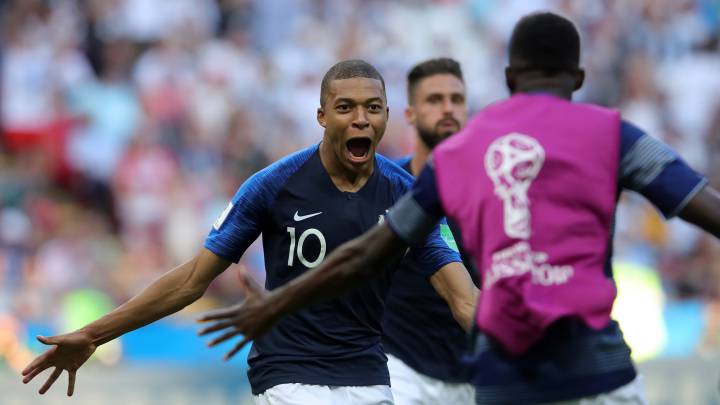 France because the first team to reach the quarter-finals at the 2018 World Cup as Kylian Mbappé inspired Les Bleus to a sensational 4-3 victory over Argentina in the Kazan Arena.
The 19-year-old, who struck twice in four second-half minutes to become the first teenager since Pelé to score a World Cup brace, was in electric form and a constant source of concern for the Argentina back line, whose only tactic to stop his marauding runs led to France's opening goal.
After bursting forward from his own half, Mbappé was floored in the area by Marcos Rojo and the referee had no hesitation in pointing to the spot. Antoine Griezmann stepped up to stroke past Franco Armani having rattled the bar from a free-kick moments earlier.
Argentina lacked a clear strategy and France, led by N'Golo Kanté, kept Leo Messi firmly under wraps throughout. With their talisman tied up by the Chelsea midfielder it fell to Ángel di María to find a moment of inspiration as he found the corner with a cracking effort on 40 minutes.
That galvanized Argentina and they carried the momentum into the second half and took the lead two minutes after the restart when Messi turned in the area and fired a half-chance towards Hugo Lloris' goal. The ball's flight was initially headed straight for the Spurs keeper but Gabriel Mercado, intentionally or not, altered its path to leave Lloris flat-footed.
France were rattled by the turnaround but found themselves level 10 minutes later when Stuttgart defender Benjamin Pavard unleashed an unstoppable effort from the edge of the area, wrapping his boot around a rising shot that curled beyond the grasp of Armani.
With the scores level the scene was set for a hero to emerge and Mbappé embraced the role, first stealing through the Argentina defence to fire low through Armani's left glove and moments later running onto an Olivier Giroud ball to hammer a shot off his other boot past the River Plate keeper.
The introduction of Sergio Agüero transformed Argentina, the Manchester City striker providing a more direct outlet and running at the France defence, who had been mostly comfortable against Sampaoli's starting attack and able to force Messi away from the danger area with the Barça star receiving little in the way of support.
The two combined in stoppage time to provide a lifeline for Argentina but it proved to be too little, too late as France held on for victory.
Mbappé chooses grandest stage to burst Messi's legacy
Messi also added a little footnote of his own, becoming the first Argentina player since Diego Maradona in 1986 to provide two assists in a single World Cup, but will leave Russia with a sense of destiny unrealized. Unlike his predecessor in the famous number 10 shirt, Messi was unable to drag a fairly ordinary Albiceleste to World Cup glory single-handed, as the Cosmic Barrel did in Mexico.
But it will be Sampaoli who faces an inquisition in the Argentinean media on Sunday, one that is likely to be brutal and uncompromising. The Argentina coach failed to settle on a system or a starting XI in Russia and laid all his hopes on a Messi miracle. The mess that ensued was encapsulated when he was apparently caught on camera asking his captain's advice on substitutions.
Messi may not pick the Argentina team but there will be around 43 million armchair tacticians who believe they could have done a better job than the former Chile manager, who forged his reputation by taking an unfancied side to Copa América glory and who has now shattered it by overseeing Argentina's worst World Cup campaign since 2002.
For France, the winners of the game between Uruguay and Portugal await. For Mbappé, the Golden Ball is looking like a very real possibility as the 19-year-old continues to carve his legend into the annals of the game. That he did so at the expense of a player regarded as the finest of his generation is perhaps fitting. Messi's history with his national side may prove to be just that after Kazan while Mbappé is the poster boy of a Les Bleus squad who are now joint favourites with Brazil to go all the way in Russia and which contains 15 players who are 25 or younger.
France 4-3 Argentina: as it happened
  Thanks for joining us. We'll be back later with Uruguay vs Portugal, which has a lot to live up to after that!
90'+4' And that's it! Game over! France go through to the quarter-finals, Argentina go home. What a game to kick off the knock-out stages. France 4, Argentina 3.
90'+4'   Close! Argentina almost find the equaliser at the death! But Agüero can't get his head on a fizzing cross.
90'+4'   Argentina drive forward, last chabce saloon now...
90'+3'   The free kick goes France's way, Otamendi got a boot on Pogba's head while he was down there, and Les Bleus are taking a long, long time over it.
90'+3' Yellows for Giroud and Otamendi and both sides are involved in a melee in the centre. 
90'+2'   Goooooooooooooal! Messi finds El Kun and he heads past Lloris. 4-3! Never give up! Argentina could still rescue this!
90'+1'   Mercado again trips a France defender with his side attacking. Not the best time for that sort of thing. France in no hurry to get the ball back in play.
90'   Four minutes added. Four minutes for Argentina to find two goals.
89'   Corner for Argentina... Di María takes again, he hits Hernández again, and is called offside when he picks up the rebound.
88'   Messi gets the ball in the area but miscontrols, which rather sums up his afternoon.
87' Final change for France, Mbappé off to a huge ovation from the France contingent, Thauvin coming on for a leg-stretch.
87'   Otamendi takes a very cheeky dive in the area after being brushed with an arm. That arm belonged to his teammate Fazio.
86'   Free kick to Argentina, Di María takes but he can't clear Hernández, the first man.
85'   Agüero! Messi finds the Manchester City striker and Varane puts in an excellent challenge as he shapes to shoot.
84'   Messi! He finally gets a good sight of goal but his right-footed effort is weak and straight at Lloris. Argentina running out of time now.
83'   Agüero buys a yard in the area and tries to find a teammate but Kante, who has been everywhere today, is there to cut it out.
81' Griezmann heads off as Deschamps calls Fekir from the bench.
But of a discussion in the office. Will this be Messi's World Cup swansong?
80'   Meza does well cutting in from the right and finds Messi, but Kante is on him like a flash and he's forced back. France have done really well today in nullifying the Argentina captain.
79'   Meza! The sub hits a shot in the area but this time the deflection falls kindly for Lloris. Straight into his gloves in fact.
78'   Agüero narrowly fails to bring a ball over the top down in the area. Just over 10 minutes for Argentina to salvage this.
77'   Griezmann clips it towards Giroud but Argentina get it clear. Only as far as Umtiti though, who almost finds Griezmann with a wonderful first time ball.
76'   Pavard is brought down by Mascherano and France have a free kick out on the right.
75'   Pogba goes on a driving run, through one challenge, then another, but he concedes a free kick in a tussle on the byline.
Changes for both sides: Tolisso on for France, Meza on for Argentina.
74'   Di María, who has largely carried Argentina today, tries to burst through the middle and is brought down.
73'   France break from the free kick and Mbappé finds himself in front of Armani again but this time he makes a right old mess of his effort, which loops harmlessly into the grateful gloves of the River Plate stopper.
72' As does Pavard, who picks up his first of the tournament for flattening Di María, who makes breakfast, lunch and dinner out of it.
71' Matuidi goes in the book, we're not quite sure why, but he'll miss the next game if France go through.
70'   Free kick to France as Griezmann is bundled over in midfield.
69'   Pogba! What a run and pass from the Manchester United midfielder, who finds Giroud with a glorious outside-of-the-boot ball. It deserved a better finish though, the Chelsea forward cracking it into the side netting.
68'   The PSG forward runs onto a Giroud through ball and buries an expert shot past the despairing dive of Armani. What a goal! What a game! France 4-2 up now!
68' Gooooooooooooal! Mbappé strikes again! And it's even better than his first!
67'   Otamendi tries to play in... we're not sure who was trying to play in as he blasts the ball straight out.
66'   Messi takes, it's straight into the wall. The Argentina captain gets a second bite of the cherry but his shot hits another blue shirt.
65' Kun Agüero enters the fray.
65'   Messi turns on the afterburners and is clipped by Griezmann. Free-kick to Argentina.
The whole France bench mobbed the youngster after that strike. What a moment for Mbappé.
Mbappé nips into the area and hammers a shot through Armani as Argentina's defence falls apart.
63' Gooooooooooooooal! Mbappé! The PSG man makes it 3-2.
61'   Mercado lets fly a guttural roar as he is penalised for taking out Umtiti on an Argentina attack.
60'   60 minutes played, four goals, four yellow cards, and plenty of drama.
59'   Di María wriggles away on the byline and goes down under minimal contact. The ref rightly waves his protests away.
58'   We're all square again at 2-2. What a game this is.
That is a goal of the tournament contender right there. What an incredible strike from the Stuttgart full back.
56' Gooooooooooooooal! What a goal! What a strike! Pavard absolutely leathers a loose ball past Armani from just outside the area. He really got his laces through that.
55'   Argentina escape! A terrible back pass from Fazio eludes Armani and Griezmann nips in but can't guide his shot on target with an open goal and Fazio clincing to his shirt. Possibly should have been a penalty there but what an error from the Roma defender.
54'   Argentina with a free-kick now but they make a hash of it. France back in possession as they seek the goal they require to keep their World Cup challenge alive.
52'   It's a good cross from the PSG man but Argentina clear. Griezmann commits a sneaky little foul on Otamendi to prevent an Argentina break but escapes the ref's book.
52'   France win a free-kick out on the left. Mbappé to deliver...
51'   Pogba tries a ball over the top to Griezmann but its too strong and straight out.
50'   Griezmann takes but Argentina, who are suddenly oozing confidence, clear easily. France on the back foot now.
49' Di María goes in the book for a wild challenge on his PSG teammate Mbappé.
47' Goooooooooooooal! Argentina go ahead! The ball drops to Messi and he turns and shoots, it wasn't looking like it was particularly dangerous but it takes a wicked deflection off Mercado and wrong-foots Lloris! Argentina 2-1 up!
46'   Messi twists and turns in midfield but there's nowhere for the captain to go, blue shirts everywhere. Di María wins a free-kick on the left of the area.
46'   Here we go! Argentina get us back underway.
Argentina make a change, Federico Fazio coming on for Marcos Rojo. 
The players are coming back out for the second half.
France are looking like the more coherent side in Kazan and have done an excellent job of keeping Messi quiet. Sampaoli does have an awful lot of attacking talent on his bench though and he's sure to unleash it at some point in the second half.
    Rojo, Tagliafico and Mascherano all booked in that first half. With Mbappé's speed, that could cause a problem for Argentina in the second half. 
45'+2' The ref blows for half time. Di María got his side out of a spot there late on but France had much the better of the opening 45 minutes.
45'+1'   Messi clips a ball forward but there is not a single Argentina player in the vicinity.
44'   Free kick to Argentina as Pogba hauls Di Marís down. Armani humps it upfield and there are two minutes of stoppage time.
43'   That seems to have settled Argentina a little as they enjoy a lengthy period of possession.
42' Mascherano finds his way into the ref's book for a challenge on Kante, and he will be suspended if Argentina reach the last eight.
41'   Di María was afforded an acre of space outside the area with France standing off and he leathers a glorious shot into the top corner.
40' Goooooooooooooal! Di María! Out of nowhere! The PSG man belts an unstoppable shot past Lloris! 1-1!
39'   Argentina win a corner though, Messi dlivers and Pavard nicks it off the bonce of Otamendi.
38'   France with a nice combination to give Pavard a yard on the right and he fires in a cross but it's too hefty for Giroud to reach. Where Argentina are struggling to make any inroads in atttack, it seems Les Bleus can unlock the opposition defence at will.
37'   Otamendi goes on a striding run and the ball finds its way out to Pavón, but the Boca winger's cross is straight into Lloris' gloves.
36'   Messi bursts into the area among four blue shirts and hits the deck but the ref doesn't blink.
34'   Otamendi is up but the big Frenchman remains on the turf, getting some of that ice spray stuff liberally applied. There's movement on the Argentina bench, Kun Agüero among those out for a trot. Argentina have not created a lot in this first half.
33'   Otamendi and Giroud both go down in agony after a 50-50 ends up with both players booting each other in mid-flight.
33'   Lloris put on the spot again with an underhit back pass and Messi bearing down on him. Not the sort of sight a keeper enjoys.
32'   Free kick to France as Mascherano takes out Pogba. France launch an attack and Matuidi gets into a tangle with Otamendi, incurring the ref's whistle.
31'   France have a three-on-three but Giroud and Griezmann are not on the same wavelength, the Atlético striker going one way and Giroud's attempted pass the other.
29'   Argentina pressing hard in the France half, trying to stop them playing the ball out. Otamendi pickpockets Pogba and Argentina attack but Messi is dispossessed. France then break through Pogba, who finds Mbappé and it requires an excellent challenge to prevent the PSG star from unleashing a shot inside the area.
28'   Giroud sniffs a half chance but Rojo smashes the ball away with the Chelsea striker winding up for a crack. Good defending there.
27'   Pavon plays Mercado in with a delicious chip and the Sevilla defender hammers a cross-shot that eludes everyone in the area somehow. Claims for handball from Mercado but nothing is given.
25'   Pogba releases Griezmann and the Atlético striker does really well to work his way into the area but Armani smothers his cross with Giroud lurking on the far side.
24'   Argentina almost sneak through France's back four but Lloris reads the danger well. Umtiti is down after getting a boot in the chops from Enzo Pérez. Looked accidental though and so no card for the River Plate midfielder.
22'   It's a decent delivery from Banega but Pogba does well to get his head on it and clear. France threaten to break but Kante runs it out on the left.
21'   Another corner for Argentina as Banega's effort pings of a French head.
20'   And it is Pogba, but he leathers it well over Armani's crossbar. Not a decent effort, and wrong choice of shot.
19'   Pogba and Griezmann having a long look at this one. Probably more in Pogba territory as it's pretty much dead centre of the goal.
18'   Pavón gets his first run at the France defence but his cross is cut out. Mbappé goes on another run, is taken out again by Tagliafico right on the edge of the area! That was very, very close to being another penalty...
17'   But it's short and easily cleared by Griezmann.
16'   Argentina win a corner. Di María to deliver...
15'   Lloris receives a not entirely welcome back pass under pressure and leathers it into next week under pressure.
14'   Some debate as to whether Rojo was outside the area when he first caught a nibble of Mbappé but it's academic now. Argentina go all the way back to Armani. They are lacking a cutting edge today.
13'   Not the start Argentina would have been hoping for. Messi looks pensively towards the heavens.
12' Goooooooooooal! Griezmann strokes it down the middle and Armani goes to his left. 1-0 to Frannce!
11'   Argentina protest in the strongest possible terms but there'll be no VAR. It was as clear as day. Armani against Griezmann...
10'   Penalty! Mbappé goes down in the area and the ref points to the spot. What a run from the PSG man there, from his own half, and Rojo can only stop him by pulling him down.
9'   First decent chance for either side and Griezmann was an inch away from opening the scoring. Argentina very unsure about playing it out from the back at the moment.
8'   Griezmann! The Atlético striker rattles the bar! Armani had no chance with that. Argentina escape there.
7'   Very dangerous free kick to France after Mascherano cuts Mbappé down. On the edge of the area. Griezmann eyeing this one up.
6'   Argentina go long but it's straight into the paws of Hugo Lloris. We have to say, there's a general absence of blue and white shirts up front when Argentina attack.
5'   Mbappé shows some light feet on the byline but the ball is adjudged to have sneaked over the line.
Di María does well to get away down the left but his final ball is awful, straight out for a goal kick on the far side. Not sure if that was meant to be a shot or a cross.
4'   Banega delivers, there's a bit of pin-ball in the area but Les Bleus hack it clear.
3'   Messi picks up the ball on the right but Umtiti scythes through his club teammate. Free-kick to Argentina.
Fairly cagey opening from both sides in Kazan. Argentina work the ball to Messi but Kante is there to nick it. We fancy the Chelsea man will be sticking to the Argentina captain like glue this afternoon.
1'   An early free kick for Argentina as Giroud takes out Tagliafico.
1'   Here we go then! France get the ball rolling.
Sampaoli opting for a 4-3-3 today, Messi in the middle of the front three. Di María and Pavón either side of the Barça star.
And here's Argentina's, stony faces among the players, a little smile on Leo Messi's face.
Here we go with La Marseillaise, which lets face it, is the greatest national anthem of them all.
All ready in Kazan, the teams are in the tunnel and we're about to get underway!
Just 10 minutes to go until kick-off in Kazan...
A foreboding stat for Argentina, courtesy of the BBC: Excluding penalty shoot-outs, France have lost only one of their last 11 games in the knockout stage of the World Cup (W8, D2), which was a 1-0 defeat to eventual winners Germany in 2014.
Lucas Hernández returns for France, with Olivier Giroud retaining his place up top for Les Bleus.
Today will see the introduction of a fourth substitute for the first time at a World Cup. Both sides will have the option of using an extra player on top of the standard three subs if the game goes to extra time.
Two of the pre-tournament favourites, France and Argentina, will go toe-to-toe for a place in the quarter-finals but neither have been exactly setting the tournament alight so far. This afternoon would be a good time for messrs Messi, Griezmann and co to hit their stride.
France and Argentina get the last 16 of the 2018 World Cup underway this afternoon in the Kazan Arena at 16:00 CEST and we'll be bringing you all the latest updates and team news before we go live for kick-off.