Gareca and Gallardo: candidates for the Argentina post
Jorge Sampaoli will not continue as Argentina coach and two men have been mentioned as his potential successor - Ricardo Gareca and Marcelo Gallardo.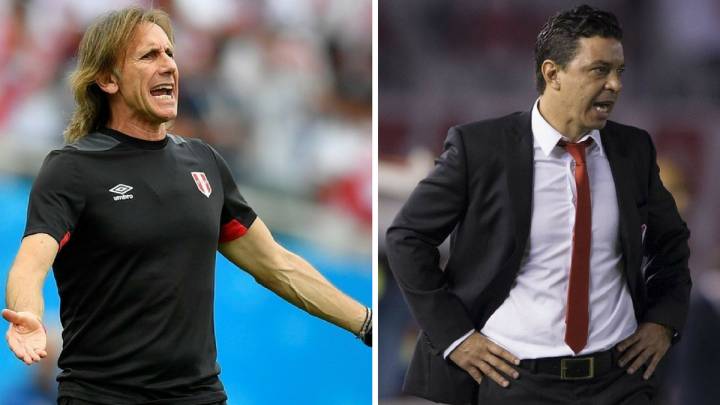 Jorge Sampaoli's days as Argentina coach are numbered and the search for a replacement who will in charge of guiding the Albiceleste at Copa América 2019 and World Cup Qatar 2022. The names of two coaches have cropped up in recent days - Ricardo Gareca and Marcelo Gallardo - both of whom have very different coaching styles to Sampaoli.
Gareca hitting the right notes with Peru
Ricardo Gareca is probably enjoying the best moment of his career. He has steered Peru to the World Cup finals for the first time in over three decades following two decent Copa América campaigns in which the team produced some of their best football. Peru didn't manage to get past the group stage in Russia but showed that they are a hard-working and competitive side. Gareca is well known in Argentina for his playing career as well as his spell as coach at Vélez. He made 20 appearances at full international level for Argentina and scored six goals - including a late, decisive equaliser against Peru which earned the team their place at the 1986 World Cup finals. After that however, he wasn't called by coach Carlos Salvador Bilardo.
Gallardo, a winner
As far as the current crop of Argentinean coaches go, Marcelo Gallardo is a breath of fresh air. He has built up a wealth of coaching experience during his time in charge at Nacional in Uruguay more recently at River Plate. Despite being relatively young, he is one of the most successful coaches in River Plate's history - since his arrival in 2014, the team has made winning almost a routine exercise. In terms of silverware, only Ramón Díaz has won more trophies with River. As a player, he played for Argentina in the 1998 and 2002 World Cup finals as well as the 1996 Olympic Games.