WORLD CUP 2018 | BELGIUM 3-2 JAPAN
Japan bid Russia farewell leaving thank you note and an immaculate dressing room
Japan's football team gave a lesson in courtesy and respect following their great performance against Belgium leaving their dressing room spotless.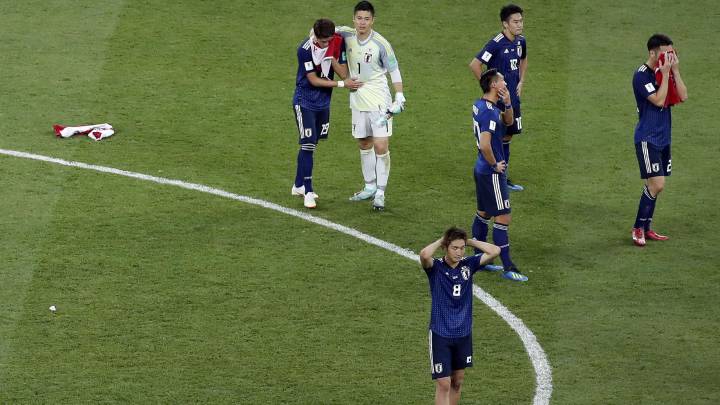 Japan came close to pulling off one of the surprise results of the World Cup but a late counter attack from Belgium in the final move of the game left them out of the tournament and on their way home. The Samurai Blues, with Betis player Takashi Inui in sparkling form, enjoyed a prominent role in Russia, and the hosts will be sorry to see them go.
Japan fans bring civic pride to the World Cup
Throughout the finals, right from their opening game, Japan's fans have shown the rest of the world how well mannered and civilized they really are, clearing up after themselves to leave the stadium spotlessly clean, a practice that is rarely, if ever seen at European football grounds. And it isn't jut the fans who have left facilities in Russia exactly as they found them to set a good example.
#RUSIAxESPN Iban ganando 2-0 y terminaron perdiendo 3-2 en la última jugada. A pesar de la impotencia, se tomaron su tiempo para agradecer al público, hablaron con los medios y limpiaron el vestuario, donde dejaron una nota para quienes trabajan en el Mundial: "Gracias". Japón. pic.twitter.com/vJaWdE0kOt

— ESPN Argentina (@ESPNArgentina) 3 de julio de 2018
Wonderful gesture from Japan
All feelings of sadness and disappointment at being eliminated didn't stop Japan players and coaching staff from cleaning up after themselves to leave their technical area and dressing room spotless before travelling back to their hotel. They did such a good job of it, that the photo looks as though it could have been taken before the game. And there was another touch of courtesy by the Japan team before they bid Russia and the World Cup farewell - a small, discreet Thank You note, written in Russian (Spasiba), left on a table in the centre of the room. A thoughtful gesture which will surely have been appreciated.