Sweden 1-0 Switzerland World Cup 2018, last 16: match report
A second half Emil Forsberg strike helped Sweden into the quarter-final of the World Cup as Switzerland tried but couldn't level matters in Saint Petersburg.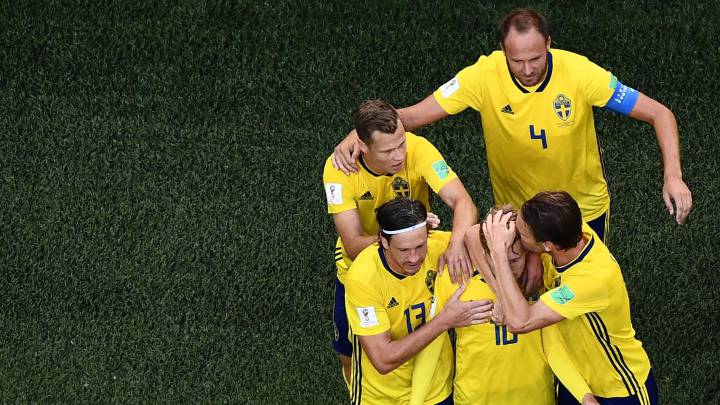 Sweden 1-0 Switzerland: match report
Sweden sealed their passage to the quarter-final of the World Cup with a 1-0 win over Switzerland on Tuesday afternoon in Saint Petersburg.
Emil Forsberg, who caused problems for Switzerland throughout, landed the breakthrough after 66 minutes when his shot from outside the box took a slight deflection and looped passed Yann Sommer.
They almost had a penalty as time expired when Lang pushed Olsson in the back but the referee went to VAR and decided it was outside the area. Lang remained sent off but it was a free instead. Not that it mattered as the had drifted into the sixth minute of the three minutes of added time.
They did see Michael Lustig booked early on and will have to replace the right-back for the quarter-final against either England or Colombia.
Sweden vs Switzerland live online | World Cup 2018, last 16: latest news
90'+4' GAME OVER!
90'+4'   It's not a penalty at all. The referee goes to VAR and it's outside the box but Lang remains red carded.
90'+3' Penalty. Sweden break and this is game, set and match for Switzerland surely. Michael Lang is sent off for thepush in the back on Olsson. 
90'+3'   Seconds left!
90'+1'   Ball into the box and Seferovic heads into Olsen's feet as he gets down to save it.
89'   Switzerland have three minutes to turn this one around.
87'   Shaqiri with a left-footed looping cross. Too loopy.
86'   Rodriguez with a dangerous ball into the box and it's chested out for a corner at the back post.
84'   Embolo with a push in the back on Granqvist. Free to Sweden.
83'   Embolo with another run into the box and he loses possession. Switzerland can't figure out a way through this defence and they're running out of time.
81' Forsberg being replaced now by Olssen. Lustig taken off too for Krafth.
81'   Embolo with a pass into the box but that was way too hard. Nobody getting to that.
81'   Shaqiri with a dangerous ball into the box. Olsen gets down and grabs it.
80'   Cleared off the line. Forsberg stops it and Granqvist kicks it out into touch.
79'   Dangerous moments for Swededn. Shot comes in and it's blocked for a corner.
78'   Good ball in by Granqvist heads away. 
78'   Embolo races into the box and mishits a cross. It gets put out for a corner. Another chance for Switzerland.
77'   Switzerland 13 minutes away from being knocked out of the World Cup.
76'   Corner for Sweden. Just before that, Claesson went down in the box but quite obviously fell over by himself. Referee rightly waved it away. Switzerland have to defend this corner, which they do. 
75'   Akanji throws himself at the back post. He can't reach it.
75' Dzemaili came off for Seferovic. 
73'   Seferovic was ready to come on but they're not going to switch him yet.
73' Double change for Switzerland. Embolo comes on for Zuber. 
73'   Switzerland continue attacking and they can't get any shots or crosses away. Sweden keep blocking every effort.
72'   Shaqiri with the delivery and Lindleof heads out for another corner.
71'   Free for Switzerland. Rodriguez standing over it but might be too far our for a shor. He crosses and it is headed out to Shaqiri. His shot, which he tries to curl into the top corner, is blocked for a corner.
69'   Another shot. Ekdal with a lovely move to free himself and shoots over Sommer's crossbar.
69' Xhaka with a fairly silly and cynical foul on Claesson and gets his name in the ref's book.
68'   Switzerland really need to come out and play now. They've struggled so far in the second half.
66' Forsberg with the goal. He cuts onto his right and drives it towards goal before seeing it deflected up and into the corner. Sommer barely moved.
65'   Behrami fouled by Berg now as the Swede exacts some revenge on the last couple of fouls by the Swiss midfielder Shaqiri breaks in from the right and he loses it. Toivonen picks it up and gets fouled. 
64'   Forsberg sends in the free but it's blocked off by the wall and falls to him again. His cross, off balance, dribbles wide.
62'   Ekdal finds Forsberg and Behrami having all sorts of problems with Sweden's number 10. He fouls him right at the edge of the box. Behrami on thin ice now.
60' Brahimi is booked now for a foul on Forsberg. Think it's more for persistent fouling.
59'   This has penalties written all over it.
58'   It is sent into the box and headed clear by Switzerland.
57'   Sweden with a throw and ready to be launched in by Claesson. 
54'   Switzerland caught out as Shaqiri is picked off. He looks to have pulled Forsberg back but it's no free and the little attacker does well to win it back in the end.
53'   Corner for Switzerland. 
52'   Rodriguez down the left-hand side. Lindleof gets a foot on the ball and clears for a corner.
50'   Switzerland with another attack and Shaqiri fires over. 
49'   Sweden improving. They get the ball into the box. Claesson thinks about shooting with a chilena but he ends up chesting it down. shot comes in eventually but it's over.
48'   Free for Sweden but it's a really poor delivery. 
47'   No changes for either side at the break. They are both probably fairly happy. Both sides creating chances, not under too much pressure. Will need something slightly more dramatic to happen for either manager to change tactics.
46'   We are back underway for the second half. 
Sweden have had the better chances but their finishing has been poor.
45'+1'   Switzerland holding onto the ball and Rodriguez delivers on into the box. Sweden clear and that's it for the first half.
45'+1'   Sweden lose it. We will have one minute of added time!
45'   Shaqiri whips one in from a free. Olsen gathers with ease. Sweden bring the ball forward as normal time expires.
44'   Another heart-in-mouth moment for Swedes everywhere. Ball into the box is eventually cleared. Swiss have taken over possession of this one. Sweden relying on counters and set-pieces for their chances.
41'   Goal at Ekdal's mercy at the back post. No marking whatsoever and he hits it about 30 yards over the bar. That was hopeless!
39'   Nice chance for a Sweden shot. A few yellow jerseys standing over this one. Forsbger hits an unconventional free. It's almost straight at Sommer. It takes a deflection out for a corner after hitting the wall.
39'   Djourou jumps up onto the back of Berg and concedes a free. 
38'   That's the best chance for Switzerland. Ball cut back by Zuber and Dzemaili hits it at pace. He blazes that over the bar.
36'   Corner comes in from the left and it falls to Shaqiri. His shot is blocked but he picks it back up again. Couple of stepovers later and Switzerland end up losing the ball. Xhaka fouled though and Sweden have to recover as Switzerland try to move it fast.
34'   Xhaka, who scored a screamer earlier in the group stages, fancies his luck from downtown again. He drives this one over the bar.
33'   Better delivery from Rodríguez but Sweden recover and clear.
32'   Rodriguez takes the free after the referee goes to the sideline to speak to Sweden's manager to calm things down. He hits it straight at Olsen.
30' Sweden concede a free. Lustig yellow carded for what looked like a tame free on Drmic. Referee thinks he pulled the player down to top a counter.
27'   Berg with a better shot than his previous effort. He forces a really good save from Sommer. Looked like it was going in! 
25'   Another cross from the right-hand side by Switzerland and it's headed out. Sweden attack down their right-hand side and Claesson sends in a cross although it is doing crosses an injustice by describing that as one. More like a clearance.
23'   Sommer restarts and Shaqiri sends in a cross and Zuber heads it at the front post. Oh, that's a decent chance.
22'   Sweden with a free and potentially a chance to send it into the box. They do and it's headed into the center by Berg but Sommer has a spring in his step and grabs it.
22'   Djourou plays it out to Shaqiri and his touch takes it away from him. Forsberg picks it up and gets fouled by Brahimi. 
20'   Another ball into the box and Olsen grabs it. Sweden restart. Neither side able to get anything going here.
17'   Long ball across the field looking for Rodriguez on the left-hand side. Xhaka the courier that time and it gets a thumbs up from the left-back but overhit again.
13'   Sweden on the attak again. Lustig with a strike and that goes awry. He slices it to a rival. Another ball in from Shaqiri but just off target.
11'   Ball down to Dzemaili from Shaqiri. It gets the thumbs up from the attacking midfielder. Shaqiri trying his own version of Ever Banega's pass to Messi against Argentina. Just a half a yard too far ahead of the intended target.
9'   Switzerland looking shaky at the back. Sommer with a poor pass out and Sweden have a shot. Blocked and then volley comes in and that's over. Sweden have started this game like they finished their last one against Mexico. They're full of intention and confidence.
8'   Sweden have a change. Berg hits it from a nice angle and he would not have hit that any wider if he tried.
7'   Zuber with a shot from his right foot. He tries to curl it past Olsen but he could get enough bend on it.
6'   Zuber wins it back from Swedish defender and then Sweden win it again and counter. They've look quicker on the break. Ball from Augustinsson is too heavy and it's out for a goal-kick. Sweden with way more purpose.
6'   Some sloppy passes from Switzerland early on. Djourou recovers and it's back again to Sommer. All quite tepid so far.
5'   Rodríguez with a throw and it makes it's way back to Sommer. He plays it out and Swiss are looking for a way to progress the ball.
4'   Switzerland get a few touches in the middle but Behrami ends up giving it away. Then Dzemaili with a foul and Sweden have a free. 
3'   Sweden win a throw and hold onto the ball. Long ball by Olsen. And the Swiss win a free. scrappy start to this one.
2'   Ball sent into the back post and it's headed in from the back post but Switzerland clear.
2'   Ricardo Rodriguez sends the ball up the field and it comes back down to Toivonen. He chests it down and Xhaka rattles him in the back. He falls and the ref gives Sweden a free.
1'   Slip from Lindelof and Swtizerland are in. Shaqiri with a shot that drifts well wide.
1'   The second last game of the last 16 is underway! Sweden kick us off.
    Time for the national anthems.
    Teams in the tunnels and ready to emerge into a wet Saint Petersburg Stadium.
    Teams in after their warm-ups and we are almost ready for action. The winners of this one play against either Colombia or England on July 7th.
    A few changes for Switzerland as they lose out on Lichtsteiner and Schär's services through suspension. Lang and Djourou step into the breach. Embolo and Gavranovic are also left out for Zuber and Drmic.
    Switzerland XI: Sommer, Lang, Djourou, Akanji, Rodríguez, Behrami, Xhaka, Shaqiri, Dzemaili, Zuber, Drmic.
    A beautiful sight but it's cloudy and rainy in Saint Petersburg today.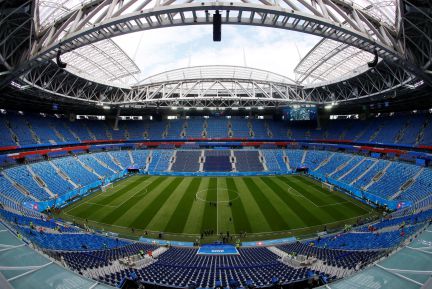 The only change is Gustav Svensson, who replaces Sebastian Larsson. Larsson is both injured and suspended. The Seatlle Sounders defensive midfielder comes in to take his place at the base of midfield.
    Sweden XI: Olsen, Lustig, Lindleöf, Granqvist, Augustinsson, Claesson, Svensson, Ekdal, Forsberg, Berg, Toivonen.
    Despite meeting 29 times in the last 98 years, with the Swiss edging the record with 11 wins to ten, this is the first time the sides have ever met at a major international competition.
    Over on FIFA.com, there is a chat with Sweden's sports psychology advisor.
Yellow card watch! Albin Ekdal, Viktor Claesson and Mikael Lustig are all one yellow away from missing a potential quarter-final. Also, Denis Zakaria, Valon Behrami and Xherdan Shaqiri are on thin ice too.
Hello and welcome to live coverage as Group F winners Sweden face off against Group G runners-up Switzerland in the round of 16. We'll be building up to all the action in St Petersburg and then taking you through every kick, every goal, and every VAR incident.
Sweden vs Switzerland live | World Cup 2018, last 16: match preview
The St Petersburg World Cup Stadium hosts the early evening all European clash as surprise Group F winners Sweden face Switzerland, who finished second in Group G. Having deprived Italy of a place at the Russia 2018 World Cup in the play-offs, wins over Mexico and South Korea coupled with a last minute defeat to Germany was enough for Janne Anderson's to claim top spot in their group.
Sweden
Hull City's Sebastian Larsson will be absent for the Swedish side through suspension and three solid display's in Russia make the Blågult favourites to go through to the quarter final stage where they face the winner of the later game between England and Colombia. Tonight is Sweden's 50th game at a World Cup with an overall balance of 18 wins, 13 draws and 18 defeats.
Switzerland
Ahead of the Round of 16 clash Swiss boss Vladimir Petokovic spoke about his sides prospects in yesterday's pre-game press conference: "We've been very fortunate so far, that is true, but what we've seen throughout the tournament is that in spells we have been playing very well. We've seen that we have been dangerous so far in the second half of the game."
"This time round we want to keep up that pressure from the start and I think that is going to happen. We have to be ready to play from the get-go in such a way to have the initiative on our side. We want our good quality to control the game."
Both Lichsteiner and Deportivo's Schar are missing for the Swiss side today through suspension.