Colombia 1-1 England (3-4 penalties): World Cup 2018 last 16 match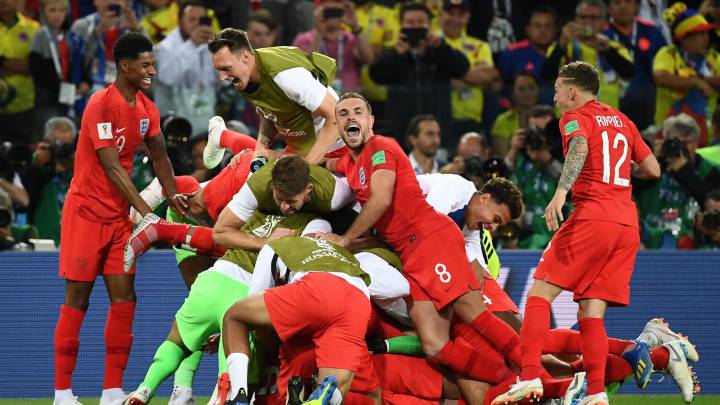 Colombia vs England match report
England have won their first penalty shootout at a World Cup against Colombia and will now face Sweden in the quarter finals on Saturday as they look to reach their first semi-final since 1990.
It was a bitter way to go out for Colombia, but England were the deserved winners after having controlled the majority of the game. Colombia really had nothing to give, as England piled on the pressure, and Southgate's men finally got broke the deadlock in the 57th minute when Kane scored a penalty awarded after he was needlessly and foolishly taken down in the box by Carlos Sanchez during a corner play. It was Kane's sixth goal of the tournament, which puts him ahead in the race for the Golden Boot.
Colombia really did not look like they had the quality to score on the night, and England were sailing through to the quarter final. But Colombian prayers were answered in injury time when, completely against the run of play, the men in yellow won their only corner of the game, the cross from which center back Yerri Mina headed home – his third of the tournament and Colombia's fourth goal from a set piece out of six goals in total. The referee blew it up soon after and England could not believe they hadn't done enough.
Extra time and penalties
With Colombia elated, and England deflated, the momentum of the game swung in the favour of the South American side, and they controlled the first half of extra time much in the same way England had for the first 90 minutes. But they couldn't make their chances count. England found themselves in control again in the second half of extra time and came close on several occasions. However, they couldn't break the deadlock and so the game would be decided on a dreaded penalty shootout.
The first five penalty takers all found the net, and with the penalty count at 3-2 in favor of the South Americans, Henderson came to try to square it up, but his effort was saved by Ospina. It was looking like England would suffer their usual fate in penalty shootouts. But Pickford saved the day and the shot of Uribe, giving England another chance to square it up, which they did thanks to Trippier's well taken spot kick – 3-3 with one more penalty each. Bacca went first for Colombia and Pickford saved again – advantage England. Eric Dier stepped up after that and drove his spot kick home to give England a 4-3 win on penalties, and their first penalty shootout victory at a World Cup. Colombia, who clearly missed the injured James Rodrigues, go home.A relieved England roll on with their World Cup dreams still alive.
Colombia vs England extra-time live updates:
It's a horrible way to go out for Colombia, but England perhaps the deserved the win. 
      Dier has done it!!!! England are through!
    If Dier scores, England are through
    Bacca misses saved by Pickford!!!! 
    Trippier scores, 3-3, one more penatly each of the 5 
    Uribe misses, it's 3-2 and England have a chance to sqaure it up wiyh Trippier
    Henderson misses!! Saved by Ospina!!! Advantage Colombia!!
    Muriel slots it home sending Pickford the wrong way, 3-2
  Rashford converts into the same corner as Kane, 2-2
Cuadrado buries into the top corner, 2-1
Kane with a masterclass in penalty taking, low into the bottom corner. 1-1
kane now for England
Falcao drives it down the center! 1-0 Colombia
Colombia will shoot first: Falcao vs Pickford
Ospinas looks nervous, understandably, in the huddle. Here we go!
120'   And that's it!! Neither team could break the deadlock in extra time and we head for the third penatly shootout of this WC. 
118'   England swing one into the box from a free kick, but Ospinas punches it away. 
118'   England are two minutes away from penalties. They have the worst penalty shoot out record in WC history, losing three from three
115'   Dier gets a head on the cross from the corner but it's way way over. 
114'   Rashford is one for one last gasp effort for England, who are nearly in again! Vardy with a cross for Dele Alli, it's cleared for corner. 
112'   Rose is through down the right and gets shot away, and it's just beyond the far post. Clos one for England! 
110'   Kane with a great through ball for Vardy who tries to square it for a team mate but it's cleared away. England are giving much more the second half of extra time. 
108'   Falcao is nearly set away but Pickford rushes out to boot it away. 
106'   Less than a minute in to the second half of ET and the ball ricochets a couple of times around the Colombain box and lands at the feet of Vardy, who launches it straight at Ospina. Though it wouldn't have counted he was two yards offside. 
106'   And that's it, the ref blows up the first half of extra time, with Colombia very much in charge. England on the back foot now, they need the like of Kane and Henderson to step up and take control of this game again. 
103' England try to work something but they are dispossessed, and Lingard gives away a free kick in frustration. Colombia get a ball into the box for Falcao, who gets head to it but it goes wide. Colombia, elated, England deflated... how the momentum has swung here!
102'   Yerry Mina gets a head to it again from the corner, but it's wide.
101'   Cross into the box is a good one for Bacca, it's a corner for Colombia!
99'   Fair to say Colombia have been the better side so far in the first half of extra time. 
95'   Four of Colombia's six goals have come from set pieces in the tournament, three of which have been scored by Mina. England should have had that more in mind before Yerry Mina headed the ball passed Pickford. There should have been two on him
93'   Dier fouls Bacca. Colombia will have a chance to hoof one towards the box from the center of the pitch.... but they opt for the short pass.
92'   And we begin where we left off, foul on Young and yellow for Barrios. 
91'   And extra time gets underway, Colombian fans making their voices heard hear. How England could do with a more vocal 12th man now. 
95'   And that's it... somehow Colombia are still in this, because they managed to score from their only corner of the game. Could this swing the tide in their favor now? We'll soon find out.
94'   It must be said Colombia were awarded that corner becuase of an absolute peach of a volley by Uribe 35 yards out that Pickford had to stretch for to tip over for a corner. 
93'   Yerry Mina gets his head on a corner, and scores his third in the WC so far. Colombian fans are going wild, English fans seen mouthing expletives. 
93'   They've done it. GOALLLLLL Colombia!!!
90' Colombia have 5 minutes to find an eqaulizer. Squeaky bum time for England. 
88' Sterling makes way for Vardy. Quintero for Muriel
87'   Falcao drives a low shot around 25 yards out, but it is easily dealth with by Pickford, who has really had nothing to do this evening. 
83'   Mojica gets a cross in for Falcao, who jumps high but puts its over the bar with his head. Colombia seem to have come to life a bit now in the dying minutes. 
82'   What a chance for Colombia. Bacca wins the ball off Kyle Walker and it's 3 on 3 suddenly. Falcao sqaures it for Cuadrado. He shoots and drives it over the bar. Fair to say Colombia's only real chance so far 
80' Dele Alli makes way for Eric Dier. 
77'   Sterling breaks from the counter attack, and plays a lovely well timed pass for Dele Alli, who is taken down in the box. Claims for a penalty but the ref is having none of it. 
74'   Kane dribbles towards the Colombian box and is fouled aorund 30 yards out. Young will swing another into the box from the free kick. But it's too high for Kane and wide.
73' 6-0 to England in corners, says is it all really in terms of who's been on top here. 
69' Another yellow card for England this time, for a silly challenge by Lingard. 
67'   After all the fouling and falling, we finally get back to playing some football... but wait no hold on, another foul on Young by the Colombian corner flag. He's hobbled off after being seen to by the physios. 
64'   Bacca, who has just come on for Lerma, picks up another yellow for Colombia after a challenge on Stones in England's half
63' 63' Colombia have blown a gasket after what looks like a opportunistic dive in the box by Maguire. Falcao is carded for his protests. 
59'   It's hard to see Colombia coming back from this, they've offered nothing apart from pushing and shoving
57'   Kane  hits it right down the centre as the Ospinas dives to the right. That's 6 now for Kane!
57'   Kane can finally take the penalty. And...... it's in!!!!!
56'   More ugly scenes here, which result in a yellow for Henderson
54'   Penalty England. Absolutely the height of foolishness from Carlos Sanchez who also gets a yellow. He was all over Kane as they awaited the corner to be taken, and it all happened right in front of the ref. A clear penalty, but needless.  
53'   Young swing a great ball into the box for Maguire who had he got a head to it would have been almost a certain goal. But Minas beats him to it
52' Yellow for Arias after he challenges Kane in the air, elbowing the player in the back. 
47'   These Colombian fans have travelled quite a distance to see their team to put in a very poor performance so far. They'll be hoping their team can make the cost of the plane ticket worthwhile in this second half. 
46'   And the second half gets underway, no changes on either side. 
TV footage has shown a member of Colombia's backroom staff nudging Sterling as he ran off the pitch. Absolutely needless. It really typifies the bitterness between the two sides so far, and I think it's fair to say Colombia have been the catalyst of that bitterness. 
49' And that's the end of the first half, 0-0. England have looked the most threatening, but have not really tested Ospinas in goal. The midfield have done well to set Sterling off on a couple of occasions, and he's had two decent shots blocked. We've had a lot of pushing and shoving off the ball. No love lost between these two. Colombian fans have really had nothing to gasp about yet. The only shot they've had came from Quintero, but it was straight at Pickford. Let's see if they can have play a bigger role in the second half. 
47'   The ball into the box for Sterling is headed away by Sanchez, but it falls to Lingard around 18 yards out, who tries an ambitious half volley. But it's up and over. 
46'   Decent strike from Juan Quintero just outside the box. Saved by Pickford. 
45'   Sterling not too happy about being manhandled by Mina in the box. But Mina somehow is the one the ends up on the floor? Can't say there was much Sterling did wrong there. 
45'   James heading back to the dressing room before the ref has blown it up. He's seen enough,
42'   Trippier finally takes the freekick. It's not a bad effort but it swings wide of the left hand post. 
39'   Barrios tussles with Henderson around the wall, and puts in what looks like a headbutt to his chest. Henderson is on the floor. Only a yellow. He's lucky! 
38'   Kane tryingg to boss things now, and he's fouled by Lerma. Free kick about 25 yards out for England. 
37'   Henderson puts a good ball into the box for Kane, but it's mistimed and bounces just behind him, going out for a goal kick. Kane applauds the effort regardless
33' Bit of argie bargie between Maguire and Cuadrado as the former oversees the ball going out of play, quite a size difference between those two. Cuadrado bounces off the English defender after trying to shove him
31'   Sterling threatening again, he gets a shot off just outside the box but again it's blocked. If anyone looks the most likely to score, it's the Man City man 
30'   Falcao letting Dele Alli know he wasn't ahppy with a shove in the back there. 
28'   Another set piece dealth with by Colombia, but England still have possesion and are trying to work it back in towards the box from the center of the pitch
26'   Young's cross is hanging and high. Maguire challenges but it's now a corner for England. Another set piece for the 3 lions
25'   Foul on Dele by Sanchez. Young will whip one into the box now from the left about 40 yards out.
24'   Colombia starting to find their feet a little. 
23'   Finally Colombia put some pressure on. But it ends with a woeful cross from Mojica, which sails way out and over. Sums up Colombia so far really
21'   Lingard passes to Dele, who finds Sterling in the box with a through ball, but he's well handled by Mina. Sterling looking dangerous so far.
19'   The 20,000+ Colombian fans here will be disappointed so far. There team has really had nothing to offer. They're now whistling hard at the England players in possesion
15'   What a chance for Kane! Trippier buts a beatiful cross in from the right, to find Kane by the lefthand post. His header goes over the bar. He should have done better from 3 yards out and unmarked. A let off for Colombia. 
13'   Sterling has on target shot blocked just outside the box. Colombia haven't really turned up yet, England dominating early proceedings here. 
12'   Sterling gives Mina a piggy back there, whether he liked it or not. Ref calls foul. The resultant ball into the box is cleared
11'   Stones fouls before Young even has a chance to get it into the box. Wasted opportunity
9'   Colombia work a second counter attack following an England set piece. But fail to capitalize and England regroup. England have looked the more dangerous so far. And now have their third corner
7'   James has just emerged to take his seat. How he'd love to be out there!
6'   Great ball in from the free kick from Young, but Ospina punches it away. 
4'   Ospina hoofs one up field from a free kick, but it's nowhere near his teammates. England set sterling off down the left, but Mina puts in a sliding tackle. Corner England
1'   Colombia get us underway. Working it around the back, England pressing high. Long ball ends up in the possesion of England's defence
Colombia will kick off. Falcao passionately kisses the ball for good luck. 
And now it's England's turn, God Save the Queen sung by the English fans who are well outnumbered here by Colombian supporters
Colombia anthem rings through the stadium, with 20,000 colombians singing proudly along. 
And the teams are emerging from the tunnell, England in red, Colombia in yellow
"There might be 20,000+ Colombians in the stadium and we've got to ignore that and be tough and together." Southgate speaks to ITV ahead of the game
  Tottenham's Davinson Sanchez will know three England players quite well, Captain Kane, Trippier and Dele Ali.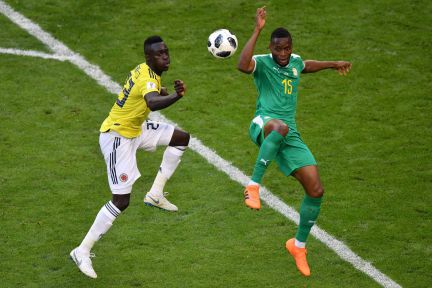 And here we have both teams. No James Rodriguez on the teamsheet for Colombia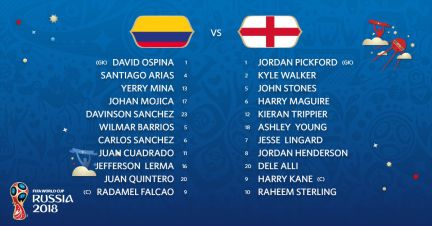 Colombia's Yerry Mina and England's John Stones amongst a the few defenders to have scored 2 goals at the WC 
The England teamsheet is in: Pickford, Walker, Stones, Maguire, Lingard, Henderson, Kane, Sterling, Trippier, Young, Dele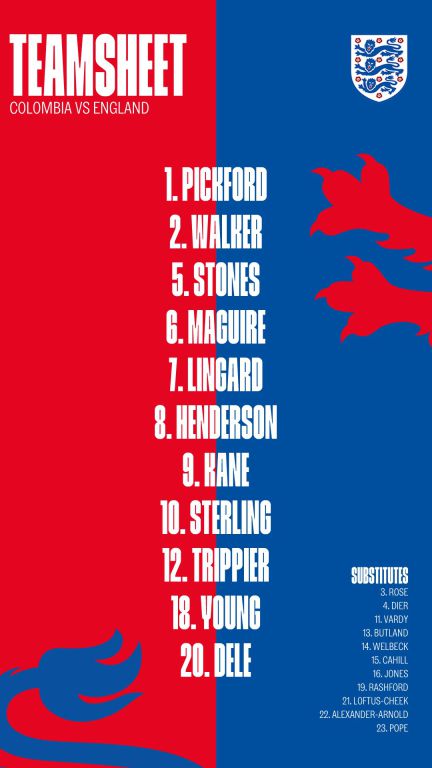 Colombian fans will be thanking they're lucky stars this man has been cleared fit. Though will he start?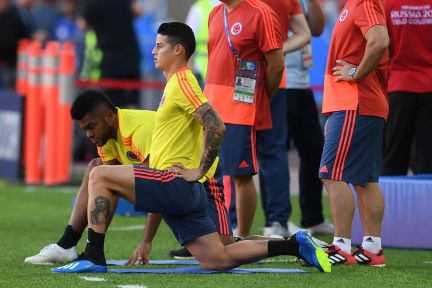 Colombia vs England preview:
By Paul Reidy
Will Gareth Southgate's decision to send out a reserve side against Belgium in the final Group G game come back to haunt him as his "Three Lions" face "Los Cafeteros" from Colombia in the final Round of 16 game of the 2018 World Cup?
Moscow's Spartak Stadium is the setting for tonight's tussle in deciding who will face Sweden in Saturday's quarter final clash with both sides in what is deemed by many to be the easier side of the road to the final, a feeling further compounded by Spain's elimination at the Luzninki stadium on Sunday at the hands of Russia after a dramatic penalty shoot-out.
Colombia
The fitness of James Rodriguez is the main concern for Colombia fans with coach Jose Pekerman set to make a late decision if the Bayern play-maker should start in Moscow or not. Barrios and Muriel are alternatives should the talismanic No. 10 fail to pull on the yellow shirt in only the second ever meeting between both nations at a World Cup, with England overcoming the Colombian in France 1998 with a 2-0 win in Lens.
England
Ahead of the Round of 16 tie, England boss Gareth Southgate was optimistic speaking in his pre-match press conference: "For this team, this is a brilliant opportunity to go beyond where more experienced teams have before them. The lads have got the chance to write their own stories.
"We have been in this position before many times over the last however many years," he added. "It is pointless to think about what might happen after the game here.
"This time round we want to keep up that pressure from the start and I think that is going to happen. We have to be ready to play from the get-go in such a way to have the initiative on our side. We want our good quality to control the game. We will focus on the game and our performance and everything will fall into place from there.
"Maybe the teams who aren't here weren't as strong this time. If teams are beating Spain and Germany they have also got to be respected. We haven't even discussed anything beyond [Tuesday]."
Fabian Delph is the only player unavailable to the England manager, after he was allowed to return home following the birth of his son. Captain Harry Kane is set to start after being rested for the game against Belgium, and will be looking to add to his tally of 5 goals, which have put him in ahead in the race for the Golden Boot.