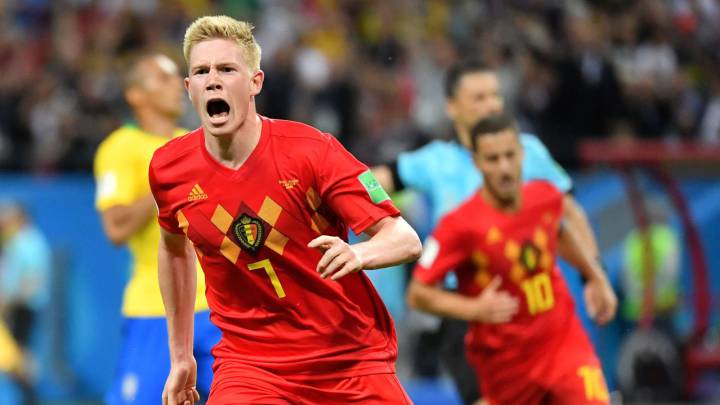 Belgium survived a late onslaught from Brazil to reach the semi-finals of the 2018 World Cup in Kazan on Friday and ensured that a European side will lift the trophy in Moscow next weekend by knocking out the five-times winners in a 2-1 victory that saw the Red Devils into the last four for the first time since 1986.
In a 45-minute whirlwind of attacking football in the opening half Roberto Martínez's side opened up a 2-0 lead through a Fernandinho own goal and a glorious strike from Kevin de Bruyne. Belgium should probably have extended that lead further as they picked Tite's side apart at will with lightning breaks that perfectly exploited Brazil's high line. De Bruyne, Eden Hazard and Romelu Lukaku sowed panic in the Canarinha back line every time they surged forward and only a tendency to over-elaborate and a couple of decent saves from Alisson prevented a complete rout by half time.
Brazil had their chances, Thiago Silva hitting a post early on and Thibuat Courtois making a fine stop from Marcelo but Martínez's plan of sitting back, looking to win the ball in midfield and releasing his front three was executed to perfection with Marouane Fellaini a predictably enthusiastic wielder of the axe.
The decision to start the Manchester United battering ram proved adroit as he easily got the better of his midfield opponents and was on hand in the area to help out with anything coming into the box above the floor and to back up Thomas Meunier on the left, where Brazil channelled most of their attacking intent.
Neymar was reduced to anonymity for much of the opening period but Brazil came out firing after the break in the knowledge that Belgium had wobbled defensively a few times under pressure. Tite added Roberto Firmino to his attack for the second half and the Liverpool forward was inches away from turning in a Marcelo cross minutes after the restart.
Brazil will feel aggrieved not to have been awarded at least one penalty in the opening exchanges of the second half. Neymar went down under a Meunier challenge that was waved away by the referee but a much more solid shout came moments later when Vincent Kompany flattened Gabriel Jesus with a wild challenge that did incur the intervention of the eye in the sky. After consultation, it was decided the ball was running away from goal when Kompany met his Manchester City teammate with all the grace of a skidding snow plough and Courtois escaped scrutiny from 12 yards out.
Courtois saves Belgium from Brazil's late onslaught
The Belgium keeper would see plenty of action from that point on though as Brazil pressed for a lifeline. Courtois made several excellent saves as Tite's side exerted a stranglehold on possession and turned it into a slew of decent chances.
Tite's final roll of the dice proved inspirational. Renato Augusto, who had made only brief cameos in the group stage and was unused in the last 16 victory over Mexico, scored with almost his first touch, turning in a beautiful, curling cross from Philippe Coutinho.
Firmino was guilty of a dreadful miss moments later when played into a wonderful position by Neymar but Brazil suddenly had the momentum to find an equaliser, Renato almost securing the headlines with a fierce, low drive that narrowly missed Courtois' far post.
Neymar sprung into life belatedly and handed Coutinho a golden opportunity to level but the Barça forward skewed his shot horribly wide from close range under little pressure from the Belgium defence. Martínez's first-half tactics told on his forwards in the closing stages with both Nacer Chadli and Lukaku departing the fray exhausted. Of those that remained, only De Bruyne had anything left in the tank and Hazard was spent, but used his considerable experience to force Brazil into a couple of time-chewing fouls in midfield.
With the clock ticking down the stage was set for a hero and when the ball left Neymar's boot deep into stoppage time the Brazilian talisman must have thought he would be that man but Courtois made a stunning save, pawing the ball away from the top corner. Belgium's forward line may have carried the fight in the first half but it was the Chelsea keeper who ensured that the game would not go into an extra 30 minutes and his side would remain in Russia.
Brazil, the last non-European nation to win the World Cup on the old continent, had used their last bullet and despite their late charge will be heading home, their bid to emulate that great Canarinha side of 1958, led by Pelé and Garrincha, in tatters.
Martínez, meanwhile, has the opportunity to take his golden generation one step further than the Enzo Scifo-inspired Red Devils of 1986 and into a World Cup final for the first time in the nation's history when they meet France in Saint Petersburg.
Brazil vs Belgium live online: as it happened
90'+5' And that's it! Belgium go through! Brazil are out! What a game!
90'+4'   Nothing comes of the subsequent corner and Courtois takes his time to send the ball back into play. Corner to Belgium, they aim to keep it in the corner....
90'+4'   What a save! Providential Courtois! A fantastic, flying stop to deny Neymar. That was a game-winner right there. What a stop. We can't stress what a save that was, it was heading for the top corner!
90'+3'   Free kick to Belgium and De Bruyne in no hurry to take. It's handed straight back to Brazil though....
90'+2'   Five minutes added by the way. Brazil attack again but Belgium just about cling on, like Wile E. Coyote on the edge of a ravine.
90'+1'   Meunier did have a hand on Neymar but little more than that. Ref says off we go again. Nerves fraying in Kazan.
90'   Neymar goes down again and appeals for a penalty! It's turned down and there'll be no VAR by the looks of.
89'   Well played by Hazard as he turns on the halfway line and forces another foul. Precious seconds slipping away for Brazil, golden respite for the Red Devils.
88'   Hazard put clear by De Bruyne and with no other option available he hits it out for a throw to prevent a goal kick.
87'   Brazil on the attack again but Neymar takes a touch too many and it rolls out for a free-kick and a huge exhalation of breath from the Belgium fans.
85' Tielemans coming on for Belgium, Lukaku heading off after a complete display. He looks worn out as well. The Belgium front three have run themselves into the floor this evening.
84'   Belgium on the break again but Hazard looks knackered. He manages to hold the ball up long enough to force Fernandinho into a foul though.
83'   Coutinho! Neymar gets away down the left and finds the Barça man with an excellent cross but he spoons it into the stands. Another let-off for Belgium.
82'   We're back underway after a water break.
80' Belgium make a change as Chadli limps off with Thomas Vermaelen coming on. Martínez looking to shore this one up now. Belgium are still dangerous on the break but Brazil suddenly look more comfortable than the side that blew them away in the first half.
80'   Renato! So close! The sub has all the time and space in the world as Belgium are caught napping but fires just wide from an excellent position!
78'   Corner to Brazil... Fellaini is under it. Belgium break but Hazard takes too long to decide who to find on a four-against-three and eventually underhits a pass to De Bruyne that Brazil snap up gratefully.
77'   Firmino! An excellent chance goes into the stands from the edge of the six-yard area. What an opportunity that was. Belgium suddenly rocking on their heels. Can Brazil find an equaliser.
76'   Marcelo drives down the left and thinks he's won a corner but the ref says no and points to Courtois' six-yard area.
75' Goooooooooooooal! Brazil pull one back! Renato, with practically his first touch, nods a Coutinho cross past Courtois! 2-1 to Belgium now, Brazil with a lifeline.
74'   Courtois! Another save from the Belgium keeper, this time to deny Costa after a lung-bursting run down the right from the Juventus winger. Neymar hits the rebound but straight into a red shirt.
73'   Another Brazil attack breaks down as Costa's attempted cross is straight out for a goal kick. They've been guilty of misplacing the final ball too often this evening.
72' Final change for Brazil as Paulinho goes off and Renato comes on.
71'   Courtois solid again behind a pop from distance, gathering it first time. He's had an excellent game this evening. Hazard is down clutching his face after being floored by Fagner.
69' Marcelo makes a wonderful last ditch tackle with Meunier open on the right. The PSG man then goes in the book for taking out his club teammate Neymar and he'll be suspended if Belgium go through to the last four. 
68'   Fernandinho is temporarily off the turf and Lukaku goes on a barnstorming run but eventually plays a touch too many and it's out for a goal kick.
66'   Witsel makes a bit of a fool of himself as he plays the "aaaarrrrrrgh" card as the ball connects with his head while he's on the floor after a clash with Fernandinho, who has more cause for complaint after getting a faceful of the Belgian's arm.
65'   Coutinho watches ruefully as his attempted pass to Costa flies straight out on the far side. Brazil starting to look a little fraught now as the clock ticks towards the 70-minute mark.
64'   Belgium starting to wrest a little control back now as they come again, first on the right, then the left, but a rare mishit hands possession back to Brazil.
62'   Coutinho tries another shot from outside the area but it's blocked. That seems to be the Barça man's plan for now, shoot on sight, but he's not getting the angles he needs with Belgium dropping back in good order.
61'   Courtois! The Belgium keeper makes another stop at the other end. The game is wide open now, toe-to-toe.
61'   Or not...! Belgium launch a break out of nowhere and Hazard has a glorious chance to make it 3-0 but flashes his shot just wide!
60'   Martínez will be looking to his bench before too long as Brazil are in almost complete control at the moment.
59'   Brazil probing again and they work it out to Marcelo, whose cross-shot is hacked clear. Hazard back in defence to help out and Belgium are on the back foot here.
57'   Neymar tries some trickery but Meunier keeps his eye firmly on the ball and nicks it from the Brazil forward expertly. Free-kick to Belgium as Hazard goes down in a heap.
57' And that's the end of Jesus' evening as he makes way for Douglas Costa.
56'   A lucky escape for Belgium there, according to our own VAR examination. Looked like he absolutely creamed his club teammate.
56'   Not given! The ref waves play on.
55'   Kompany clatters into Jesus and it's gone to VAR this time...
55'   Penalty!
54'   Neymar goes down in the area again but the ref points to the corner flag instead.
54'   Courtois! Paulinho bundles into the area and toes a shot towards goal but the Belgium keeper stands firm.
52'   Replays suggest Neymar took a bit of a dive there and he's lucky it wasn't reviewed as that would have been a yellow and a suspension for the semi-finals. Brazil would have to get there first of course...
51'   Or not... play continues. Confusion reigns, as it does with this crazy new-fangled system. It did look like a decent shout.
51'   Brazil are out of the blocks quickly in the second half. Neymar goes down in the area! VAR getting involved....
50'   Close! Marcelo dances his way into a crossing position and sends in a low, hard drive that just eludes Firmino at the far post. That would have required just the slightest of taps.
48'   Brazil try to work it in the area but Kompany relieves Neymar of the ball like a chap picking up a spare paper on the metro. So easy for Belgium at the moment, and they break again. Lukaku can't get a shot away though as he is expertly guided off the ball by Miranda.
48'   Neymar almost slips Firmino in but Belgium get it clear.
47' Alderweireld goes in the book for tripping Paulinho.
47'   Tite throwing everything at it now, but Willian was one of few players able to keep up with Belgium's counters in the first half.
46' Roberto Firmino is on for Brazil, Willian making way.
46'   And we're off! The second half gets underway.
The teams are coming back out. Brazil with a lot of work to do in this second half.
Incidentally, we're now only one own goal away from doubling the record at a World Cup of six, set in 1998.
Belgium became the first side since West Germany way back when to recover from a two-goal deficit to win a World Cup knock-out stage match when they beat Japan 3-2. Brazil will now have to do the same to go through to the semi-finals.
45'+1' And that's the half! Belgium go into the break 2-0 up in Kazan and Brazil have plenty to do in the second 45 to turn this around.
45'+1'   Neymar! He finally gets a decent run at the Belgium back four and gets a shot off. It's deflected behind but the flag was up anyway.
45'   One minute added.
44'   Neymar goes down in the area under minimal contact and looks to the ref, who makes the "get up" gesture and waves play on.
43'   Marcelo twists and turns on the left looking for Neymar but Fellaini is there again to nick it off the PSG forward's boot. What an excellent half he has had.
42'   Neymar is easily hassled off the ball on the edge of the area and Belgium are almost away again through Chadli but Willian races back to thwart his run.
41'   Alisson again! Chadli hits the corner to the near post where Kompany flicks it towards goal. The keeper is equal to it and makes a comfortable stop.
40'   Alisson! The keeper had to get his finger-tips to that one, although it was pretty much central and not as dangerous as it looked. Decent hit from De Bruyne though.
39'   Belgium looking to slow it down a bit now to protect their lead going into the break. Hazard sees an opportunity though and goes on a run down the left and is floored. Free-kick on the edge of the area. De Bruyne over it...
37'   Belgium threaten on the counter again and Brazil have to do something about that back three system when they're in possession. This time Belgium trip over themselves a little and it comes to nothing but every time they go forward they look like creating a chance.
35'   Courtois! Brazil work it down the left and Marcelo's cross pings up dangerously but the keeper gets a firm hand to it. He then makes another spectacular save from Marcelo's fizzing effort. Corner, Fellaini, who it has to be said has been excellent, is there to meet it again.
34'   Jesus! Marcelo finds the striker with a fine cross but he glances a header wide under no pressure from the Belgium defence. Decent chance there.
32'   Other than a couple of defensive Laurel and Hardy moments at the back, Martínez's side have played this half perfectly so far. And he has often been questioned for his tactical nous in charge of such a talented group of players.
31'   Belgium in control now and Brazil must be allowing memories of that game against Germany to creep in. They need a response.
That really was a wonderful strike from the Manchester City man, perfectly placed and hit as clean as whistle.
30' Goooooooooooal! Neymar slings it in and Fellaini meets it with a thumping header. It falls to Lukaku, who holds it up well and plays in De Bruyne, who buries an unstoppable shot past Alisson! 2-0 to Belgium! 
29'   It's a good delivery from Willian and Fernandinho tries to turn it in but Belgium stand firm. Neymar wins a corner with his subsequent effort.
28'   And they win another right on the byline as Vertonghen takes out Paulinho.
27'   He's fine to continue though and trots back on. Brazil have a free kick as Vertonghen clatters into Willian.
27'   Neymar is off having a spot of treatment on his ankle. Brazil temporarily down to 10 men.
26'   Belgium launch yet another swift attack and De Bruyne probably should have gone it alone but tries to find Lukaku instead, succeeding only in finding a yellow shirt.
25'   Marcelo! The Real Madrid man has a crack from outside the area but Courtois is equal to it.
24'   Belgium are dropping back in numbers and harrying Brazil at every turn, sending them backwards.
23'   And Belgium conspire to waste it as in two touches the ball is back at Courtois' feet. The Red Devils are having much the better of the chances at the moment though. Brazil have no answer to their swift attacks and Tite might need to have a rethink if this carries on.
21'   Lukaku! Belgium break in a three-on-three and De Bruyne picks out the Manchester United forward, who sets himself up for a shot and wins a corner.
20'   Hazard makes a mug of Fernandinho and should really have shot but he tries to tee up Meunier instead and his cross for Lukaku is hacked clear. Another lightning move from Martínez's side.
18'   Coutinho! The Barça forward unleashes a shot from distance but it's straight at Courtois. That chance came from Meunier's side, the defender doing well to dispossess Neymar but handing it straight back to Marcelo with a misplaced pass.
16'   Fellaini nicks the ball from Neymar and Belgium break but Chadli's ball is cleared with Lukaku storming in on the far side. More warning signs for Brazil. You can't give Belgium space to run into.
15'   Belgium are morphing into a 4-3-3 when Brazil are in possession but they seem to be tripping over each in the area. Martínez generally favours a three-man defence but it does give Belgium a platform to break, which is their main weapon.
14'   Courtois! The Chelsea stopper gets a hand to a cross and guides it to safety. Brazil are in the area again and Belgium are defending like headless chickens! They finally get it clear but there is panic every time the yellow shirts get in among the defence.
14'   How will Brazil react to going behind? How will Belgium react to going ahead? We've got a game now.
13' Goooooooooooooooal! Belgium are ahead! Fernandinho, in for the suspended Casemiro, nods past Alisson for an own goal!
12'   A beautiful ball from De Bruyne splits the Brazil defence and Fellaini is not really who you'd want it to fall to. He makes a complete hash of his shot but it's out for a corner.
11'   Witsel is pickpocketed expertly by Jesus in midfield as he dallies a little too long and Brazil surge forward but the red wall holds firm.
10'   Willian sends in a fizzing delivery but Paulinho can't wrap his foot around it and Belgium break. Marcelo body checks Hazard and is lucky not to go in the book for that.
9'   Marcelo sends in a peach of a cross and Belgium are all at sea for a moment, eventually hooking it out for a corner...
7'   Post! Thiago Silva gets a body part on it and it tickles Courtois' upright. Belgium take it straight back up the other end and have a  presentable chance themselves but Hazard's shot is blocked and then De Bruyne pulls it wide again. Now the game is hotting up.
6'   Marcelo and Meunier have their first duel of the game and it results in a Brazil corner. He's seen as the weak link for the Red Devils and Marcelo will be keen to exploit that.
5'   Belgium work an attack but the final ball is not great and Brazil clear. Neymar is down as Fellaini leaves an elbow hanging with a challenge from behind.
4' Brazil stroking it around the back, Belgium shadowing their every move. The Canarinha are being very careful not to allow the Red Devils an opportunity to break at speed.
3'   Brazil get forward and Neymar sends a cross into the area aiming for Jesus but Courtois plucks it from the air with minimum fuss. Free kick to Belgium as Willian clobbers Witsel from behind.
2'   De Bruyne tries his luck from the edge of the area but he pulls it wide. First chance for Belgium.
1'   Interesting to see Belgium's initial formation, it seems Lukaku is dropping right, Hazard left and De Bruyne through the middle. Belgium try to play Lukaku in on the left but it's out for a goal kick.
1'   Brazil get the ball rolling and we're off!
The handshakes are being made and we're seconds away from kick-off as we await the identity of the second World Cup 2018 semi-finalists!
And now the Belgian anthem...
The Brazilian national anthem rings out around the Kazan Arena...
Hazard captaining Belgium, Miranda wearing the armband for Brazil this evening.
The teams are in the tunnels... we're about to get underway in Kazan!
Neymar and Eden Hazard have recorded the highest number of touches in the opposition area at the World Cup, with 48 for the Brazilian and 32 for the Belgian. 
Neymar on the other hand has been involved in 20 goals in his last 19 games for the Canarinha, scoring 11 and assisting nine. Belgium will have their work cut out to keep him quiet.
Romelu Lukaku has had five shots on target so far at the World Cup and scored with four of them. Those are some pretty deadly stats and De Bruyne and Hazard will be trying to get him into as many shooting positions as possible this evening.
The players are out on the pitch going through their paces and we have to say Alex Witsel looks particularly fired up for this one. It'll be up to him to stop the ball reaching the Brazil front line with his movement while Fellaini takes care of the more industrial business in midfield.
The only previous meeting between the sides this evening at the World Cup came in the 2002 last 16 stage, with goals from Rivaldo and Ronaldo handing Brazil a 2-0 win as they went on to lift the title in Japan and South Korea.
On that occasion, Belgium were knocked out by eventual champions Argentina and went on to finish fourth after losing to France in extra time in the third-placed playoff.    
Brazil and Belgium go head to head in Kazan this evening for a place in the World Cup semi-finals. The Canarinha are more than familiar lodgers in the last four of the tournament, having featured in 11 World Cup semi-finals, while the Red Devils are seeking just their second appearance at that stage after Mexico 1986.