Sweden - England live online: World Cup 2018 quarter final
Headed goals from Harry Maguire and Dele Alli gave Gareth Southgate's side a relatively comfortable, if not spectacular win over a disappointing Sweden.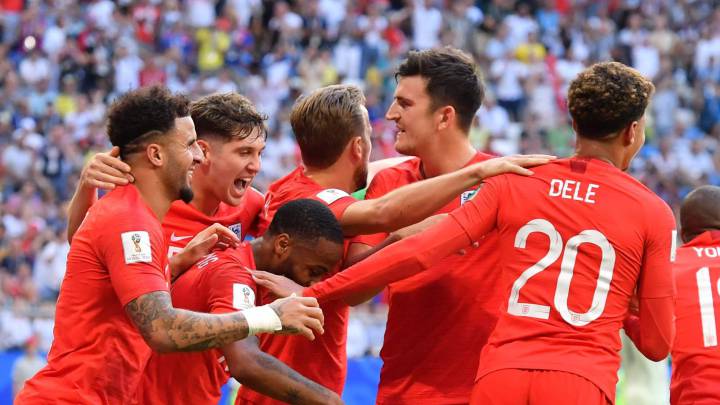 Sweden 0-2 England: match report
An impressive England advanced to their first World Cup semi-final for 28 years on Saturday after headers by Harry Maguire and Dele Alli gave them a deserved 2-0 last-eight victory over a disappointing Sweden.
Centre back Maguire connected with an Ashley Young corner to score his first international goal after 30 minutes as England had much the best of the first half.
Jordan Pickford made excellent saves to deny Marcus Berg, twice, and Viktor Claesson after the break but England generally looked the more dangerous side and were rewarded when Alli headed the second from a Jesse Lingard cross in the 59th minute.
England previously reached the semi-finals in 1966, when they went on to win the World Cup for the only time, and 1990 and will next face either Russia or Croatia, who meet later on Saturday.
Sweden v England live online: latest news
90'+4' England into the semi-final. They win 2-0 with goals in either half from Maguire and Alli.
90'+3'   Going out here with a whimper.
90'+3'   How did Sweden get this far? They've really been poor so far.
89'   Augustinsson with the shot. And that's about 20 yards over the bar.
89'   Maguire with a little nudge in the back of Granqvist and Sweden have a free just outside the box.
88' Guidetti and Harry Maguire having a go at each other. Maguire booked as he fouled in the first place.
88'   Free for Trippier to send in again.
87'   Lingard clipped as he runs down the right-hand side. 
85' Henderson replaced by Dier.
84'   Free for England and it's sent in by Trippier. Out for a goalkick. 
82'   Ball to Pickford. He is almost caught late but Pickford gathers and clears.
79'   Cross comes in from the left and Berg tries to get a head to it but England clear.
77'   Really dangerous again from England. Trippier drives one towards the danger zone and Sterling and Kane are close but it's cleared. 
76' Delph coming on for Dele Alli.
75'   Two Swedish players on the ground now as they take two knocks. Neither of them free. England take the throw and keep the ball. Sweden look exhausted.
73'   Sterling played in by Lingard but that's too far for him. Out for a goalkick.
72'   Guidetti inside to Berg. He takes it down and drives over. Pickford forced to tip it over the bar. 
70'   Cross comes in and Maguire heads out again.
69'   Sweden with no reponse here. 
66'   Maguire sends a shot back to Leicester.
64' Double change for Sweden. Guidetti comes on for Toivonen anf Forsberg off for Olssen.
61'   What a move from Sweden. The best move of the game by Sweden by a country mile. Toivonen to Berg and he lays it off to Claesson, who started the move, and his shot is saved really well by Pickford. England scramble it away. Absolutely incredible move without the finish it needed and deserved.
58' GOAL! Lingard with the cross and Dele Alli heads home. Simple as that. That should do it now for this one. Sweden have offered nothing.
58'   Young cuts in from the left. Crosses but it's blocked Sweden with their backs to the wall now. England attack and Lingard crosses. 
57'   Corner for England. 
56'   Kane a lovely ball that's just ahead of Sterling. He gets to it eventually on the left and crosses. It's headed out and England recover again.
55'   Kuipers speaking to Toivonen and tells him to calm down over whatever it was he said.
55'   Sterling cross and Kane lurking but Sweden get it away.
54'   Free sent into the back post. Maguire heads to Sterling, who tries a chilena but it's blocked. It goes back out to Maguire and he heads back towards goal and it's off the line. 
52'   Free for England.
49'   Sweden improving but need a goal! Pickford again not happy with the space given to Forsberg. His shot loops over.
47'   A shot for England there. Cross comes in and it's saved by Pickford. Headed down by Berg. Nearly 1-1.
46'   We are back underway for the second half.
45'   HALF-TIME! 
45'   England don't get a header on it but they keep the ball. More corners. Trippier to Sterling and he pulls it back but it's kicked out for a corner.
45'   Really, really poor again from Sterling. What a pass from Henderson. Sterling takes it down and tries to go around Olsen but he gets a hand to it. Sterling keeps it and has options but he goes along and strikes. It's blocked for a corner.
45'   He was ruled out for offside anyway and it wouldn't have counted.
44'   Lindelof under pressure in the box. Sterling causing problems but he gets it away. Sterling again through on goal but he's well offside. The ref keeps his flag down and it's saved. Poor miss. 
41'   England work it out and Alli finds Sterling. He clips it to the near post and Lingard backheels it towards goal. Blocked and cleared by Sweden.
40'   Ball from Young looking for Alli but that's absolutely shocking. Out for a goal-kick.
38'   Cross to the back post and Berg reaches but he can't reach it. He might nick it but that's out for a Trippier throw.
38'   Pickford rushes out of his goal and Sweden left scratching their heads again. Strange approach from them. Even stranger throw from Pickford as he just launches it out over the sideline.
37'   Free comes in from the left and Maguire gets his noggin to it again. No messing with that head.
36'   Shot comes in after a header is cleared outside the box. It's driven up and over the bar.
34'   Pickford with a clearance but that's out for a throw.
32'   Now Sweden have to do something. They've been very negative so far.
30' GOAL! Harry Maguire heads home from the corner. They've been knocking on the door. Maguire with the bullet.
30'   Cross in from the right and Krafth not taking any chances as he heads out for a corner at the back post.
29'   Sterling pops it out to Young. He crosses and Granqvist clears. Ball sent in to the back post against and Sweden clear it as it's headed down.
28'   Sweden chance a counter but that won't work. England win it back. 
28'   Okay, almost half an hour in and nothing has happened.
25'   Sweden pick off England and it comes down to Krafth. He launches towards Berg but he's offside even if he didn't hear the whistle initially and played on.
23'     Cross from Trippier but it's straight to Olsen, who gets down to save easily.
22'   Nobody does make that run and it goes back to Pickford.
21'   England counter again. Trippier into the centre to Lingaard and all the way out to Young. Sweden sitting deep and not giving any space up. Back to Trippier. Very patient from England. Henderson urging someone to make a run into space.
20'   Really dangerous ball in by Young from the left. Granqvist heads away. Sweden win a throw after a brief foray into counter-attacking.
19'   Cross comes in from the left and England clear and start a counter. Sterling drives forward and it falls to Kane. He shoots but it's just wide. Olsen was in no man's land.
17'   Ball in behind looking for Toivonen and Stones sees it out for a goalkick. Sweden improving into this one but still a scrappy game with no real patterns emerging yet.
16'   Throw for Sweden and it's headed on by Berg but England recover. Sweden win it back and they start an attack.
15'   This isn't great. Sweden attack and have a bundle of room in front of the back four. They can't thread the ball through England's defence.
14'   Trippier takes off down the left. He plays it to Lingard and England recycle and start again. Sweden staunch at the back and win a free as Maguire pushes Berg.
13'   Claesson with a shot. He's way out and that's well over. Pickford doesn't like how much time he got on the ball to shoot.
12'   Alli with a handball and maybe a foul on Forsberg. Free for Sweden. They work it short and finally get their feet on the ball. Long ball in to Berg but it's out for a throw.
11'   Cross comes in and Olsen grabs.
10'   Ball for Sterling by Kane. He puts Granqvist under pressure with his speed but the Swedish captain kicks it out for a throw. England the better side here to start.
9'   Trippier down the left and he squares to Kane, who steps over the ball. Sweden recover and Ekdal stands on Henderson's ankle. No free for England but it is a throw for Sweden.
8'   Kuipers not taking any messing today! 
8'   Ball absolutely whipped in around the back and Toivonen and Walker jump for it. It seems to catch Walker and it's a throw for Sweden. Henderson doesn't seem to think so and he gets a serious, very serious, talking to by the referee.
8'   Sweden have a free now.
7'   Krafth has the ball stolen off him by Alli and he plays it through to Kane but that's way too heavy.
6'   Ball taken off Sterling but he keeps fighting and wins it back before being fouled. England have the free in the middle, which they take short. Throw for Sweden.
5'   Young looks for Dele Alli down the left. Out for a throw. The intensity here is like that of an international friendly just AFTER the World Cup.
4'   England holding onto the ball now and playing the patient game. Long ball by Ekdal after Sweden win it back but England recover.
4'   Really tame start to this one so far.
4'   Long ball by England and that's into Olsen. Sweden restart. Toivonen heads on and it makes its way to Pickford.
2'   Kyle Walker with a low, cross-field ball and it hits Berg. Straight back to Stones and England recover. They cough it up just slightly further up the field though. The through ball is too havy and out for a goal-kick.
2'   Really strong tackle by Krafth on Lingard and it's out for a throw.
1'   Not entirely sure that was in aid of but the ball was sent down the left-hand side into the corner, comes back out and then it's put out for an England throw. All a little unneccesary.
1'   We are ready for launch here and it is Sweden who get us started. Their line-up is weird. They have nobody on the right-hand side of the field.
    Granqvist and Kane up for the coin toss. Loads of handshakes to go around.
    And now time for the England's anthem. They're all singing too. There seems to be a bigger English contingent there following their country. 
    The Swedish national anthem. They're all singing, they're all very focused. 
    The teams emerge onto the field. A very calm build-up to this one. England looking very....breezy. 
    England beat Sweden in the average age category. They are 25.3 while the more experienced Swedes have an average age of 27.9 Sweden hold the advantage in height at 185.4 to England's 181.7. England, however, have scored nine goals in the World Cup and Sweden have only managed five. Sweden have kept a clean sheet in 5 of their last 6 matches (FIFA World Cup) and England are undefeated in 14 of their last 15 matches (FIFA World Cup) (Stats via WhoScored.com).
    Berg is the player who has shot most in the World Cup with 13 efforts but with the least efficiency. He hasn't scored but has one assist.
Southgate has made no changes to his side that played Colombia. It's three at the back, which some people said the manager should change as it was too defensive, with Trippier and Young on the wings.
    Sweden in search of their first semi-final since 1994. England's record against the Swedes is not great with a paltry two wins in 15 games. Gareth Southgate is trying to avoid compacency against them though. He says, "We're not a team where we just turn up and we're waltzing around, strolling around and we've got an entitlement." And he also sent a very pointed message to his side after the win over Colombia. He said, "We've not got a good record against them (Sweden), I think we've always underestimated them. They have good plans, they have a clear way of playing – and it's bloody difficult to play against. They are greater than the sum of their parts more often than not, so that is a hugely difficult game for us."
    Sweden XI: Olsen, Lindleof, Granqvist, Augustinsson, Krafth, Larsson, Ekdal, Forsberg, Claesson, Berg, Toivonen.
England XI: Pickford, Walker, Stones, Maguire, Trippier, Young, Lingard, Henderson, Dele Alli, Kane, Sterling.
Jordan Henderson, Kyle Walker, Rueben Loftus-Cheek and Jesse Lingard are all one yellow away from missing a semi-final if they pick up a yellow and England manage to qualify.
An article on being Swedish and growing up England. And now, preparing for the quarter-final in London. Also, having Thomas Brolin as an idol.
Hello and welcome to our live coverage of the third World Cup 2018 quarter final as Sweden face England at the Samara Arena with a 1600 CEST start.
Sweden v England live online: preview
Another chapter opens in the Russia 2018 "It's Coming Home" England national team adventure as Sweden stand in the way of the Three Lions first World Cup semi-final appearance since Italia 90.
Sweden have been one of the surprise packages at this World Cup. Having deprived Italy of a place at the Russia 2018 World Cup in the play-offs, solid wins over Mexico and South Korea coupled with a last minute defeat to Germany was enough for Janne Anderson's to claim top spot in their group and set of a Round of 16 tie against Switzerland where a second half Forsberg goal was enough to set up an intriguing quarter final tie against England.
England also were stretched in their Round of 16 tie against Colombia where a 1-1 draw saw many English fans anticipating the dreaded penalty shoot out with morbid trepidation. Astute penalty kick preparation and analysis from the backroom staff was instrumental in seeing the Three Lions prevail to today's Samara Sweden clash.
Sweden
Glasgow Celtic's Mikael Lustig (suspended) is the only absentee for Sweden in a match that will be the 25th meeting between these sides. England have won eight to Sweden's seven, with nine draws.
Swedish coach Andersson was in confident mood in the pre-match press conference stating: "We're really strong in our beliefs and we really have been from the outset."
With the best defensive record at the World Cup the Swedes go into the England game with three clean sheets in four matches so it's anticipated that goal scoring will be at a premium at the Samara Arena this afternoon.
England
Good news for Southgate is the news that Ashley Young has returned to full fitness and the Manchester United player could line up in the left wing-back position. Less positive is the news affecting Jamie Vardy who has failed to recover from a knock sustained in the Colombia game and is likely to miss out.
Kyle Walker, Jordan Henderson and Jesse Lingard are all carrying yellow cards and would miss the potential semi-final if they are cautioned.
England boss Gareth Southgate has done an excellent job in tempering the euphoria after the dramatic Colombia penalty shoot-out win and this was reflected in his pre-match press analysis: "We won the other night but I still had a couple of emails, saying 'really good, but you should be picking this one and that one'', he joked. "So it's impossible to please everybody all of the time but you've got to just believe that you're making decisions for the right reasons."