Russia vs Croatia live: World Cup 2018 quarter-final match
An engrossing affair that ended 2-2 after 120 minutes with two goals in extra-time was decided by penalties as Rakitic steps up and does the business for Croatia. USA vs Mexico: FIFA Friendly live online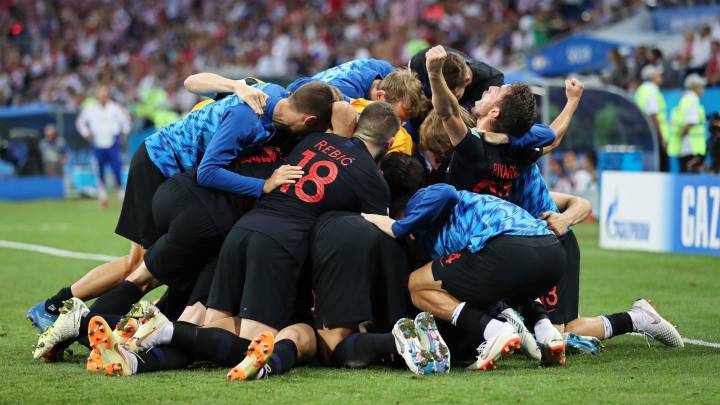 Russia 2-2 Croatia (3-4 penalties): match report
Russia's fairytale as the hosts of the World Cup is over. It ends after an engrossing clash with Croatia that saw them take the lead before going behind in extra-time only to get a new lease on life and score an equaliser to send the quarter-final to penalties.
Denis Cheryshev sent a pearlier beyond Subasic in the first half to open the scoring only to see his marvellous effort cancelled out by a handy header from Andre Kramaric up the other end. Russia were caught out at the back and Croatia capitalised.
The second half saw two very cagey teams size each other up with both too fearful to go all out. They didn't sit back either though and it resulted in a battle for possession in the middle with a few half chances for either side.
The game went to extra-time and when Vida headed home a corner, it looked like Croatia had done enough. but Fernandes popped up to headed a glancer home himself with no time for either side to add to the four goals already scored - not that they wanted to, mind.
It came down to penalties. Smolov missed the first and Kovacic saw his saved too. Fernandez, the hero in extra-time, missed his spot-kick with a wayward effort. It would come down to the fifth effort and Ivan Rakitic tucked his home to send Croatia into a semi-final against England on Wednesday.
Russia vs Croatia live feed: as it happened
  Rakitic slots home. He makes no mistake and Croatia are in the semi-final against England on Wednesday!
    Rakitic to send Croatia into the semi-final.
  Kuzyaev. 3-3. Slots it home.
  Vida up with the next one now.  He makes no mistake and sends Akinfeev the wrong way.
  Ignashevich buries his penalty.
  Modric goal. Oh my word. That was close. Akinfeev looked to have saved. It hit the post and then bounces in to the net. Wow!
    Modric to take.
Fernandes takes. He absolutely drives it wide.
    Subasic getting a talking to for coming off his line. 
Kovacic to take Croatia's second. He.......misses. Akinfeev saves.
Dzagoev slots it home. He sends Subasic the wrong way.
Brozovic with the penalty now and he scores!
It worked. Panenka and Subasic gets a hand to it.
    First penalty to be taken by Smolov. Subasic meets him at the penalty spot for a 'how are ya?' and a little but of intimidation.
Coin toss done and let's go! 
120'+1'   That's it and we have penalties! What a game.
120'+1'   That's it now surely.
120'+1'   Rebic looks for Brozovic inside. Mandzukic on the ground and looks absolutely spent.
120'+1'   Russia looking more dangerous. One minute of added time.
120'   Last minute of extra-time. 
119'   Zobnin with an effort that nearly beats Akinfeev at the front post but he gets down well to save. What a game this has turned into.
117'   How do you get up for the World Cup semi-final after this? Psychologically, either side will be exhausted.
117'   Dreadful defending from Croatia. Mandzukic just poked his head forward. What was he thinking? 
114'   Modric seriously not happy. 
114' GOAL! GOAL! GOAL! Fernandes heads it home. What is happening?!?!?! 
113' Pivaric booked for an obvious had ball.
112'   Kuzyaev with a shot and Subasic gathers it in his chest. I think it actually got stuck in his chest! He drilled it straight at him. Nice hit.
111'   Modric crosses and it's headed out before another shot comes in and Akinfeev gathers.
110'   Fairly havy challenge there on Kovacic. Kudryashov throws his head at the midfielder's should and nearly breaks his own face and then gets blown for a free. Not very smart.
108'   Modric chases down a loose ball and makes it. His ball into the center can't fins it's target though. He has run himself into the ground today.
106' Into the second half now. 
105'+2'   Free for Russia. Sent in by Smoloc and Subasic is fouled. He has hurt his hand. That's it for the first half of extra-time.
105'+2'  Two minutes of added time in extra-time. Croatia killing the clo
105'   Goal-kick.
104'   Corner for Russia. Theyr're throwing the kitchen sink at it. Another corner.
103'   Kovacic with a tactical foul. 
101' GOAL! What a dreadful goal as he heads it down into the ground and through a couple of defenders' legs. It dribbles in at the near post. Oh, that will be tough for Russia to take.
100'   Cross comes in from the counter and it's cleared for a corner for Croatia.
100'   Smolov goes to ground on the break. Lovren with some really good defending and the referee rightly rules that as no foul.
97' Corluka replaces Vrsaljko. 
94'   No change made as of yet.
94' Vrslajko needs to be changed. He goes down and he tells the management team that whatever it is that's wrong with him is bad enough to need changing. Looks like a muscular injury. 
92'   Corner for Russia and it's up and away by Modric. Some pressure from Russia to start.
91'   Into the first half of extra-time!
90'+5' And we do indeed have extra-time.
90'+5'   That should do it!
90'+4'   Subasic forced into a save. Shot drilled in at the near post by Smolov and he has to beat it away.
90'+4'   Into the second last minute of added time. Akinfeev taking his time over this one.
90'+3'   Corner Modric and it's blocked out for another one. Modric with the short corner again and it's blocked for a throw. He sends this one in and Kovacic nearly gets to it before Russia clear.
90'+2'   At what point do both teams settle for a draw?
90'+2'   Pivaric with a cross and it's blocked and cleared by Russia. 
90'+1'   We have five minutes of added time. Subasic is back up and it appears it was only cramp that he was suffering from.
90'   Can he continue? It looks like his hamstring is gone.
90' Kovacic comes on for Kramaric.
89'   Subasic is down injured. They just made their third sub too.
87'   Corner for Croatia now. Modric sends it in. Oh, Vida meets it with his head and there was a foul somewhere along the line. Lovren with the push off on Kutepov
85'   Free is sent in but it's headed clear. This one, it seems, is destined for penalties! Very similar to the Denmark - Croatia game.
83'   Long ball down by Akinfeev. Croatia clear but Russia come back up the field. Vrsaljko with a hand ball as Gazinskiy tries to flick the ball past him.
80' Gazinskiy replaces Dzyuba.
80'   Water break now as Erokhin, the substitute, needs attention. Nervous moments for the fans. It was Vida who caught him with an arm in the stomach. Accidental, it looked like.
77'   Mandzukic heads up into the air from the corner.
76'   So many chances. Ball out to the back post and Mandzukic with the shot that is blocked into Vrsaljko's path. It's blocked too for a corner. But he was offside? It's still a corner.
74' Another change for Croatia now. Strinic is being replaced as he makes his way slowly off the field. He is replaced by Pivaric
72'   Much better from Russia. Cross comes in from the right and it's headed just over by Yerokhin. 
70'   Russia on the attack.Vida ends up fouling Dzyuba. Nice spell of possession for Russia. They needed to relieve the pressure.
67' Another change for Russia. Cheryshev being taken off now for Smolov.
66'   Modric to Rakitic and the midfielder can't quite control it. 
65'   Croatia definitely forcing the issue a little but more here. Russia's attacking threat is starting to fade with every passing second. 
63'   Kramaric with an ambitious effort that's blocked. Run down the left and a squared pass to him again and it's blocked again. 
63' Perisic is being replaced by Brozovic.
61'   Now Croatia have to defend a corner as Rakitic puts it out. 
60'   How did that not goo in? Cross comes in and Kramaric sends it up into the air at the back post. It falls nicely to Perisic as Russia fail to clear. Perisic strikes and it hits the post and rolls across the line and the safety! It doesn't get a whole lot closer than that.
56'   Dzyuba into the center and Russia are on the move. Croatia win it back and now Perisic takes it in from the right. He sent almost all the way across the field and lays it off to Modric.
54'   Stanislav Cherchesov decides it's time to make a change. Croatia were getting a little bit of a foothold on this one.
54'   Samedov is taken off for Erokhin. 
52'   Long ball down the Dzyuba. That's safely into the waiting hands of Subasic.
51'   Chilena from Kramaric and he catches it quite well but Akinfeev not concerned with that one. 
49'   What was that by Kutepov? He tried to clear it but completely missed the ball. Rebic gets it and waits and waits for his chance to shoot but it won't arrive! Modric ends up shooting and it's well wide. 
48'   Ignashevich sends one down into Croatia's defence but Subasic nabs that one. 
46'   We are back underway at Fisht Stadium.
45'+2'   HALF-TIME!
45'+1'   Two minutes of added time.
45'   Vrsaljko fouled by Cheryshev as they battle for the ball. A hand in the face for the defender before being pulled back. It was definitely a free. 
42'   Mandzukic down now grabbing his calf. Not sure if he can continue but he will try. He is up and walking it off.
42'   Another scare. Dzyuba was offside but it turns out he wasn't. He had a good chance there but it looks like he was whistled for a foul instead.
41'   Perisic with a foul on Fernandez. He's lucky not to be booked there. He dived in with two feet, it looked like.
40' There's Kramaric. Simple as that! It's crossed in from the left Mandzukic and the striker just nods it home. Ignashevich slipped at the wrong time too and Kramaric with the handy finish.
38'   Ball sent into the back post. Ignashevich has two bites at the cherry. Maybe just two half bites. He heads it up to himself first and then kicks the second one wide.
37'   Dyzuba fouled by Vida. He is causing all sorts of problems for every defender he faces! Free for Russia.
36' Rebic crosses. That's blocked and the ball is sent down to Dyzuba, who is taken out of it by Lovren. He gets a yellow card and the referee is telling him to calm down.
34'   Another ball delivered in to the back post. Ignashevich heads it out after it's head back across goal. Corner for Croatia.
31' CHERYSHEV! What a hit. He absolutely buries it beyond Subasic, who is left standing looking at it. That was some goal!
30'   Dyzuba with a foul on Modric in the air.
30'   Cheryshev whips a free in and Subasic gathers but not before parrying to himself. He has a look up at the lights as if the ball got lost in them. He gathered in any case.
28'   Perisic with a shot. Vrslajko crosses and Perisic stoops down to head it towards goals. He gets his angles wrong and it dribbles wide.
26'   Subasic clearance and that's straight onto the head of a Russian defender. 
25'   Rakitic fouled abou six times before getting a free. Samedov push in the back eventually forces the ref to blow his whistle.
25'   Game has evened out in the last few minutes. Really lively started but both sides far more cagey now. 
21'  Golovin with a nice ball to Dzyuba but Lovren steals it off him. 
20'   Vrsaljko loses it and Russia break but the hosts give it away then and Modric is on the ball. He plays out wide to Strinic.
19'   Still no breakthrough yet and both sides have looked equally likely. Croatia possibly edging it so far but it's close. Russia retreat now as Croatia move forward.
18'   Golovin fouled by Mandzukic.
17'   Russia back on the ball and setting up their attack. Ball over the top to Fernandes but it looked like it was out for a goal-kick. Subasic gathers the cross anyway. That might have gone to VAR if there was any controversy.
17'   He slings it with his right but that's well over and probably wasn't troubling Akinfeev anyway.
16'   Rakitic will take. 
15'   Ball crossed in and it falls to Rebic but he hits it away from goal somehow. Croatia keep it and Rebic is pulled down just outside the box. Might be too far to the left to shoot but there are a few Croatians around it having a think about it.
13'   And now Rebic is fouled by Kudryashov. Free for Croatia and a chance for Rakitic to whip it in.
13'   Dzyuba freed down the left. He plays it to Samedov and he gets a nice cross in. Golovin in the box but he's oumuscled in the air. Not a bad counter by Russia at all.
12'   Vrsaljko crosses to Mandzukic and he just mishits it completely. He strikes ir over the bar.
11'   Dzyuba heads clear. Strinic stops the counter attack and wins the ball before being fouled. Golovin and Kuzyaev the foulers. And then Kuzyaev gets in the way of the quick free. 
10'   Modric was on the money from the first effort. Let's see what he can muster up from the other side.
9'   Modric spreads it out to Strinic. Perisic crosses and he wins a corner.
7'   Modric sends the corner onto the head of Lovren and it's headed over by Rebic.
6'   That's Croatia's first proper attack. Rebic gets it on the right and strikes from a tough angle. Akinfeev beats it away for a corner.
5'   Russia can't do anything with the corner. Croatia back on the ball. They've struggled to test Russia's defence so far though.
4'   Dangerous ball in from the right. Golovin with the ball. Cheryshev challenging the header and it falls to Dyzuba but it's deflected out for a corner.
3'   Akinfeev with a clearance and that's out for a throw. Russia really came to play today. 
2'   Really nice move from Russia after nicking the ball off Croatia again. Dyzuba takes it into himself and plays it to Cheryshev. He strikes and falls and says he was fouled. No chance of a penalty for that one.
2'   Russia win it back and try to attack with pace. Dyzuba ends up fouling Vida in the air and Croatia back on the ball.
1'   We are underway and it's Croatia get us started. 
    Modric and Akinfeev up for the toss. Let's be having you World Cup quarter-final number four.
    The Croatian national anthem blares around the stadium. That's about to get a whole lot louder with the Russia anthem. And it does get very, very loud.
    Russia have come a long way since Andrei Kanchelskis said "this is the worst Russia team I have ever seen."
    Croatia are undefeated in their last 8 matches (FIFA World Cup).
    Cheryshev replaces Zhirkov, who went off at half-time during the Spain game.
    The only change for Croatia is Brozovic comes out for Kramaric in an attacking change. They're expecting plenty of crosses, possession and attacks, you'd have to presume.
    Croatia XI: Subasic, Vrsaljko, Strinic, Lovren, Vida, Rakitic, Modric, Perisic, Kramaric, Mandzukic, Rebic.
    Russia XI: Akinfeev, Fernandes, Kutepov, Sergei Igashevich, Kudriashov, Cerhyshev, Kuziaev, Zobnin, Golovin, Samedov, Dyzuba.
    The last five hosts to reach the quarterfinals also made the semifinal (Brazil 2014, Germany 2006, South Korea 2002, France 1998 and Italy 1990).
Russia vs Croatia preview:
After their shock defeat of Spain, Russia will hope to go one step further by beating Croatia in Sochi this evening in the last of the four quarter-final fixtures of the World Cup.
Russia will once again be the underdogs, against a Croatian side ranked 50 places ahead of them in the FIFA rankings at 20th. Croatia reached the quarter final stages after winning all of their group games, including the 3-0 defeat of Argentina, and sealing victory against Denmark on penalties in the second round. After missing his penalty in the shootout against Denmark, star man Luka Modric will be keen to impress and lead his team their second semi-final in their history, where a strong English side awaits. This will be third time Croatia meet Russia in their five appearances at the World Cup.
Russia have been one of the big surprises at the World Cup and will have the home crowd urging them on to their first semi-final since 1966 (where they competed as the Soviet Union). After a poor pre-tournament run of friendlies, in which they recorded just one win in eight, Russia managed to comfortably win their first two group games, which included the 5-0 opening day thrashing of Saudi Arabia. They were soon brought back down to earth, suffering a 3-0 defeat at the hands of Uruguay, before causing one of the biggest upsets of the tournament when they beat Spain on penalties. If Russia can find a way past Croatia this evening, they will become the fifth of the last seven hosts to reach a semifinal.