Russian team doctor admits players sniffed ammonia
The Russian Football Federation's team doctor, Eduard Bezuglov, said the substance was in common use in sport and "does not constitute doping. USA vs Mexico: FIFA Friendly live online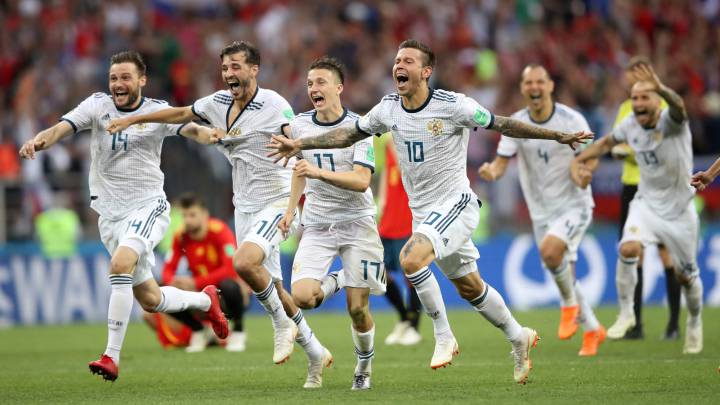 German newspaper Süddeutsche Zeitung's claims that Russian players sniffed ammonia, a non-banned substance, to improve their performance during their games at the World Cup, have been confirmed by the team's doctor.

The report in Süddeutsche Zeitung cited a spokesperson for the Russian Football Federation, who admitted to the Bavarian newspaper that one of the Russian substitutes sniffed a cotton ball doused in ammonia before coming on in the game against Spain.
In the latest twist in the tale, on Tuesday Eduard Bezuglov, the Russian national team's chief medical professional, stated that the players had inhaled ammonia before the game against Spain and again ahead of the quarter-final against Croatia.
"We are talking about a simple ammoniac that you apply to buds of cotton wool and then inhale. Thousands of athletes do the same thing to give themselves a lift. It's been in use for decades," Bezuglov was quoted as telling local media in Russia. "It is not only used in sport but also in everyday life when someone loses consciousness of feel dizzy because of the strong smell it gives off. You can go to any pharmacy and buy ammonia and cotton buds. It does not constitute doping."
"As common as using shampoo in the shower"
While ammonia is not classed as a prohibited substance in international anti-doping regulations, it is known to help improve athletic performance, by stimulating breathing and improving the flow of oxygen in the blood. "The Russian Federation acted as if it were something as common as using shampoo in the shower," states the Süddeutsche Zeitung article.
Süddeutsche Zeitung was not the only German media outlet to link Russian players with the use of ammonia. Tabloid newspaper Bild claimed that images broadcast by German public television of Russian players rubbing their noses during the quarter final game against Croatia suggested that they were using the performing-enhancing substance.