Björn Kuipers: the millionaire man-in-the-middle
The World Cup referee is worth an estimated €12.4m through his business ventures off the pitch, which include supermarket and hairdressing chains.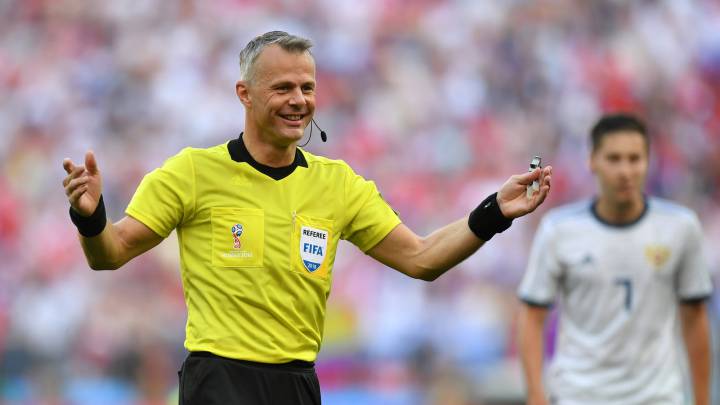 Football referees are rarely noted for anything other than the mistakes they sometimes on the pitch but Dutch official Björn Kuipers is the exception.
The 45-year-old World Cup referee, who is one of the most respected in the profession, has presided over the Champions League final between Real Madrid and Atlético in Lisbon in 2014, the 2013 and 2018 Europa League finals and the final of the Confederations Cup prior to the 2014 tournament in Brazil but he has proven equally astute in his decision-making outside of the sport during that time.
Kuipers is perhaps the only millionaire referee in the game today. Having earned a degree in business administration from the Radboud University in Nijmegen, Kuipers went on to co-found the C100 chain of supermarkets in the Netherlands, of which there are some 500 individual stores and also serve as one of the main sponsors of Formula 1 driver Max Verstappen. Kuipers also recently inaugurated a hairdressing business.
On top of his annual salary as an Eredivisie referee, Kuipers' income also includes the match day fees he picks up for officiating Champions League and World Cup games, which range between 4,000 and 6,000 euros. Overall, Kuipers is estimated to have amassed a personal fortune of 12.4 million euros.
Kuipers at the World Cup
Russia 2018 is Kuipers' second World Cup after Brazil and he has been a Uefa Elite referee since 2009. At the 2018 tournament he has overseen Egypt-Uruguay and Brazil-Costa Rica in the group stages, as well as Spain-Russia in the last 16 and England-Sweden in the quarter-finals.
It remains to be seen if Kuipers will be in charge of either the second semi-final between England and Croatia or the final or third-place play-off after Uruguay's Andrés Cunha was confirmed as referee for the match between Belgium and France on Tuesday.