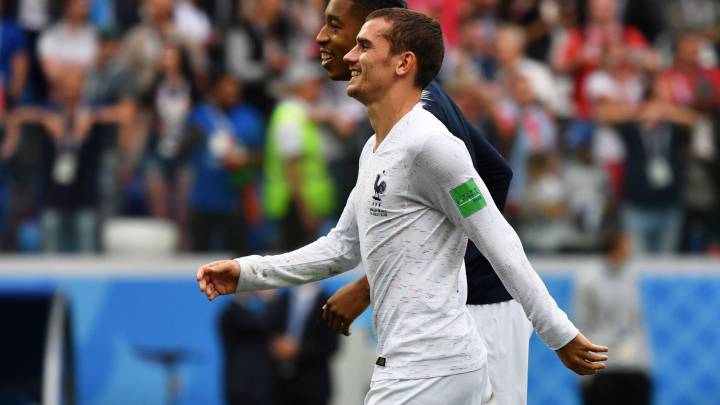 Argentina and Portugal's early exits from the World Cup in Russia have opened up the real possibility of a player other than Leo Messi or Cristiano Ronaldo winning the Ballon d'Or this year after a 10-year stranglehold between the Barcelona and Real Madrid forwards on the sport's top individual prize.
Since the Ballon d'Or went global in 1995, on three of the occasions a European nation has lifted the World Cup the award has gone to a player from the triumphant team: Zinedine Zidane in 1998, Ronaldo in 2002 and Fabio Cannavaro in 2006.
Before 1995, Bobby Charlton (1966), Paolo Rossi (1982) and Lotthar Matthäus (1990) all combined a World Cup win with a Ballon d'Or and that number may have been higher but for the dominance of Brazil (1958, 1960, 1972 and 1994) and Argentina (1978 and 1986) on the world stage.
In the meantime, the exploits of Messi and Cristiano Ronaldo at club level have been more than sufficient to see them to the top of the podium, the Barça and Madrid stars sharing the last 10 equally between them.
Messi and Ronaldo's dominance to come to an end?
But despite Real winning the Champions League and Barça completing another domestic double, neither player really hit the exceptional standards they have set themselves in 2017-18 and it was the general consensus that Russia would serve as a sort of tie-breaker between the pair, or the stage for Neymar to finally emerge as their successor, which did not quite come to pass for the Brazilian.
There were flashes from both at the tournament – Ronaldo's hat-trick against Spain and Messi's strike against Nigeria – but the scene has now been set for a new name to be etched on the 2018 Ballon d'Or.
At the moment the primary candidates are Harry Kane, Kylian Mbappé, Antoine Griezmann and Luka Modric.
The Tottenham striker currently leads the race for the World Cup Golden Boot while the French pair landed the Europa League and a French treble between them. Modric won the Champions League and he and Kane have each been named man of the match on three occasions in Russia.
It may now come down to a straight shoot-out between those four. If England or Croatia are triumphant in Russia, Kane and Modric will likely land the award. If Les Bleus are victorious, it may come down to which of Mbappé and Griezmann fires them to glory in the last two rounds in Russia.
In any case, it seems that Messi and Ronaldo's hegemony of the Ballon d'Or is likely to come to an end in 2018.