Cristiano Ronaldo leaves Real Madrid for Juventus
Real Madrid have agreed to sell Cristiano Ronaldo to Juve for 100 million euros (112 million total cost to the Italian club). The news of the move from the Bernabéu to Juventus Stadium was announced on Tuesday 10 July, 2018. LAFC vs LA Galaxy: Vela vs Zlatan live online, MLS week 25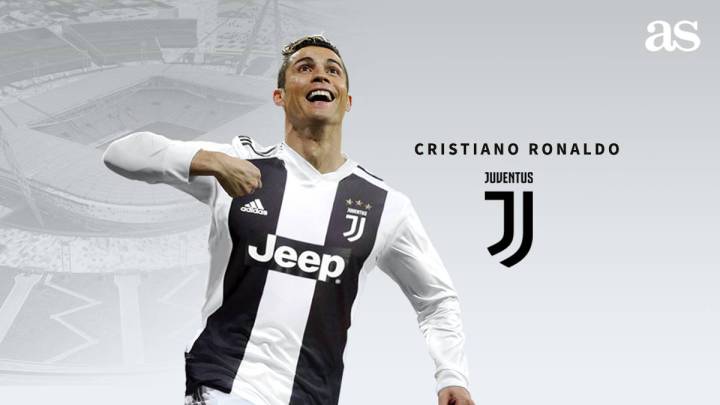 Cristiano Ronaldo is officially leaving Real Madrid to join Italian club Juventus, in a deal worth 117 million euros (100 million to Real Madrid, five million to former clubs Sporting Lisbon and Manchester United and 12 million in commissions and other fees).
The player is joining on a four year contract, with a 30 million euro annual salary, after tax.
Cristiano Ronaldo joins Juventus from Real Madrid for 100 million euros: latest news
The biggest dilemma Real Madrid now face is how to find 50 goals a season from one source. Here are a few potential candidates.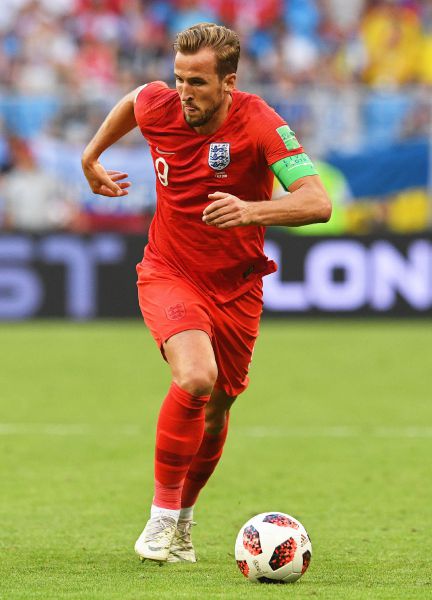 "Ciao, Cristiano. It was great while it lasted", today's front page of AS.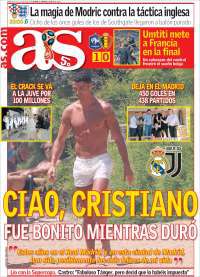 In Today's editorial, Alfredo Relaño reflects on the circumstances of Cristiano Ronaldo's departure, the transfer fee and his strained relationship with club president Florentino Pérez.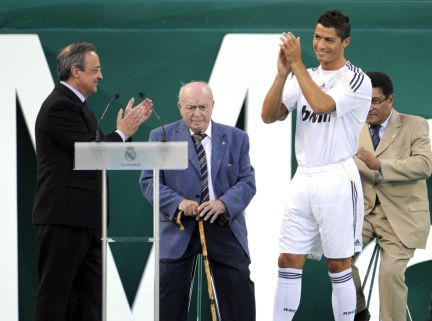 Portuguese site Maisfutebol published this image of Cristiano Ronaldo celebrating his move from Real Madrid to Juventus, at his villa, alongside Jorge Mendes and Juventus president Andrea Agnelli.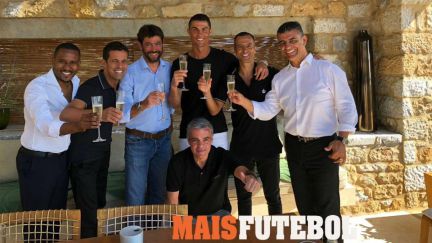 Here's a photo gallery of how Cristiano Ronaldo spent his day, in his all mod-cons eight-grand-a-night private villa on the Costa Navarino in Greece. After a kick-about with his son he had a visit by helicopter from his agent and the Juventus president.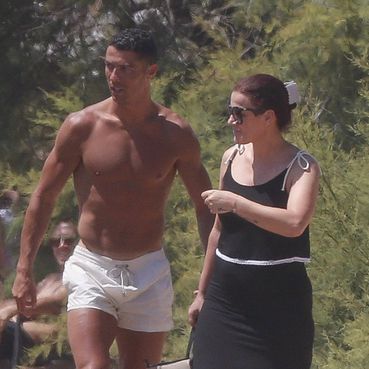 Crsitiano Ronaldo has nabbed Cuadrado's number 7 shirt, as expected. At the moment you can't buy a Cuadrado shirt on the Juve club website.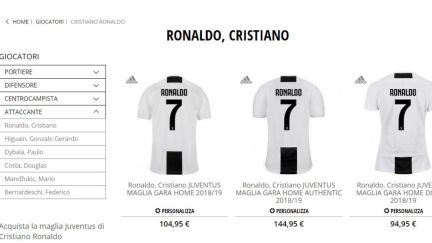 Total cost over four years to Juventus is around 350 million euros, with 112 million for the signing, plus the salary of 30 million, plus the taxes on top of that, which is just slightly under the the same again. (See this for the price of taxes on players' salaries in each country). Of course against that you get the famous shirt sales argument (which might be a fallacy if the manufacturer has already agreed a set price for the seasons in question) plus higher sponsorship rates, more ticket sales etc, etc.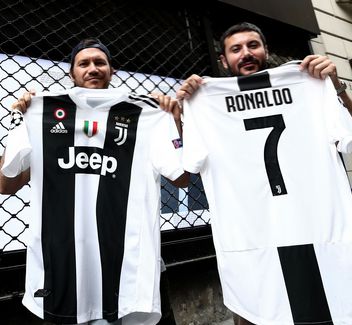 EA Sports will be changing Cristiano's shirt or the player himself on the cover of FIFA 19.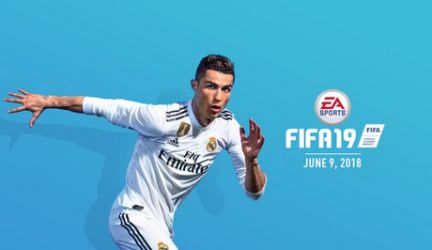 Our hard-working graphics department have produced a rather nice piece looking at Cristiano's achievements at Real Madrid which will appear almost by magic if you press or click on this link.


And there we go, distracted boyfriend Cristiano to Juventus meme in all its glory: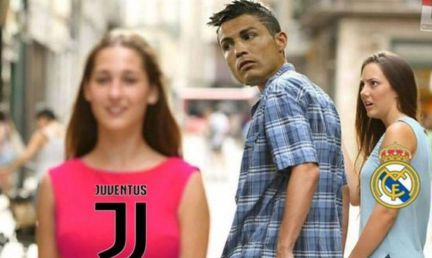 And of course it wouldn't be an event on the internet if there weren't memes about it. No doubt the distracted boyfriend meme with Cristiano's face and the two club badges is already absolutely everywhere...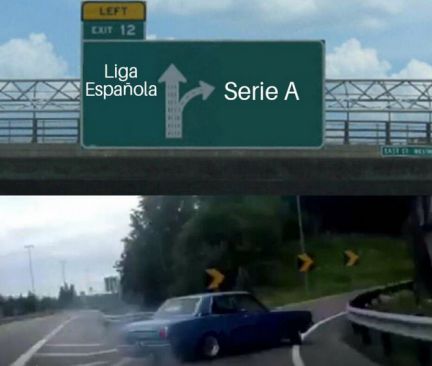 Ronaldo has left the store. But you can still pick up his shirt (while stocks last).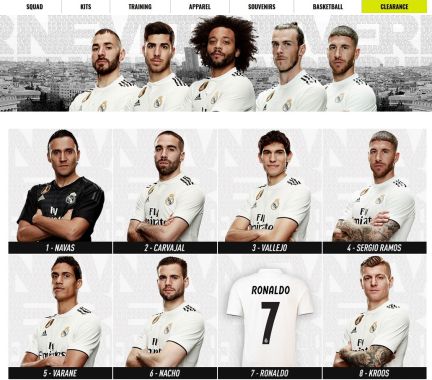 The total cost of the operation for Juventus is 117 million euros: 100 million to Real Madrid, five million to the FIFA solidarity contribution and 12 million in additional costs such as agents fees and red tape.
Juventus in their rather more staid investor press release state that the price paid was 100 million euros.


"He's called Cristiano Ronaldo and he's now officially a Bianconero!" parps the Juventus English-language website in delight! (Note the website is running a little slowly, wonder why?)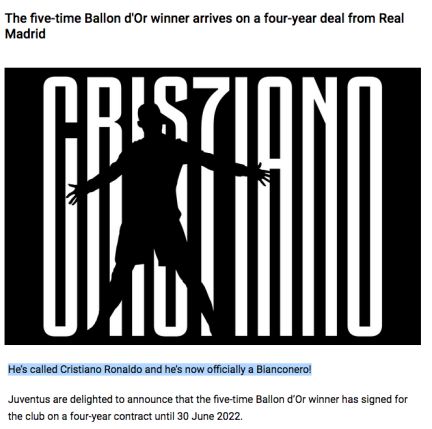 So Real Madrid are going to have 105 million euros burning a hole in their pocket (plus Cristiano's wages) and a need for a new man up front. The talk had all been of Florentino Pérez being obsessed by bringing in Neymar, but the feeling, particularly with their respective performance's at the World Cup, is that Mbappé might be Real Madrid's number 1 target now, though they did deny rumours last week.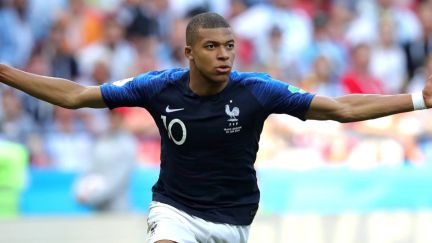 Cristiano has written an emotive farewell letter to the Real Madrid fans: "I have spent a long time reflecting and I have decided that the time has come for a new stage in my life. I am leaving but this shirt, this crest and the Santiago Bernabéu will continue to feel a part of me wherever I may be. Thank you to everyone and of course, as I said on that first occasion in our stadium nine years ago: "Hala Madrid!" Read the full letter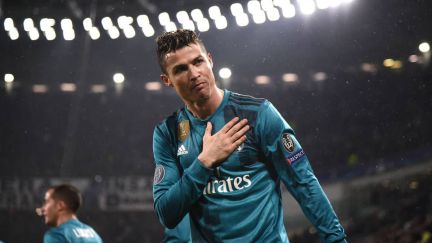 Still no word from Juventus on the move on their website and social media channels, so it looks like they've agreed to let Real Madrid run the narrative about the move for now.
Real Madrid will be playng Juventus at the Fedexfield close to Washington DC on August 5. Interesting to see if Cristiano will be starting...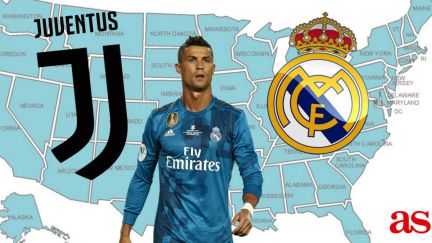 Tax was another of the reasons for the deterioration in the relationship between Real Madrid and Cristiano Ronaldo. According to reports, the player accepted tax fraud charges in the middle of June, to avoid going to trial. That meant the striker paying some 18.8 million euros of taxes, fines and interest. The player was keen to renegotiate his salary such that the club would cover the amount, something Real Madrid refused to do, although they did make apparently him an offer of 25 million euros plus 7.5 million in incentives, which wasn't in the end enough.
Conversations between Cristiano Ronaldo, Real Madrid and Juventus had been intensifying over the past few weeks, reports our own Manu Sainz, but it was on 4 July that Jorge Mendes, the player's agent was told the Real Madrid's conditions for the sale, which allowed the deal to actually go through. Cristiano and Juventus had already reached personal terms some times before that, with the player agreeing a 30 million a year salary, after tax. (The top tax rate in Italy is 43%, so Juve will paying around 53 million euros a year for Cristiano's salary cost, plus social security etc.).
Nine years ago...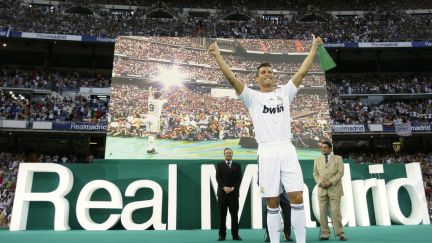 Cristiano's favourite tournament? The Champions League and his love for Ol' Big Ears is likely one of the main reasons Juventus have signed him. His goal-scoring alone is phenomenal in Europe's elite competition: 120 goals in 152 matches, 105 in the Real Madrid shirt. Of those 105 goals, 60 were in the knock-out phases, 20 in the last 16, 23 in the quarter-finals, 13 in semi-finals and 4 in the final. What's more, he scored seven hat-tricks in Champions League matches, a record he shares with Messi.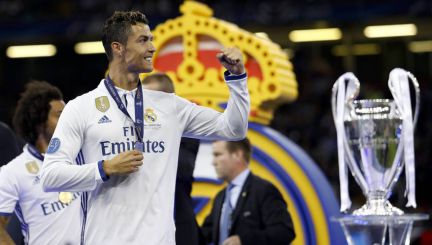 Real Madrid Stats: Highest goalscorer in Real Madrid history, with 451 goals in 438 games. 16 trophies in all, including 4 Champions Leagues (3 consecutive), 2 Ligas and 2 Copas del Rey. Individually, 4 Ballons d'Or, 2 The Best and 3 Golden Shoes.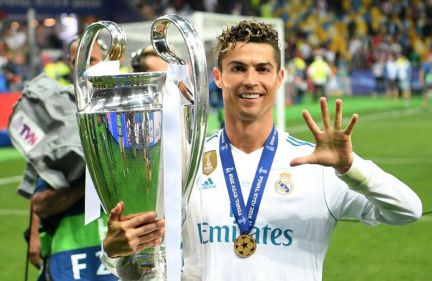 Cristiano Ronaldo's medical will be next week according to Sky Sports Italy. His presentation has been mooted as being on Saturday 21st July.
So Real Madrid are saying they sold Cristiano Ronaldo following the player's request to do so. The club are also expressing their extreme gratitude to the player, and reeling off some of his eye-watering stats.
There it is, official announcement from Real Madrid. It's just in Spanish at the moment, we'll have a translation up as soon as we can.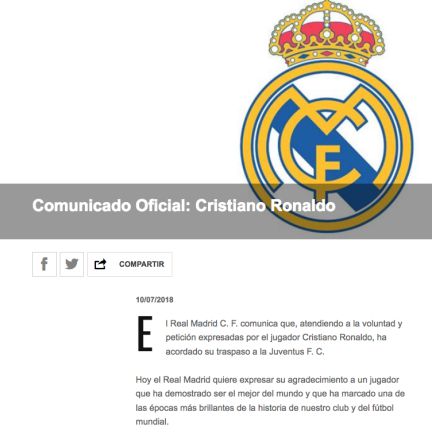 Cristiano Ronaldo has apparently already reserved his pad in Turin: a 1,000 square-metre, three-floor mansion with just eight bedrooms, an indoor swimming pool and a host of other amenities.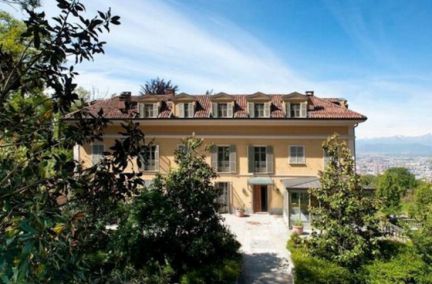 Cristiano Ronaldo is signing for four years, earning 30 million euros a year after tax, a nice jump up from the 23 million he was on at Real Madrid.
So we're just waiting for official confirmation, but the deal is done. Cristiano Ronaldo will be leaving the Bernabéu for 105 million euros to start a new stage of his career at Juventus.
Ancelotti is a fan of the move, having told Cristiano that Allegri is the "perfect coach" for him.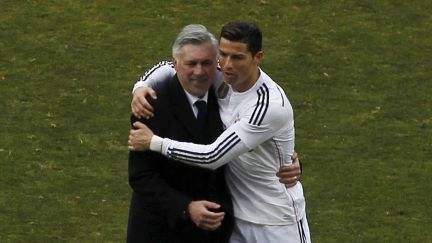 However Cristiano Ronaldo's nine year spell in the Spanish capital has now come to an end, with the news the Portuguese star will be moving to Juventus for the 2018/19 season. A major hint at today's news came right after the final whistle of this year's Champions League final when, having just won the trophy, Cristiano Ronaldo dropped the bombshell that he might well be leaving...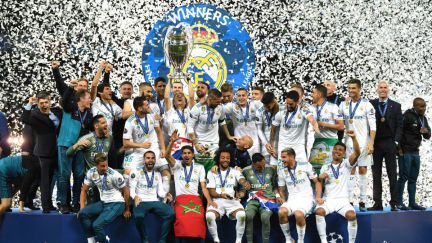 The 33 year old, who was born on 5 February 1985, joined Real Madrid from Manchester United on 1 July 2009 for 96 million euros, a then transfer record, and has had a spectacular time in the Spanish capital, picking up a host of titles including two Liga titles, two Copas del Rey and four Champions League trophies, in addition to the four Ballons d'Or he won in 2013, 2014, 2016 and 2017.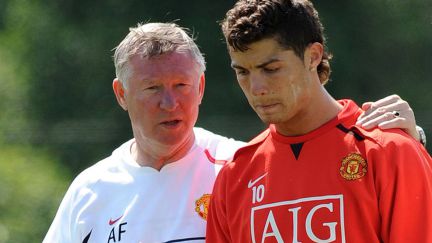 Hello and welcome to our live coverage of the news that Cristiano Ronaldo will be leaving Real Madrid and signing for Juventus for the 2018/19 season.
Cristiano Ronaldo leaves Real Madrid for Juventus
Real Madrid's star striker will be playing his football at Juventus Stadium in the 2018/19 season, after a deal was agreed for him to leave the Bernabéu to don the black and white of Juventus, with the Italian club paying 100 million euros for the striker, according to a Juventus press release.
The total cost of the operation for Juventus is 117 million euros: 100 million to Real Madrid, five million to the FIFA solidarity contribution, which goes to Sporting Lisbon and Manchester United, and 12 million in additional costs such as agents fees and commissions.
The five time Ballon d'Or winner had been said to have been unhappy for some time at Real Madrid, particularly over President Florentino Perez's reluctance to improve his contract and what Cristiano Ronaldo felt was an obsession with bringing Neymar to the Spanish capital.
Cristiano Ronaldo hinted at move after Champions League triumph

In the minutes after winning the Champions League this year, his and the club's third in a row, Cristiano dropped the bombshell that it had been "beautiful" playing at Real Madrid, clearly paving the way for today's news that he would indeed be on the move.
Some, like team-mate Modric felt it wasn't going to happen, but with news filtering out last week that his release clause had been cut to just 120 million euros it began to look increasingly likely that the Portuguese striker would be leaving for Juventus.