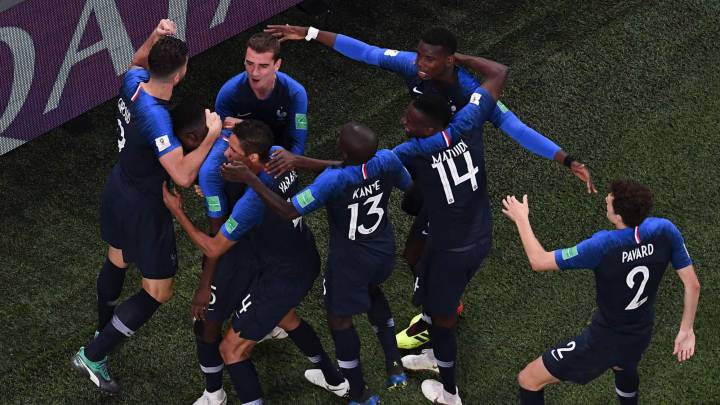 France 1-0 Belgium: match report
France are through to the World Cup final for the first time since 2006 after seeing off a tame Belgium challenge. Didier Deschamps side have coasted for large parts of the tournament but are through to the decider without being forced into extra-time or without sweating
Roberto Martinez, who was widely praised for his tactical acuity in Belgium's win over Brazil, got his tactics wrong on Tuesday night. He picked Mousa Dembele in place of Thomas Meunier and shiftied a more focused attention on midfield than on the wings with Dries Mertens missing out again.
Belgium started better than the eventual winners but once France got to grips with Hazard down the left hand side, there only ever looked like there would be one outcome. They pushed for a goal before the break but Belgium dug their heels in and hung on.
But there was only so long they could repel the repeated attacks on their goal. A corner came after increasing pressure that saw efforts from Giround and Griezmann. When the cross came in from the latter, Umtiti glances it home despite attention from Marouane Fellaini.
Roberto Martinez brought on Mertens and he made a massive difference but France looked equally likely on the break. In the end, with a couple of could-have-been chances falling to Lukaku, France won with that sole set-piece.
They don't know who their opponents are yet but they are yet to meet a team to take them out of their comfort zone. Despite the high hopes many had of Belgium doing just that and turning this semi-final into a ding-dong battle, Deschamps and France were always in control.
France vs Belgium live online: updates | World Cup 2018 semi-final
90'+6' GAME OVER! France are in the final of the World Cup. Goal by Umtiti does the trick.
90'+6'   Plays it short to Pogba and he battles with Carrasco.
90'+6'   That should do it. Tolisso shoots and it's saved by Courtois for a corner. Belgium almost out of time. Mbappe taking his time.
90'+4' Mbappe fouled by Vertonghen. Really silly.
90'+4'   Mbappe breaks and Kompany slides in and it's Belgium on the break. Hazard wins it and sends it to De Bruyne. Lovely pass inside and it's leared by France.
90'+3'   Griezmann with a nice shot on his right and Courtois saves.
90'+2' Yellow for Mbappe for wasting time.
90'+2'   Free for France. Pogba pushed in the back by Chadli. Griezmann takes and De Bruyne wins it back. It's out for a throw though.
90'+1'   We will have six minutes of added time.
90'   Dreadful touch from Chadli as it's put out for a throw to France. Lucas takes and he takes his time.
88'   Ball chipped towards goal. It nearly falls to Lukaku but it's cleared by France. Another lovely ball in by De Bruyne and Lukaku can't reach it.
87' Kante all over Hazard and he gets himself booked for a foul eventually.
87'   Another cross in from Chadli and France beat it away.
85' Matuidi off for Tolisso.
85'   Looks like Matuidi can't continue. He is down on the ground and Tolisso is ready to replace him.
84' Giroud off for N'Zonzi.
84'   Mertens and Chadli link up. The former lets the ball run out for a goal-kick.
84'   Matuidi is okay. He jogs back on slowly.
83'   N'Zonzi coming on for France. Matuidi being helped to his feet. He took a fairly heavy hit to the ribs.
81'   Two men on the ground.
81'   Belgium go so close. Witsel with a shot and it's saved by Lloris. Really nice shot but Belgium can't get anyone on the rebound. Hazard goes down now after colliding with Matuidi. 
80' Fellaini off for Carrasco.
79'   Free for France and Griezmann sends it towards the box. Pogba heads up into the air. Goal-kick for Belgium. They play it out from the back and Griezmann presses high and they end up moving forward. Hazard goes down under a challenge from Giroud and the referee says no. Looked a definite foul.
76'   Carrasco coming on for Belgium.
76'   High, looping cross from Mertens but that's over the bar. Never troubling Lloris.
74'   Belgium remain patient but they need to start forcing this issue here. Witself fouls Griezmann as France again try to counter. They're looking dangerous on the break.
72'   Samuel Umtiti on the ground after taking a ball straight to the face. Sore jaw for the defender.
70' And Alderweireld is booked for a foul on Matuidi as he tries to counter.
70'   Another cross out the other side.
70'   Mertens cross and it's out the other side. 
70'   Belgium still trying to break France down. No dice so far. de Bruyne out to Fellaini and he plays to Hazard. They are moving the ball up the field.
67'   France win it back and Mbappe crosses to Griezmann and he takes it down just lovely. He plays it to Giroud and his shot is a mile over the bar.
67'   Belgium still looking for a way through. 
65'   Mertens to Fellaini and he heads just wide.
65'   Mertens with a cross and Lloris punches clear. Belgium improving. They get the ball back.
63' Corner to the front post is poor. Hazard pulls down Matuidi as he breaks. He had Mbappe in front of him and Hazard made the right call.
63'   Belgium upping the ante here. They need to. France retreat to see what their opponents throw at them. Chadli down the right and he wins a corner.
61'   Belgium improved already.
61'   Much better from Belgium. Lukaku to Mertens on the overlap. Cross chipped in and it comes out to De Bruyne but he doesn't hit it cleanly enough.
60' Dembele replaced by Mertens.
60'   Courtois with a clearance out over the sideline. Weird.
60'   Change for Belgium. Mertens is coming on but not yet. He's getting his final instructions. 
58'   Belgium need a change.
56'   No corner though.
56'   Would have been a lovely goal. Mbappe down the line on Fellaini and he beats him before seeing his cross blocked by a recovering Fellaini. 
56'   Dangerous again from France. Mbappe crosses to Matuidi and his shot is blocked. Another ball in and Mbappe lays it off. Giroud strikes and it's blocked. 
55'   Belgium can't get anything going here. France dominating the game here. They have Belgium just where they want them.
55'   Griezmann into the box. And that's headed up and away by Kompany. Belgium try to break and Lucas fouls Hazard.
53'   There's another foul on Matuidi this time. Dembele pulls him down and it's a free for France.
51' There's the goal! Corner comes in from Griezmann and Umtiti glances it home. Lovely header.
51'   Giroud recieves the ball. He turns and shoots and that's blocked for a corner. Good defending from Kompany but frustrating for Giroud. Nice move.
50'   De Bruyne with another chance. He tries to thread one through to Lukaku but Umtiti picks him off. 
49'   Vertonghen up against it as Mbappe takes off down the wing. But he does well and uses his body to push Mbappe off the ball.
48'   Ball out to Chadli from Kompany. Cross comes in and Lukaku heads just over. 
47'   De Bruyne almost pounces on a mistake. He wins a throw in the end. Matuidi the one who coughed up the ball.
46'   We are back underway for the second half. No changes for either side.
Teams emerge back onto the field.
45'+1'   No goals! That's it for the first 45 minutes in Saint Petersburg.
45'+1'   Ball in from the right and Umtiti misses it completely. Lukaku isn't expecting it and it just hits his arms and rolls out of play. 
45'   Griezmann straight into the wall. He passes to Umtiti on the rebound but that is too heavy a touch.
44'   Griezmann to Pogba and he strides forward. Dembele pulls him back and it's a free in a really dangerous position. 
43'   Approaching half-time now. France still on top. Belgium will be hoping to get to the break with the scoreline as it is because they need an adjustment.
42'   Cross from the right and Umtiti beats it away.
41'   Belgium trying to slow things down and they do before Fellaini loses the ball really cheaply. Pogba clips it towards Matuidi. Lucas on the left now and France circulate the ball quickly. Ball inside to Matuidi and he heads into Courtois' chest. Easy one for the keeper but Belgium are struggling now.
39'   France have grown into this game fully now. Belgium struggling to get on the ball after such a good start. Mbappe plays the ball into Pavard's path and Courtois makes the save. 
38'   Giroud, during that play, caught a leg to the calf. He is down getting treatment and the magic spray is out. Looks like he is okay to continue as he walks it off.
37'   Griezmann drives forward and nearly gets fouled by Witsel. He keeps going and Matuidi has run into an offside position. He ends up shooting but that's poor and wide.
36'   Griezmann fouls Hazard. 
34'   Kante almost into the path of Giroud. He chases it down and Belgium break. France win it back and it comes to Mbappe almost on the endline. His first touch is back to Giroud and he slides wide. Oh, that was close and a good move. France creating much more now.
33'   Griezmann with an effort now. Ball came down and he played it to Giroud but he was bundled over - no penalty. Lucas plays it to Griezmann again and his right-footed effort was well over the bar. Better from France though.
32'   Hazard with another one of those runs down the left. He runs it over the sideline though. Brilliant run that was but his last touch was too heavy. He had Pogba and Pavard on the backfoot and twisted and turned around them.
31'   Cross comes in and Giround somehow gets his head to Pavard's ball in. He heads it just wide of Courtois' post. He had the keeper scrambling.
30'   Kante plays to Mbappe and he backheels to Pavard. Vertonghen fouls him as he makes the run in behind. Cynical and not needed from the Spurs player.
29'   Lucas down the left and looking for a chance to cross. Chadli shadows him all the way and wins it back off him. 
27'   Mbappe loses out. Belgium counter. De Bruyne out on the left-hand side. He sends it in and Umtiti clears. He needed to as well as Lukaku was just behind him.
26'   Matuidi runs the ball out over the line for a goal-kick. He took on Chadli and beat him but he couldn't stop the ball going out of play.
25'   Lucas from the left now and he tries to cross but it's blocked for a corner. France improving but only slightly and no proper chances yet.
24'   France have a chance. Lobbed towards Giroud and he gets a foot to it but he didn't really know where it was going.
22'   Giroud heads clear.
22'   De Bruyne with a shot and Lloris saves. The midfielder had to turn and strike from an awkward angle but that was going in! Lloris saves and puts it out for a corner.
21'   Another cross aimed at Fellaini. Varane heads out this time. They win a corner. 
20'   Another chance and this time it's crossed from the right. Fellaini nearly gets to it. Belgium are pushing for an opener here and they seem to be getting closer.
19'   Hazard cuts in again from the left. He curls one and Fellaini glances it just over the bar. So, so close.
18'   Matuidi catches a shot on the bounce and sends it towards Courtois. He forces a save from the keeper but it was routine and pretty much just a catch. He caught it well though.
17'   Fellaini takes Griezmann out of it with a very Fellaini-esque challenge.
17'   Out for a goal-kick to Courtois.
17'   Giroud from the left. He clips it towards Matuidi but too tight a space and too many red jerseys around him.
16'   Belgium keep the pressure up and De Bruyne pops it to Hazard. He drives it low and wide of Lloris' post. Close though.
14'   France back on the ball and Umtiti brings it out from the back. Witsel wins it back and De Bruyne gets it. Himself and Lukaku on different pages through and they lose out. Dangerous counter when De Bruyne can have so much space.
14'   Lovely little move by Pogba there to free him up for the pass to Mbappe.
13'   Mbappe put through on goal. Looked like he had no chance but he showed off his speed and nearly got there before Courtois. Incredible pace.
12'   France being pushed back again. Belgium throwing the ball around at the back and looking for a way through. Hazard looks dangerous but three French players surround him that time and he loses it. But Belgium win it back all over again.
11'   Lucas with a cross and it's headed out by Belgium. Quite dangerous from Belgium as they let it bounce. Ball comes back in and Mbappe pokes it up in the air towards Giroud but Belgium clear again.
9'   But Belgium win it back and De Bruyne tries to feed Hazard. Varane covers across and sees the ball out for a goal-kick.
9'   Chadli cuts inside with notions. He gets stopped and plays to De Bruyne. Pavard wins it back and France counter. 
8'   Hazard moves inside this time but France squeeze him out. De Bruyne gets it back to Kompany. Belgium with all the possession.
7'   Chadli crosses but that's over everyone. Goal-kick for France as they get a look at the ball now. Belgium had been very selfish with it recently.
6'   Hazard moves down the left as he changes gears. He cross low and Umtiti puts it behind for a corner. 
5'   Belgium dominating the ball now. Chadli on the move again down the right.
4'   Chadli with another cross and it's headed clear. Comes in from De Bruyne and it goes all the away across the box. Fellaini picks it back up and Belgium are on the attack again.
4'  Vertonghen wins is and he plays to Hazard and on to De Bruyne. Chadli cross is blocked. Belgian fans up off their seats with that counter attack.
3'   De Bruyen wins it back momentarily. France back on the ball.
2'   Kante dropping in the middle of defence to pick up the ball. Belgium pressing hight and as it goes out to Pavard, it comes quickly back to Lloris. 
1'   Ball across the box and Griezmann almost gets on the end of it. France have started well here. They're on the ball again and trying to move forward.
1'   We are underway as France kick us off in Saint Petersburg.
    "According to legend, the Belgian national anthem was written in September 1830, during the Belgian Revolution, by a young revolutionary called "Jenneval", who read the lyrics during a meeting at the Aigle d'Or café.
    A rousing rendition of La Marseillaise currently blaring in the stadium.
    Players in the tunnel now and almost ready to emerge onto the field. France, and Samuel Umtiti in particular, looking really calm. Blaise Matuidi a picture of cool also.
    Griezmann has scored seven in his last six games in big tournaments for France! Keep an eye out for the lad tonight. 
    And according to this, Hazard is playing as a left-back.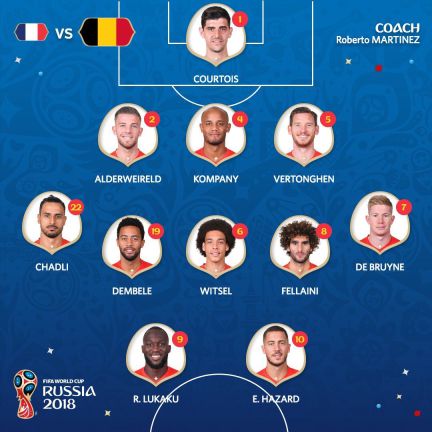 No surprises whatsoever in France's eleven but Roberto Martínez has named Mousa Dembélé in his starting eleven. There has been talk of a back four but it's unclear as to who the fourth defender would be with that starting team.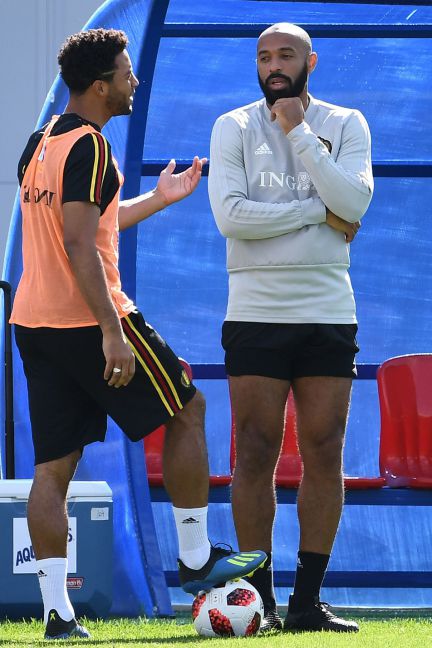 France XI: Lloris; Pavard, Varane, Umtiti, L.Hernandez; Pogba, Kanté, Matuidi; Mbappé, Giroud, Griezmann.
    Belgium XI: Courtois, Alderweireld, Kompany, Vertonghen, Dembele, Fellaini, Witsel, Chadli, De Bruyne, Lukaku, Eden Hazard.
    If you can't watch the game tonight, don't worry. Achilles the Cat has already predicted the winner.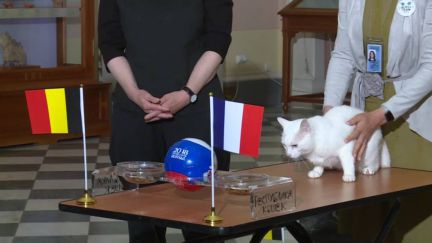 There has been very little in terms of build-up to the game due to the fact that Cristiano Ronaldo is after leaving Real Madrid for Juventus. His replacement in Madrid could be on display tonight though. Kylian Mbappé has been linked and Eden Hazard has also been named as a potential signing too.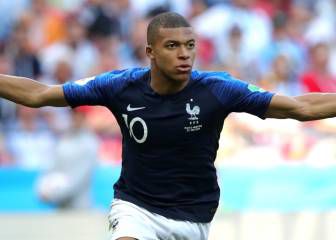 Neither France or Belgium have been taken to extra-time or penalties so far in Russia but France are struggling with a little more fatigue, it seems, than their opponents tonight. They had to play down an injury Samuel Umtiti recently and he looks to be fine and Kylian Mbappé missed training recently too with Deschamps saying it was simply due to precaution and rest.
France and Belgium have played each other 74 times. They have only ever met twice at the World Cup though and the last time came in 1986 in Mexico in the third-place match. 
Hello and welcome to our live coverage of France vs Belgium as we find out who will be the first team to make it to the World Cup final in Moscow next Sunday. Kick-off from Saint Petersburg is at 20:00 CEST.
France vs Belgium live online: preview | World Cup 2018 semi-final
Saint Petersburg is the venue for the first World Cup semi-final as France and Belgium look to lock up a place in the final on Sunday. France are looking to make their first final since 2006 when they lost to Italy while Roberto Martínez and Belgium are trying to get to the decider for the first time in the competition's history. Belgium have a cuckoo in the nest with Frenchman Thierry Henry on the bench. Hugo Lloris says 'his heart will be split' on Tuesday night but he they might be slightly concerned over what he might know heading into the game even if they are on a mission to prove he picked the wrong side for the World Cup. Neither of these sides have been brought to extra-time or penalties in the tournament and that could change tonight in what will surely be tight and tense from the start.
France can count on Blaise Matuidi, who returns from suspension and should slot into the starting eleven again with Corentin Tolisso. France have been involved in the most exciting games such as their 4-3 win over Argentina in the last 16 but showed they can get the job done in more pragmatic style with their 2-0 victory over Uruguay in the quarter-final. They will likely need a blend of both styles to overcome Belgium's balance approach. The Balon d'Or winner this year is likely to come from the World Cup, it has been said, and Kylian Mbappé, Antoine Griezmann along with Eden Hazard and Kevin de Bruyne are all making a case for themselves this summer. Mbappé missed training ahead of the game but Didier Deschamps said it was purely a precautionary measure and he should be fine to start against the Red Devils.
Now that the cat is out of the bag regarding Martínez' tactics and his ploy of playing Romelu Lukaku as a winger like during his Everton days, it will be very interesting to see how he approaches the France game. France can be just as explosive as Brazil and have playmakers all over the field, Thomas Meunier, who was key to keeping Neymar quite during that win over Brazil, is suspended after picking up a yellow in that game, and will likely be replaced by Thomas Vermaelen with a touted switch to a a 4-4-2 being mentioned.