Ramos to Ronaldo: "You have earned a special place in the history of Real Madrid"
Real Madrid captain Sergio Ramos bids farewell to his now-former team mate, after nine years playing together.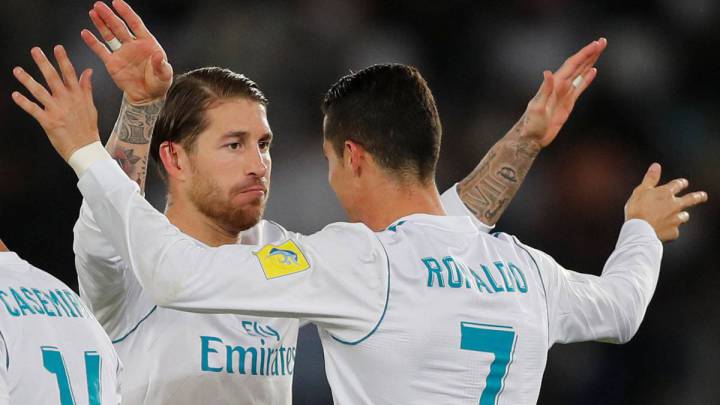 Social media is blowing up with the news of Cristiano Ronaldo's confirmed departure from Real Madrid for Juventus. The Portuguese superstar leaves the club after nine years and as the record top goal scorer, with a staggering 451 goals in 438 games.
No doubt the messages of goodwill and well-wishes will pour in over the coming hours and days from team mates and colleagues past and present, as Cristiano prepares to take on a new challenge in Italy while approaching the twilight years of his career. And one of the first to take to Twitter to wish the five-time Ballon d'Or-winner well was now-former team mate and Real Madrid captain, Sergio Ramos.
Big hug and good luck
"Cristiano your goals, your numbers and everything we've won together speak for themselves," said Ramos. "You have earned a special place in the history of Real Madrid. As Madridistas we'll remember you always. It's been a pleasure to play alongside you, bicho. Big hug and good luck!"
Cristiano and Ramos have been team mates and stalwarts of a Real Madrid team that, in the nine years they have played together, have won four Champions League titles, two LaLiga titles, two Spanish Cups and three Fifa Club World Cups.
It will be remembered that the last game in which the two players played together was in the Champions League final 3-1 victory over Liverpool in May, 2018.
.@Cristiano, your goals, your numbers and everything we've won together speak for themselves. You have earned a special place in the history of @RealMadrid. As Madridistas we'll remember you always. It's been a pleasure to play alongside you, bicho. Big hig and good luck! 🍀👍🏻 pic.twitter.com/NaywaDd3gw

— Sergio Ramos (@SergioRamos) 10 July 2018