Croatia 2-1 England: World Cup semi-final result, goals, report
Mario Mandzukic's extra-time goal sent Croatia into Sunday's final as Zlatko Dalic's men came from behind to beat England in Moscow. USA vs Mexico: FIFA Friendly live online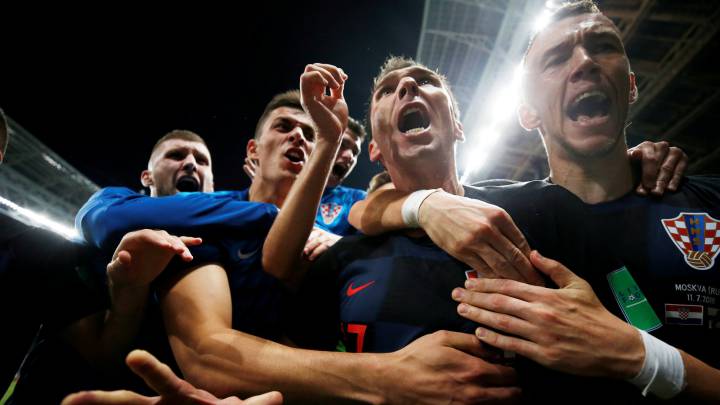 Croatia 2-1 England: match report
Croatia are through to the first World Cup final, and their first major tournament final, after beating England in extra-time in Moscow on Wednesday night.
England were first out of the blocks when Dele Alli was fouled by Luka Modric. Kieran Trippier whipped the free-kick over the wall and into the back of the net before Croatia could get out of neutral. There were five minutes gone and Croatia were fighting up uphill battle after two games that had gone to penalties before the clash against England.
They stuck to their gameplan and when everyone was calling for changes, Zlatko Dalic didn't flinch. Inexplicably, England backed off and let Croatia grow into the game. For the entire second half, Croatia were running through England and knocking on the door. They eventually got the breakthrough when Vrsaljko crossed to Perisic and he poked home to level matter.
The game ebbed and flowed from that point and always seemed destined for extra-time. When we did get an extra 30 minutes, it was Mario Mandzukic, who ended things in the second half when he pounced on a loose ball and stroked beyond Jordan Pickford.
England had no choice but to throw caution to the wind but it was too little too late. Croatia shut up shop and were not going to let their chance to play in a World Cup final. England have impressed massively in their approach this World Cup but ultimately fall short with the youngest side in the tournament. There will be bright days ahead for Southgate's crew but it's Croatia who move on now to the decider on Sunday against France.
Croatia vs England live online: updates | World Cup 2018
120'+4' GAME OVER! Croatia are in the World Cup final.
120'+4'   This is it. We are deep into injury time. 
120'+4'   Rashford to take. 
120'+4'   Badlej with the hanball. Free for England and this is surely their last chance. 
120'+3'   Pivaric with a cross. He chips it up to Pickford. Silly as he should have held it in the corner.
120'+3'   Vardy with a foul on Rakitic. He hits the ground like a sack of spuds and stays there. Another valuable few seconds on the ground.
120'+2'   He grabs Dele Alli then and kills another couple of seconds. Can Croatia hang on.
120'+2'   Rakitic with a foul on Dele Alli. 
120'+1'   Four minutes of added time.
120'+1'   Into extra-time now. Rose with a cross and Croatia get it away.
120'   Maguire was waiting for contact and it never came. Croatia break free and Kramaric has a chance and Perisic inside him. He strikes into the side netting.
119'   One minute left. Pickford launches clear.
118' Badelj coming off for Luka Modric. 
118'   Rashford with the cross. Maguire jumps for it and he misses. Out for a goal-kick and no penalty. England want a corner.
117'   Free for England now. They're down to 10 men as Trippier is off the field.
116'   Shot from Brozovic and Pickford needs a second chance to save. Vida comes in and shoulders him. Big hit! Free for England. 
115'   Trippier is also in trouble. His groin is gone. 
114'   Croatia on the attack again. Mandzukic on the ground and he is needing replacing.
113'   He is up and limping it off.
113'   Mandzukic down and is in serious trouble here with cramp. Play continues around him.
112'   Modric wins it back and sends it up the field.
112'   England in desperation mode now. Maguire with a ball through and Rashford crosses but that's headed out.
112' Vardy is coming on for Walker.
111'   Wrong time stamp on my updates! Apologies. There is of course 10 minutes left.
120'   Croatia ready now to kill time. They win a free and Subasic runs out to take!
119' Mandzukic is in and he slots it home. England fall asleep and the Croatian manages to pop up inside Stones. Really poor. That's it for England surely.
118'   Lingard falls asleep and Brozovic appears from nowhere. He sends it over the bar.
117'   Croatia on the ball to start this half and looking more composed. Lingard puts it out for a corner.
117'   Pickford sends it up into the air.
116'   We have fifteen more minutes and we are underway for the second half. Croatia have two more changes to make.
115'+2'   Maybe Modric meant to do that so they wouldn't score on the counter.
115'+2'   Modric delays and the referee blows for half-time in extra-time. 
115'+2'   Over the bar and out for a corner. Mandzukic remains down and has hurt himself.
115'+2'   Croatia with a second wind. Ball in from the left and Mandzukic is taken out by Pickford. He nearly sent it home. 
115'+2'   Perisic across to Rakitic and he shoots. Blocked.
115'+1'   Two minutes of added time in extra-time.
115'   Vrsaljko with a throw. Croatia lose it and Kane launches towards Dele Alli. Out of his reach.
115'   Rose with a dangerous ball in from the left. Headed clear and Modric wins it and plays it to Rakitic. Kane fouls him.
114'   Rose has made a massive difference.
113'   Croatia under the cosh here. England driving forward but also tired! 
112'   Modric with a missed pass. He pretends to fake it and then hits it in the end. Croatia concede the throw when Modric slides in and wins it back.
112'   Rashford slides in and fouls Vrsaljko.
112' Kramaric on for Rebic.
11'   Vida comes across and saves the ball from Rashford rushing in. It looked to be out for a throw.
10'   Subasic with a free. Offside on Mandzukic. Croatia absolutely exhausted.
9'   Vrsaljko and Rashford get involved down the sideline now.
9'   Headed by Stones and Vrsaljko off the line. So close! 
8'   Alli out to Rose. Much better from England. It comes out to Lingard and he plays it to Dier. Shot and block. England corner now!
7' Henderson being replaced by Dier.
7'   Trippier with a free and he sends it to the back post. Foul on Mandzukic by Henderson. 
6' Rebic eventually gets booked! He absolutely launches himself into a tackle on Rose and gets the book. 
5' Pivaric replaces Strinic.
4'   Strinic's race is definitely run. He limps off and Croatia forced into their first change.
3'   Rebic bulldozes Rebic in the back. How he hasn't been booked yet is unbelievable.
3'   They're throwing the ball around now and have Croatia on the backfoot. 
2'   Croatia finall win the ball back but Subasic launches and England win it back.
1'   England more composed now to start extra-time.
1'   We are back underway. No changes for Croatia, which is strange.
Rose is coming on for extra-time. He replaces Ashley Young, who is exhausted.
90'+3' Yes! that's it. This is going to extra-time.
90'+3'   Subasic launches out and it's a throw for Croatia. They might have one more attack in them. Vrsaljko cross and it's cleared.
90'+3'   Looks like we are headed to extra-time.
90'+2'   He does whip it in and Kane heads it down into the ground. He glances it wide.
90'+1'   England with a chance now. Rashford pulled down and Trippier ready to whip this in. Could be dangerous for Croatia.
90'   Lovren with the worst shot of the tournament. A central defender. One minute left in a World Cup final and he sends a hopeless shot a mile over the bar.
88'   Rebic with a cross after a nice backheel from Mandzukic. Miles out over the penalty area and out for a throw.
88'   Strinic versus Lingard but the English attacker fouls the defender and Croatia on the move again.
87'   Throw for England and they're in now hurry to take it. 
86'  Some messing around by Croatia now but Vida puts it out for a throw.
86'   Strinic with a pass to Perisic but it's behind him and out for a throw.
85'   This is on a knife-edge now. 
85'   Brozovic looks for Rebic in behind but Maguire knocks it clear.
85'   Long ball down to Rashford and Vida heads back to Subasic.
84'   Pickford under pressure from Mandzukic and it falls to Perisic. He shoots over the bar.
83'   Ball into the path of Mandzukic. He chests it down and shoots. Stings the gloves of Pickford but he gathers it after parrying to himself.
83'   Stones all the way back to Pickford. Croatia straight back up the field and Rakitic finds Perisic. He crosses first time and Pickford gathers as it bounces up to him.
82'   Goal-kick for Croatia now. 
81'   England again make a mistake at the back. Played back to Pickford from Walker and he clears it. Just about! 
80'   Stones not happy as he concedes a throw. Says it was a foul but didn't look like it.
79'   Alli plays it to Rashford but too heavy and Rashford can't even prevent the goal-kick.
79'  Perisic with a long ball out to the far corner but that's to nobody. England restart.
78'   Henderson has a shot from outside the box. He tried to clip it towards Lingard but it came back out to him. He didn't have time to think and he just threw a foot at it.
78'   Lingard through and he slices across goal. So close. But it's out for a throw in the end. Not ideal coming in from the right with his right foot.
78'   Ball to Rashford and Vida heads out for a throw.
77'   Rebic into Pickford now. Long ball to the keeper and he grabs but Rebic almost collides with him. 
76'   Vrsaljko with a perfect cutback and into the path of Rebic. He plays to Perisic, via a very wayward shot, and it's cleared by England.
75'   England growing more desperate. Ball down to Mandzukic and Walker can't see it out. He gives away a throw.
74'   Rashford's first involvement and he crosses but Strinic clears.
73' Sterling off for Rashford.
73'   Ball in from Vrsaljko again and England clear. Out as far as Brozovic but it's well over the bar.
73'   Another corner for Croatia. They are starting to turn the screw.
71'   My god. What are England doing now? A mistake by Stones. Perisic steals in and hits the post. Wow! It comes back out and the shot is saved by Pickford.
70'   Ball comes in from the left an it's far too heacy! Trippier is steaming in but he has no chance with that.
70'   England up the ante again now but Sterling's ball to Lingard is too heavy.
68' GOAL! Perisic sneaks in and taps home. Vrsaljko sends it in and Walker can't head it away. 
68'   We are back in action. Kane with a shot that hits the side netting.
66'   It was Walker who stopped that shot from Perisic. He's down now and winded.
66'   What is Vrsaljko doing? He fouls Kane with a shoulder in the back and after the whistle blows, he goes again with another foul. Very silly.
65'   Perisic strikes. So close. Pickford beats it away. England defend that one well.
63'   Mandzukic set free down the left but Walker mops up.
63'   Vida reaches in on Sterling in the penalty area. He is very lucky there. 
62'   Ball down the channel to Lingard and Vida comes across to cut it out for a throw.
62'   Vrsaljko links up with Perisic but that's too heavy of a pass and out for a goal-kick. Croatia warming up a couple of subs now. Kramaric among them.
61'   Ball in from the right and it is headed out to Rakitic. He catches it on the half-volley but that is a mile over.
60'   Surely, a yellow for Vrsaljko. He grabs Sterling by the neck and pulls him to the ground. Really silly. Lingard and Lovren get involved now too and the referee has to step in.
59'   Strinic drives forward and after some close quarter passing, Rebic clips it inside. Walker slices his clearance and it's out for a corner. Modric ready to take.
58'   Strinic inside and he crosses but it's cleared. England under slightly more pressure now but still no proper chances for Croatia.
57'   Rebic counters and Mandzukic with a terrible ball inside. England can't hold onto it though and Croatia attack again.
57'   Trippier crosses and Perisic heads away.
56'   Lingard with a shot now and it's blocked up and out for another corner.
55'   Maguire fouled as Rakitic delivers.
55'   Corner for Croatia. Rakitic to take. 
54' Rebic with a foul on Walker, it looked like, but it's out for a throw. Walker booked for grabbing the ball and trying to waste time. In fairness, he thought he had been fouled.
53'   Kane with the ball and cuts in from the left. He does down under a challenge from Vrsaljko but referee doesn't give the free.
52'   Walker slides in on Rebic and wins a throw. Croatia dominating the ball. Rebic with a cross now to Perisic at the bakc post and he overhits it.
51' Mandzukic the player booked.
51'   Rebic and Walker race to the endline but Walker sees it out for a goal-kick.
49'   Lingard squeezed out of it and Croatia break. Mandzukic's header on it cut out by Walker.
49'   Ball down the line from Strinic to Rebic but it's out for a throw. Absolutely nothing going Croatia's way and Rebic lets his frustration show. 
48' Rebic with another fouls and gets a deserved yellow card. He is a physical player but just keeps on fouling!
47'   Cross comes in from the right this time and it's headed up into the air. Trippier heads clear and is fouled by Rebic.
46'   Croatia down the left but Rebic loses out and England launch it clear. Croatia come back down the field.
46' We are back underway. Croatia kick us off!
45'+1'   One minute added time! England survive a scare after that free that came in from Modric. 
45'   England messing around at the back. Walker back to Pickford and that was very silly but Pickford clears under pressure. It comes back to Rakitic and he waits for the right time to hit it. The moment won't come and he loses out. Probably the best chance Croatia have had.
45'   Throw for England as we approach half-time. 
43'   Vrsaljko with a very ambitious effort. Miles over the bar and wide. One of those effort where it was too far away from the goals to even know if it was wide or over.
42'   Croatia back on the ball now and still looking for a way through. England retreating and relying more on counters. Croatia remain loyal to crosses but they haven't been working at all.
41'   A kick on Young from Rebic. A retalitation foul there after the wide midfielder thought he was fouled earlier in the play.
39'   Croatia with a little but more control now but England in control of the game in general.
38'   Pickford takes a touch or two too many but survives and clears. Rakitic was closing him down there. 
37'   Cross from Trippier is way to heavy and out for a throw. Nice move again by England.
37'   Ball in behind again and Vida under pressure with Sterling's speed. Throw for England.
35'   Lingard with a shot from outside the box after a really nice move. He is played through by Alli, who was fed the ball by Kane. But Lingard shoots wide. Good chance, poor execution and he knows that himself.
34'   Corner taken short and it gets whipped in but Mandzukic handles the ball.
33'   England playing with fire now. Ball across the box and Young gets a touch on it to put it out for a corner. 
32'   Long ball down to Rebic from Rakitic and he takes Pickford out of it. Free for England. Brave from Pickford.
32'   Better from Croatia. Modric lays it off to Rebic and his initial cross is cleared but only back out to him. He shoots and forces a save from Pickford.
31'   What an incredible chance that was for Kane. He is played through by Lingard and he misses. Subasic saves the second time around too and it's out for a free somehow. He wasn't offside.
30'   Rebic nearly gets the ball off Young for an attack but it's out for a throw.
29'   Free down the left-hand side and it's out by Brozovic.
27'   Ashley Young ready to whip this one in. He does just that and Subasic fists it clear.
26'   Lovren versus Sterling. The winger beats the defender and then Lovren has a kick at him. Free and Lovren is lucky not to be booked for that. 
25'   Pickford takes the free. It comes back down to him but he sends it down the field. Lingard breaks free but lose sit. End to end there for a second. Croatia looking very fragile at the back. Not really doing much up front either.
24'   Sterling with a nutmeg and a run down into Croatia's defence. He runs it too far ahead of himself and Croatia recover. They are going to have a very long night with Sterling running at them like that. Strinic fouls Trippier.
23'   Perisic with another very ambitious effort but it goes well wide. Nice idea given he didn't have anyone in support but with Pickford in such fine form, it's never going to beat him even if it is on target.
22'   Subasic with a ridiculous clearance and Strinic mishits it. Sterling to Kane but he's offside. Croatia really haven't started this game well.
21'   Vrsaljko with a cross and that is blocked out. Lovren with a foul on Harry Kane. He pushes him straight into the chest and he is complaining that it wasn't a foul. Quite obvious really.
21'   Rebic wins it and shrugs off a challenge from Ashley Young. He shoots but it's blocked.
20'  Pickford with a nice ball down to Lingard. It makes its way to Sterling but Vida hits him in the back. No free but it looked like a foul. Croatia recover and win a throw for themselves. Play stopped for a second as Trippier grabs his ankle.
18'   Lingard puts it out for a throw. Modric plays it out wide and Perisic cuts inside, strikes and it's off the defender but no corner. Perisic makes his case but the ref doesn't want to hear it.
17'   Better from Croatia. Mandzukic chests one down and plays it out to the left. Ball comes all the way across to Vrsaljko but that's too far ahead of him. 
16'  Croatia doing a lot of chasing shadows at the moment.
16'   Vrsaljko with a foul on Harry Kane.
15'   Free for Croatia as they get some time on the ball now. Vrsaljko sends it towards the penalty area and Walker gets it away. Another long ball and it's Vida versus Sterling again. Vida has a couple of yards on him this time though and heads back to Subasic.
14'   Maguire heads the corner and it's Maguire again. Vida puts him under a spot of pressure to put him off.
14'   And England start again. Nothing going Croatia's way at the moment, England getting every bounce. They win a throw and Young takes off down the left. He sends it inside, Alli picks it up and plays it to Trippier. Cross and Perisic blocks for a corner.
13'   Walker heads it very smartly back to Pickford.
12'  Dele Alli sends it towards goal and Maguire gets a head to it. But Sterling fouled Mandzukic on the way to the ball.
11'   Rebic puts Maguire under all sorts of pressure. They get it away and England win a corner. Lovely move by Alli to get free from Lovren. 
11'   England attack again and Lovren clears. Throw for Croatia.
10'   England fans in fine voice now! 
9'   Mandzukic slips and it bounces up in the air but England deal with it. They play it long and it's quite obvious that finding Sterling early on the break is their plan. 
9'   Modric set to take.
8'   Croatia trying to get that goal back. Cross from the left and it's cleared and it comes in again. Young chests it down and out for a corner.
7'   Pickford catches a high ball and he releases early to Sterling. Vida slides in and clears for a throw. Sterling in behind again and Subasic grabs it.
5'   He slots it home. His right-footed effort into the back of the net with Subasic left stranded.
5' Trippier goal!
4'   Dele Alli receives the ball from Lingaard and Modric bundles him over just outside the penalty area. Dangerous position. It's probably the perfect distance out with Trippier and Young standing over it. Could be either of them as it's right in front of goals.
3'   Mandzukic gets a throw in his direction. He fouls Henderson in the air though.
2'   Lingard a little but over-zealous as he fouls Rakitic again. The referee tells him that there'll be no more fouling from him or the cards will come out.
1'   Rakitic fouled be Henderson. It's taken quick but Lingard gets in the way of it and the referee brings it back.
1'   We are underway as England get us started! 
    And now the England national anthem. Surprised it wasn't 'It's Coming Home' but there will be time to officially change it to that if England do win it! Both sides on the brink of history here.
    Quite rousing, really. A sea of red and white squares.
    The Croatian national anthem is first, as they are considered the home side. Plenty of them singing at the top of their lungs!
    The two teams waiting in the tunnel. Gareth Southgate emerges first to take his place in the dugout. 
    And England have never lost with the Turkish referee in the middle.
    The last game Cuneyt Cakir refeed for England was that Scotland game when they won 3-0. England scored three headers that night too!
    Cuneyt Cakir, who refereed England versus Scotland back in November of 2016, is in charge tonight. 
    England have scored at least 2 goals in 5 of their last 6 matches against Croatia in all competitions according to WhoScored.
    I've made a team out of the FIFA legends that are at the game tonight.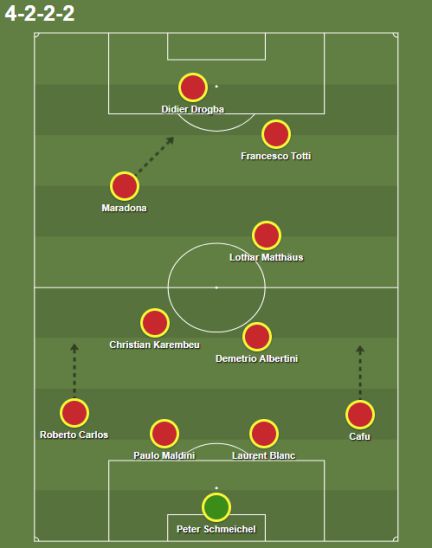 No changes for Southgate and England. Jordan Henderson starts despite a slight scare over a tight hamstring. It's the Liverpool man versus Modric this evening so England fans hoping he is 100% if they want to bring it home!
    Vrsaljko missed nine games with four injuries including issues with his achilles, hamstring, foot and back with Atlético Madrid this season. He tends to struggle when asked to play a lot and Diego Simeone didn't fully trust him in his starting line-up for large spells. That said, this is a World Cup and he is their best right-back so it's worth the risk.
    Sime Vrsaljko starts for Croatia despite going off injured and looking a serious doubt for the game.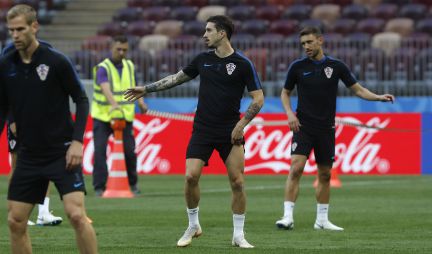 England XI: Pickford, Walker, Stones, Maguire, Trippier, Young, Lingard, Henderson, Dele Alli, Kane, Sterling.
    Croatia XI: Subasic, Vrsaljko, Strinic, Lovren, Vida, Rakitic, Modric, Brozovic, Perisic, Mandzukic, Rebic.
    And another incredible stat from FIFA: "Almost three-quarters of England's Russia 2018 squad (17/23) were not yet born the last time England appeared in the semi-finals (4 July 1990), with Danny Rose born just one day after England's quarter-final victory against Cameroon at Italy 1990. Croatia's youngest player in their Russia 2018 squad - Duje Caleta-Car - was just 1 year, 9 months old when Croatia last appeared in the final four (8 July 1998)."
England are undefeated in 15 of their last 16 matches (FIFA World Cup) according to WhoScored.
    Modric is making a case for himself for the Balon d'Or. He has 12 keys passes for Croatia in the World Cup so far to Rakitic's seven and Mandzukic's six.
    Pensive. He's in two hours before kick-off. The man is obviously a sucker for punishment, just sitting, thinking of all the ways it could go wrong!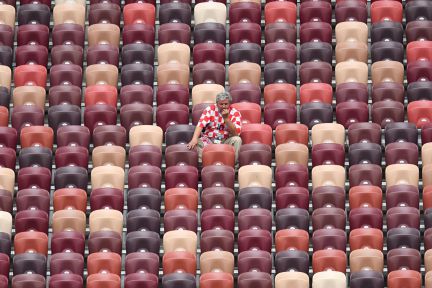 This will be a tactical battle tonight. Croatia, who have an average height of 185.4 compared to England's 181.9 will have to wary of set-pieces. Sweden were undone with a Harry Maguire header and they couldn't get themselves back into it once that goal went in.
Croatia vs England live online: preview | World Cup 2018
England are aiming to make their first World Cup final since 1966 and Croatia their first ever major tournament decider. On Wednesday night, we will find out who joins France in this World Cup's final game on Sunday afternoon in Moscow after they beat Belgium on Tuesday night. Kick-off from the Luzhniki is at 20:00 CEST on 11 July 2018 in what will be a historic evening regardless of the result.
Croatia have come through a couple of difficult games and a tough group to get them started. They needed penalties in both of their knockout games against Denmark and Russia most recently. Mario Mandzukic, who was visibly gassed at the end of that Russia clash, says Croatia will muster more energy and says they are ready for the challenge they face with an in-form Jordan Pickford between the sticks, "We've seen that he is doing very well at the World Cup. He has good potential and I'm sure he has a bright future. [But] I believe someone will find a way to surprise him." Danijel Subasic says he will play through the pain barrier after suffering an injury to his hamstring in extra-time of the quarter-final. Sime Vrsaljko is out for Croatia after the right-back went down during the Russia game and had to go off. The Atlético Madrid defender will be hard to replace given what he offers going forward for Zlatko Dalic's team. Regardless, Luka Modric is the man England will have to stop. Dalic thinks he is playing the best football of his career and it's hard to argue. With no obvious Balon d'Or contender, Modric has emerged as a potential outsider and Eric Dier says England have to be wary of the 'world class' midfield magician.
English fans around the world have talked themselves into the idea that football is "coming home." They played it smart during the group stages with wins over Tunisia and Panama. They lost to Belgium in that final group game which left them with the theoretically easier path to a potential final. That rest many of the players were afforded against the Red Devils might come in very handy on Wednesday night too despite being brought to penalties by Colombia. They saw off a stagnant Sweden challenge in the quarter-finals and are full of confidence heading into Wednesday's clash. In terms of injuries and suspensions, Gareth Southgate will likely have Jordan Henderson, who has recently been praising his manager's approach, manning the center of his midfield despite suffering from a tight hamstring recently but Jamie Vardy remains out having suffered a groin injury against Colombia in the last 16 tie.