WORLD CUP 2018 FINAL | FRANCE-CROATIA
Dalic: "Modric deserves the Best Player award even if Croatia don't win the final"
Croatia's coach Zlatko Dalic attended the media as his side prepare for the final: "Did England underestimate us? That only motivated us even more..."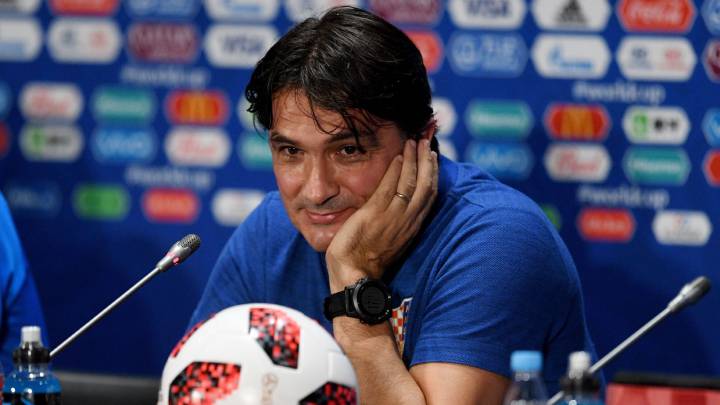 Croatia coach Zlatko Dalić attended the media as his side prepare for Sunday's World Cup final against France. Croatia were the second team to book their place in Sunday's final in Moscow after beating England 2-1 in extra-time last night.
It's not coming home

Semi-final against England and presumptuous English media: "We were the better team in the second half and in extra-time. We have always respected our opponents and we expect the same from them. Maybe England and the English media didn't do that this time. That was just extra motivation for us. But that's football. Maybe those things spurred us on but we were already sufficiently motivated to try to make the final and make our people happy. Maybe it helped a little - not that we really needed it".
Friendlies against Brazil and Austria
Pre-tournament preparation was spot on: "We chose to play friendlies against teams who would be at the World Cup and that was a great lesson for us. It meant we were able to correct many of the errors to our game which we showed in those friendlies. The players accepted the criticism they received, they took it on board and improved. Those friendlies were a huge help so that now here we are about to play the final".
Modric enjoying a brilliant World Cup
Fear of France hatching a plan to stop Modric: "We are not afraid that they will try to take Modric out of the game because we have other players. We would be delighted if Modric won the MVP and the Golden Ball for being the best player at the tournament. He's win everything with his club but not with the national team; it would put the seal on his playing career".
Fatigue. Three games going to extra-time and one day less to rest: "We could the only team to win after having played the equivalent of eight games (for the extra 90 minutes Croatia have had to play in total). It's extremely tough on my players. But the tougher things are, the better we seem to perform, we have no fear. I'm sure that we'll recover and we'll be fine - this is the World Cup final and there are no excuses. We'll be well prepared because this is a one in a lifetime opportunity. It's going to be very difficult but I'm sure we'll find all the energy and the motivation we need".
Putting Croatia on the map
Writing Croatia's name in the history books: "We'll be in the history books for being, along with Uruguay, the smallest country to play in the final. We are extremely proud of our players, this is one of the greatest achievements in the history of Croatian sport. We have enjoyed other great sporting successes but football has such a wide global reach. In 1998 we were still only a very young country but now we are playing another kind of football".