WORLD CUP
Griezmann on Zidane comparisons: "I prefer Grizi to Grizou"
The Atlético Madrid player spoke to the media ahead of the World Cup final against Croatia on Sunday and spoke abou Simeone and Decschamps and winning the Balon d'Or.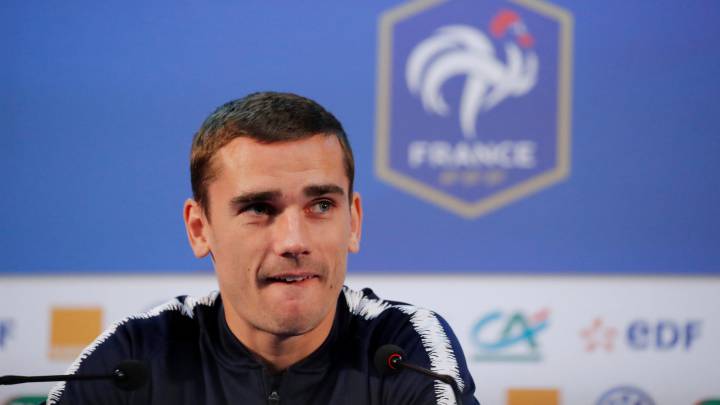 Antoine Griezmann, Atlético Madrid and French striker, spoke to the media in Istra ahead of the World Cup final in Moscow on Sunday.
Balon d'Or: "It's an opportunity to win the World Cup, not the Balon d'Or. Winning the Balon d'Or doesn't bother me. I will give me all to be the champion of the world. Whatever comes after, I'll welcome it then."
Role in the team: "Maybe being the top goalscorer, we could have lost, and so I though that by scoring less goals, we could win."
History: "I know that a victory can change many things, but in reality, we aren't thinking about Monday, we will be prepared better for this game."
Comparisons to Zidane: "I don't like Grizou too much, Grizi is much better."
Sacrifie: "I feel good, I hope to do the same in the final. I can understand the game for myself and pop up where I want. We are better together, helping each other to be stronger as a collective."
Mentality: "I always the same, playing Fortnite all day, enjoying football, drinking mate... I only want to win the World Cup, it doesn't bother me scoring or not."
Croatia: "It will be up to the trainer as to how we play. Modric and Rakitic, two great player who are technically strong, I believe that the manager will have that in mind."
Simeone vs Deschampos: "Simeone eat, sleeps and breathes football, he is a manager who lives it every moment. It's different from Deschamps but they both want the same thing, win and they know how to do it, and what tactics to use on the field."
Pride: "We are proud to be French. We have a beautiful country, we eat well, we have a great team and I want the people to be proud to be French."
Defence: "Our defence is the most important for us because we know, up front, we can score at any minute, with Kylian's ability to beat players, with Olivier in the middle, or with me with a little bit of craziness that can come over me every now and again."