WORLD CUP FINAL
Player of the tournament: Making a case for the World Cup final's six contenders
For France, Antoine Griezmann, Kylain Mbappé and N'Golo Kante have been stellar while Luka Modric, Ivan Rakitic and Ivan Perisic have been impressive.
France - The whole might not be as good as the sum of its parts but they are a cohesive side, difficult to figure out and can be as suffocating at the back as they are direct and deliberate in attack. And they have plenty of contenders for the Player of the Tournament.
Antoine Griezmann
The Atlético Madrid attacker is the only player along with his teammates mentioned below who could realistically catch Harry Kane at the top of the World Cup's Golden Boot chart. He has scored three goals with two assists and would need a hat-trick in the final to manage that feat. He finished as the top scorer in the Euros on home soil and has been impressive in Russia this summer. He has scored two penalties and a howler from Fernando Muslera but his ability to defend and attack in almost equal measure makes him so important to France and a symbol of this side's pragmatism. A goal in the World Cup final would surely win it for the Atlético Madrid striker.
Kylian Mbappé
Not since Pele have we seen a teenager announced himself at the World Cup in such a manner. Mbappé has scored three goals and his best performance came against Argentina when he looked like he was operating on a different plain than that of Argentina and his teammates. He ghosted by Marcos Rojo like a Ferrari nipping past a Lada on open Autoroute headed for the coast. Aside from his goals and ability to score them at 19 is his intricate touches and underrated ability to create space in tight quarters is just as impessive. Mbappé is the most electricfying player left in the tournament and award selectors are attracted to those sparks of brilliance. Even without a goal in the World Cup, a moment or two of his excellence could seal it for the PSG teenager.
N'Golo Kante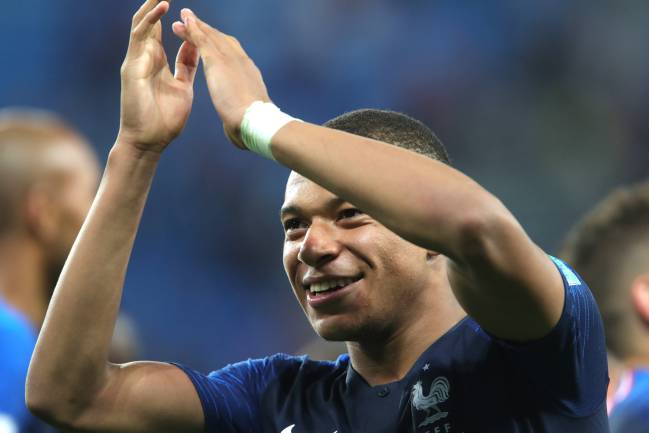 This is a highly conditional pick. If France manage to win the World Cup, it will take a monumental effort from their midfield to prevent Luka Modric and Ivan Rakitic from stealing the show and it will take every skill Kante has in his locker to prevent it. And if that does happen, the chances are Kante will come out of the game with an enhanced reputation given most will be watching closely how the battle in the trenches plays out. There is a good chance that this is a war of attrition and Kante has a chance to help France to the World Cup with one of those performances in which he glides, covering swathes of grass as though there were three of him.
Honorary mentions - Hugo Lloris, Paul Pogba.
Croatia - Their population of 4 million has been the most overused statistic of the World Cup. But it is important. They snuck into the tournament through the playoffs and were handed the group of death. The fashionable Nigeria, always good for a summer surprise every now and again, Argentina with Messi on a mission, and Iceland as the team everybody wanted to be in Croatia's boots were their opponents. They made Argentina suffer, made their fans sweat in a tense encounter and swatted Iceland aside as they proved they could win in whatever way they needed. If there is no consensus on Player of the Tournament, nobody would bedrudge the Croatia collective receiving the award.
Luka Modric
He is the man of the moment. He doesn't care about the Balon d'Or or individual plaudits and has said he is only thinking about lifting the World Cup. He has been truly magnificent by bringing Croatia to the World Cup final. He gets extra points due to the fact that Croatia have been uderdogs in almost every game they've played and were never meant to find themselves in the spot they're in. They won't even need to win the trophy in order for Modric to seal what would be, at that point, a consolation prize. His is peerless when it comes to working his way into a game and at 32 with three extra-time games under his belt, there is merit in that. Against England, when Croatia looked tired in the first half, Modric got up to speed and took over, never looking back.
Ivan Rakitic
The Barcelona midfielder might be Modric's sidekick at this World Cup but without him, there wouldn't be much of a story. He slotted home both of his penalties to win ties against Denmark and Russia. It's that cool and importance that has him mentioned here. He also scored against Argentina in what was Croatia's most complete performance - a game in which he bossed midfield with the held of his partner in crime. His driving runs from the middle were important in keeping possession and keeping England occupied in the second half and beyond. His presence in the final third causes problems, most not talked about, for opposing teams. A big game in the final and Rakitic might be your man of the tournament.
Ivan Perisic
Perisic's inclusion is based on big moments rather than consistent brilliant. Croatia would be thinking what might have been if he hadn't stole in ahead of Kyle Walker to finish against England. He delivered time and time again as Croatia took over in that game and was brilliant on the night. He also scored the goal in the last minute against Croatia to ensure they found themselves on the 'easier' side of the draw, which shouldn't go unnoticed.
Honorable mentions - Ante Rebic, Mario Mandzukic