Croatia: 100 minutes and 117km more than France
After going the distance in their three knock-out games, Luka Modric has played the most minutes (643.23) and covered the most ground (63km) in Russia.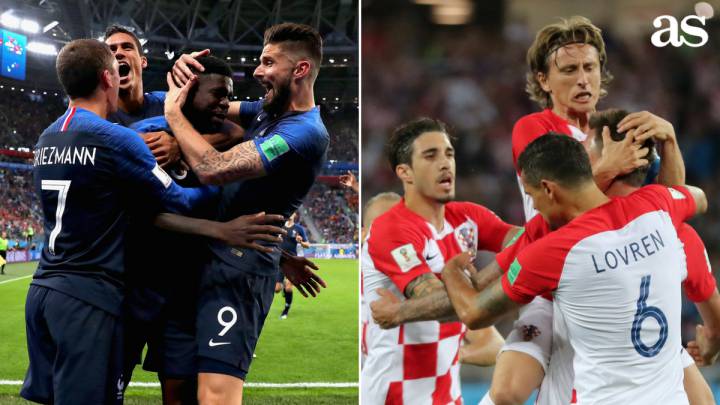 Croatia will head into Sunday's World Cup final as the team that has played the most minutes and covered the most ground at the tournament after being forced into extra time in every one of their knock-out games so far in Russia.
Over the course of six games, France have been on the pitch for 580 minutes and 16 seconds compared to 679 minutes and 36 seconds for Zlatko Dalic's side.
Overall, Croatia have covered 723.95km in Russia, with Didier Deschamp's players reaching a total of 607.5km.
Modric the most-used player at the World Cup
Real Madrid midfielder Luka Modric takes the individual prize as the player with most minutes under his belt in Russia at 643.23 and he has also run further than anyone else at the World Cup with 62.85km in his boots. Second to the Croatia captain is France defensive midfielder N'Golo Kanté, who has covered 62.69km.
The Chelsea player and Modric's club teammate, Raphaël Varane, have played the most for Les Bleus, with 580.16 minutes on the pitch.
Meanwhile, Ivan Rakitic will reach a new milestone for a footballer in Moscow. The final will be the Barcelona midfielder's 71st game of the season, one more than Brazil's Willian, setting a new record for games played in a single season.
France-Croatia in numbers
| | | |
| --- | --- | --- |
| | FRANCE | CROATIA |
| Games played | 6 | 6 |
| Games won | 5 | 4 |
| Games drawn | 1 | 2 |
| Games lost | 0 | 0 |
| Minutes played | 580.16 | 679.36 |
| Goals | 10 | 12 |
| Chances created | 70 | 81 |
| Assists | 5 | 8 |
| Shots | 75 | 100 |
| Shots | 24 | 26 |
| Yellow cards | 10 | 14 |
| Corners | 19 | 34 |
| Offsides | 2 | 8 |
| Fouls committed | 79 | 101 |
| Fouls against | 91 | 93 |
| Possession | 49% | 55% |
| Passes attempted | 2,773 | 3,358 |
| Passes completed | 2,331 | 2,755 |
| Distance covered (km). | 607.5 | 723.95 |
Fuente: EFE