Vinicius unveiled by Real Madrid: "My style is similar to Neymar"
45m-euro Brazilian starlet Vinicius was officially unveiled by Real Madrid at the Santiago Bernabéu on Friday lunchtime. Jamaica vs USA: Gold Cup live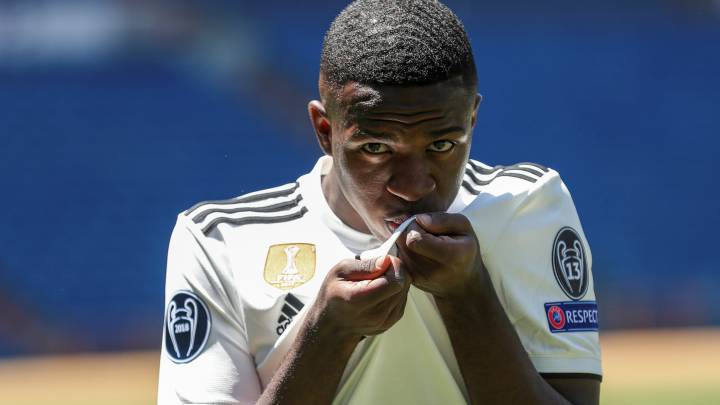 Vinicius' Real Madrid presentation: as it happened
    And that's it for the press conference.
    One more question about Neymar. Says it is his dream to play with him and hopefully it will happen soon for Brazil. 
    He says Lopetegui has helped a lot in the last few days and it's great that he knows some Portuguese.
    Vinicius says he never thinks about failing and doesn't read articles about any rumours.
    Would you like to be a teammate of Neymar? "Neymar is my idol. He's someone who I followed, not just me but all Brazilians."
    "Coach Lopetegui always tells me what to do and he told me that I can't dribble and do too much when I'm needed in defence. I always have to try and look to score," he says after being told his first sessions were good.
    He has been asked who his favourite player in the squad. "Everyone is my favourite, I've only ever seen them in video games and now to train with them in inexplicable," Vinicius says.
    "My objective is to win. I am obssessed with winning and that's why I'm here at Real Madrid."
    Says he hasn't even thought about the idea of getting a number. 
    He is asked where his best position is. "I play on the left and I can play on the right," he says. 
    "I am staying with Real Madrid, I haven't decided whether I will play some games with Real Madrid Castilla," he says.
    He says he is preparing bit by bit to get up to speed with Real Madrid. He says the language barrier is a little tough but Lopetegui is helping and he wants to be able to help.
    "I think my style of play is similar to Neymar, they have compared me to Ronaldo but to be like both would be great," he says.
    Think he might have got the question mixed up.
    Asked how he would describe himself as a player. How would you define yourself? "Well, it's a unique feeling. I don't really have the words to explain but I want to thanks God."
    He says he feels incredible. 
    Asked how he is feeling right now. Vinicius says he wants to "thanks Ronaldo, who is a legend. He is a player I always followed him and it's a pleasure to be here with him." 
    Ronaldo says at Real Madrid, he was the most happy as a football and where he achieved the biggest things in his career.
    "It's a very special day for all of us," Ronaldo says. 
    Ronaldo speaking now saying Vinicius has loads of quality and lots to look forward to in the future. 
    Here we go. Ronaldo and Vinicius appear for the press conference.
    A round-up of news from Real Madrid while we are waiting.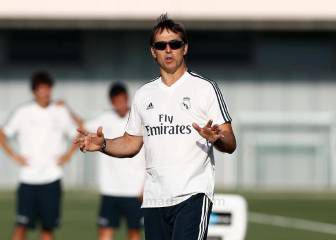 We are getting ready now for the pressc conference as the clips of Real Madrid training continue. Plenty of hard work being done in preseason in the gym.
    Plenty of vieos now showing Vinicius training with the team.
    Ronaldo just taking it all in now as he walks around the Bernabeu pitch with Ronaldo.
    Not entirely sure who the people are he is taking photos with but there are a lot of them!
    Vinicius taking selfies now.
    And that's it! The crowd give him a good cheer and his life at Real Madrid has started.
    And now he kicks the 18 balls laid out on the field into the crowd. He walks straight to one of the kids in the front row and hands him a ball. That's a nice touch.
    And here is Vinicius on the field in all white. He has a kickabout now and waves to the fans.
    A look at Vinicius speaking today.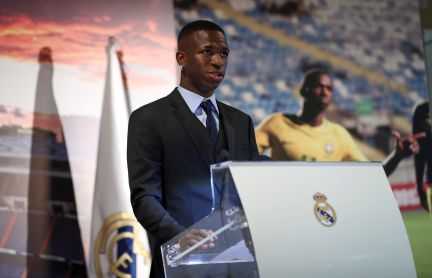 And now Vinicius headed down to change into the Real Madrid jersey for the first time! 
    Another photo with Perez and all of Vinicius' family.
   "I hope to be at Real Madrid for many years," he said.
    "I will try to show and adapt as quickly and I know it won't be easy," he says.
    "I'm going to give absolutely everything to show I deserve this opportunity," Vinicius says. He says making sacrifices is nothing new in his life and he was born into a modest family. "Now, I have the pleasure of being at the top of the world at Real Madrid."
    And now it's Vinicius' turn to speak.
    "We are convinced that Vinicius will be one of the players who will be a really special part of the future," Perez finishes.
    "You're incredibly young but you're one of the great hopes of Brazilian football," Perez says.
    "He is destined to be one of the great players in the world," Perez says and he welcome Vinicius before welcoming him to the club.
    "We know that international football has changed and we must adapt to the new reality without forgetting the importance of our youth academy," he says.
    "Trying to achieve the impossible is what this club is all about," he says and he says investing in the future best players in the world is so important.
    "We have 13 European Cups here," he says.
    "The last few years have been marvellous but as we know, our fans always want more," he says. The president says Real Madrid will do that and show their ambition in the transfer market in search of the best players to help them keep winning.
    Perez welcomes everyone to the Santiago Bernabeu. 
    Florentino Perez takes to the podium to welcome his newest signing.
    Fair play to him. They've shown a couple of nutmegs by him and he hasn't flinched. I'd personally be smiling from ear to ear if they showed my catalogue of nutmegs.
He is watching on intently. 
    Currently showing a clip of some of his best plays with Flamengo. The chap can play. 
    The player takes his place now alongside the Real Madrid representatives including Ronaldo and a host of businessmen.
    More photos with Brazilian Ronaldo standing proudly beside the youngster.
    More photos with the jersey and his brother too along with Perez in the midle.
    Now he poses with the new Real Madrid jersey. 
    Perez shakes hands with Vinicius as they take a picture and he is presented with a miniature Santiago Bernabeu replica. He will call the Bernabeu home for the next seven years. He has a contract until 2025.
    All very official, all very slick. 
    Florentino Perez and Vinicius signing the formal paperwork in the official boardroom before appearing before the media.
    Quite a few fans at the Bernabeu braving the mid-summer afternoon sun. Still waiting for Vinicius in the press room, however, so they will have to wait for another few minutes.
    Still waiting for Vinicius. Real Madrid have had to wait 423 days so what's a few more minutes.
    A kid in the crowd with a sign asking for Vinicius' jersey in Brazilian.
   No photos of Vinicius in a Real Madrid shirt just yet a photo of him in the Brazil jersey as we watch some highlights of the 18-year-old.
    Clarence Seedorf is fairly sure that neither Vinicius or new signing Rodrygo will play with the club and they will need to mature somewhere else. That's why clubs around Madrid are holding their breath for a loan move.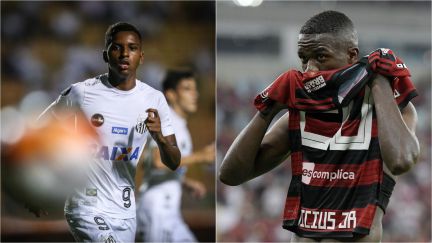 Vinicius was quite emotional when he said goodbye to Flamengo fans. I'm sure today will be just as emotional for the 18-year-old.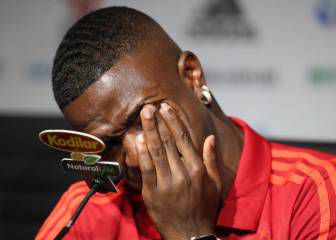 18 balls lined up on the field, one for each of Vinicius' birthdays. Let's see how many keepie-uppies he can do with them.
    The Santiago Bernabeu is really filling up.
    Vinicius is the most expensive player of his generation. Players born in 2000, that is. Paulino to Bayer Leverkusen and Sessegnon to Fulham at €25 million are the closest.
Vinicius' Real Madrid presentation: preview
Fresh from unveiling Álvaro Odriozola on Wednesday, Real Madrid today present fellow summer recruit Vinicius Junior at the Santiago Bernabéu, in an event that is to get underway at 12:30 CEST.
Signed from first club Flamengo for a fee of 45 million euros back in May 2017, the Brazilian starlet could not actually make the move to Madrid until after his 18th birthday last week - but, having finally arrived in the Spanish capital, he has wasted no time in showing his new team-mates what he's all about in pre-season training...
Vinicius presentation: programme of events
After being welcomed to the European champions by club president Florentino Pérez, Vinicius will say his first public words as a Real Madrid player, before pulling on the famous white kit and taking to the pitch to be paraded in front of the fans, for whom entrance to the stadium is free. The forward will then speak to the media in the Bernabéu press room.
Ronaldo Nazário to be at Vinicius unveiling
Vinicius will be joined at his presentation by compatriot and former Real Madrid star Ronaldo Nazário, who now works for Los Blancos as a club ambassador.