Real Madrid round-up: Neymar, Vinicius, Lopetegui, Theo, James...
Our daily round up of Real Madrid news: Neymar case closed, Theo linked to Sociedad, Vinicius impresses in training, and Cabellos gives insight into first training days with Lopetegui.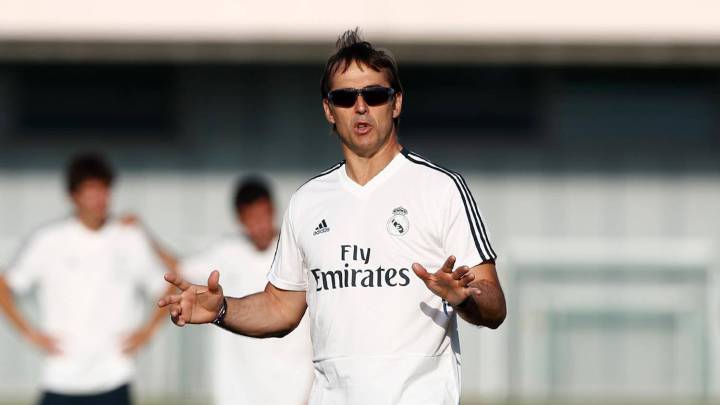 Neymar puts speculation to rest
It seems that the Real-Neymar saga is over for now. At an event in Sao Paolo, the Brazilian striker said he is not leaving PSG and is committed to helping the team win more titles next season. He also criticised the press for "making up stories" and "speculating too much". With Neymar now seemingly out of the picture, Hazard will be the favourite to become Real's marquee signing to fill the void left by Ronaldo.
First training sessions with Lopetegui
Dani Cabellos spoke yesterday about the squad's first week of training sessions under new coach Julen Lopetegui. "These initial sessions of preseason are really hard. We are adapting to the manager's directions and getting up to speed to feel good going into games," he said.
After landing in Madrid last Sunday, Vinicius Junior has impressed in his first week of training, and gave the cameras a taste of what fans can expect from him, including this display of blistering pace to set up Gareth Bale.
Theo Hernandez and Real Sociedad
Theo Hernandez has been linked with a loan move to San Sebastian. The defender, for whom Madrid paid 28 million euros, did not have a good season with 'Los Blancos' and would be an option for Real Sociedad to reinforce their backline.
James staying put in Munich
Bayern's new coach Kovac has confimed that James will be not returning to the Bernabeu next season and is counting on the player to help bring success during his first season in charge in Munich.
"We have a valid loan contract and it will only end if we take that option. He's going to stay here," said the German-Croatian coach.
Morata-Donnarumma swap deal could facilitate Courtois move
Chelsea and AC Milan are reportedly exploring the possibility of a swap deal involving striker Alvaro Morato and goalkeeper Gianluigi Donnarumma. Were the swap deal to go ahead, it could pave the way for Courtois's move to Madrid, where, according to AS sources, the Belgian has already been looking for suitable accomodation.