Real Madrid round-up: Benzema, Modric, Hazard, TV viewing
Our daily look at what's happening in and around the European Cup holders as the players enjoy a rest day after week one of pre-season training...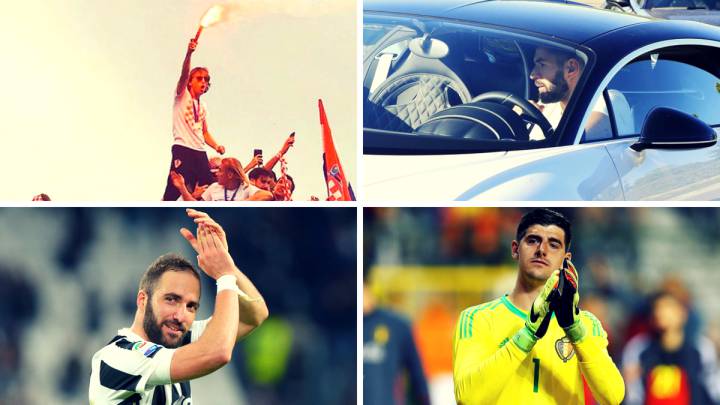 Sunday 22 July is a day of rest for the Real Madrid players that have now completed their first week of training with Julen Lopetegui ahead of the new season. We take a look at some of the stories doing the rounds, both big and small, related to the club...
Benzema bites back
With news reports suggesting yesterday that Madrid striker Karim Benzema was on the verge of joining AC Milan, the player and his agent were quick to respond. On the French star's social media account read a message directed at the journalist concerned: "#Dimarzio, it's you who needs to look for a new job #liar". Social media is playing an interesting role with the transfer market these days, with agents and clubs responding with strong denials to some, but not all, rumours in the press.
Courtois hoping to complete the puzzle
Keylor Navas has been very public with his desire to stay at Madrid - where he has kept goal for the last three Champions League successes - and fight for his position. But it does seem just a matter of time before Thibaut Courtois arrives. From all accounts, it would appear that the Belgian stopper is like a frustrated kid on holiday, relying on someone else to find the missing piece of his jigsaw. That piece being a replacement number one for the Stamford Bridge side.
Higuaín helps Hazard
Talking of the transfer trickle-down, according to reports in the English media this morning, Chelsea are close to bringing in Juventus striker Gonzalo Higuaín, for a price of around 60 million euros. The former Real Madrid front man is seen as a necessary chip in Los Blancos' successful bid to take Eden Hazard away from the London club.
China in Modric's hands
Reports coming from Croatian newspaper, Sportske Novoski, claim that a club in the Chinese Super League are going to dig deep into their sizeable pockets in an attempt to take Luka Modric away from the Santiago Bernabéu. The midfielder had a wonderful World Cup for his national team, eventually being awarded the player of the tournament, and would be offered somewhere in the region of 40 million euros per year, the report states.
All eyes on Los Blancos
Clearly the space at the Santiago Bernabéu has its limits and that's where television takes over. In a study published by Havas Sports on this area, Real Madrid was shown to be the most watched team in Spain over the 2017/18 season. This applied to both LaLiga games as well as those in the Champions League.
Madrid eye candy
A couple of videos that have been proving very popular with Madridistas in the last 24 hours:
Beach samba: Marcelo in full footvolley mode on Ipanema | watch here
Vinicius' 10 Flamengo goals | watch here